It's a year of milestones for the Bridgeport arts and cultural initiatives!
Following the 10th Annual Bridgeport Art Trail, join us in celebrating City Light's 15th Anniversary.
An integral part of the Bridgeport Art Trail, City Lights promotes the Bridgeport Art Trail mission year-round with youth outreach programs, student field trips, cultural art programs, and exhibits.
Plus, our April 2019 Artist of the month feature Maggie Daly Arts Cooperative celebrates 5 years with a special program on April 25th!
Also in this issue: live concerts and shows at our Bridgeport theaters, Colorblends opens its doors for House & Spring Garden Celebration, and more!
ART-TO-GO BILLBOARD – ARTIST OF THE MONTH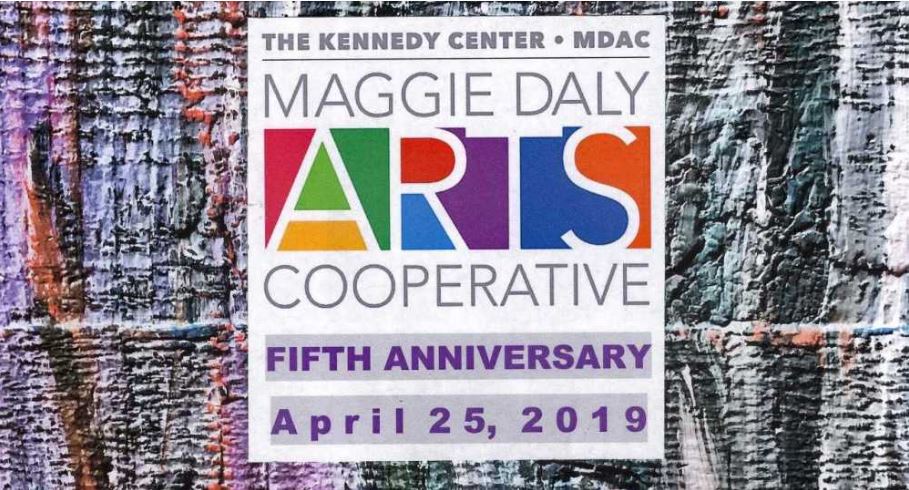 ABOUT THE MAGGIE DALY ARTS COOPERATIVE
Located in the Read's Artspace building in downtown Bridgeport, MDAC provides unique programming that assists individuals with disabilities in creative exploration, self-discovery and expansive artistic growth using: Visual Arts, Music, Dance, Yoga and more!
MDAC's artists have made connections with neighbors, businesses, universities, museums, and art councils forming innovative partnerships to celebrate the universal language of art.
This Day Support Option program is designed for artists with disabilities ready to take the step to full participation in the arts both independently and collectively with peer artists and artists in the community. The candidates should have a strong commitment and interest in arts and a sincere desire to engage in the art making process.
April 2019 CURRENT EVENTS – PART 1
VISUAL ARTS – NEW EXHIBITS/EVENTS
City Lights 15th Anniversary Party/Motown Revue by Band Central
Friday, April 12, 2019 at 6:30 PM – 9:30 PM
City Lights Gallery/Downtown Cabaret Theatre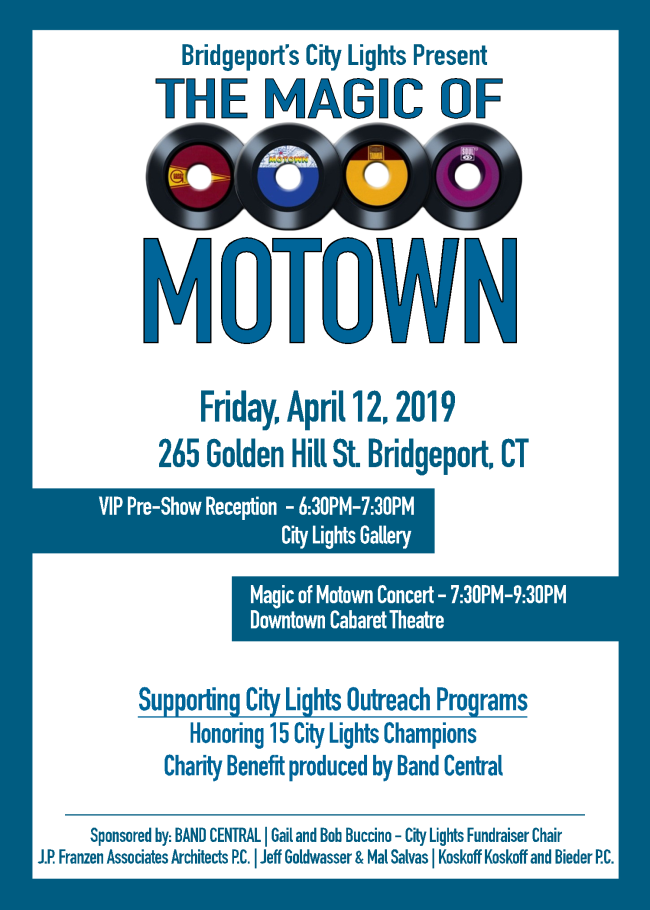 CELEBRATE CITY LIGHTS' 15th ANNIVERSARY ON APRIL 12, 2019 WITH A BAND CENTRAL MOTOWN REVUE AT THE DOWNTOWN CABARET THEATRE!
Affordable tickets at 2 prices. Click here to reserve your tickets.
The Cabaret Theatre is located just downstairs from City Lights Gallery at 265 Golden Hill St. Downtown Bridgeport CT 06604 203.334.7748.
Thank you to Rob Fried and BAND CENTRAL for partnering with us on music enrichment programs for youth and sponsoring the Motown Revue for our 15th anniversary party. The high energy ensemble of outstanding musicians will surely create a fabulous party atmosphere.
At the $50 level, enjoy a VIP reception at City Lights gallery followed by a high energy concert produced by Band Central. The Motown Revue features Stephanie Harrison, Soul Tempo, Vincent Ingala, Pat Marafiote, Tim DeHuff, Mike Marble, Lindsay Frank, Trevor Small and Rob Fried.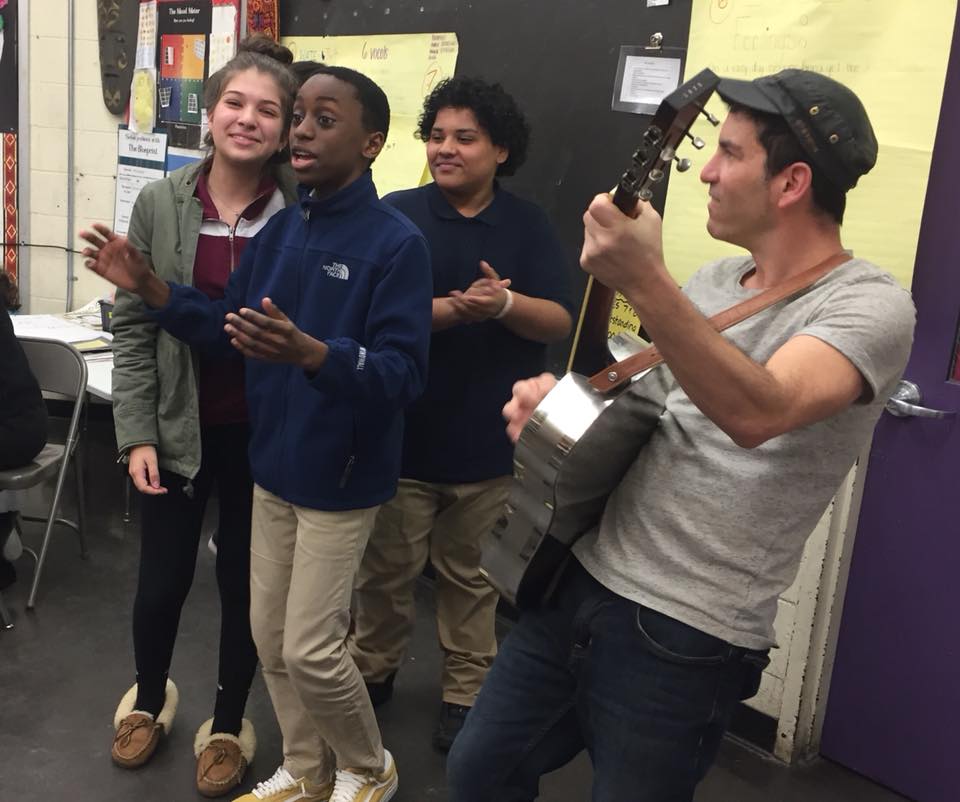 This charity concert supports City Light's outreach programs.Click here to see outreach programs
AFFORDABLE TICKET PRICES AT 2 LEVELS:
$25 admission for the BYOB Motown Revue at the Downtown Cabaret Theatre.
$50 admission includes a pre-show reception at City Lights gallery, along with the performance at the Cabaret Theatre.
---
Call for Artists and Musicians for SavorCity
SAVOR CITY is a monthly tour of Bridgeport restaurants, food, art and music, showcasing the cultural delights of Connecticut's most diverse city.
Organized by a coalition of organizations and agencies, including Rick Reyes Productions, Capital for Change, NEST Arts Factory, the Cultural Alliance of Fairfield County, and others, SavorCity features monthly visits to neighborhood restaurants where guests can experience the authentic local cuisine of Bridgeport's many neighborhoods as well as local musicians and artists working in a variety of genres and media.
MUSICIANS: Would you like to make some money playing a fun gig in a local restaurant? Tell us a little about yourself! What genre of music do you play? Have you had experience playing in a restaurant setting before? Please provide a link to a website, SoundCloud or iTunes so we can hear your music.
​
ARTISTS: If you would like to have a show of your work at one of the upcoming SavorCity events, please tell us about yourself! What type of artwork you make? What is your website or social media address where we can see your art? Typically between 4-7 artworks are hung for the event. All sales are handled directly by the artist and there is no commission taken.
​
Artists and Musicians need to live or work in Bridgeport to be considered. Please see the application on the website at: https://www.savorcitybpt.com/apply or email savorcitybpt@gmail.com
---
Artist's Reception & Spring Celebration
Saturday, April 27, 2019 at 10 AM – 6 PM
Colorblends House & Spring Garden
893 Clinton Ave, Bridgeport, Connecticut 06604
You are invited to the Colorblends House & Spring Garden's Artist's Reception & Spring Celebration on Saturday, April 27th.
Tulips will likely be in their prime. Colorblends staff will be available to answer bulb questions.
The newly renovated Colonial Revival mansion will be filled with art of all kinds created by local artists: Benjamin Casiano, Bob Keating, Chandler Davis, David Joel Pratt, Jahmane, Jennifer Williams, JodiAnn Strmiska, Katie Jurkiewicz, looketha, Michael J Clocks, Nancy Moore, Patrice Barrett, Tara Blackwell and Vasilisa Romanenko.
Colorblends House & Spring Garden is located at 893 Clinton Avenue in Bridgeport, CT. Street parking is plentiful.
---
The Bridgeport Flea
Saturday, April 27, 12-5
Blends Gallery
You, Me, & Flea!!! Located at Blends Gallery 1163 Main st., Downtown Bridgeport!
Cool, Quirky, Colorful, Dope, Vintage, Refurb'd, Handmade, all here!!!!
---
LIVE MUSIC AND CONCERTS
---
WPKN Music in Film Series
The Harder They Come – Jimmy Cliff
Thursday, April 18, 2019
Doors: 6:00 pm / Show: 7:00 pm
The Bijou Theatre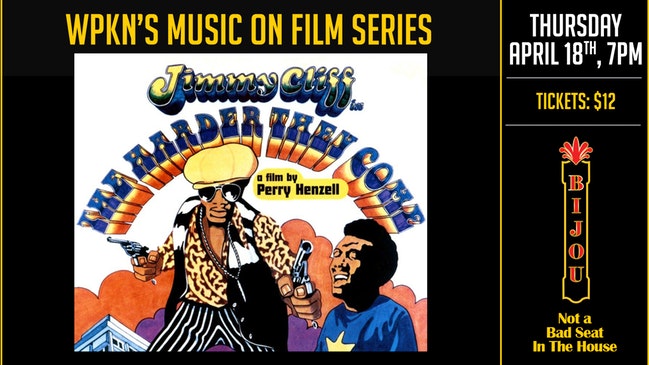 Ivanhoe Martin (Jimmy Cliff) arrives in Kingston, Jamaica, looking for work and, after some initial struggles, lands a recording contract as a reggae singer. He records his first song, "The Harder They Come," but after a bitter dispute with a manipulative producer named Hilton (Bob Charlton), soon finds himself resorting to petty crime in order to pay the bills. He deals marijuana, kills some abusive cops and earns local folk hero status. Meanwhile, his record is topping the charts.MORE INFORMATION
Bon Jovi Tribute – 1 Wild Night
Saturday, April 13, 2019
Doors: 7:00 pm / Show: 8:00 pm
The Bijou Theatre
1 WILD NIGHT, "the Official Band of Girls' Night Out," has been wowing Bon Jovi fans and building a loyal following in the New York Tri-State area since 2013. Featuring look- and sound-alike lead singer Alex Barbieri as "Jon Bon Jovi," the band also includes pro musicians: keyboardist MJ, guitarist Marc Amendola, and drummer Rob Servedio. All four have decades of experience performing live at bars, clubs and theaters.
---
Sacred Fire – A Tribute to Santana
Friday, April 19, 2019
Doors: 7:00 pm / Show: 8:00 pm
The Bijou Theatre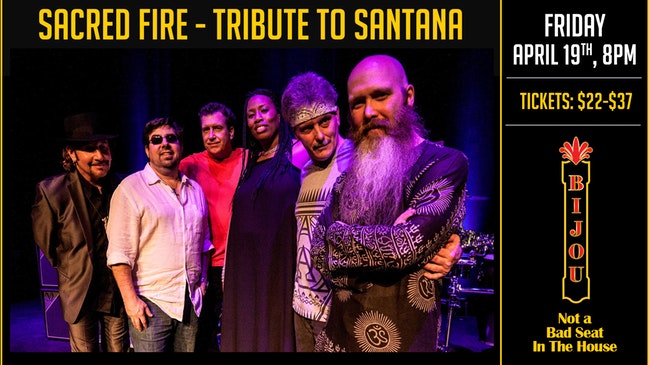 Sacred Fire is a blistering six-piece Latin Rock SANTANA Tribute band that knows how to bring out the energy in a crowd. They pull out all the stops with your favorite songs spanning the career of Carlos Santana. With an exceptional presentation, Sacred Fire brings a bombastic sound full of Guitar, Organ, Percussions and Vocals. The excitement and entertainment level is hot – this band always takes it to the next level!
---
Eagles* by Desert Highway
April 20, 2019
Downtown Cabaret Theatre
Since its formation, Desert Highway Band "A Tribute to the Eagles" continues to captivate & entertain major audiences. They attribute this achievement to performing a non-stop journey via numerous radio hits, top ten singles, and album favorites. Both musically and visually, they present the excitement of a live Eagles concert.
Desert Highway Band is a passionate group of six talented professionals of studio and concert tour veterans with major recording artists, who together recreate 'live' the inspired rich vocal harmonies and intricate guitar styles made famous by the legendary Eagles. From the country inspired "Take it Easy" to the soaring guitar layered rock anthem "Hotel California" to the provocative edge of destruction lyricism "life in the fast lane". Desert Highway Band -"A Tribute to the Eagles"- channels the music of this legendary band that to this day continues to resonate with long-time and new-found fans of all ages.
---
PERFORMING ARTS AND THEATRE
---
Snow White
April 13 – May 19
Downtown Cabaret Theatre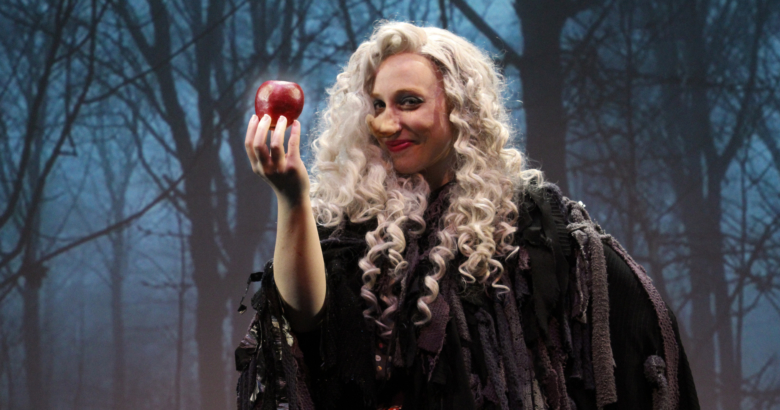 Mirror, mirror on the wall, who's the fairest of them all? It's the timeless tale of a beautiful princess, a wicked stepmother, and a poisoned apple. When the jealous queen places a curse on Snow White, the only thing that can save her is the help from some very clever new friends and true love's kiss from a handsome prince.
Our Children's Theatre shows run approximately 75-80 minutes with a 10-minute intermission.
The Full Monty
April 26 – May 19
Downtown Cabaret Theatre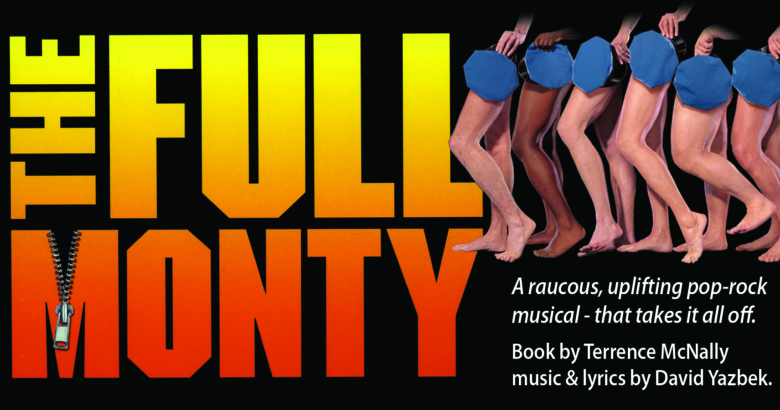 Based on the cult hit film of the same name, The Full Monty is filled with honest affection, engaging melodies and the most highly anticipated closing number of any show. The powerhouse team of Terrence McNally (Ragtime) and David Yazbek (Dirty Rotten Scoundrels) cooks up an aggressive crowd-pleaser that both entertains and grabs your heart. While spying on their wives at a "Girls' Night Out," a group of unemployed steelworkers from Buffalo come up with a bold and unclothed way to make some quick cash. As they conquer their fears, the strength that they find in each other gives them the individual courage to "let it go."
---