SEPTEMBER 2017
ARTIST OF THE MONTH FEATURE:
LIZ SQUILLACE & JULIA-ROSE LIPTAK

For our September 2017 feature we highlight two Bridgeport artists exhibiting in September and working with the community.
Liz Squillace is the owner of Paradox Ink, an art studio specializing in screenprinting, murals + public art. Her latest project, the Painted Stairway Mural on the Broad Street steps in downtown Bridgeport, will have a formal unveiling on September 7th. She is also part of City Lights Gallery's exhibit Pattern. Join for an opening reception the same evening! Learn more about the process, her partners, and her vision in the below feature.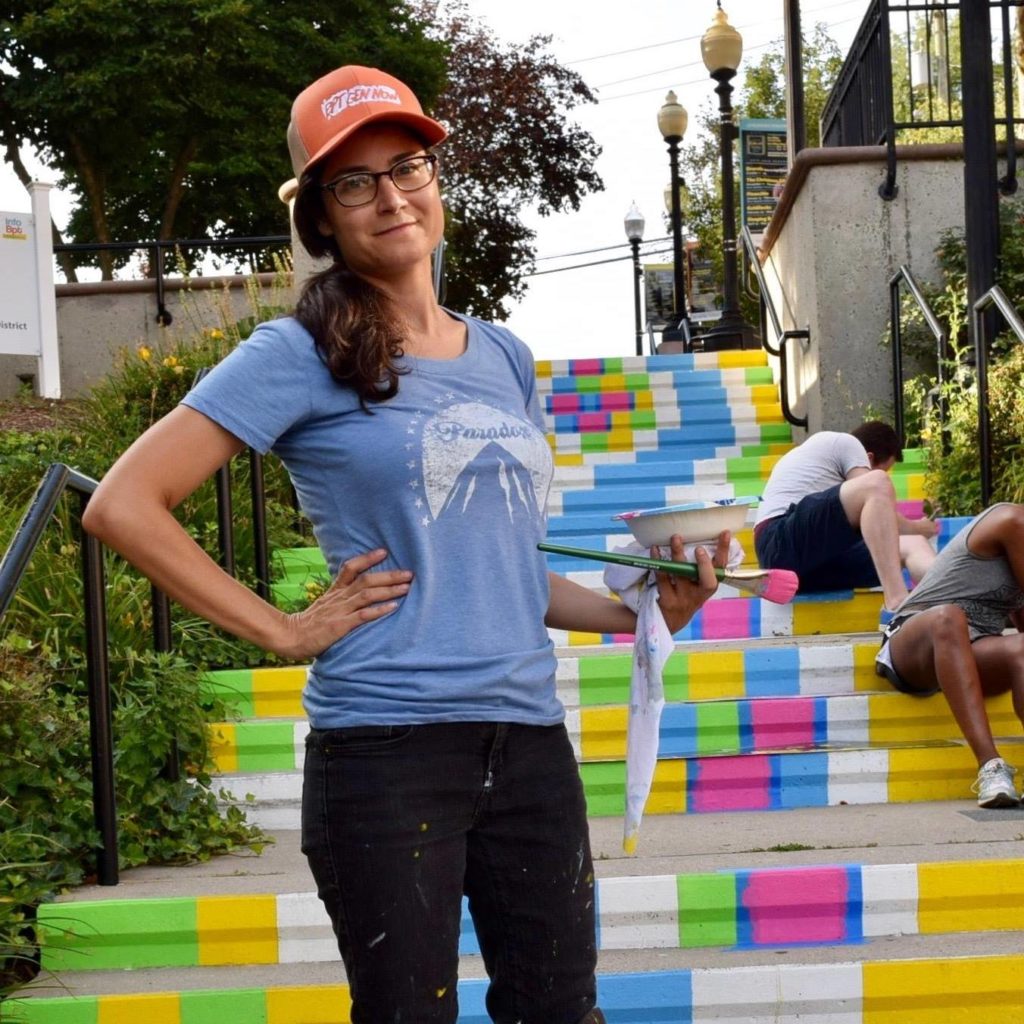 Julia-Rose Liptak is an artist focusing on abstract painting, illustrations, and mixed media fiber art. She will have a solo-exhibit for her latest painting series Planes at Source Coffeehouse in the Black Rock neighborhood on September 8th.  Julia-Rose is also exhibiting in the Norwalk Maritime Garage Gallery exhibit "Memories of our Town", opening on September 26th. In her feature she shares about her work in both exhibits and her volunteer work with The Kennedy Center's Maggie Daly Arts Cooperative this past summer.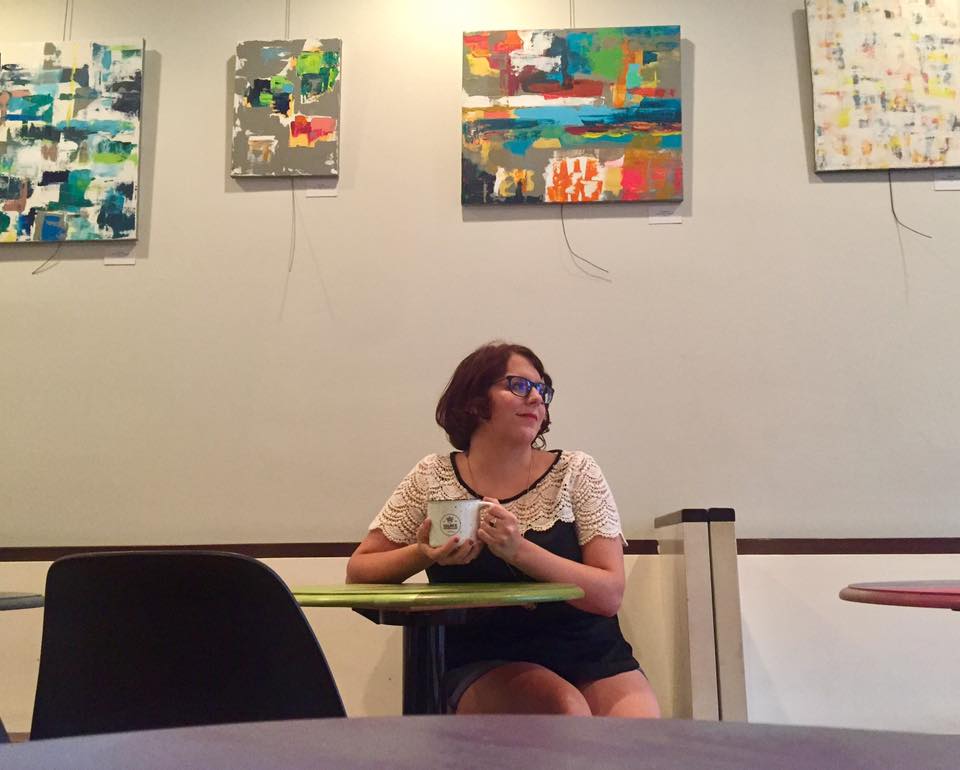 About Liz Squillace and Paradox Ink
Paradox Ink's mission is to make art more accessible by creating it in public places. Public art such as Liz Squillace's mural at the Bridgeport Train Station as well as the many painted Utility Boxes that adorn streetscapes in Bridgeport and Stamford are seen by commuters on a daily basis. Paradox Ink has had a storefront located in the Arcade Mall in downtown Bridgeport for over 4 years. Liz was classically trained as an artist at Rhode Island School of Design and currently resides at Read's ArtSpace live/work studios.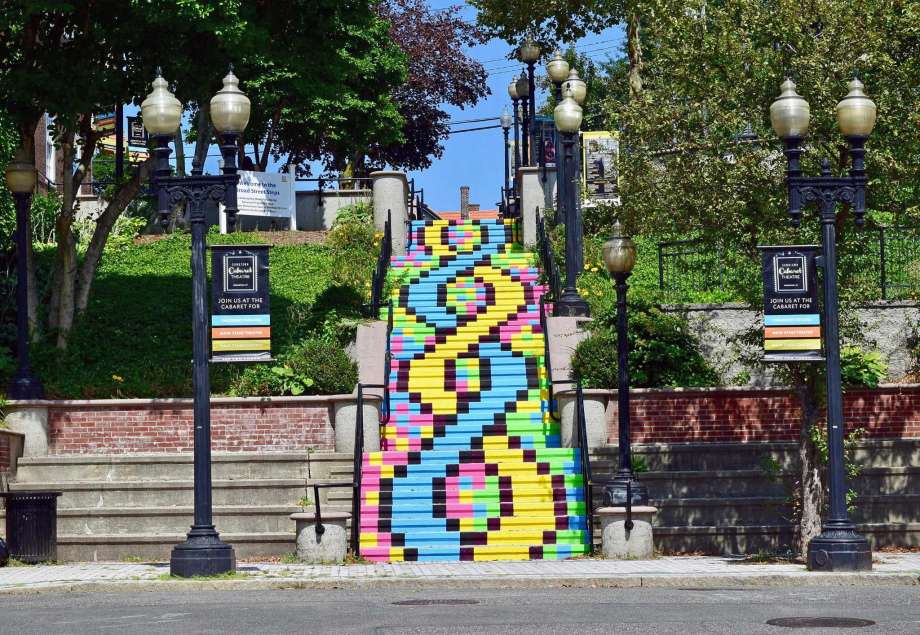 About The Painted Stairway
The mural was designed and implemented with the theme of celebrating the diverse population of Bridgeport collaborating together to achieve unity and prosperity.  It began a year ago when I applied for a Regional Initiative Arts Grant, through the State of CT, and when I was introduced to, and partnered with, the social action network, Bridgeport Generation Now! We were awarded the grant and came together throughout the summer to paint the risers of the Broad Street steps.
I was interested in painting this site because of its high profile nature. It can be seen from many vantage points along Broad St. and is an iconic landmark on its own. I've been working with Bridgeport Generation Now! and the Bridgeport community to paint the mural.
It began with priming the risers, laying out the design, and starting with one color at a time, taping & painting squares. We held many group sessions, weather permitting, and continued adding new colors until the mural was complete. We've been working on it since late June, and finished in late August. It still needs an exterior varnish, which we will be applying before the Unveiling Sept. 7th.
Q. Why did you choose this particular design?
There was a real process that went into creating this custom design. I contemplated the shape and form of what we would be painting, and I knew I would be painting with a group, so I needed a way to break it down simply. To work with the length and height of the stairs, I wanted something that cascaded down as well as rising up. Interconnecting was an important design element to me, as well as colors transitioning into other colors and blending in the center. The double helix can be seen as a DNA strip representing our humanity, the colors mingling as our diversity, and the blending in the center as unity. There is also a retro digital video game aspect that I found to be cool and modern.
Q. Why do you think art in public places are important?
I think it is important to have art in public places because it truly adds a special feeling of wonder and awe to an environment. It also democratizes the art viewing experience and improves the quality of life for those living in and visiting a city.
Q, Any funny or interesting stories about the process? 
I've noticed people coming to take photos in front of the stairs now, and while they like to take group photos and as couples, inevitably they want to have a photo of themselves alone in front of the piece. It's like the individual being celebrated within the collective!
Please come down and see the piece for yourself!
Read More:
Fairfield Hamlet Hub: Painted Stairway Mural Official Unveiling: Sept. 7
CT Post: Bridgeport artist, volunteers convert staircase into mural
Liz Squillace will be exhibiting in the Pattern exhibit at City Lights Gallery.
Join for the Painted Stairway Unveiling and exhibit opening in downtown Bridgeport on September 7th, 2017.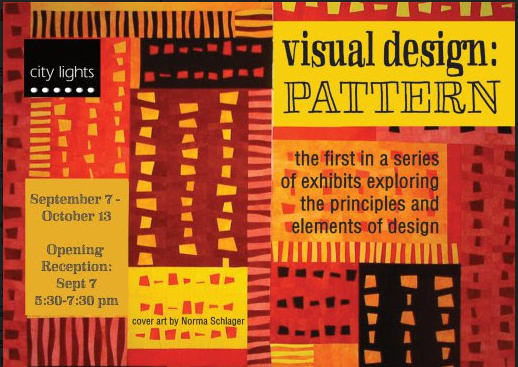 About Pattern Exhibit
PATTERN: Exhibit Reception
Thursday, 9/7/17
City Lights Gallery
265 Golden Hill St Bridgeport CT
JOIN US Thursday, 9/7/17 for the FREE artists' reception 5:30-8:30 pm for the exhibit PATTERN.
Exhibits exploring the principles and elements of design
The first in a series of exhibits exploring the principles and elements of design opens Thursday, September 7, 2017 from 5:30-8:30 pm at City Lights Gallery in Bridgeport. Executive Director Suzanne Kachmar is grateful to Jane Davila for contributing her curatorial skills to this collaboration which grew out of conversations regarding programs that explore the basic concepts of visual design.
Artists selected to participate in this exhibit are showing both large and small works that highlight the many facets Pattern and Texture, rendered in a variety of media from fiber art to painting to weaving. Participating artists include Adger Cowans and Liz Squillace of Bridgeport, Gwen Hendrix of Oxford, Norma Schlager of Danbury, Tim Reimer of Stratford, and  Jahmane West of Norwalk.
Q. Why did you choose to participate in this exhibit?
I chose to participate in this exhibit because it seemed a good fit; right up the stairs of my public art piece, been working with pattern lately — and Jane Davila, who is curating the exhibit, is great!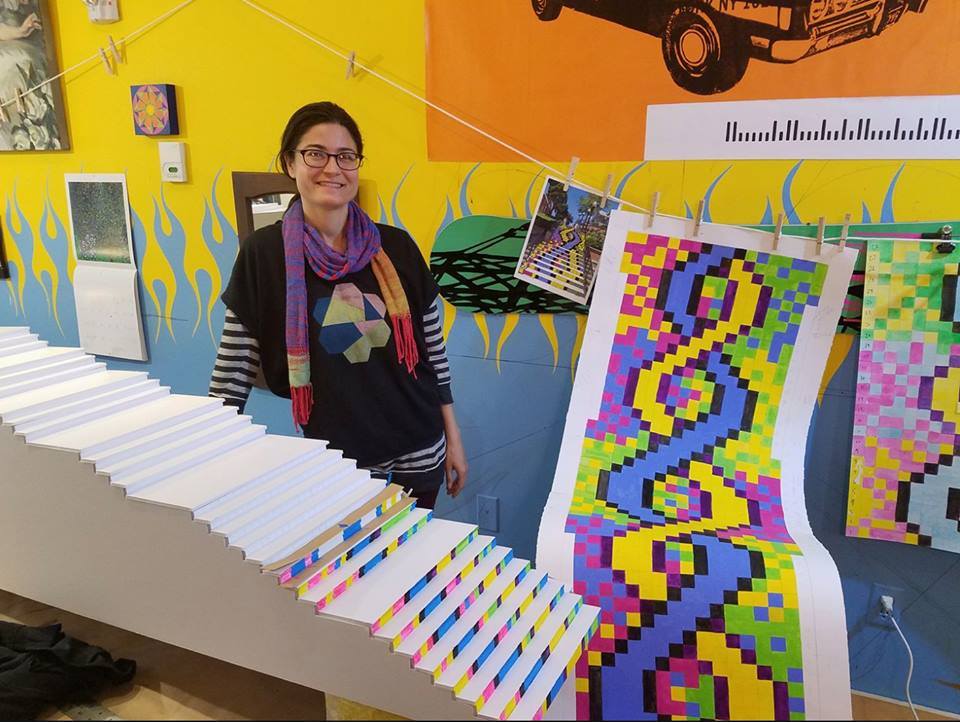 "I am happy to show the preliminary pieces of the Painted Stairway mural.

I think it gives insight into the process that goes into developing a public art mural and shows how things change as the piece is realized."
What does pattern mean to you in your artwork? 
Pattern means a way of organizing information, whether it is a tessellation or a dominant repeating motif. It can be printed on top of like a screenprint on toile. It can be repeated so it can always grow. And, you can play games with it by altering components within it.
Learn More about the Pattern Exhibit Opening
Learn More about Liz Squillace
About Julia-Rose Liptak
I am a Bridgeport resident and native. I formally studied art during my undergraduate experience at SUNY Purchase, but I've been creating art since I was a child. My mother is an artist and growing up in a creative household definitely influenced this passion.
As an artist I create abstract paintings, illustrations, and mixed media fiber art. I would describe myself as a constant observer and dreamer with a love of color. My process is an exploration that is often messy and layered. Passion helps me to embrace these experiences as growth with a little humor, heart, and good music.
My artwork is generally rich in color or expressive lines. It celebrates moments of appreciation, potential, and discovery.
"I find inspiration in everything, which is exciting because it means I'm constantly exploring"
Q. Can you tell me about your experience volunteering with MDAC?
MDAC is a program through The Kennedy Center, Inc. that assists individuals with disabilities through creative exploration, self-discovery, and expressive arts projects.
My time working with the artists consisted of helping individuals progress and explore in their creative process. Each artist is unique in their choice of medium or personal projects. I learned a great deal about their vision and assisted them in executing their goals or trying a new approach.
Additionally, I assisted with the facilitation of various expressive art groups including movement and theatre. Lastly, I developed and lead an art-based social skills group in which different social themes were shared through art as well as peer engagement.
The experience was enlightening and rewarding. It ignited my passion for service as well as building more community connections.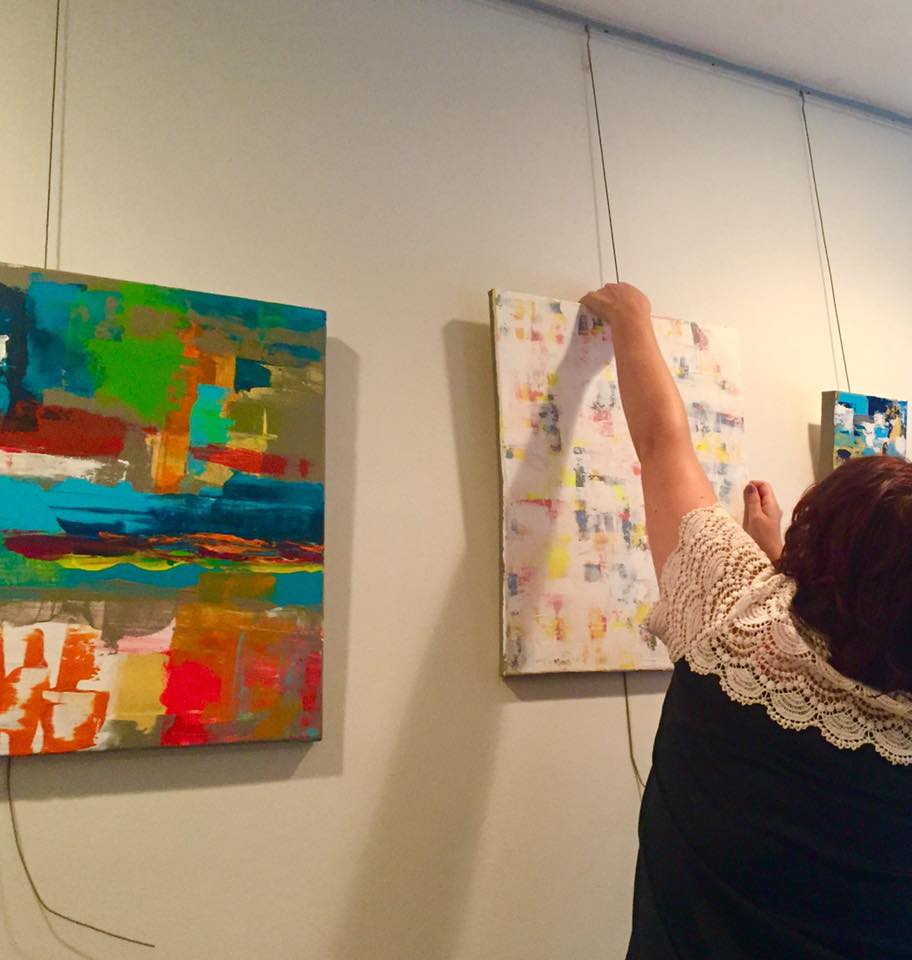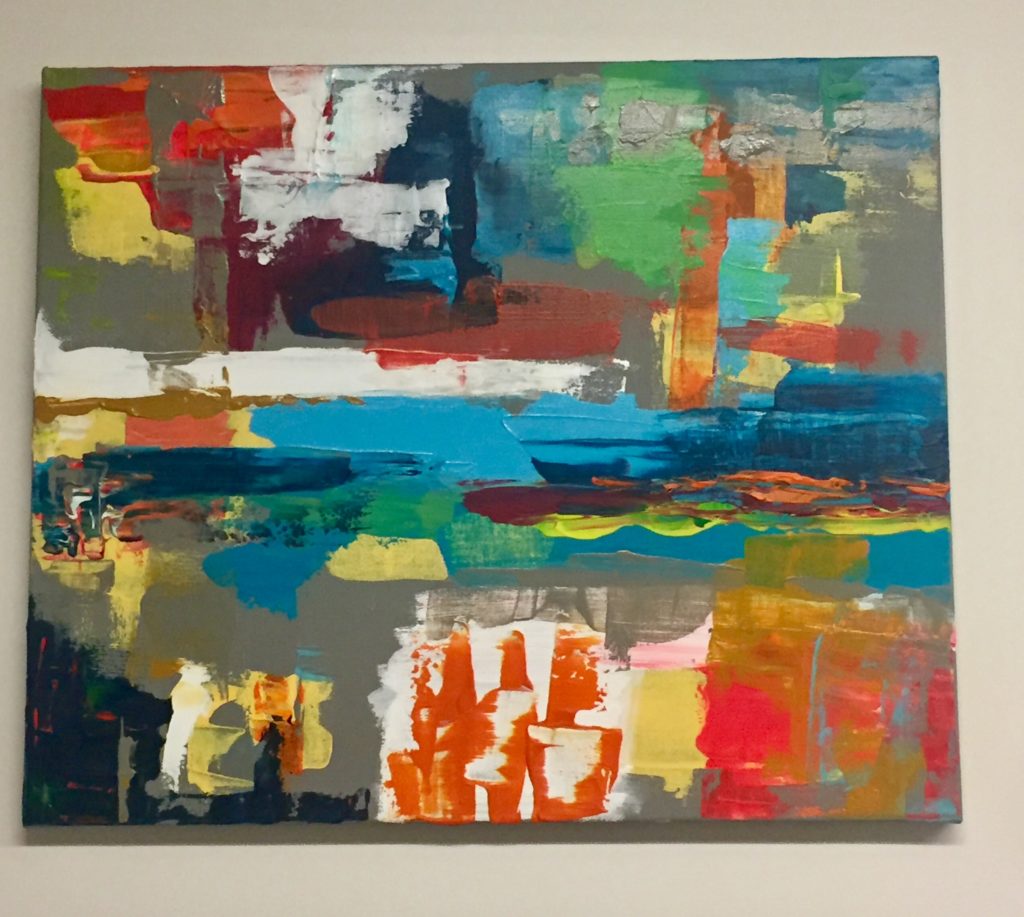 Q. Can you tell me about the solo-exhibit at Source Coffeehouse?
The title for the series at Source Coffeehouse is Planes. So much of my abstract work revolves around emotional subjects such as impact, attachment, and schematic relationships. Similarly, Planes was developed out of a desire to explore the concept of personal energy and interaction. The idea is that each individual has their own energy that is constantly changing based on our interaction with ourselves, our environments, and/or our audience. I interpreted those various energy states as planes.
The process of creating these paintings was more philosophically driven than my usual work. For example, I thought about the different energy that was generated during a moment of inspiration, meditation, or life-phase. Color is a major component in all my artwork and I strived to explore different tones for these paintings. I fell in love with a gray for the equilibrium it represented and that shade is a grounding in all the works across this bright series. Expressing these themes visually was a challenge, but I hope that each piece elicits feelings of movement and potential.
I am excited to exhibit at Source Coffeehouse because coffeehouses are naturally environments that encourage the generation of new ideas, productivity, and positive interactions. I feel that this is the perfect location for this type of subject. The work will be up for the month of September.
Learn More about the Planes Exhibit Opening
Q. Can you tell me about the exhibit at the Maritime Gallery and how your works relate to the theme?
The exhibit at the Maritime Garage Gallery, "Memories of Our Town," features art that represents the unique memories of places we call home. I have two abstract paintings in the show inspired by Bridgeport, Connecticut. I've always had an affinity for urban beauty and a great deal of pride for my hometown. These artworks transform industry into vibrant color fields. They celebrate the architecture and spaces of a city with a rich history, as well as possibility.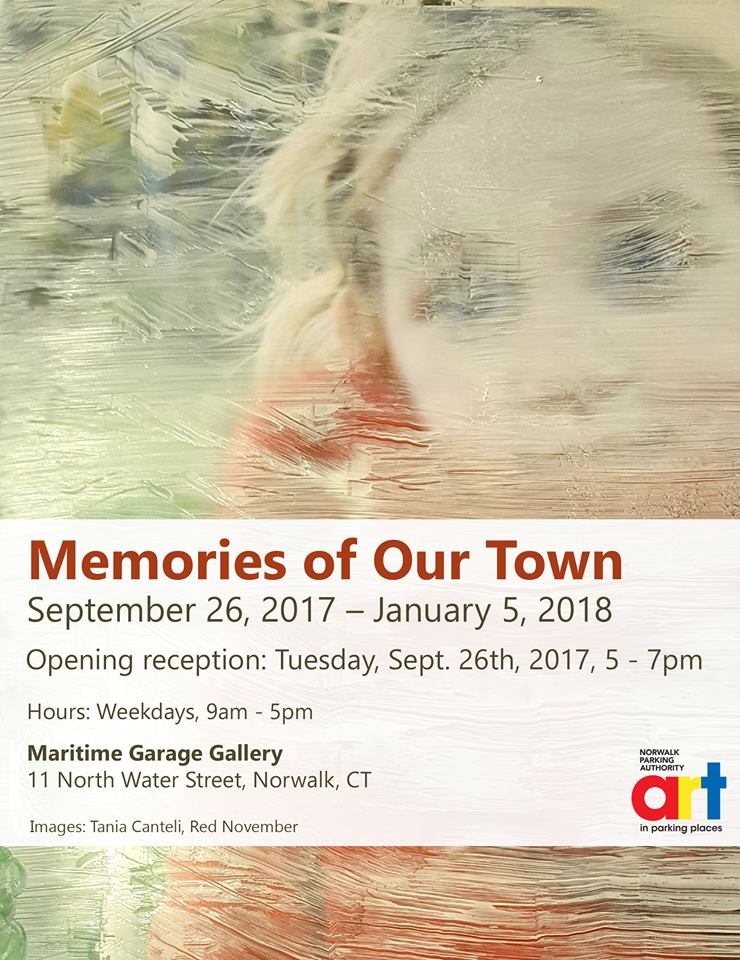 Learn More about the Memories of Our Town Exhibit Opening
Q. Anything else you'd like to share?
I was fortunate enough to be exposed to art at a young age. Even as a child I was able to identify famous artists I admired, learn their stories, struggles, and successes. In addition to being an artist, I am passionate about child development and education.
I strongly believe that we need to make art exposure and opportunity available to our youth.
Learn More About Julia-Rose Arts
AUGUST 2017
ARTIST OF THE MONTH FEATURE: ROBIN GILMORE

In our August 2017 Artist of the Month feature artist Robin Gilmore discusses her extensive experience working in the arts and community for more than 30 years.  From mechanical chickens to art bras, Robin shares about working with Bridgeport schools and organizations, her love for vintage fashion and City Lights Vintage, and why she thinks artists play an important role in Bridgeport.
"Some days I can't keep up with all the creative ideas running through my head, I am inspired by so many things in my environment, and am always designing, problem solving, anything from a simple collage, a new style of jewelry, a garden plan, a new recipe, re designing a new idea for a space in my home or studio, or teaching myself something new."
ABOUT ROBIN GILMORE
Robin Gilmore (Jopp) is a mixed media artist, focusing on jewelry designed from repurposed and found materials, collage created with antique images, also 2& 3 dimensional assemblage, found art sculpture. Robin is always up for a challenge as she sews, cooks, crotchets, writes, sings, photographs, redesigns furniture or household items, redesigns her clothes, and collects antiques and memorabilia especially about Bridgeport. Robin is also a teaching artist who has served the community in many different venues and for many different arts organizations for more than 30 years.  Her favorite past time is repurposing and upcycling with kids and adults.
Her dream is to publish a book or two with poetry inspired by her artwork and a book with lesson plans for making art with repurposed materials.
"My best ideas and those that give me trouble are answered in my dreams…the most important thing is to listen to that small still voice and take it seriously and act on it. Every morning when I wake up I have an answer to a question that has been weighing on me. Is it spirit? Yes I think it is."
Q. Can you tell me a bit about the projects you've been taking part in this summer?
It has been a super busy year to date. I HAVE BEEN IN SUPER OVERDRIVE.
The summer has been especially busy teaching and creating projects for elementary school children.  I am inspired by opportunities to get kids excited about Art, about protecting our planet and about being aware of our environment through creative work. I had a wonderful summer working at the new Claytor School in Black Rock. I was hired by Arts For Learning for 4 weeks to work along with the Lighthouse program at the Summer Camp. It was an intense experience and I was committed to bringing my "all and everything" to each project.
Currently I am working on a new project with City Lights Gallery at the Ralphola Taylor Community Center on Bridgeport's East End. I grew up about 6 blocks from the location and also have a teeny tiny studio nearby. The direction of the project is to bring life to a garden that has been vacant for a while with over 13 raised beds. The children are creating garden ornaments, from whirly gigs to wind socks, wind chimes to painted tiles, a chess board and the ideas and collaboration with other artists is really very inspiring. It is great working with such incredible artists and musicians who care so much about this community.
I have been selling at the Downtown Farmer's market as well as doing art activities and participated in the opening day of the Black Rock Farmers Market. Participated in a number of events showing and selling my jewelry and art with networking events through the Stratford Arts Commission, and had a recent incredible Sunday at Beechwood Arts in Weston accompanied by many artists, poets and musicians for a Salon style event. I am looking for more of these types of events and opportunities. Currently I have some of my jewelry designs at various locations- Spectrum gallery, Norwalk Historical Museum, EcoWorks in New Haven and even more at City Lights Gallery.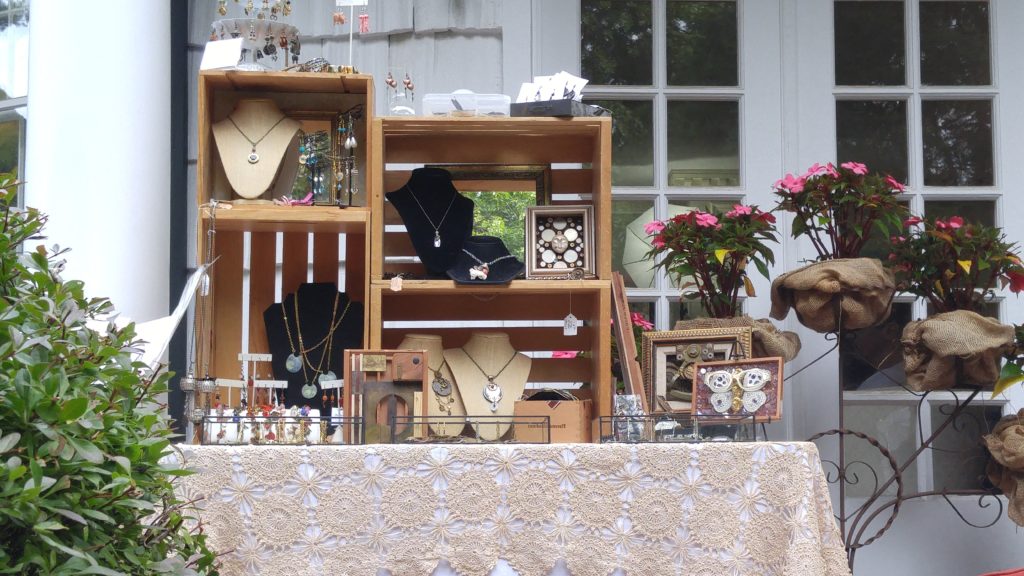 Q.Tell me about City Lights Vintage
You've worked with vintage and "found" items previously. What attracts you to this style? Your favorite item(s) in the store?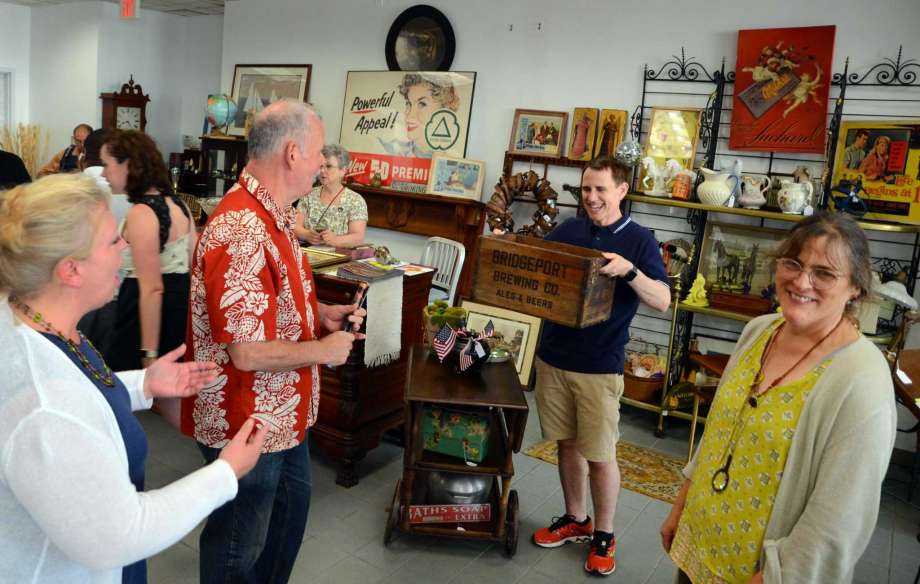 For most of the year it has been a pleasure helping to set up the new City Lights Gallery at 265 Golden Hill Street. I really became an all-purpose and up to anything person, very dedicated to helping this beautiful space shine. It is one of my favorite places in the City. So much light and space, beautiful art and I feel very connected to the hub of activity and potential the gallery brings to the community. And I also feel a real sense of pride knowing I had a hand in supporting their mission.
After the move to the new gallery, then came the setting up and cleaning, painting of the old 855 Main St location with the idea of creating a Vintage shop. I was so excited as about 2 ½ years ago I left my Made In Bridgeport shop in the Arcade Mall and have been storing all the vintage merchandise from the shop that I am sure I was saving just for this very thing.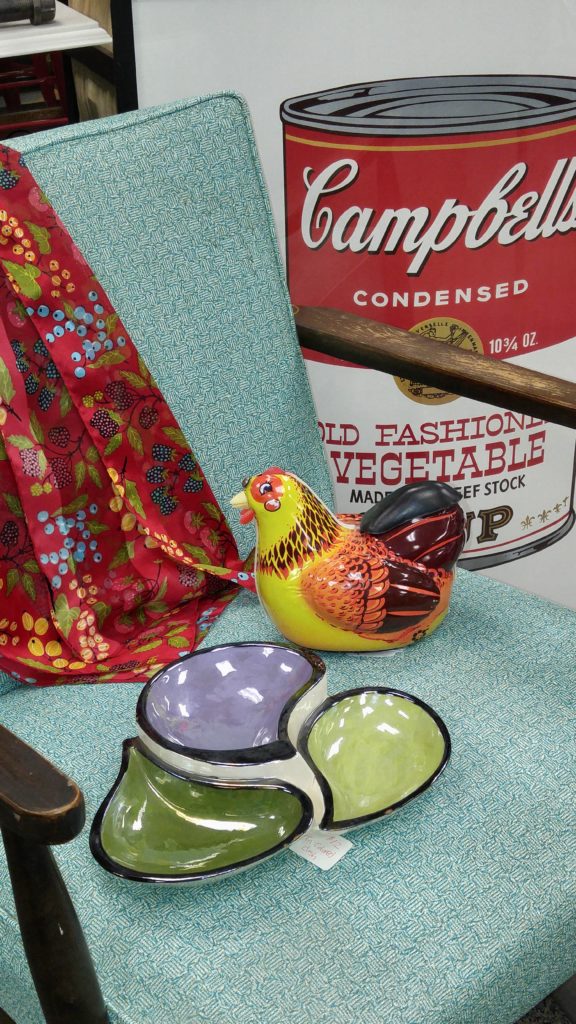 Some of those items can be found at the new City Lights Vintage shop and also every 3rd Saturday at the New Bridgeport Flea market. The Vintage shop is filled with marvelous things, from vintage radios, pottery and furniture to my favorite- Vintage Clothing. I love wearing vintage clothes!!! Another of my favorite items in the store was a mechanical hen that laid eggs. I was crazy about it. It made me laugh. It sold.
I've been collecting vintage items since I was 11- my maternal grandmother had an amazing attic filled with so many things from the past. During our visits to Maine to visit her, Grammie Welch would take the family on adventures to auctions and rummage sales would always find clothing she liked and rip it up to make quilts. My grandmother inspired the creative spark in me.
Earlier this summer I was asked to create a "Woolworth's Window" on the Corner of Fairfield and Main St. It took a while for a vision of how I wanted it to look, but once in my head I was up to the challenge. The window has vintage merchandise from my collections reminiscent of the 50's and 60's. I had so much fun putting the window together and happy that so many people look at that window on a daily basis. I love merchandising and window display- it was something I loved doing in my own shop when I was in the Arcade Mall. Always coming up with a creative theme every 6 weeks or so. I am thinking of creating "Got Windows???" I love doing window displays.
Q. What's next? Are there any projects, markets, etc. you'd like to share about?
I am now preparing to get my work together and creating new stuff for the Bpt Art Trail which is coming real fast in November as well as creating new work for an up and coming show at City Lights called "BOOBS". The focus is on Breast Cancer awareness, breasts- art, story, identity, healing and much more I am sure. Suzanne has a lot of WOW ideas and I am looking forward to working with her and Gaye Hyre who founded the Art Bra project with the mission to financially assist breast cancer patients with costs not covered by insurance. Within the next few months we will be asking people ( men and women) to create one of a kind artsy bras that will go on auction to help raise funds for the Art Bra project. I have been working on a Barnum and Bailey Bra for a while now, complete with a clown nose, circus animals, circus posters, and of course a box of animal crackers. I just need a Top Hat and someone to model it for the anticipated fashion/ show auction.
Q. Why do you think partnering with the community is important as an artist? In Bridgeport specifically?
Artists deliver something vital and celebratory to their community. It is not just about making the money, but it sure helps pay the bills. Art engages the community in direct conversation, connecting beauty, meaning and purpose. It has a capacity to heal too- partnering with agencies in the community gives participants in programs opportunities to explore and expand areas they might not ever have considered. Artist's collaboration on projects and programs also creates camaraderie, the ability to share resources and knowledge. I find working with other artists takes me to a whole new dimension in the process of creating. I admire my fellow artists here in Bridgeport- some are even outright magical. Bridgeport needs that magic, that spark that can only be found through the creatives and the visionaries. Art has a voice, a message, speaks to the needs and the celebration of a strong community.
Q. What advice would you give to other artists?
I am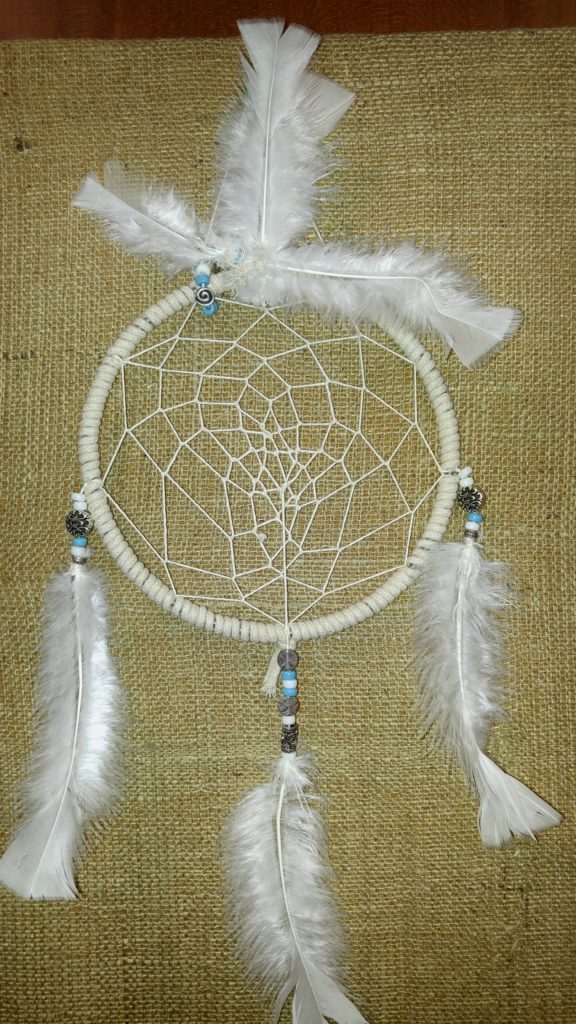 learning as I go along-Take care of yourself, rest and don't forget to eat. And don't bite off more than you can chew… don't be afraid to say NO when you need to say No and YES when you really want to do something, even if it scares you- but you know you're really up to the challenge.. Don't freak out when your art studio looks like it has been ransacked after a day or night of creating…you are not alone in the messiness of creativity, there are many more just like you-Laughing and figuring it out
I left a JOB in 2012 to pursue my creative life. I haven't had a job in 5 years, I have been on a creative adventure and every encounter and opportunity has brought me- creative abundance. I am happy, I am more than grateful, somewhat healthy, not rich and not poor, I laugh, I love, I breath, I create…I live a creative life. It's all I ever wanted.
JUNE/JULY 2017
EVENT FEATURE: "SAMESEX 2017"
This month we feature City Lights Gallery's SameSex art exhibit and sponsoring organization, the Triangle Community Center.
In it's 7th year, the annual exhibit explores LGBT themes, same-sex attraction, related feelings and issues of 2017. Artists need not be gay, lesbian, bisexual or transgender to participate and exhibit expressions of pride and solidarity.
Schedule of Events: 
5:30 to 7:30 Same Sex Exhibit & Reception- $10
7:30 to 8:30 PM Bridgeport Pride March – Free
8:30 to 11 PM Post Pride Party w/Music & Drinks – $20
City Lights Gallery, 265 Golden Hill Street, Bridgeport, CT 06604
"I sense that the convictions  and partnerships of the inclusive community that produces and supports this event have grown. We have also developed a roster of exhibiting artists who create and look forward to participating annually along with returning attendees. 

Every year we look for a new focus. We are collaborating with our building neighbors, the New England Ballet Company and the Downtown Cabaret Theatre to organize a post-party event. Plans in progress for the variety show line-up include members of Les Ballets Eloelle an all male comedy ballet company and a Liberace tribute." –Suzanne Kachmar, Executive Director of City Lights Gallery
ABOUT THE TRIANGLE COMMUNITY CENTER
Fairfield County's LGBTQ Community Center
Triangle Community Center is Fairfield County's leading provider of programming and resources to nurture growth and connection within the LGBTQ community.
TCC is the only organization focused exclusively on the LGBTQ community in Fairfield County. TCC has existed for 27 years and until 2013 operated without full-time staff. TCC offers programs, services and events that provide critical and in some cases life-saving resources and assistance to the LGBTQ community in Fairfield County. TCC offers a co-sponsored housing program that works directly with TCC's case manager, provides emergency financial assistance to clients in need, and other direct services. TCC works closely with Mid-Fairfield AIDS Project and World Health Clinicians on HIV/AIDS related outreach, testing initiatives, and creating a more informed and healthy LGBTQ community.
TCC served over 200 case management clients in 2015 alone, after that program's inauguration in January of that year. We also serve over 300 individuals who attend our programs and services on a weekly basis as well as over 2000 members of the Fairfield County community who attend a TCC program or event at least once a year. While our primary service area is Fairfield County, we often see people travel from Westchester, New Haven, and Litchfield counties to attend one of the programs we offer. TCC's key target population is the LGBTQ community in Fairfield County, however we welcome all who seek our services and have many clients who do not identify as LGBTQ.
 (From TCC Website)
Arts at Pride in the Park
Pride in the Park 2017 was a Fairfield County LGBTQ Pride festival and open to all. Pride in the Park is a family-friendly Pride festival that brings you internationally-known entertainers and local performers. This year, the event featured Trixie Mattel from RuPaul's Drag Race, comedian Julie Goldman, and musician Crystal Waters for free and live performances!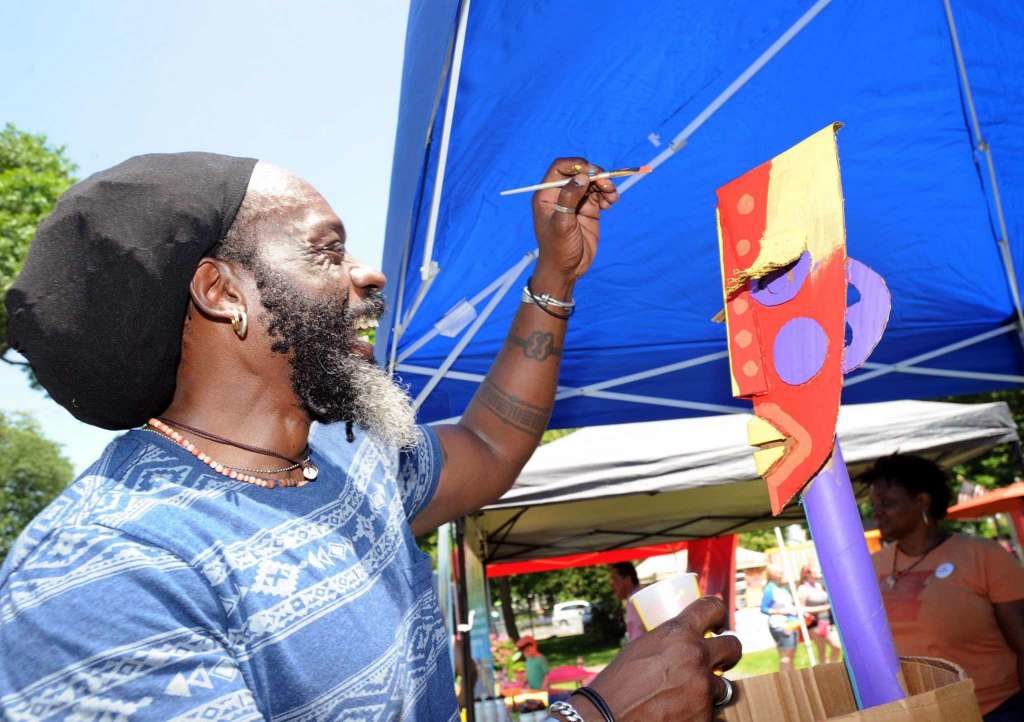 Iyaba Ibo Mandingo of City Lights Gallery was a participant at Pride in the Park, 2017
Photo Credit: The Hour Newsroom.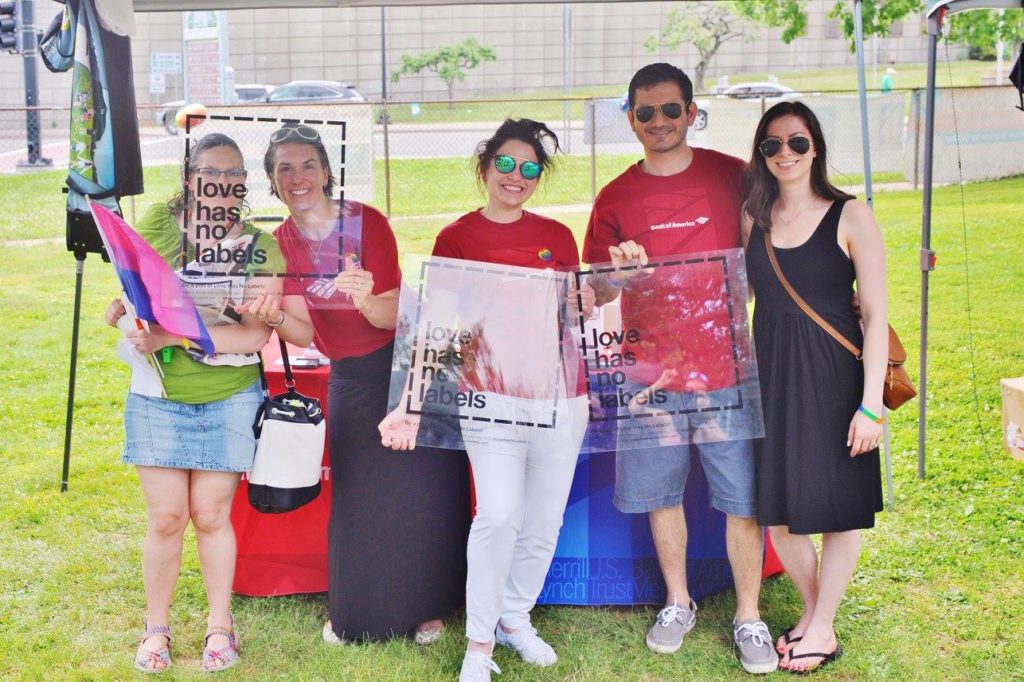 MAY 2017
ARTIST OF THE MONTH FEATURE: "WORKING LARGE"
CARLOS DAVILA & RICK SHAEFER
This month we have a themed Artist of the Month feature "Working Large".
"Working Large" highlights the recent large-scale installations of two Nest Arts Factory artists: Carlos Davila and Rick Shaefer.
Davila's Titanosaurus sculpture measures 12′ high, 16′ long, and 7′ wide, and it weighs approximately 480 lbs. It is on display in a public park in Suwanee, Georgia for a two-year exhibit called SculpTour, which opens May 20 this year and runs through April 2019.
Schafer's drawing of the American Bison, an 8′ x 12′ triptych was purchased by the State Department for their Art in Embassies Program. It is now installed in the new embassy in Chad, Africa as a potent symbol of our American history.  He hopes his work adds to the dialogue about saving endangered species.
Learn more about these artists below.
CARLOS DAVILA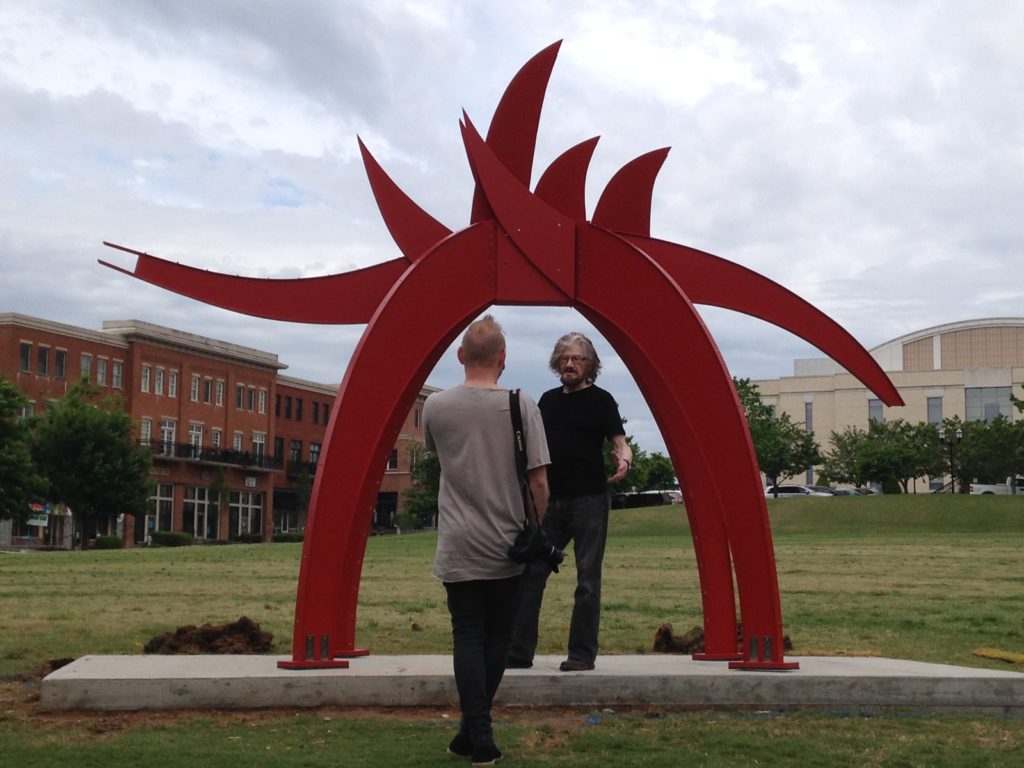 ABOUT THE SCULPTURE
I have installed a large-scale outdoor sculpture in a public park in Suwanee, Georgia for a two-year exhibit called SculpTour, which opens May 20 this year and runs through April 2019. My sculpture, Titanosaurus, is a stylized, abstracted, contemporary dinosaur. I chose the form of a dinosaur because it is ideal for a family-friendly, interactive sculpture. Kids (of all ages) are fascinated by dinosaurs. These creatures can represent speed, power, or the ability to fly, while offering a form of escapism as a child imagines that they can be and do anything. They allow for infinite imaginary adventures.
This sculpture is constructed of marine-grade plywood that can withstand harsh weather and extreme temperatures, and does not split, crack, or warp, and each component is attached with stainless steel hardware (nuts, bolts, screws, base plates, etc.)
The dimensions of the Titanosaurus sculpture are 12′ high, 16′ long, and 7′ wide, and it weighs approximately 480 lbs. It stands on a concrete pad 16″ long and 8″ wide, provided by the city of Suwanee.
WORKING LARGE
I work on a large scale because public art often needs to be large, having something huge that people can interact with (walk under or through) enhances their experience of it. Large public art also enhances and complements the area in which it is installed, giving residents something beautiful to see and feel pride in, and helps a town or city solidify a reputation for supporting art and culture, both of which are vital to quality of life.
When I traveled to Georgia to install the Titanosaurus, I was delighted to see how dedicated the city of Suwanee was to making space for art and particularly public art in their city. It was a magical sight, sculptures all around their city hall, sculptures as part of their public performing arts space, sculptures in their shopping areas. How rich the experience of the people living and visiting there! It is my hope that locally in Bridgeport, the same can be achieved.
I like to challenge myself to push materials and forms to their limits, to bring a vision in my head to larger-than-life reality.
I usually start with a sketch, then create a detailed to-scale drawing, which then becomes a small model, or maquette, before finally advancing to constructing the actual components of a large work. There are many variables to be considered when creating a large scale work, especially one meant to be displayed outdoors – things like durability, public safety, potential future maintenance, strength of materials, and scale.
MORE ABOUT THE ARTIST
I am currently working on more large-scale sculptures in this series, some depicting abstracted creatures, and others in geometric forms. Last week I exhibited several wall sculptures in the Portal Art Fair in Soho, New York City and I have several other upcoming exhibits.
CONTACT: www.carlos-davila.com
RICK SHAEFER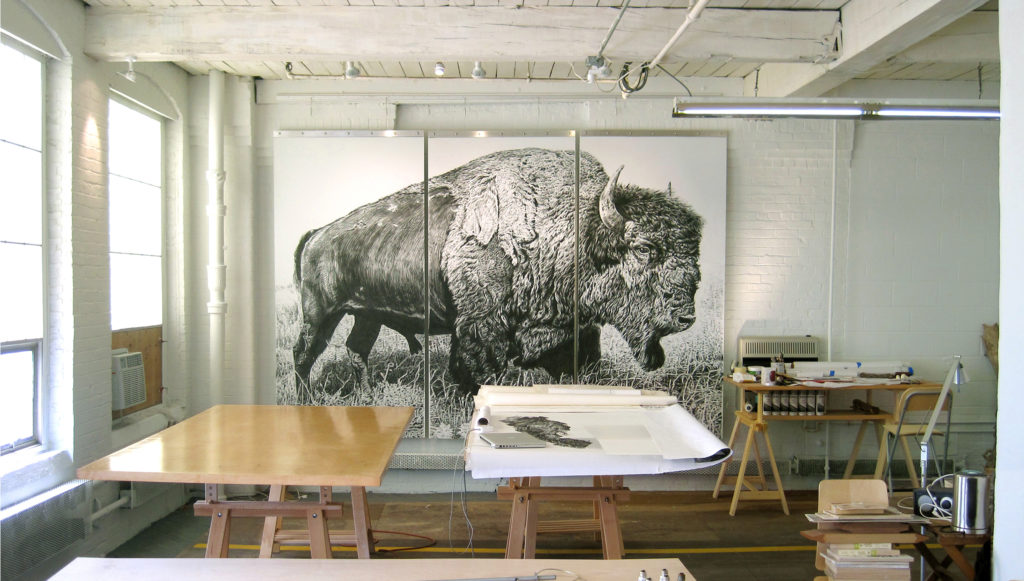 THE PROCESS
 In my drawing practice I tend to always come back to the line work. I find what I respond to and admire in other artists' work, past or present, is usually the integrity of the line – whether it's a single stroke or a mass of scribble in the shadows. Before I began this current series of charcoal drawings I studied Rembrandt's etchings and Durer's woodcuts for several months admiring the choices made and the economy of line. When I finally started the first drawing it ended up being a life-size rendering of a fallen Oak near me and was 5′ x 19′ which forced me to break out of any formality or preciousness in the technique and become more fluid.
WORKING LARGE
For me the scale of larger drawings compels a distinct approach to the process of the mark-making — more gestural, almost calligraphic. If the rhythm is there you find yourself writing your way across the surface as if capturing thought in a frenzied rush of note taking.
I prefer drawing flora and fauna as near to life size as I can to capture the immediacy of the subject for the viewer. The first animal I did was an Indian Rhino which grew out of a fascination with Durer's woodcut of the same. That drawing, and the American Bison which followed, were each 8′ x 12′ triptychs.
To be confronted by the animal full size and close up, and in your immediate space, gives a fresh perspective to our relationship with them.
MORE ABOUT THE ARTIST
I hope it adds to the dialogue about saving endangered species. The Rhino went to Mexico City and the American Bison was just purchased by the State Department for their Art in Embassies Program. It is now installed in the new embassy in Chad, Africa as a potent symbol of our American history.
The Refugee Trilogy, my response to the ongoing refugee crisis, is traveling to several venues in 2017 – 2018 and I will have a solo show of landscapes and animal drawings at Sears Peyton Gallery in NYC in the Fall 2017.
CONTACT
Website: www.rickshaefer.com
Instagram: @rickshaefer
APRIL 2017: ARTIST OF THE MONTH
IYABA IBO MANDINGO
Artist Statement:
I am a multi-disciplined Artist from the Griot tradition, my objective is to use the material be it paint, ink, "garbage" found objects, words, acting, singing to tell the story of us…
Can you tell me about about the show "Unframed" and your role in it? 
I began writing unFRAMED 15 years ago.   As a multi-disciplined artist , I use paint, poetry, song and acting to tell the journey of my life as a boy in the Caribbean to a manhood in America.
You recently did a performance piece Afrika360. Can you tell me about that? 
Afrika 360 grew out of my journey to Afrika in 2015.  A month in South Afrika and 4 months in Nigeria rewired me in more ways than I can identify sometimes.  One of the main ways is in my aesthetic as an artist.  The performance piece in Afrika grows out of the foundation of Afrikan rituals and ceremonies.  There's a depth that I've never seen in western theatre.  One is taught in western theatre to never break the fourth wall.  In Afrikan theatre there is no fourth wall.  So, for me, Afrika 360 represents the full 360 degree return to my source to the place my bloodline was stolen from.
What was the experience like participating in the exhibit "How we see you"?
"How We See You:  A Perspective of Black Women Through the Eyes of Black Men" was a celebration of the black woman.  Not only my mother, my grandmother, my wife, my sisters, and my daughters, but also as the mother of creation itself, of all of us.
Do you have any shows or exhibits in the Bridgeport area currently?
We just wrapped up Obsidian Colored Glasses at the Read ArtSpace.  The exhibit was a multi artist show celebrating black artists.  We are currently preparing work for the open studios this weekend at the Nest Arts Factory.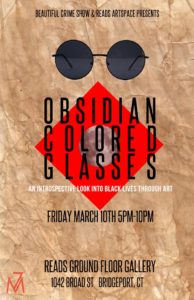 Other events/exhibits you'd like to share about?
My one man play unFRAMED will be making its off-Broadway debut.  We open on April 5, 2017 and will have weekly shows through Mother's Day.  For more information and tickets, go to www.unFRAMEDtheshow.com
How do you think you've changed as an artist since last featured in the BPT Art Trail Newsletter? 
As I've said before, going to Afrika feels and felt like I've achieved something I had been trying to do

More about Iyaba Ibo Mandingo
How would you describe your artwork/style?
I would describe my work as Neo-African Art…it is the embracing or re-embracing of Africa the continent and the cultures as an aesthetic over European influences.
What medium do you work in?
all of the above…I use everything, allow the material to tell me what it wants to do…this is also true for applying color, housepaint w/ dirt, pastels n oil sticks, acrylics, makers n pencils all offer a different way to tell the story.
What is your process like? 
It varies depending on the objective, but usually my senses are awakened by a particular thing, incident or moment…I then listen through which ever sense reacted most to hear how it wants to come and what it wants to say.
FEBRUARY 2017: ARTIST OF THE MONTH
OLIVIER J-P KPOGNON 
Olivier J-P Kpognon is an international lifestyle photographer and founder of O & Co. Media Group, a full-service photography, film and design studio launched in 2003.
Born in Belgium of a French mother and a Beninese Father and raised in the Washington DC area, Olivier developed a keen appreciation for international travel, style, design and the arts. Since launching his company, he has traveled throughout the United States and around the world – using his talents and expertise to capture his clients' most memorable moments.
He has a formidable reputation among both his peers and clients for his exceptional creativity, talent and professionalism. He is an active and longstanding member of Wedding and Portrait Photographers International (WPPI) & Professional Photographers of America (PPA). Olivier's work is regularly published in bridal magazines such as Destination I Do and World Bride Magazine. In 2012, Olivier was distinguished as the Entrepreneur of the Year from the Westchester and Greater Connecticut Chapter of the National Black MBA Association.
The company's client list includes multinational corporations such as GE, Boehringer Ingelheim, Morgan Stanley Smith Barney, Diageo, UBS and Kraft Foods. Olivier is proud of his work and relationships with local small businesses in his community and teaches photography to high school students. He was the official photographer for Fred's Team representing the internationally-renown Memorial Sloan-Kettering Cancer Center; the second largest team in the annual New York City Marathon. His company also serves private clients providing services that include portraits, families, and special events such as weddings.
Olivier credits his success to his willingness to leave a 10-year corporate finance career in commercial banking to pursue his passion. His advice to all is; "know you can follow your passion, finding your passion is key: talent, alone, is not enough and, if you do what you're passionate about, you will be more motivated to succeed." One of is his favorite quotes is, "I love what I do and I do what I love."
Q&A with Olivier J-P Kpognon
How would you describe your artwork/style?
My artwork/style is photojournalistic or documentary as shown in my latest photo exhibit "How We See You"
What medium do you work in?
I work in digital imagery
What is your process like?
My process is both spontaneous and calculated as I search for inspiration and potential subjects.
What inspires you?
Life inspires me. Anything can inspire me: people, places, colors and events.
Can you tell me more about leaving the Finance field and starting O &Co. Media Group. What was that process like? What motivated the shift?
I voluntarily left my corporate life to try my hand at a career in photography because it was my passion. When I discovered that others where making a living from it, particularly the photographer that I was sub-contracting for, I gave my resignation. I created a website of my work and advertised my company on a very popular wedding web portal site to get exposure.  Additional personal reasons motivated the shift such as the influence of my mother who was an artist.
You have worked with many notable clients. Are there some projects that stand out to you that you'd like to share about?
I have worked with many clients in settings all around the world. Most notably Nicole Garwood of Garwood Events for the grand opening of the Temenos Golf Club. That opening was a weeklong event in the beautiful country of Anguilla with star-studded celebrities.
In your opinion, how is wedding photography different from regular photography?
Wedding photography differs in the sense that it combines many different types of photography into one event: product, portrait, landscape, flash and nighttime photography among others. Add to the fact that you are photographing a very emotional day with many people in a short amount of time, under changing lighting conditions with no room for errors.
How do you think you've changed or developed as an artist?
I shoot more from my heart and think less about the technical since I know what I'm doing. I have increased my level of confidence over the years which helps me to connect with my subject.
Can you tell me a bit about your work in the "How we see you" exhibition?
The "How We See You" exhibition is a collection of street images I took in Bamako, Mali portraying everyday women and life in this capital city.
 Why were you interested in participating in this show?
I wanted to portray women of color in a positive light. I also wanted to highlight the beauty of daily scenes in Africa in my own way.
What are some topics you addressed in your artist talk?
I discussed what I believe is a women's strengths, love, work and superior intellect and show how women are thriving in challenging contexts.
Any additional information or upcoming events you'd like to share?
I am planning several photography events this month in CT and currently working on funding a trip for a coffee table book called "54" showcasing life in the 54 African countries.

JANUARY 2017: ORGANIZATION OF THE MONTH
THE SCHELFHAUDT GALLERY
This month Gallery Director Peter Konsterlie shared about the Schelfhaudt Gallery, their upcoming exhibition,and talks with artists about their panel discussion during the 2016 Bridgeport Art Trail.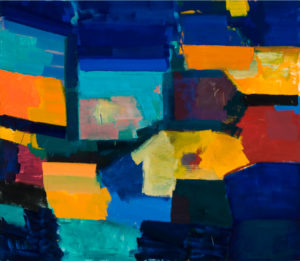 About the Schelfaudt Gallery 
The ABC Gallery, which originally opened in 1968 at the Arnold Bernhard Center, has a terrific history of commitment to its local community and the Arts. The gallery has featured some of the most important artists in American art from Robert Motherwell to Red Grooms, Louise Nevelson, and Alice Neel. In October 2012, The University of Bridgeport changed the gallery's name to the Schelfhaudt Gallery, in honor of Peter Schelfhaudt, Chairman and Chief Executive Officer of the advertising firm Creative Partners. Mr. Schelfhaudt's gift to UB supports the gallery, through exhibitions and visiting-artist programs, the Arnold Bernhard Center and to the great benefit of the University and the surrounding community.  Artists provide unique insight into the human experience, reflect society, expose its humanity, and ideally lead and inspire. I am pleased to support the University's commitment to resurrecting the vitality of the Arnold Bernhard Center so that students and the local community can enjoy and participate in the arts.
The Schelfhaudt Gallery is one of the largest and prestigious galleries of the Fairfield area, boasting of more than 3500 square feet of exhibition space. Based in the newly renovated Shintaro Akatsu School of Design on the University of Bridgeport Campus, it stands as a high watermark of creative thought and design. The gallery's mission statement is to showcase mid-career and emerging professional artists for cultural and educational experiences. Located by the beautiful shoreline of Long Island Sound, it is an oasis for culture and the arts.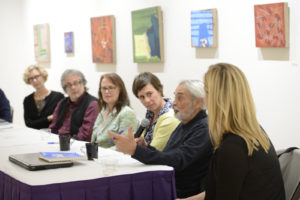 About the Reality of Abstraction exhibit and Panel Discussion
Abstract art has had a wide birth of creation. Hard-edged and painterly brush strokes permeate the gallery with colorful expression. The exhibition consists of paintings, and sculptures looking through the lenses of nonobjective imagery. The exhibition is a great sampling of what today's contemporary artists are doing.
Curated by Peter Konsterlie.
Featured artists include: Cat Balco, Mike Childs, Rob Fischer, Chris Mercier, Anne Sherwood Pundyk, David Rich, Vincent Verrillo, Cecilia Whittaker-Doe, Becky Yazdan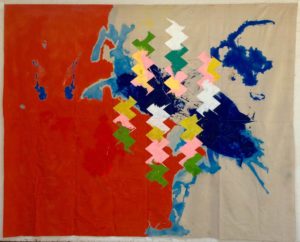 Notes on the Reality of Abstraction Panel Discussion November 2016 
Konsterlie: How much Do you identify with Abstract Expressionists?
Anne Sherwood Pundyk I have always identified strongly with the Abstract Expressionists, even when I was working figuratively. I admire their commitment to bringing an introspective mode and a formal radicalism to American painting. Clyfford Still's work especially appeals to me now because of his spare pictorial language that relies on flat, irregular expanses of color. His work seems to refer to dry, western or even lunar landscapes, but also evokes the realm of sensation and skin. I just reviewed the recent landmark Abstract Expressionist exhibition at the Royal Academy in London. Here is a link to my review: http://www.artcritical.com/2016/11/05/anne-sherwood-pundyk-on-abstract-expressionism/
David Rich About 29%. (joke) When I was in high school, a major show of Willem de Kooning made a big impact on me for the combination of improvisation and cohesiveness. I also loved Philip Guston, both for the density of his work, and later for his impatience with how abstract expressionism had settled into a too-predictable genre. Remember that by the 1950's there was a lot of very derivative and mannered abstract expressionist painting. The movement carries a lot of historical baggage, including assumptions about universals, of which many of us today are skeptical.
Cecilia Whittaker-Doe I identify with the gesture of their work; that meaning and energy can be encompassed in the gesture of a brushstroke.  I think it's a generous way to communicate through paint in that it requires the artist to believe that the action of their efforts will carry their knowledge and experience.  In my own work I use various technique and feel that I can draw upon the findings of others before me.  I love being an image maker first and foremost, and believe the image is arrived at both physically on the paintings surface, and visually for the viewer.
Cat Balco hindered by the bravado of Ab. Ex. William deKooning,
Vincent Verrillo I like the Ab. Ex. Emotional impact.
Becky Yazdan There is something incredibly seductive about Abstract Expressionism. The emotion, the materials, the grand scale… The stories of de Kooning, Pollock and Rothko hanging out at Cedar Tavern haunted me while I was studying at the New York Studio School on 8th St. Ultimately, though I think some of them took themselves too seriously and the massive scale was so tied up in machismo which was a turn-off.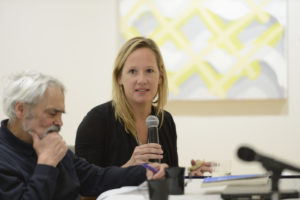 Konsterlie: Who are your influences?
Anne Sherwood Pundyk I love the work of the post-impressionist painter Edouard Manet for both the magic of his paint handling and the way he challenged narrative conventions. Modern and contemporary painters I admire include Matisse, Joan Mitchell, Helen Frankenthaler and Alan Shields, but also the color and light installations of James Turrell, the activist work of Suzanne Lacy and modern dancers such as Merce Cunningham. The work that I'm doing now brings together the essence of my interest in traditional painting with movement, dance and gesture. I am not making a window into another space the way a painting typically works, but bringing the space in my work out to envelop my audience. I want them to be the subject of my paintings.
David Rich Elizabeth Murray, Philip Guston, Amy Sillman, Thomas Nozkowski, and others who don't necessarily look like each other, but who bring a restless inquiry to finding what the next painting needs to be.
Cecilia Whittaker-Doe I have influences of course from art history –Burchfield, Bourgeios, O'Keeffe, Degas, El Greco, Chagall, Emile Nolde and his contemporaries.  I also have worked with a few artists who had a great impact on me. In the late 80's, working at Tallix Art Foundry, I had the opportunity to work along side Nance Graves.  She was building tree – like forms by welding all kinds of cast objects together – fans, exotic looking vegetables and fruits she found in New York City's China Town. I assisted her in applying patina onto the finished sculptures.  I also worked on a Bill Tucker sculpture, one of the large cast bronze rock – like forms.  I liked the way both artists combined aspects of our human form and our natural environment in their work, and in very different ways from each other.
Cat Balco "My influences change all the time, Judy Ledgerwood, Gary Stephan, Stephanie Mann,
Vincent Verrillo El Greco was an influence. Purple and blacks, Hans Hoffman, Jackson Pollock,
Becky Yazdan Alice Neel, Matisse (turtle painting), Gustave Courbet's Burial at Ornans), Philip Guston's late work, Nozcowski, Forest Bess
Konsterlie: What do you think about Terry Winters, Bill Jensen, and Joanne Greenbaum's work?
David Rich:  I've enjoyed quality time with works by all three. One thing that often strikes me about Terry Winters is that a painting might have a seemingly-simple first read, perhaps two or three main color chords, and after a while the presence of a small amount of a fourth or fifth tone, one that wouldn't seem to fit, influences the tonality of the whole painting, giving it a slightly dissonant buzz.
Becky Yazdan I studied with Bill Jensen in grad school and he was very influential on my work. He taught me about "getting out of the painting's way" and allowing the content to emerge rather than forcing your will on the painting. He helped me see that painting is not about fixing things.
Konsterlie: Who are the important abstract painters working today?
David Rich   I'm interested in Mark Bradford, and agree that Jackie Saccoccio and Gary Stephan are also relevant.
Cecilia Whittaker-Doe I like Jackie Saccoccio's work.  She seems to be able to be very free with the paint and also go back into the paintings without losing the immediacy in the work.  "Abstract" is difficult to define when talking about artists.  I think it's really fluid.   Louise Fishman, Margaret Evangeline, Merlin James (encompassing a very "fluid" definition of "abstract") and Charline von Heyl.
Becky Yazdan Nozkowksi, Amy Sillman, Jonathan Lasker, Bill Jensen, Chris Martin
Anne Sherwood Pundyk I am especially taken right now with Katherina Grosse is an important German contemporary painter who creates painting installations and works on different supports, including abandoned houses and piles of dirt. What comes through is her excitement about color and movement. There is an almost disposable feel to her works, but they are grounded in an appreciation of modern painting.
Konsterlie: Does "collage" play a role in development in your composition.
David Rich: Yes, even though none of my paintings in this show involve collage. But the sense of painting incorporating rude interruptions of other materials and everyday life has always been important to me.
Konsterlie: Do you feel the viewer should be able to know what your painting is about?
Anne Sherwood Pundyk Yes. All the decisions I make while creating a painting such as size, materials, combinations of colors, placement of the spills and geometric formations, generate elements that my audience can read while standing in front of my painting. The experience of absorbing all the elements together, as well as other associations they may bring to the work becomes what the painting is "about."
David Rich For me painting needs to be compelling, like it demands to be read. I don't mean in a literal way. But there is something confrontational about it, which puts the viewer on the spot. And as the viewer becomes engaged with seeing the painting, the painting takes on something of a train of thought, or time, compressed into a visual object. Abstract painting doesn't have to be for everybody, but on the other hand, it can be for anybody.
Cecilia Whittaker-Doe About 6 years ago I thought of collage as a way of making my compositions in painting.  Not to make collages separately, but to start applying the paint in a way that disregarded the linear sense of the composition and instead used the disjointed appearance of collage.  Collage works for me when it has this disjointed appearance but at the same time combines lines and imagery to make a whole.  This is how I wanted to paint.
Cat Balco Susan Sontag,
Vincent Verrillo modern poetry,
Becky Yazdan The viewer does not need to know what the painting is about, although they need to be able to relate to it in some way. The titles of my paintings offer clues to the content but I am not interested in spelling anything out – I like for them to remain open enough that the viewer can bring in their own associations. My work deals with specific personal experiences and memories and my hope is that by dealing with the particular, the paintings will be accessible to a broader audience through a sense of shared human experience.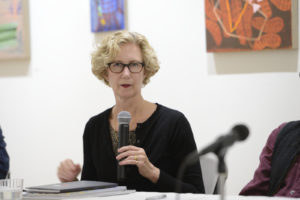 Konsterlie: Do you start with something in mind when you start a painting? (Automatic marks)?
Anne Sherwood Pundyk I find that the first freeform spills, blot or pours that I make when starting a painting each release a specific kind of energy that becomes part of the work. I will opt to begin on a certain size of canvas or paper and use a color that resonates with me and I even may have an idea of a shape for the paint, but the experience of comparing my intention with the reality of the execution is an important first reckoning.
David Rich For me a painting starts with an idea, a situation, or a conflict and then goes through a restless process of reworking, editing and improvisation. The process is like 'destination unknown'. Weirdly, though, the painting often ends up pretty consistent with the initial intent.
Cecilia Whittaker-Doe For some reason the natural landscape resonates with me.  It connects for me not only with our psychological and physical existence within it, but with the visual connections I find between our bodies and the forms within it This is where I begin.  I start with either a watercolor gestural painting on the surface or a silkscreened image I've prepared.  From there I react to what is in front of me and I try to respond to the imagery that is conjured through this process.
Cat Balco "take care of your affections."
Becky Yazdan My paintings often start with a color idea or a shape I noticed on the walk to the studio – anything to get me started. I don't know what the end result will be until the painting has asserted itself and the meaning has become (more or less) clear. The goal is for the painting to become its own self, its own idea.           
Konsterlie: How do you choose your palette?
Anne Sherwood Pundyk There is both specificity and an improvisational quality to my color combinations. Each color carries associations for me of emotions, place, time or experiences. As I layer and combine different colors, I am melding these associations creating a new personal reality.
David Rich My sense of light constructed from color comes from when I was working from observation. Late afternoon and early evening light often inform my work. It is this relational sense of color, more than symbolism, that shapes the way I work with color intervals.
Cecilia Whittaker-Doe "No formula for coloring palette.
Vincent Verrillo "mood or feeling"
Konsterlie: What is the task of "painting" for society?
Anne Sherwood Pundyk Society encourages us almost relentlessly to conform to the views of others, and not to think and feel for ourselves. Painting connects to the value and power of recognizing the individual point of view.
David Rich Instead of being an escape from the world, painting can be a way more deeply into our lived experience. That's why I like your title for this show, Reality of Abstraction. It suggests that we are not just in our own little subjective bubbles, but rather are engaged in the world, and each other, in an inter-subjective way.
Cecilia Whittaker-Doe it's like poetry
Cat Balco Mondrian, Theosophical Society- Helena Petrovna Blavatsky
Hilma af Klint (October 26, 1862 – October 21, 1944) was a Sweden artist and mystic whose paintings were amongst the first abstract art. A considerable body of her abstract work predates the first purely abstract compositions by Kandinsky. She belonged to a group called "The Five" (a circle of women who shared her belief in the importance of trying to make contact with the so-called 'high masters' – often by way of séances) and her paintings, which sometimes resembled diagrams, were a visual representation of complex spiritual ideas.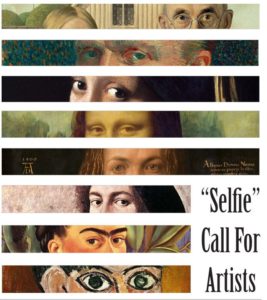 ABOUT THE UPCOMING EXHIBITION "SELFIE"
Open Call to Artists:  "Selfie" an exhibition of self-portraits
The Schelfhaudt Gallery has a special opportunity for artists to express themselves…literally! We are assembling a show of self-portraits.
During her lifetime, Frida Kahlo created some 200 paintings, 55 of which are self-portraits. When asked why she painted so many self-portraits, Frida replied:"Because I am so often alone…because I am the subject I know best."
Pablo Picasso posed the question, "Are we to paint what's on the face, what's inside the face, or what's behind it?
If you would like to participate, please email a self-portrait, along with a brief bio, to:selfieselfportrait@gmail.com
SUBMISSION DETAILS: http://www.schelfhaudtgallery.com/press-release-open-call-to-artists/
Q. I see that all mediums are accepted except photography. Why is that?

A. Because the premise of the show is a sample of the self-portrait tradition and not a trending version brought on by a technical advancement of the phone/camera.
OPENING RECEPTION
Please join us on Friday Feb. 10th from 5:00-7:30pm for a wine and cheese and music reception to celebrate the show! Please tell family, friends, and guests are welcome!
Free to attend but kindly RSVP.
The reception is free and open to the public. The exhibition runs through April 8th.
Gallery hours are Monday through Friday, 11 a.m. to 4 p.m.; and Saturday, 12 to 4 p.m.
Shintaro Akatsu School of Design (SASD) on the University of Bridgeport campus is located  in the Arnold Bernhard Center (ABC), 84 Iranistan Avenue, Bridgeport, CT 06604.
Off street parking is available.
CONTACTS
Reality of Abstraction Artists
Cat Balco  http://catbalco.com/home.html
Mike Childs  http://www.mikechilds.net
Rob Fischer  http://Rob-Fischer.com
Chris Mercier  https://www.artslant.com/global/artists/show/12199-christopher-lawrence-mercier?tab=PROFILE
Anne Sherwood Pundyk  annepundyk.com
David Rich  http://www.davidrich.net
Vincent Verrillo  http://www.fairfield-sun.com/32984/abstract-art-on-display-at-the-kershner-gallery/
Cecilia Whittaker-Doe  https://ceciliawhittaker-doe.com/gallery/
Becky Yazdan  Http://beckyyazdan.com
—
Peter Konsterlie 
Gallery Director
University of Bridgeport, Arnold Bernhard Center
84 Iranistan Avenue, Bridgeport CT. 06604
Artist website:    http://www.konsterlie.com
Gallery website: http://www.schelfhaudtgallery.com/reality-of-abstraction/

       https://1drv.ms/f/s!AvAeiMujTwNJg7hQRlImSLoLhSB6Ig
Facebook: https://www.facebook.com/ShelfhaudtGallery/?ref=bookmarks
DECEMBER 2016 FEATURE
2016 BRIDGEPORT ART TRAIL REVISITED
As the year comes to a close we want to thank all of our readers for their continued support of the Bridgeport arts community!
We've asked venues and participants to share about being part of this citywide celebration of arts and culture. Learn more about their insights below.
We hope you enjoyed your Art Trail experience and will continue to join us at future events in the new year.
Happy Holidays,
The Bridgeport Art Trail Team
CITY LIGHTS GALLERY
Working with the artists and arts organizations, City Lights organized the 8th Bridgeport Art Trail, coordinating events and securing funds for advertising. Support from Mayor Ganim and the city of Bridgeport and the collaborative effort of Bridgeport artists, arts organizations ensured the city-wide art celebration is a success, attracting double the attendance from regional arts patrons and Bridgeport-lovers.
City Lights also coordinated events in their 855 Main St. gallery space, including a poetry workshop, an open-house reception and the breakfast meet-up for the Bridgeport Art Trail annual bike-ride. The exhibit on view was "The Fabric of her Being, The art of Karen Loprete." We coordinated an alternative pop-up space as well at 1103 Main St. Programs there included the following: an exhibit of the photography of Jay Misencik featuring his theatre project and Bridgeport Portrait project. Iyaba Ibo Mandingo debuted his latest work  "AFRIKA" 360 an installation of sculpture and performance..
City Lights also coordinated the annual .Thursday Night Downtown Bridgeport Art Trail Kick-Off and  Artist Party.  Through the help of all collaborating partners and individuals, especially the Read's Art Space group, we estimate 650 people attended over the course of the night. This doubled our attendance from last year. The local artisanal food/drink/ music was a hit and complimented the art and community being showcased during the city-wide open studio weekend. Special thanks to John Torres of Oh, Cassiuis! for curating and organizing the line up for a new Bridgeport Art Trail tradition, "The Park City All Stars."  Local musicians were featured all night long to share a sampling of their music and participate in the kick-off celebration.
Why do you think it's important to participate in the Bridgeport Art Trail?
Strength in numbers. To create a presence we need to work together, demonstrate our impact on the community… hopefully this will attract support for the arts.
Images:
Bridgeport Art Trail Bike Tour photographs by Catherine Conroy
Bridgeport Art Trail photographs by Suzanne Kachmar
1. Live body painting by Alicia Cobb at the Bpt Art Trail Kick-Off Party
2. *Bridgeport Baroque  at the NEST Arts Factory: Acclaimed musicians Owen Burdick and Richard Wyton lead an evening of "Bridgeport Baroque", an evening of classical music from the 17th and 18th centuries on harpsichord, recorder, and transverse flute, with special guest Nina Stern.
3. Iyaba Ibo Mandingo performs AFRIKA 360
4. The studio of Emily Larned at American Fabrics
Any upcoming events at the venue you'd like to promote? 
City Lights is excited about 2 upcoming exhibits about women amd perception. The first will open in January with a public reception in Feb 2, 2017. The exhibit is called "HOW WE SEE YOU:  The perception of Black women through the art of Black men".  Featured artists are Iyaba Ibo Mandingo and Olivier Kpognon. The March exhibit will feature the art of Sam Morrow. All are Bridgeport artists.
Thursday Night Downtown
Bridgeport Art Trail Kick-Off
and Artist Party. 
We estimate 650 people attended over the course of the night. This doubled our attendance from last year. The local food/ drink/ music was a hit and complimented the art and community being showcased during the city-wide open studio weekend.  We estimate over 6000 attendees for the weekend long event.
Bridgeport Art Trail Kick-Off and Artist Party Photos courtesy Fairfield HamletHub.
View the full album here
Oh, Cassius! had a fantastic time performing at the Art Trail. We are so privileged to be part of such an amazing artistic community. It's always wonderful when we can show surrounding communities and even some people and Bridgeport who aren't aware what a glut of talent and passion is housed within Bridgeport city limits. I'm especially thankful to Suzanne Kachmar and everybody at the reeds building for hosting the event. O,C! has an album coming out this spring so it was great to get out there and perform in front of other creative's to let them know we're still very much a thing. –John Torres, Oh, Cassius! 
Photo Caption: Carlos Davila Studio
The NEST Arts Factory
The NEST Arts Factory had a broad assortment of programs during the Art Trail this year. Some of the highlights were a live, free baroque concert with harpsichord, flute, recorder, and cello and 4 talented, well-known musicians (Owen Burdick, Richard Wyton, Nina Stern, and Arthur Flacco); a performance by NEST artist Iyaba Ibo Mandingo about his sojourn in Africa last year; a participatory community drumming circle led by Asher Delerme; many art demonstrations by NEST artists (always a big draw for visitors!); a Latin fusion music concert by NEST artist Rick Reyes; and of course our famous Sunday morning brunch.
Nearly a thousand people visited the NEST throughout the weekend, more than even last year, and everyone was excited to meet the artists, watch the demonstrations, listen to the music, and view all of the art in the studios and all of our different exhibits. We had visitors from as far away as Hartford and New York City.
Nest Studios: Iyaba Mandingo (Left), Phyllis Lee (right), Kristin Merrill (center)
Was any program or event especially successful/of interest?
We hosted our second 10 x 10 fundraising exhibit this year and sold 25% of the show the first night! The exhibit, all works 10" x 10", is by NEST and local artists and all sell for $100. It's the perfect opportunity to start or add to an art collection at a great price. Unlike many fundraisers, the money raised is divided equally between the participating artists and the NEST. The funds allow the NEST to present interesting free programs throughout the year.Why do you think it's important to participate in the Bridgeport Art Trail?
The Bridgeport Art Trail is an outstanding event and we eagerly look forward to it every year! It's really well run by Suzanne Kachmar, the organizer extraordinaire, and it gives the city, its venues, and its artists an opportunity to show off the wealth of talent and creativity that is at work here. It gets better and better and draws more and more people from a wider region every year.Would you describe Bridgeport as a creative city?
There is an energy here and a sense of collaboration between the artists, musicians, craftspeople, etc, that is creative and inspirational. Historically every city that artists thrive in, thrives itself. Artists show the potential in spaces, they allow the public to see the beauty and viability in neglected or quirky spaces and neighborhoods. Artists have always paved the way for revitalization and rebirth. A city, like Bridgeport, that is smart enough to support its artists and art community can't help but to prosper. The artists of Bridgeport are passionate about our love for the city and our desire to see it succeed.Any upcoming events at The Nest you'd like to promote?
The next event at the NEST is Friday, March 10 when we host our second annual Bridgeport Artist Networking Party. Last year nearly 300 artists and creative people got together to share, collaborate, inspire one another, and forge connections. The first of the new Artist2Artist peer professional development series will be held right before the party kicks off and will be free and helpful to all artists and those with creative businesses. The day after, Saturday, March 11, will be our first event of our Spring season, with Open Studios and an invitational exhibition in our gallery.ABOUT JANE DAVILLA
I am a fiber artist and printmaker working from a studio at the NEST Arts Factory. I teach workshops there (and around the world) and also mentor artists on the business side of being an artist.
Was any program or event especially successful/of interest?
Design Night Out: URBAN was a panel discussion hosted by the Bananaland & Hartford Prints at the newly renovated Harral Security Wheeler building on Main St. I think this event was so well received because Design Night Out has a history of presenting different themes in Bridgeport & Hartford therefore building an audience & interest.
It is also so well produced with a slideshow of the panelists art & photographs of what they do, great sound system, live music, wonderful food. I had the pleasure of being one of the panelists this year & really enjoyed speaking about my city, Bridgeport, and the public art I create in it and other cities with great public art. It was also super fun collaborating with, and learning from, the other panelists.
-Liz Squillace, Artist, Paradox Ink
LIZ SQUILLACE
Artists Choose Artists
Arcade Mall Storefronts
What were some of the programming you hosted for the 2016 Bridgeport Art Trail? 
I, along with the Read's Artspace Ground Floor Gallery Committee, hosted Artists Choose Artists with curatorial assistance by David Green of the Cultural Alliance of Fairfield County. Our opening reception coincided with the kickoff party for the Bridgeport Art Trail. I also hosted open studios in my screenprinting & painting studio, Paradox Ink, in the Arcade Mall, where I demonstrated screenprinting on t-shirts & hoodies.
How was your experience?
The experience at Read's Artspace was amazing. The turnout at the opening of Artists Choose Artists & the Bpt Art Trail Kickoff party was huge! We had live music, food, art, and great people. The Arcade open studios was less populated, but still activated with screenprinting, weaving, and art shopping,
Why do you think it's important to participate in the Bridgeport Art Trail? 
Because, as an artist, I feel a responsibility to show my work, and the galleries that I represent, in the best light.
It's important to highlight the depth & diversity of the artists in Bridgeport, especially because collectively, as a community, we are trying to expand Bridgeport into a truly creative, livable, vibrant city and right now is the time to see the artist pioneers of the city doing what we do best, making art!!!
ABOUT LIZ SQUILLACE
I am a painter and screenprinter. I paint public art & murals, and screenprint t-shirts out of my studio-storefront, Paradox Ink in the Arcade Mall. I describe my public artwork as creative illusion, as can be seen on utility boxes in downtown Bridgeport, and a mural in the Bridgeport Train Station. I've also painted oil paintings such as Paris Window and a Window in Bridgeport, which play with the illusion of looking through window panes into urban landscapes.
RUBEN MARROQUIN: MARROQUIN WEAVING
I had the pleasure to welcome the Dean of Education at Sacred Heart University, who is also a Bridgeport local and purchased a medium size artwork themed after the recent presidential election results.  I also welcomed my friend and local interior designer Robert Valle who is a continuous supporter of the studio.
Our studios are located on the second floor of the Arcade Mall, we offer weaving group classes and fine art made with textiles.
Photograph, Main Street Bridgeport by Julia-Rose
A SPECIAL ARTIST OF THE MONTH TRIBUTE
ARTISTS REMEMBER KAREN LOPRETE
Kristina Blais
How did you know Karen Loprete and how would you describe her?
I met Karen at my first Studio Art Quilt Association meeting in 2012.  At that meeting I learned that Karen was known for sharing unique work that included many forms of embellishment.  She talked to me after the meeting, told me we were neighbors, and invited me to get together.  For the past four years we have been great friends, and travel and quilting companions.
How did she impact you as an artist?
Karen was my first art quilting friend and mentor.
 Karen encouraged me to not give up, to explore, and provided constructive criticism and helped me to see things as they were.
Do you have a favorite memory you would like to share?
Karen was with me the day I picked up a rescue dog.  I was driving and it was Karen's job to keep the dog in the back seat.  We laughed and laughed as the dog did the opposite of whatever we wanted him to do, and I was so happy to have her helping me negotiate his first day home.
Anything else you'd like to include?  
Karen took a very serious approach to her whimsical work.  I remember her saying that when a piece was near completion, she would determine if it was "worthy" of her "stitchery," meaning would she put in the hours to bead or embroider over the top of it. We are so blessed to have her work in the world, and I truly miss my friend.
Iyaba Mandingo
How did you know Karen Loprete and how would you describe her?
I meet Karen at The Nest several years ago…I would describe her as a walking talking flower. I love her sense of color and form and her technical skills were awesome…her smile was 100% authentic.
Do you have a favorite memory you would like to share?
There is always music playing from my studio…be it Reggae Afrobeat or me playing my bongos and as long as my Sista Karen was in the building I could expect her to knock on the door and dance in with her smile…I'm smiling writing this now…miss your vibrations Sista!!!
"Empty Can of Worms" oil on canvas 50"x70"
Jane Davila
How did you know Karen Loprete and how would you describe her?
I've known Karen for over 10 years. She was a delightfully warm, kind-hearted, funny, and beautiful soul.
How did she impact you as an artist?
It was a pleasure to see how fearless she was in her use of color and form. Her compositions exploded out of the fabric with texture and vibrancy. Her joy in her art and artmaking process was infectious and it inspired me and everyone else around her to find the same joy.
Do you have a favorite memory you would like to share?
In 2006 Karen's work had been accepted into the first iteration of the innovative fiber art show, SPUN, which I am the director of. Karen, her husband John, son Sam, and her mom and dad came to the opening reception. The pure happiness that she felt at the reception shown on her face and the love and pride that her whole family had for her and felt in her accomplishment that evening was beautiful to behold.
Anything else you'd like to include?  
Karen's wit, intelligence, talent, and free spirit will be missed by the Bridgeport art community and especially by her art family at the NEST Arts Factory. You couldn't help but smile and laugh when you talked to her and you can't help but smile when you see her work.
VISUAL ART: "The Fiber of Her Being, the Art of Karen Loprete""
City Lights Gallery
Opening Reception:  October, 13th 2016, 5:30-8:30pm
Exhibit Description:  City Lights Gallery hosts "The Fiber of Her Being the Art of Karen Loprete".
The walls of City Lights are bursting with color, pattern, whimsy, joyful exuberance a bit of controlled chaos- counter balanced by deep thought. These works are a testament to the nature of the artist and her approach to living.  We invite you to stand in the existential presence of Karen Loprete. Be surrounded by her fabric artworks and soak in her vision and vitality and pass the positivity forward.
Regretfully the artist will not be present at the reception.  She passed suddenly last month. We will celebrate her life, her creativity, and her kind and happy spirit.
City Lights thanks Karen's devoted husband John Loprete and family and close friend Christina Blais  for their generosity of time and act of love to create this exhibit and celebrate an artful life although too short, well lived. Reception Details to be come:  www.citylightsgallery.org
*All event descriptions and artist interviews are presented as provided.
ARTIST OF THE MONTH
AUGUST 2016
MARCELLA KUROWSKI
"War Paint" 46″x46″ acrylic and paint marker on canvas 2016
Q.    How would you describe your artwork/style?
A.    Surreal character style
Q.    What medium do you work in? A.    Paint and Clay
Q.    What inspires you?
A.    Everything
Q.    How do you think you've changed or developed as an artist?
A.    I take life and myself a lot less seriously.
"Empty Can of Worms" oil on canvas 50"x70"
What is your process like? 
I start with an uninhibited mess and I go through a process of building up and breaking down what I see in the organic shapes and forms. Bringing it to conclusion by detailing what appears, which is usually one or two central characters.
"Empty Can of Worms" oil on canvas 50"x70"
Q.    Can you tell me about your experience collaborating with Jahmane West, Michael Clocks and Iyaba Ibo Mandingo creating a set design environment for the production of Oliver Reinvented?
A.     It's inspiring to work with such talented artists of different styles. We are all standing back and letting each individual style shine through. It's diverse, colorful and laid back.
Q.    How is working in a theater environment different from you individual work? Have you learned anything new through this experience?
A.    My individual work is completely uncensored and not preconceived, working in an environment where you are being asked to create something particular, that can be a tuff way to approach. I wasn't sure how I was going to do my thing for our large collaborative piece. I needed to do characters, kids specifically. So I decided where they would be placed and made a couple of small controlled messes and built the characters out from that. This way I didn't interfere too much with what every one else was doing. So I guess I got practice in learning some self control :]
"Spector" 28″x 54″ 

acrylic, tinted gesso and paint marker on canvas 2015
"Scrap" Acrylic, tinted gesso and paint marker on canvas 2015
Q.    Any other upcoming news, events, or anything else you'd like to share?
A.    I have a lot more artwork coming your way. Stay tuned.
*All event descriptions and artist interviews are presented as provided.

 ARTIST OF THE MONTH JUNE 2016
PHILIP POST

Philip Post is a 21 year old self taught artist from Norwalk, CT. He started his brand dertbag in 2007 at age 12. Post came up with the name after a flare up of his Crohn's disease. His Crohn's disease made it nearly impossible to school. Instead, Philip channeled his energy into his art, creating his own world with dertbag. Post has shown his work in Tokyo, Vienna, NYC, and LA. In 2013 Philip opened his 'dertbag atelier' at age 18. He sells his dertbag brand and his father's brand Frank Foster Post here. He also works on his personal artwork and music at the atelier.

Q. How would you describe your designs?
Out of my mind.

Q. Why were you attracted to be a street wear designer?


I like wearing things people don't have.


What is your process like? My process for my collection is usually based around events I have gone through. I am now trying to make each collection more personal, and trying to create from within. I listen to music, go through old books, experience, experiment, and end the chapter of my life with my collection, which brings on a new chapter…

Q. What inspires you?
Life. Colors. Natural occurrences. Original people. Taking risks.

Q. How do you think you've changed or developed as a designer?  
I have developed and progressed as an artist, and matured as a designer. I am the 21 year old version of my 12 year old self.

Q. An article in the Connecticut Post quotes you saying "My whole life I haven't lived the normal kid route." Can you describe how you feel your upbringing has influenced you as a designer?


Both of my parents and sisters are artists. I grew up in an art environment with creatives in every room. I didn't really go to high school due to my Crohn's disease, but instead I turned the negative into a positive and worked on my brand. Taught myself the adobe suite and final cut pro. Put my energy into something constructive and cool.

READ THE ARTICLE

HERE

Q. Kanye West was recently photographed wearing one of your designs and then later you contributed to a Vogue article about your favorite CT hotspots. Can you tell me a bit about this experience your rise as a designer?
A. I've always been making clothing. Everything good in my life has come from me creating and being true to myself. It's only natural to be where I am now. I just need to continue to impress myself.

READ ARTICLE

"Dertbag's Rise From Connecticut to Kanye"

(Complex)  HERE


READ ARTICLE

"Kanye's Favorite New Designer Shares 5 Must-Visit Connecticut Spots That Are Actually Cool"

(Vogue) HERE

Q. What do you think you bring to your designs that's unique or different?
No one else can do what I can do the way I do it.Q. What are your future plans for Dertbag?
Expansion. International pop ups. Full cut n sew collection. Higher quality goods. A better sense of myself.

*All event descriptions and artist interviews are presented as provided.

 MAY 2016 ARTISTS OF THE MONTH
Jay Misencik & Geralene Valentine

Q. How would you describe your artwork/style?

A. If our photographs have a look, we hope they have a "humanities" based documentary style.   

 

Q. What medium do you work in?

A. Still photography has been our first tool of choice.  However, we are currently working on two Bridgeport-centric cultural heritage projects where we are using video and audio to complement still photos.   

Q. What is your process like?

A. We try to keep things simple and straightforward.  First, we ask a person to participate in a project. Then a collaboration begins . . . We talk about the ideas behind our project and ask that person for their thoughts.  Then we "take" a few "pictures". 

 

Q. What inspires you?


People

Q. How do you think you've changed or developed as an artist?

A.The biggest changes have been the necessary responses to technology advancements.  Digital imaging has changed the photographic production process. But you still need to start the process with an idea.

Q.What role does history play in your work?

A. A historical perspective is always a consideration for us.  But we just hope to document parts of today's Bridgeport through the people we meet.  Time will take care of the history. 

Q. You have a variety of Bridgeport-centric projects, can you describe them? Why do you think Bridgeport is such a central aspect of your artwork?  

A. In 1989, Geralene and I were operating a commercial photography business in Bridgeport.  

Our first local photo project was a portrait series on Bridgeport's Main Street.  We wanted to show some of the different "occupations" that existed on just one street in the City.  Several people participated in the project.  We photographed . . . a butcher, a barber, a bootblack, a bank president, a police officer, a museum curator, and a newspaper "boy" who would soon celebrate his 81st birthday.

During the Main Street project, we met Barbara Jean Zanesky.  Barbara was operating the Joy Center Church Ministries out of the building complex that housed the Palace & Majestic Theatres, a former hotel, and several storefronts . . . all on Main Street.  We soon became intrigued with the building itself and spent time photographing architectural elements inside the 1922-built theatres.

Our first photographs in the theatres were successful thanks to Emil and Bob Rolleri who owned and operated the Ocean Sea Grill, a restaurant across the street from the theatres.  Because of the poor electrical service in the theatres, Emil and Bob let us run an extension cord from their restaurant, across Main Street, to power our lighting equipment in the theatres.  Without their help our photos would not have been possible.  We made photos in the theatres several times during the next few years.

In 1992 the City of Bridgeport took ownership of the building complex.  A new roof was put on, and the electric service was upgraded.

Geralene and I would not be back to photograph the theatres until early in 2011.  The years had been good to the theatres.  Our first visit back to the theatres after 19 years was to make some photos to be included in the exhibit, "Bravo! A Century of Theatre in Fairfield County" at the Fairfield Museum and History Center.

Later in 2011, Geralene and I began looking for people who had a connection to the Palace and Majestic Theatres.  We wanted to animate our architectural photos with the memories of people who performed, worked, or just saw a show at the theatres.  We are currently working on Poli's Palace & Majestic Theatres Memories Project where we interview people who share their memories of time spent at the theatres.  The project is currently supported in part by the Cultural Alliance of Fairfield County in partnership with the Connecticut Department of Economic and Community Development, Office of the Arts, and the National Endowment for the Arts.

We are also currently working on The Bridgeport Portrait Project.  It is a documentary style project based on still photo portraits, complemented with interviews of participants who share their values and beliefs . . . their culture and heritage, and stories of their time spent in Bridgeport.         

Q. Any other upcoming news, events, or anything else you'd like to share?
Website includes photos from our Bridgeport projects:

www.misencik-images.com

Soon to debut – WPKN Radio show . . . We will interview participants in our two current Bridgeport photo projects.

If you

'

d like to participate in either

The Bridgeport Portrait Project

or

Poli's Palace & Majestic Theatres Memories Project

,

please contact Jay and Geralene at 203-268-8306 or

misencik.images@gmail.com

.
*All event descriptions and artist interviews are presented as provided.
 ARTS ORGANIZATION OF THE MONTH: APRIL 2016
Neighborhood Studios of Fairfield County
NEIGHBORHOOD STUDIOS OF FAIRFIELD COUNTY ANNOUNCES
 ANNUAL GALA ON MAY 1, FEATURING AILEY II DANCE COMPANY
Annual Fundraising Event Supporting Arts Education Program to
Honor Robert A. Jacobs at Fairfield University's Quick Center for the Arts
       FAIRFIELD, CONN., April 7, 2016 — Plans are well under way for Neighborhood Studio of Fairfield County's (NSFC) 2016 Annual Gala that benefits NSFC's arts education programs, with special emphasis on its three summer camps. The event will take place on Sunday evening, May 1, at Quick Center for the Arts at Fairfield University in Fairfield, Connecticut. Westporter Robert A. Jacobs, Chairman of the NSFC Board, is this year's honoree. The popular fundraiser will feature performers from the world-renowned Ailey II Dance Company.
"We're delighted that the Ailey Company II will be performing at our Gala right after a successful two week run in New York City," said Harold Levine. Mr. Levine, a long-time Westporter, is Chairman of the Gala and Chairman Emeritus of NSFC. Former Chairman of the Alvin Ailey Dance Company Foundation board, he has been instrumental in involving the world-famous dance group with NSFC in the past, as well as the featured performers in the upcoming event.
For more than forty years, Ailey II has merged the spirit and energy of the country's best young dance talent with the passion and creative vision of today's most outstanding emerging choreographers. Started in 1974 as the Alvin Ailey Repertory Ensemble, Ailey II embodies Alvin Ailey's pioneering mission to establish an extended cultural community that provides dance performances, training and community programs for all people. Mr. Ailey personally selected the veteran dancer Sylvia Waters to lead this junior company. As its Artistic Director for 38 years, she developed Ailey II into one of America's most popular dance companies. In June 2012, Ms. Waters retired and named her longtime associate Troy Powell as the new Artistic Director. With Mr. Powell at the helm, Ailey II continues to thrive as he brings a fresh dimension to this beloved company.
The critically-acclaimed Ailey II has a distinctive repertory that has included works by dance masters Alvin Ailey, Talley Beatty, Donald Byrd, Ulysses Dove, George W. Faison, Lar Lubovitch, Alvin Ailey American Dance Theater Artistic Director Robert Battle and Artistic Director Emerita Judith Jamison, who shared stories of her remarkable career when she spoke at Quick Center for the Arts this winter. Gala attendees will be treated to several exciting new dances, as well as REVELATIONS, the Ailey favorite.
Organizing this year's Gala are committee members: Claudia Cohen, of Westport; Cathy Colgan, of  Norwalk; Laurie Gross, of Westport; Beryl Kaufman, of Trumbull; Eileen Wiseman, of Westport, as well as Chairman Harold Levine.
Event sponsors include: Alison Wachstein Photography; Barrett Outdoor Communications; Garelick & Herbs; Hearst Newspapers; Joseph and Joan Cullman Foundation; Melissa Diamond PR; Moet Hennessey; Moffly Media; Peoples United Bank; and TracyLocke.
Tickets range from $40 for students and $75 for general admission, to $150 for preferred seating. VIP seating is $225 and VIP seating and parking is $500. Reception guests at the $225 and $500 ticket levels will be treated to a cocktail hour provided by Garelick & Herbs, which will begin at 5:30. General admission and preferred seating will be available at 6:30.  For additional information and to purchase tickets, call 203-254-4010 or visit www.quickcenter.com
WHO WE ARE
Neighborhood Studios (NS) offers innovative after-school and summer arts programs to students from kindergarten through post-high school in Bridgeport and its surrounding towns. Neighborhood Studios offers 14 different school year programs and three summer camps at its own facilities and at various local schools. Our programs instill discipline, commitment and independence, which contribute to higher self-esteem and sustained accomplishments that last a lifetime. Neighborhood Studios has taught thousands of children over the years. Due to either economic disadvantage or physical or emotional disabilities, many of those children would not have had the opportunity to experience music and arts without Neighborhood Studio's existence.WHAT WE OFFER
Since 1977, Neighborhood Studios of Fairfield County (formerly the Music and Arts Center for Humanity) has offered arts education in Bridgeport, Connecticut to children and adults, in particular special needs students, at-risk individuals, and the artistically gifted. Research shows arts education to be an effective way for children to learn and grow.
In 2014 Neighborhood Studios provided arts education to 1500 children in their schools, in after-school programs, at our headquarters, and through our summer programs. Our arts curriculum is specifically designed to improve academic performance, increase graduation rates, and serve as a catalyst for lifelong success. Our programs build discipline, commitment and independence through the arts; fostering each child's talents, nurturing their success and developing their self-esteem in a fun and creative environment.
WHY WE DO IT
The Socio-economic Facts:
More than 95% of Bridgeport children are economically disadvantaged.
Low-income children in Connecticut public schools are almost four grade levels behind their upper-income peers. This marks the state as having the largest such "achievement gap" in the U.S.
In Bridgeport, the median household income is $26,256 compared to the median household income of $74,000 for Fairfield County.
Many families and schools in the poorest city of Connecticut can ill afford the benefits of art education programs.
The Benefits of an Arts Education:
Students of lower socioeconomic status who took music lessons in grades 8 – 12 increased their math scores significantly as compared to non-music students. In addition, reading, history, geography and even social skills soared by 40%.
The College Entrance Examination Board found that students in music appreciation scored 63 points higher on verbal and 44 points higher on math than students with no arts participation.
Neighborhood Studios' Success:
Conservatory high school graduation rates top 90% compared to 63% for Bridgeport and 79% for Connecticut statewide.
Approximately 60% of Conservatory students go on to receive college degrees as compared to 16% in Bridgeport and 35% in Connecticut.
Neighborhood Studios is an accredited member of the National Guild of Community Schools of the Arts, the United Way.
Neighborhood Studios is the winner of a 2005 Coming Up Taller award presented by the President's Committee on the Arts and the Humanities.
HOW YOU CAN HELP
Neighborhood Studios is a non-profit organization that thrives on the generosity of individuals, corporations, foundations, and grants from Federal and Local government. Tax deductible donations are our lifeblood, and allow us to offer a wide variety of arts education programs at little or no cost to our participants.
In addition to financial participation, Neighborhood Studios is always looking for talented and committed volunteers to help us working directly with our students as well as in the many critical administration and fund raising activities it takes to help us to continue to positively impact the lives of our students, their families and the community.LEARN MORE AT: http://www.nstudios.org/
*All event descriptions and artist interviews are presented as provided.
 MARCH ARTIST OF THE MONTH
JANE DAVILA
March is Women's History Month.
This month we're excited to again feature Jane Davila and her work at the NEST Arts Factory. The NEST Arts Factory has an active month with an Artists Networking Party and a "Women in Art" exhibition. Davila will also be exhibiting at City Lights Gallery in April.
Learn more about this artist, The NEST Arts Factory, and related events below.
Q&A with Jane Davila
Q. How would you describe your artwork/style?
My work is collage-based. No matter the medium that I'm working in, it's all about the layers! My work is graphic, stylized, and fairly minimalist.
Q. What medium do you work in?
I started as a printmaker, specializing in etchings and intaglios. Although I work mainly in fiber and mixed media now, many of my pieces incorporate printmaking in some form, including screen printing, gyotaku, and block printing. Having a printmaking background I find it more natural to work in a series, to take an idea and play with its many possible iterations before moving on to the next idea.
Q. What is your process like? 
I sketch out compositions in a notebook, then often carve a block, burn a screen, or create a stencil. I'll audition fabrics and art papers to arrive at a color palette, paint some backgrounds, and then jump into construction. The thinking and planning usually take more time than the actual execution because by the time I get to the "doing" phase most of the decisions have been made.
Q. What inspires you?
Nature, iconography, pattern, poetry, song lyrics, and typography all inspire me. I like to challenge myself to start with a lyric, a phrase, or a verse, and create a piece in response to it.
Q. How do you think you've changed or developed as an artist?
I think I've become much more aware of how interconnected we all are. You can research or find out about any art form, any topic with a click of a mouse. It becomes challenging to say something unique. I try to make sure that what I am expressing as an artist is showing my viewpoint that it's filtered through my experiences and that I've left my "mark" on it.
For More Information on Jane Davila's work and class schedule visit her website at: www.janedavila.com
The experience of living in Peru and traveling to a number of different places around the world has had a lasting impact on my appreciation for the diversity of cultural expression and iconography, which as a theme frequently shows up in my work. Repeating motifs of fish, birds, and insects reflect my ongoing fascination with nature, the environment, and human impact on both.
 – Jane Davila 
ABOUT THE NEST Arts Factory
The NEST Arts Factory is a community of artists working in a wide variety of media in a reimagined factory building on the west side of Bridgeport, Connecticut. Open space and a dedicated gallery within the NEST allow both performing and visual artists to share their work with the community.
Executive Director: Vic Mulaire
Mission Statement: To showcase and nurture artists, musicians, and the creative process. To provide a unique and inspiring environment to explore and discover art and music while enabling artists and musicians to experiment and collaborate across disciplines and media.
A Brief History of the NEST
The NEST began as an outgrowth of Cricket Hosiery Co, the first company to combine the use of knitting machines with computers to design and produce graphic socks. Founded in1985 by Vic Mulaire and located in the old Casco building on Railroad Ave in Bridgeport CT, Cricket Hosiery employed a number of graphic artists to design socks and stockings, establishing an early relationship with the arts community. Doug Mulaire, artist and photographer, and his wife Susan Taylor, also an artist, were instrumental in the early years of this endeavor.
In 1996 sculptor John Carnright set up the first studio in excess factory space. And thus the community began.  Other artists soon joined, with early founders David Flynn, Jed Wolf, Peter Konsterlie, Peter Duveen, Marie Riviera, Bob Ledoux, and Joe Provey, followed by many others.
Cricket Hosiery eventually moved to the present location at Fairfield Avenue in Bridgeport, but sadly did not survive the recession. Artist easels and drawing tables replaced knitting machines as the space gave over entirely to the new NEST Arts Factory.
*All event descriptions and artist interviews are presented as provided.
 ARTS ORGANIZATION OF THE MONTH: FEBRUARY 2016
THE MAGGIE DALY ARTS COOP (MDAC)
ABOUT THE MAGGIE DALY ARTS COOP (MDAC)
MDAC, located in downtown Bridgeport, CT, is an exciting and unique new initiative by The Kennedy Center designed to provide an innovative environment where individuals with disabilities can learn, create and benefit by participating in a multi-faceted arts program.
Located in the Read's Artspace building in downtown Bridgeport, MDAC provides unique programming that assists individuals with disabilities in creative exploration, self-discovery and expansive artistic growth using: Mixed Media, Visual Media, Painting, Music, Dance, Yoga and more!
MDAC's artists  have made connections with neighbors, businesses, universities, museums, and art councils forming innovative partnerships to celebrate the universal language of art.
This Day Support Option program is designed for artists with disabilities ready to take the step to full participation in the arts both independently and collectively with peer artists and artists in the community. The candidates should have a strong commitment and interest in arts and a sincere desire to engage in the art making process.
If you are interested in a tour or learning more about this program please contact: the Program Manager by email or at 203-690-1609.
EARTHFEST 2016
DATE: APRIL 21 – EARTH DAY
The Kennedy Center's Maggie Daly Arts Coop (MDAC) and the Bijou Theatre are very pleased to announce that we have received a Regional Initiative Grant to spearhead a Bridgeport EarthFest celebration that will bring all sectors of the community together to learn, experience and celebrate Earth Day through various art forms.  The genesis of this project originated last year when MDAC artists created sculptures, weavings, and collaborative art from recyclable materials.  These works were exhibited in an art show and the public was invited to a reception in the MDAC gallery (located in the former Read's building).  The project's success and the excitement it engendered spurred us to expand this concept and reach out to the community-at-large to engage in an Earth Day commemoration. This year's vision is to sponsor several opportunities for local artists to create and display recyclable art and for other community members to join together creating art, interacting and learning from each other. With the understanding that this project may grow and evolve, current project activities include:
A recyclable art exhibit by MDAC artists at the Bijou.
A recyclable art "contest" where participants works will be showcased at various partnering businesses in downtown Bridgeport.
A variety of Earth Day workshops on April 21st for community members and artists of all ages as well as a celebration on McLevy Green with tai chi, drumming circle and more.
A community-wide "ribbon tying" symbolizing connections and intentions.
A culmination of EarthFest activities with a walk around the community culminating in a free celebration with music and awards at the Bijou.
The overall goals of Bridgeport EarthFest are:
Through collaboration and the efforts of a diverse community, work toward raising awareness and creating a more sustainable and environmentally-friendly Bridgeport through the arts.
Bring community members together to share resources, knowledge, expertise and promote social relations broadening the definition of an inclusive model.
CALL FOR ART: EarthFest Recycled Art Contest
Maggie Daly Arts Coop (MDAC)
Deadline: February 26th             
DETAILS:
As the recipients of this year's Regional Initiative Grant, MDAC and The Bijou Theatre are hosting the first ever Bridgeport EarthFest this spring (yay!).
The celebration includes a juried RECYCLED ART CONTEST. First place $1000, Second place $500, Third place Art Supply Gift Cards for up to $400. The Application deadline is February 26th.
If you're interested please read and fill out the required forms on the MDAC website and get them to MDAC via fax (203-690-1610), email (mdac@kennedyctr.org) or mail (MDAC, 1042 Broad St. Bridgeport, CT 06604). I can't wait to see what you all come up with!
*All event descriptions and artist interviews are presented as provided.
 FEATURED ARTIST: JANUARY 2016
Adger Cowans – Photo by Mark Lee Blackshear 2015
I have always had an eye for art, even before I could articulate or define myself as an artist. I was drawn to pictures, I grew up looking at LIFE, LOOK and other magazines that sparked my creativity for photography. My Mother and my Uncle Wilbur were amateur photographers and this allowed me to learn much of the process through observation. By the age of 15, I was committed to "Image Making" and my path was set.

In 1954 I went to Ohio University and saw for the first time, my first real hand-painted photograph by Edward Weston. The beauty of his work inspired me to delve deeper. I immersed myself in research studying the works of W. Eugene Smith, Gordon Parks, Roy Decarava, Ansel Adams. I became obsessed with the darkroom, the process of the stop baths and fixers and watching what I created materialize before my very eyes. I honed my eye for detail, and trusted my creative vision and learned the craft and discipline to construct really beautiful prints.

I came to New York City in the summer of 1958 and I worked with Gordon Parks at "LIFE" magazine that fall. That same year I also began my service in the U.S. Navy: when I returned to New York in 1960, I began my career as a professional photographer.

Everything I see translates into an artistic creation in my mind. I practice and train my eyes, like a musician practices scales and plays beautiful music.

I want my work to inspire, jump start imaginative thinking, and provide color for people who only see black, white and gray.
SUN & TREES – 1960
KATHARINE HEPBURN -1981
"I became obsessed with the darkroom, the process of the stop baths and fixers and watching what I created materialize before my very eyes." -Adger Cowans
How would you describe your artwork/style?
I am a fine art photographer.
What medium do you work in?
Photography, painting, and music.
What is your process like? 
I read, reflect, study, and experiment with new materials.
What inspires you?
Jazz music and nature.
How do you think you've changed or developed as an artist?
I am always learning and trying to stay open to new things.
LEATHER LOUNGE ( CHICAGO) – 2000
MICK JAGGER  ( BRASIL) – 1968
Your photography is included in the book Timeless, an anthology of photography by African American photographers of a collective called Kamoinge: black artists documenting events from the past 50 years.
That's quite the accomplishment! Can you share what it means to you to be included in this publication?                                                                                 It is an honor to be in this book. We worked for 10 years putting it together.
What does being part of the Kamoinge photo collective mean to you?
I am Vice President and one of the original founding members of Kamoinge.
What future individuals, events, or movements do you think are important to document?
I think the art of all Americans is important to document.
"Everything I see translates into an artistic creation in my mind. I practice and train my eyes, like a musician practices scales and plays beautiful music." -Adger Cowans
FOOTSTEPS (HARLEM) – 1960
If you can photograph any individual, location, or event, past or present, what would it be?
I would like to photograph President Obama
Any other upcoming news, events, or anything else you'd like to share? Glitterati Co. will publish a book of my photography in Fall 2016.
LACE – 1980'S
Adger Cowans will be a featured artist in an upcoming exhibit at City Lights, opening Thursday, February 25, 2016.
"Never Done":  Manifestations of the Beauty, Inspiration and Constant Strength of Black Women.
The saying reminds us that "Women's work is never done" The work to love, fight for social justice, actualize spiritual building and leadership, to nurture our families and create joy is never done.
This exhibit features the work of Bridgeport artists manifesting the 'work', spirit and unending potential of Black women through painting and  photography by Adger Cowans, Alicia Cobb, Janelle Gordon, Jefferine Jean-Jacques, Iyaba Ibo Mandingo, Shanna Melton, Olivier Kpognon,  Shanna Melton and others. Also featured is the fabric art by Bridgeport's Gees Bend quilters.
CONTACT INFORMATION
Visit Adger Cowan's Website at: adgercowans.me
Purchase the book Timeless: Photographs by Kamoinge online here.
*All event descriptions and artist interviews are presented as provided.
Rick Reyes Novela Sin Tiempo Front cover
Q. How would you describe your musical style?
A. I am a troubadour, a singer-songwriter, and a storyteller performer. Although my style keeps evolving, it has roots in Latin music, particularly Puerto Rican music. With my band Cosmic Jibaros, the style is Latin-fusion-progressive. Another of my projects, The Pasofino Social Club, is a nod to the Latin bands of yesterday. And then there is Novela sin Tiempo, the name of my last record which also became the name of the band. This project is all acoustic, all original music with a Latin and world-music flavor. So I guess to answer your question, my style is Latin with a little bit of everything. I used to call it "Northeast Latin music" and I guess that's what it is – music from this part of the world: Bridgeport.Q. What instruments do you play?
A. I play guitar and sing. The guitar is my main vehicle for songwriting. I also play hand percussion like the guiro, shekere, and maracas when I play with Pasofino Social Club and in more tropical Caribbean ensembles.
Rick Reyes Novela Sin Tiempo Back Album Cover
Q. What is your process like?
A. Every day I am bombarded with ideas and the energy of the world. For me, music and writing songs have always been a way to communicate and to express myself. It's a way to let things go and to shout to the world.
The actual process of writing a song can start in various ways. A melody can pop into my head at any time. Sometimes while I'm driving I'll grab a recorder and hum a melody into it. A song can also begin with a guitar riff or a chord progression. I've learned that inspiration can come at you at any time and you have to be ready to capture it.
Once I feel that I have something, I start hashing it out by playing it as much as I can at home or at my studio. It's a fascinating process because you feel like you're embarking on something new, you're discovering something that wasn't there, and the more you push it, the more it forms. It's really a great feeling to see something develop from nothing and it's what I love the most about music. The performance part of is always fun. It's amazing to present a song to an audience and see how they relate to it.
Q. What inspires you?
A. Happiness, sadness, heartache, anger, hope, sex, getting older, justice, righteousness, and love are a few things that inspire me. Not giving up and not becoming disillusioned with the world. Staying aware and not letting the world make you a mean person. I'm inspired to wake up those people who are socially asleep and not caring about what is happening around them as far as the destruction of the environment, destruction of social and human rights, loss of privacy and lack of empathy for those around them.
When performing I want to make the listener think and feel something. I first started writing a lot about social issues and the different social struggles I saw around me. I always thought that my songs were messages to those who were not aware or to those who needed to feel that they were not alone in their plight.
Q
. 
Can you tell me a bit about your background in music and the history of Cosmic Jibaros?
I started singing and playing hand percussion in church at my town's chapel in Puerto Rico. When my family moved back to the States, I began writing a lot, mostly out of loneliness. My father bought me a guitar and I started turning my writings into songs. My pad, pen, and guitar were my only friends. I joined my first band in college, and while the band didn't last for a long time, it definitely helped me and fed my desire to create. I continued to write and realized that the songs I was creating and writing had all these different flavors. They reflected my roots but had a lot of different influences and styles as well. It was soon after when I thought of the concept of a "cosmic jibaro".
I wanted to create music that had a traditional Puerto Rican flavor but was also open and receptive to other sounds from around the cosmos. A jibaro is the Puerto Rican equivalent of a peasant or hillbilly, people who live in the mountains and work the land. My father and my grandfather were both jibaros.
I began to play around Bridgeport with different musicians, and in 2003 the band everyone knows as Cosmic Jibaros solidified. The band recorded the album "Yo Soy Del Mundo", a mixture of rock, Puerto Rican roots, and socially conscious songs. No band sounds like the Cosmic Jibaros. It has a unique sound; a Bridgeport sound.
Q. How do you think you've changed or developed as a musician?
A. During the past 10 years I've worked on expanding my repertoire, vocabulary, and knowledge of music so I've become a better singer, a better guitarist, and a better performer. I realized that you have to be malleable, you have to be able to provide different colors and flavors in order to make a living playing music. I sing and perform in Spanish as well as English; I perform with my bands, in duos, and solo. I've learned that some gigs are about performing, some gigs are about entertaining, and some gigs are about both.I've grown from being just a confessional singer-songwriter who only played his own music, to being able to perform other people's material. I've also had the pleasure of playing with some great local, regional, and international musicians and those experiences always teach me a lot and that's seeped into my own work. I feel like my bag of tricks is deeper now. I don't just write about myself or my feelings now. I can write a song and get out of my own way.Q. What goes through your head when performing live?
"Please don't f*ck up!" But really it's just to be in tune with myself as much as possible. You want to please the crowd and connect with your band members. I try not to look into too many people's eyes because I can start to wonder what they are thinking. The most important thing is to totally be in tune with yourself. If you are feeling what you're doing, the audience will as well.
Q. How would you describe the artistic climate here in Bridgeport? Do you think it's a good location for musicians and other creatives?
A. Bridgeport is the largest city in the state and has a rich history. This city provides so much stimulus for creativity. Its greatness mixed with its sadness makes it a great muse.
It's a perfect place for artists with tons of great studio spaces and affordable rents, even for Fairfield County. It's close to New York City and to Boston. The community of artists and people who support the arts is probably the best in the state. No one believes in the city more than the artists who live and work here. They see the beauty and the potential in Bridgeport.
Q. Any other upcoming news, events, or anything else you'd like to share?
A. Locally, I'll be kicking off the Bridgeport Art Trail on Thursday, November 12 at Read's ArtSpace for the Artists' Party. I also will be performing brand-new material and glimpses of new songs on Saturday, November 14 at the NEST Arts Factory. I'm very excited about this because it's really a departure from what I've done in the past and very different sounding, both musically and lyrically.On December 4th I'll be performing with band together at the Fairfield Theater Company. This fall I'm heading into the studio to record the new material with hopes of releasing a few singles before the end of the year. I'm also putting together a solo acoustic tour for this coming winter that will take me from Boston to Philadelphia and beyond.
*All event descriptions and artist interviews are presented as provided.
 FEATURED ARTIST: SEPTEMBER
 YOLANDA VASQUEZ PETROCELLI
The Women Photographic Series are geographical interior maps of experiences and feelings. Through these images I try to deconstruct the women-the path she has traveled and through memory I try to unfold the stratas of a distant past that becomes more elusive as the present takes over.
Yo Y Frida – Yolanda Vasquez Petrocelli
Q. How would you describe your artwork/style?
A. Contemporary Mexican

Q. What medium do you work in?


A. Photography-based and any reproductive mediums like printmaking and Photoshop.Q. What is your process like?    
A. I photograph every day and ideas are always there to follow. I have many projects at the same time.
Q. What inspires you?
A. Every day, nature, light, my culture, and traveling.
Luna Clara – Yolanda Vasquez Petrocelli
Q. How do you think you've changed or developed as an artist?
A. It's been a continuous and natural process. I've been an artist at a very early age and I come from a family of artists.  My aunt was an actress in Mexico City, and my uncle was an opera singer.
Peace – Yolanda Vasquez Petrocelli
Q. Can you tell me about the exhibit for Hispanic Heritage month you're curating: LATINISSIMA?
A. Latinissima is term that I created. It refers to people from Latin America, Spanish speaking, and bringing contemporary artists from various Latin countries to Bridgeport.
The exhibition includes artist from Chile, Colombia, Mexico, Venezuela, Cuba, and Puerto Rico. It includes artist I've known and admired their works. The show is very diverse within the Latin and Caribbean community.
Blue Moon – Yolanda Vasquez Petrocelli
O
rgullo de Mestiza –
Yolanda Vasquez Petrocelli
*All event descriptions and artist interviews are presented as provided.
My name is Robin Gilmore. I am an artist, educator and the owner of Made In Bridgeport, located in Bridgeport, CT. I make jewelry and art with found objects, items that are repurposed, broken and salvaged that will surely make a great addition to your own collections. I love using everyday objects, some vintage or industrial and anything that is inspiring that I can feel in my hands as I am making a new work of art. I am participating in the "Green Movement", and the reuse of materials I use is one way I contribute to the healing of our planet. Every piece that I make has a story and that's what I love about making my art. As a child, I was said to be most likely to grow up "making something out of nothing", and here is where I find myself now: Always Reinventing Things!!!
How would you describe your artwork/style?
I consider myself to be a mixed media artist and designer, that being said, it goes much deeper and wider in scope then one would imagine. My style is a very romantic one based on the past…and then paradoxically it moves into a postmodern style using hardware, gears, metals found in construction. Mostly I choose what I create with whatever form of material calls out to me and gets my attention. One might say I am in tune to the very tiny bits and pieces that create my work. The width of that scope can also take me to painting, sculpting, paper and found art collage and photography at any given moment and sometimes mixes into the work that is created
What medium do you work in?
Mostly these days I work in jewelry design and that is really the bread and butter and some of the honey of what keeps me going. I also do workshops with all ages and that ignites the creativity in me that I hope comes through to pass on its spark to others.
What is your process like? 
My process is spontaneous, almost dreamlike and often without much thought, but sometimes it's like problem solving or putting together a puzzle. The intuitiveness of knowing whether a piece fits, how it fits, where it fits and also know if it doesn't, is the simplest way to describe the process. Sometimes I go to sleep trying to solve a problem of a piece that doesn't seem to be working and in a dream I will get the answers, often drawing it out at 2 or 3 am. There is some channeling taking place which I try to honor.
What inspires you?
Stories inspire me. I like to tell stories as I am creating my pieces, it gives them a life of their own. It is also what attracts people to my work. I often think about who the person will be that will purchase a piece (jewelry piece). The piece may be about needing a guide for a decision   that must be made, or an understanding of a commitment to a relationship. Sometimes the pieces are made with humor and people who can laugh at themselves will purchase my work, because it makes them feel good to know all these broken pieces can heal something that may be broken in them too.
How do you think you've changed or developed as an artist?
I feel more secure as an artist now, having been an artist all my life. Maybe its age, maybe it's the confidence of putting myself out there. I now more than ever allow and protect my space for the creative process. Set better boundaries. Make choices that honor the process. I think the jewelry design is the thing I was meant to do and I would love to learn even more about metalsmithing, soldering etc. There is always room to grow and learn more.
Can you tell me about "Made in Bridgeport" and how your business has grown or changed?
Made In Bridgeport came about just as the Reads Artspace project was taking shape. I thought about the very large corner space which is currently a martial arts school on Broad Street- I thought how wonderful it would be to have a business called Made In Bridgeport where all of the best things that are made in Bridgeport by artist and artisans could be for sale, could share a history, could tell their stories. This came at a time when the Remington Artists were being dislocated and I saw all the incredible artists and businesses that were happening there trying to find new locations. At that time I was running a business called Park City Artists Resources on Connecticut Ave. Then a few years ago I had an opportunity to have my business downtown in the Arcade Mall and it went well in the beginning and it also became about showcasing and selling other peoples work again. I have since moved back to my Connecticut Ave location and am loving the freedom that being back in my old space provides. I have more solitary time in my private studio to create and run my business which includes selling work online as well as weekend events in the community. And now I am teaching more than ever. It is a good fit.
"The City has a very rich resource of creative people who need opportunities to express their style of art. Art needs to be seen everywhere downtown and throughout the city, it also needs to be heard."
You host a variety of workshops, what have some of your favorite themes been?
I love teaching people how to work with what they already have. "Bring the Junk From Your Trunk" is one of my favorite workshops as I assist others in thinking in different ways about the objects that they bring to the table. They learn basic jewelry making skills as well. I love doing jewelry making classes with little girls- especially Birthday Parties and I'm starting to develop workshops for boys as well as including men in the mix. I mostly love using recyclable materials. The world is abundant with all sorts of reusable stuff
Bridgeport continues to be a site that artists are attracted to. How do you think the arts can impact the city?
The Arts in Bridgeport should mirror what is already happening in New Haven and Stamford. It may be because the downtown area is just a few blocks and not as massive as these other cities, but things are beginning to grow in many directions downtown and outside of those limits. We have a lot of art venues happening all over town- openings, Bridgeport Arts Fest, and the up and coming Art Trail, concerts on McLevy Green. The City has a very rich resource of creative people who need opportunities to express their style of art.
Art needs to be seen everywhere downtown and throughout the city, it also needs to be heard. We also have some major music people and poets. Some who have performed at Gallery 1212 where I am now located. I am thinking I wish I had known then what I know now. So a Comeback is taking shape on the East End. I think the Artists are the running dogs for this creative economy, but that just isn't enough. I think we should and could make a greater impact on our community with the right support. Sometimes we just don't even know what resources are already in place.
Any other upcoming news, events, or anything else you'd like to share?
Now that I am back at the Bridgeport Innovation Center in the Gallery 1212 space, I am revisiting a lot of the ideas I had thought about doing here before. I will be having a monthly open house in my new location beginning in September. One of the things my partner and I are working on is trying to establish a Creative Corridor that connects into Stratford and moves from Stratford Avenue to Connecticut Avenue and extends all the way through to Fairfield Avenue into Black Rock.  "East Meets West" you might say. We will be hosting along with the owners of the Bridgeport Innovation Center an opportunity for artists to participate in the Bpt Art Trail at this location. A call to artists will be out shortly. In the meantime, I am doing The Black Rock Farmers Market every Saturday from 9-1 and on the last Sunday in August I will be at The Artists and Artisans on Paradise Green Event., looking forward to a lineup of Fall events into the Christmas Holiday. During the week, I am also doing workshops at some social service programs through City Lights Gallery and also using the Bridgeport ART CART downtown to get all sorts of people to make art, I get to hear great stories and I know I am making a difference in their lives- both young and old.
"I like the changes that I have recently made it has been very good for me. I feel energized and much more grounded in the steps I am taking and I am doing what I love."
*All event descriptions and artist interviews are presented as provided.
Ricky Mestre of Stratford CT is a Puerto Rican artist who studied Illustration at the University of Bridgeport where he received his Bachelor's Degree. Some of his work is inspired by religious icons and stained glass windows from the Catholic Church.  It also draws upon urban Latino culture and its people and themes relevant to the LGBT community.  His style ranges from dramatic and emotional images to more childlike and cute cartoons. His work can be seen rendered through acrylic paint, pastels, pen and ink, mixed media or digitally. Over the years he has been recognized and awarded for his talents. Galleries and museums across the state featuring his work include the Discovery Museum and City Lights Gallery in Bridgeport, Knights of Columbus Museum and the Small Space Gallery in New Haven and the Mattatuck Museum in Waterbury.To see more of Ricky Mestre's work and read more about his story visit
rickymestre.com
"
To Russia With Love
" – Ricky Mestre
They are usually emotional pieces with a strong message of something important to me. There's a heaviness to some of the themes that many people have related to. 
"Indian Pride" – Ricky Mestre
Q. How would you describe your artwork/style?
A. I use a few different styles in my art but people seem to notice a trait in my pieces that they immediately recognize as my work. I think what stays consistent is the fact that the subject matter is almost always people. And those people almost always have a very strong young, Latin and urban feel about them. They notice the outline around the figures which connect both to the cartoon art I grew up doing as well as the stained glassed windows I came to appreciate growing up in the Catholic Church. They are usually emotional pieces with a strong message of something important to me. There's a heaviness to some of the themes that many people have related to.Q. What medium do you work in?
A. All of my paintings on canvas are done in acrylics, and I also work with pastels, charcoal, watercolors, ink and digital media.Q. What is your process like? 
A. Typically I'll write a list of themes I want to work with and do a number of very rough sketches of stick figures for them. Next I'll look for a friend to photograph to use as a reference shot. We'll usually start with a pose that mimics the stick figures and then we'll build from there trying out different positions that can connect with the theme. Once I've selected the picture to work from I'll transfer the outline of it on to the canvass with a projector and begin the painting process. Sometimes  it will be all mapped out from the beginning but often I'll add details to it along the way that are completely random. Music plays a part in my process as it helps me get into the mood of the painting I am creating so I can feel what I am making.

Q. What inspires you?


A. Inspiration can come from different sources and sometimes strike at odd times. I've found inspiration in sadness and pain. Sometimes it's my own or it can be from someone close to me. People's struggles and conflicts can be very inspiring when there is passion in their fight.  Other times inspiration can come from the face of a total stranger.
"It's a frustrating thing to try to create what is in your mind and censor yourself at the same time to accommodate other people who may not understand it. I stopped letting the fear of being rejected dictate what I make."
"Spiritual Awakening" – Ricky Mestre
Q. How do you think you've changed or developed as an artist?
A. I feel I am still developing as an artist, but I can look back and see a growth–a growth not so much in style and technique, but one in the freedom of my expression. It's a frustrating thing to try to create what is in your mind and censor yourself at the same time to accommodate other people who may not understand it. I stopped letting the fear of being rejected dictate what I make.Q. Can you tell me about your role as the chairman for the SAMESEX exhibit at City Lights Gallery?  
A. It's been challenging and rewarding at the same time. A lot of time and effort went into arranging this show.  I felt it was needed to bring visibility to the LGBT art community and to show things they could identify with.  I also needed to create new works for it as well. Scheduling time to paint in my studio was important, so I'm thankful that the staff of the City Lights Gallery were so helpful in the process.
Q. What are your thoughts on the gender identity theme of this year's exhibit and why do you think it's an important topic to address and explore through the arts? A. We live in a society where people try to understand things by categorizing them with labels and words to help them better define it for themselves. The theme of gender identity is one that I think many people are still pretty unclear about. It can be very complex but I think when we use a creative tool like art we can educate ourselves about it. It's necessary to address themes like this because it's the only way people can begin to understand it better.
"When Will it Get Better" – Ricky Mestre
Q. The exhibit is especially timely with the recent ruling by the Supreme Court on marriage equality. How do you think the developing political climate has influenced you personally as artist? How do you think it has impacted/will continue to impact art on this subject in general? 
A. I guess we can say it's one giant leap for mankind. But while we celebrated that victory we understood that there were still a lot of challenges that we still have to work through. Our nation was pretty split on this issue so half the people in the country are unhappy about this ruling. Those same people will continue to reject us, harass us, beat us and even disown us. The irony of people who use God's name to defend their bigoted views always amazes me. But since conflict and pain seem to inspire many artists, including me, I suppose we'll still be able to draw from that and make art. On a lighter side, we should expect to see more choices of wedding cards catered to same sex couples. Artists will be needed for that.
"A Scout is Proud" – Ricky Mestre
*All event descriptions and artist interviews are presented as provided.
Our actions and thoughts are negotiated within the privacy of our minds.This isolation is one of the greatest and most difficult elements of being.  Language, spoken or physical, is our only conduit for relaying thoughts to one another, and is just as complex and fragile a system as light or sound. As we continue to participate in a technologically driven culture of connectivity and distance our relationship to the corporeal becomes more and more significant and at stake.I work with alternative process photography, installation, sound, and sculpture.  Through these mediums I explore the complexities that exist between human suffering and the phenomenon of the physical world in which we live.  Tools such as photography are emblematic of our difficulties with loss.  The photograph is symbolic of our longing to make a moment permanent.  Science and religion attempt to answer many of our difficult existential questions but both are inadequate.  As a society we have designed technologies such as the Internet that attempt to bridge the distance between us metaphorically and physically.  Ironically, the internet and its devices become both a conduit and a barrier.  The Internet allows us to passively communicate, but lessens our evolvement and effect on one another.
Language, spoken or physical, is our only conduit for relaying thoughts to one another, and is just as complex and fragile a system as light or sound… I work with alternative process photography, installation, sound, and sculpture.  Through these mediums I explore the complexities that exist between human suffering and the phenomenon of the physical world in which we live.
I am classically trained in analogue and alternative photographic mediums.  I treat photography as a material.  I am interested in processes that are rigorous and methodical in their preparation and practice.  Although working in the darkroom is an experience I enjoy most, the lag between making and viewing limits the viewer's ability to see evidence of the process in the final image.  In practicing photography I find myself most interested in the camera as an apparatus.  The camera is much like the human body; it sees, absorbs and records memory.  For me, installation enables the viewer to become both participants and observers in the work.  I use room size camera obscuras, the pinhole, light and projection as well as magnetism and sound in my installations.Where there are connections there are possibilities for gaps.  Much of my work expresses anxieties associated with uncertainty.  Whether it is love and loss, science and religion, language and empathy, or technology and communication as humans we ebb and flow through moments of clarity where we ask questions that lead back to moments of entropic confusion.
Where there are connections there are possibilities for gaps.  Much of my work expresses anxieties associated with uncertainty.  Whether it is love and loss, science and religion, language and empathy, or technology and communication as humans we ebb and flow through moments of clarity where we ask questions that lead back to moments of entropic confusion.
Q. How would you describe your artwork/style?
A. My work is most often photographic based, but I do not lend myself to a specific medium.  It straddles the line between conceptual and process oriented art.  I use metaphor to create emotionally charged work that often deals with uncertainty and loss.  Ultimately my work is autobiographical, but that may not be apparent to the viewer.Q. What medium do you work in?
A. I do not discriminate against media, however I tend to work with ephemeral and non-material like media such as light, sound, and magnetism.  I always love to get my hands in alternative photographic chemistry.  I also enjoy building and making interactive installations.Q. What is your process like? 
A. It depends, I typically have two modes of working, but it's usually project based.  One mode is to plan a project based off of conceptual components that will be the basis for most of the decisions in the work.  The other process is simply experimenting.  Whether it is darkroom photography or the double slit theory, I become fascinated with the system, and it then becomes a starting point for a project.
What inspires you?
Physical phenomenology, and my background in science and photography are not only inspiration but incorporated as elements within my work. 
Q. How do you think you've changed or developed as an artist?
A. In my formative years I strictly used photography as my medium.  During my time in grad school at the University of Massachusetts Amherst I began to use sound, light, wood, sculpture and installation.  My art has always had a psychological and philosophical component but during grad school I was able hone in and develop a deeper understanding of my work.Q. Can you tell me about your role at the American Fabrics Building?
A. Currently, I have a studio at the American Fabrics Building and I am on the board, which organizes events such as the American Fabrics Open Studios.  I organized and participate in a weekly academic based crit group.  Our goal is to facilitate conversation and excitement about art making, and to foster collaborations and connections outside the academic sphere.Q. What was one of your favorite projects to be a part of?
A. Last open studios I organised a participatory installation in the parking lot of the American Fabrics building.  I set up a camera obscura looking out at a purposely upside down and backwards sculpture fixed to the side of the building.  My part was to explain what a camera obscura is and I encouraged them to photograph their experience with their smartphone cameras.  I loved seeing the joy on everyone's face when they realized they were seeing the outside world projected inside.

You can look at their beautiful work on the American Fabrics Facebook page

here:

Q. Bridgeport continues to be a site that artists are attracted to. Why did you decide to pursue your art here in Bridgeport at AMFAB? How do you think the arts can impact the city?
A. I studied alternative photographic processes under Thomas Mezzanotte at the American Fabrics Building on and off from 2001-2010.  During my intern and assistantship I became friends with the community and decided to share a space with Richard Killearney of Ocheltree design.  Not only did I bond with the artists in the building but we have such a huge range of skill and talent that as a community we can accomplish anything.  If I need help with a welding project, sewing project, graphic design project – there is someone who would love to help.  Artists impact cities because we have such an incredible ability to foster community and problem solve.  We are great at organizing and creating events that build morale and excitement.Q. Anything else you'd like to share?
A. Stay tuned for updates on upcoming exhibits and events!
Learn More about Caroline Valites at:  www.carolinevalites.com
Camera Obscura
Wave Propogration Between Two Absolutes 
Copyright © *|CURRENT_YEAR|* *|LIST:COMPANY|*, All rights reserved.*|IFNOT:ARCHIVE_PAGE|*

KENNETH HOPKINS
Executive Director of The New England Ballet Company

NEW ENGLAND BALLET COMPANY MISSION STATEMENT

New England Ballet Company, founded in 1990 by Artistic Director Kenneth Hopkins, is committed to the belief that experiencing the performing arts is a vital element in the education of our children working under the initiative Dance: Developing Appreciation and Nurturance in Cultural arts Education. It exists to promote arts education and to serve the community by giving performing opportunities to dancers of all ages and levels.

The dancers benefit from the experience of working with professional faculty, choreographers and guest artists, as well as professional directors, dancers, lighting, costume and set designers. The community benefits from having its own ballet company whose local school and public performances enhance arts awareness and showcase local talent. New England Ballet Company performances integrate the participation of students, parents, community and professional performers, civic groups, businesses, school administrators and dance enthusiasts.
From the recent "Birds of Ballet" performance at The Klein Memorial Auditorium.
Photographer: David Kent
"
This year for our 25
th
Season we hired our first professional contracted male dancer…I am quite proud to have this part of the "dream" become reality. Imagine how thrilled I was to discover Nicholas Franco was a Bridgeport resident, attended the MACH program in high school and graduated from The Hart School at University of Hartford with a BFA in Ballet Performance!
."-

Kenneth Hamilton
Firebird Dance images
Photographer: David Kent
Q. How would you describe your artwork/style?
A. Performance Art through Classical Ballet.
Q. What medium do you work in?
A. Dance, Choreography, Performance
Q. What is your process like?
A. Teaching many weekly ballet technique classes & hours of rehearsal for existing works or creating new choreography.
Q. What inspires you?
A. Mainly the NEBC mission statement inspires me. "Bringing Children to the Arts & Arts to the Children". Next would probably be Artistic Collaboration: Bringing different dancers, choreographers, scenery, costume & lighting designers together to create new works or perhaps bring fresh life to existing works. I find bringing this process to downtown Bridgeport to be very exciting & inspirational.Working with talent inspires me! Our newly appointed Artistic Director Victor Trevino served as our main choreographer for the past 22 years. We have known each other for over 30 years having met while dancing with Ballet Florida in the 1980's. NEBC has taken a major leap forward with his taking on a more active role.
Q. How do you think you've changed or developed as an artist?
A. The obvious is the 35 year transition from Dancer to Teacher to Founder/Artistic Director to now Executive Director as my skill set in the Arts has continued to change and grow. My early training was in drawing/painting & photography. The performing arts took over my life in college but that early training has served me well in creating & visualizing new productions. Photography remains my preferred medium outside of dance.
Q. Can you tell me about your role at the New England Ballet Company?
A. The vision for NEBC has been mine since its inception. My role continues to be one of inspiring others to participate in making that vision a reality.
Q. I see you founded the New England Ballet Company in 1990. How do you think the company has evolved since then?

A. The quality of the productions has grown tremendously. My goal has always been a professional ballet company that also has a strong school, training dancers to a professional career level. This year for our 25th Season we hired our first professional contracted male dancer. We have paid dancers per production for many years. Having a professional male company dancer full time has been a game changer for NEBC. I am quite proud to have this part of the "dream" become reality. Imagine how thrilled I was to discover Nicholas Franco was a Bridgeport resident, attended the MACH program in high school and graduated from The Hart School at University of Hartford with a BFA in Ballet Performance!
NEBC New Location Grand Opening with Mayor Bill Finch.
Photograph by David Kent
"
To me, it became clear all roads were leading to Bridgeport. Honestly it did not feel like relocating. It has felt like coming home! New England Ballet Company has a wonderful new dance facility & HOME downtown Bridgeport at 130 Elm Street!"
–

Kenneth Hopkins
Q. What was one of your favorite projects/performances to be a part of?
A. A full length production of Romeo & Juliet to the Prokofiev score. I hope to revive this production with new choreography for the Spring of 2016 at The Klein bringing in area high school students.
Q. You've just moved to a new location in Bridgeport. Why did you decide to relocate? Why base the company in Bridgeport?



A.

The evolution of NEBC making Bridgeport home began with performances of Nutcracker at The Klein several years ago which included a special performance for 1400 of the after school Lighthouse program students. That led to annual performances for Curiale School through our relationship with the CT Post. NEBC has worked with Diane Wyckoff of the Bridgeport ABCD programs teaching dance to the young children & bringing live performances to them for over 10 years. We received a grant and ran a 10 week program at Roosevelt School & merged our company dancers with the Roosevelt dance classes for a performance of the Nutcracker.We formed a relationship with The Bijou Theatre two years ago and began teaching dance classes' downtown as well as creating a Children's Series of Ballet performances. NEBC was given the honor of the title "resident ballet company" at both theatres.To me, it became clear all roads were leading to Bridgeport. Honestly it did not feel like relocating. It has felt like coming home! New England Ballet Company has a wonderful new dance facility & HOME downtown Bridgeport at 130 Elm Street!
Q. What are some plans for the future of the New England Ballet Company?
A. We are currently writing grants in hopes of establishing a scholarship program to allow our 5 year old ABCD students who age out of that program to attend classes at our new studio. We have statistics showing that those children who participated in our dance programming consistently have tested higher going into 1st grade. NEBC will hold its first Summer Ballet Intensive Program this summer & plan to extend this to bring out of state dancers in the future. We will increase the number of contracted professional dancers & create new ballets to perform. Collaboration with the Greater Bridgeport Symphony on a production of Peter & the Wolf for area school children is definitely on our wish list!
DON'T MISS THESE EXCITING EVENTS COMING UP ON THE NEBC CALENDAR
NEBC participates annually in the CT State Open House Day, June 13, 2015

Bridgeport Juneteenth Parade, June 13, 2015

Barnum Festival Wing Ding Parade & Great Street Parade

Registration for Fall Classes

Community Nutcracker Auditions in September.

Fall performance of Benjamin Britten's Young Person's Guide to the Orchestra
24th Annual Nutcracker performance at The Klein in December
For more information please visit: www.newenglandballet.org
*Newsletter Editor's Note: All event descriptions and featured artist profiles are published as provided.
ARTIST OF THE MONTH: MARCH
Our Featured Artist Shanna Melton, a  Bridgeport poet and painter, shares about her work and the spoken word experience. She will also be participating in two upcoming poetry events at McLevy Hall and the Housatonic Museum of Art.
ARTIST STATEMENT: As a girl, my purpose for creating art was to make things around me more beautiful.  I wanted my work to be a place of refuge.  As a woman, my purpose for creating art is to make things around me more honest. I challenge myself to find beauty in places that seem to be lacking and bring attention to that beauty.
A huge lesson in my life has been how imperfection can be the foundation for perfect growth. Each painting, poem and picture adds another leaf or branch, sometimes even stretches my roots, and I learn to adjust to the new form I've taken on as a result of releasing my vision.
Poems allow me to translate my feelings into words, place them on a page and share them in as beautiful or broken of an offering as I can manage.  As with all creative mediums, it is up to the audience to choose whether or not it is purposeful in their lives. Everything made by the creator is bent, broken and curved.  Most things made by humans are symmetrical and as close to perfect as possible.
As a reflection of both, I seek to be a combination working to fulfill my purpose of creating art that makes this world such an intriguing place.
POETRY WORKSHOP
McLevy Hall
Saturday, March 7th and March 14th, 2-4PM
Led by Shanna Melton, the Writer's Group welcomes artists of all levels of writing experience. Shanna always presents a stimulating session designed to get the creative juices flowing and encourage self-discovery. Participants work on exercises during the session and then share (or not) and comment, as they prefer. The group and atmosphere is nurturing and supportive.  Admission is free. This workshop is sponsored by City Lights & The CT Office on the Arts.
Meets the first 2 Saturdays of the month.
For more info: clgallerybpt@gmail.com, (203)334-7748
"A huge lesson in my life has been how imperfection can be the foundation for perfect growth.  Each painting, poem and picture adds another leaf or branch, sometimes even stretches my roots, and I learn to adjust to the new form I've taken on as a result of releasing my vision. " – Shanna Melton
Q. How would you describe your artwork/style?
A. . It is difficult to assign one style to my work as I tend to combine a few styles into each piece.  There is a constant effort to achieve realism, surrealism tends to come into play when certain energy needs to be conveyed, abstract and folk show up all the time.  I get the vision and use all the tools I have to match it with accuracy.  Following my vision seems to demand that I use all the styles I need until I can mirror the image in my mind so others can see it clearly.
Q. What medium do you work in?
A. I mostly work with Acrylics. I have worked with oil and pastel in the past but acrylic has proven to be my favorite medium thus far.
Q. What is your process like?
A. My process is pretty organic in that I don't force the work out. I tend to submit to it as it reveals itself. I often see people who have features I want to capture in my art. Sometimes I have visions and collect the ideas until they feel complete by sketching it out until it's ready to paint. Having a vision board has also helped because I keep swatches of color, facial features, quotes and other things that ignite my creativity.
Q. What inspires you?
A. I am inspired by my surroundings. The stories I hear, messages I receive in poetry, music, conversations and church. Beautiful human forms and all we can encompass within us.
Q. How do you think you've changed or developed as an artist?
A. When I was younger I had a fear of details. I would paint the face and give them lines for eyes and the hands without any lines or shading. They were painted enough to look human and you could put yourself in their place in the painting because they were not distinct. Over many years I have pushed myself to see as many details as possible and challenged myself to include all the lines, the many colors it takes create an accurate skin tone, it has Become important that I embrace how distinct they are. I have also grown as a business woman. It's my job to protect and respect my art. To make sure they are presented with dignity and by people who respect them as I do.
Q. Can you tell me about your writing workshops at City Lights?
A. The Writer's Group Bridgeport has been a blessing to me and it seems to be the same to the members of our group. I guide the group and give them the option of sharing so they feel comfortable getting the words out without the fear of being pressured to share right away. Our prompts have brought people into some beautifully creative spaces. I look forward to each gathering because I also leave inspired by the community we've created. We gather on the first and second Saturday's of each month from 2-4pm at McLevy Hall Downtown Bridgeport.
Q. Anything else you'd like to share?
A. I welcome ideas and communication from members of the community. If there is poetry and art programming that you would like to see, or poets you would like to experience we should know. If you want to know more about my art or existing programs, contact me via my website at www.PoeticSoulArts.net or on  Facebook  at www.Facebook.com/PoeticSoulArts.