Spring into the season with a full calendar of arts and cultural events!
Visit exhibits on view, hear personal storytelling, see live music and theatre, and join for a powerful evening on March 28th to help end gun violence in Bridgeport. 
---
We're happy to announce Jane Davila is our "Art-to-Go" Billboard and Artist of the Month for February 2019!

"I love the energy leading up to and during the Art Trail weekend! I'm always so excited for visitors to our studios and the different venues around the city to discover what an arts and cultural treasure Bridgeport is. There is a gritty, scrappy vibrancy, an "aliveness" to this place, that isn't found everywhere. I love hearing the wonder in the voices of first time visitors that didn't realize how truly wonderful, inspiring, creative, and diverse we are." Jane Davila

Read her full Artist of the Month feature here
---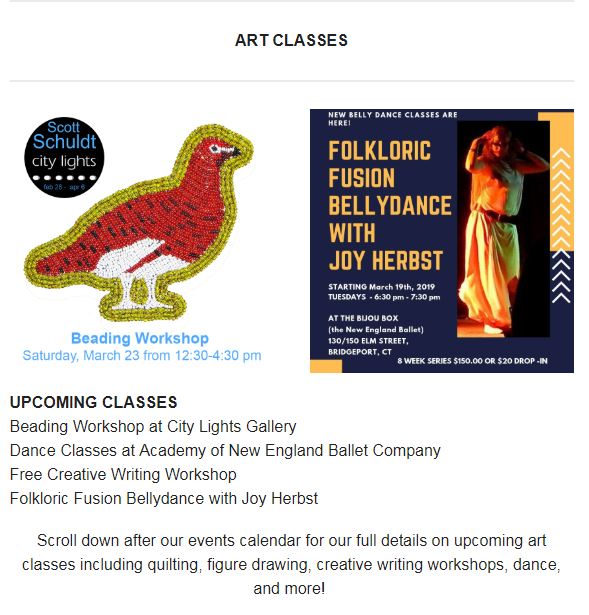 VIEW OUR CLASS CALENDAR HERE
Visit our class calendar full details on upcoming art classes including quilting, figure drawing, creative writing workshops, dance, and more!
---
March 2019 CURRENT EVENTS – PART 2
---
VISUAL ARTS – NEW EXHIBITS/EVENTS
---
Aim Higher Together Bridgeport
Thursday, March 28, 2019
Blends Gallery
An evening to raise funds and awareness around a collaborate art activism initiative in Bridgeport to help bring an end to gun violence in the city. Live art from local artists, silent auction, youth artists and leaders will gather for the celebration!
Buy tickets here: https://www.eventbrite.com/e/aim-higher-together-bridgeport-tickets-56643747975

---
Exhibit: Re-Education of Smedley Butler by Scott Schuldt
On View February 28- April 6, 2019
City Lights Gallery
*Check Out An Article on The Exhibit in NewHavenArts.Org*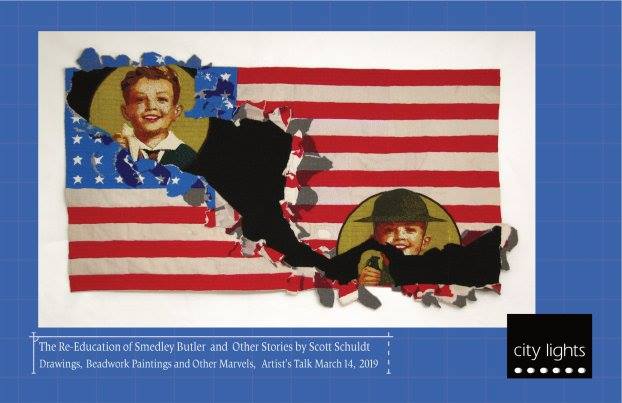 DESCRIPTION
This astonishing exhibit, "The Re-Education of Smedley Butler and other Stories; Drawings, Beadwork Paintings, and Other Marvels by Scott Schuldt, is on view through April 6, 2019, at City Lights Gallery.
The beaded embroidery has the mesmerizing effect like the elaborate fineness of the book of Kell's contrasted by the slap-in-your-face content and imagery of tragic American recent history of the military-industrial complex and other big business meldings with U.S. governme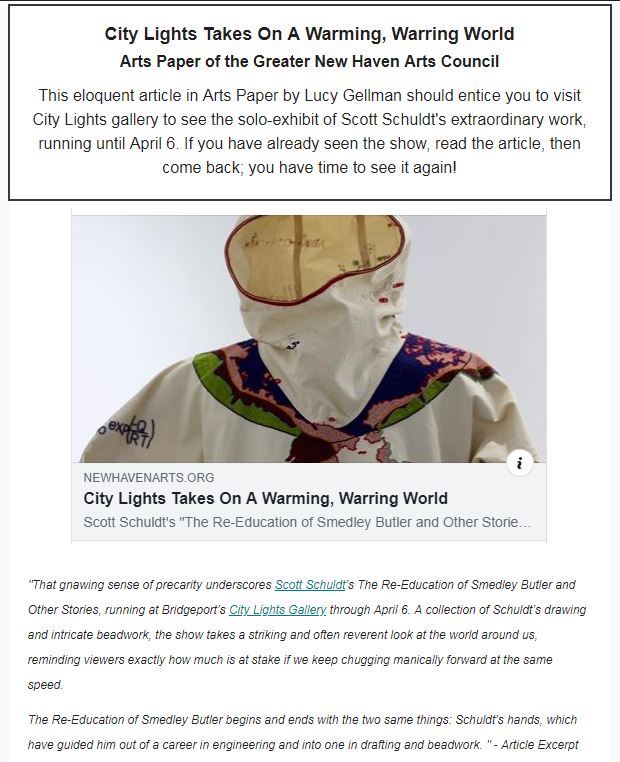 Read The Article HERE
SCOTT SCHULDT, ABOUT "THE RE-EDUCATION OF SMEDLEY BUTLER"
Smedley Butler served in nearly everyone of the "banana war" conflicts between 1900 and 1930. He went from being a Quaker enlistee to retiring as a General and becoming a whistleblower revealing the dirty tricks he did in support of US foreign policy and became an outspoken critic of US economic policies and especially those that required use of the US military in order to succeed. He is the last American to have been awarded two Congressional Medals of Honor.
FROM SMEDLEY BUTLER:
"I spent 33 years and four months in active military service and during that period I spent most of my time as a highclass muscle man for Big Business, for Wall Street and the bankers. In short, I was a racketeer, a gangster for capitalism. I helped make Mexico and especially Tampico safe for American oil interests in 1914. I helped make Haiti and Cuba a decent place for the National City Bank boys to collect revenues in. I helped in the raping of half a dozen Central American republics for the benefit of Wall Street. I helped purify Nicaragua for the International Banking House of Brown Brothers in 1902-1912. I brought light to the Dominican Republic for the American sugar interests in 1916. I helped make Honduras right for the American fruit companies in 1903. In China in 1927 I helped see to it that Standard Oil went on its way unmolested. Looking back on it, I might have given Al Capone a few hints. The best he could do was to operate his racket in three districts. I operated on three continents."
– Smedley Butler, 1935

---
Call for Artists and Musicians for SavorCity
SAVOR CITY is a monthly tour of Bridgeport restaurants, food, art and music, showcasing the cultural delights of Connecticut's most diverse city.

Organized by a coalition of organizations and agencies, including Rick Reyes Productions, Capital for Change, NEST Arts Factory, the Cultural Alliance of Fairfield County, and others, SavorCity features monthly visits to neighborhood restaurants where guests can experience the authentic local cuisine of Bridgeport's many neighborhoods as well as local musicians and artists working in a variety of genres and media.
MUSICIANS: Would you like to make some money playing a fun gig in a local restaurant? Tell us a little about yourself! What genre of music do you play? Have you had experience playing in a restaurant setting before? Please provide a link to a website, SoundCloud or iTunes so we can hear your music.
​
ARTISTS: If you would like to have a show of your work at one of the upcoming SavorCity events, please tell us about yourself! What type of artwork you make? What is your website or social media address where we can see your art? Typically between 4-7 artworks are hung for the event. All sales are handled directly by the artist and there is no commission taken.
​
Artists and Musicians need to live or work in Bridgeport to be considered. Please see the application on the website at: https://www.savorcitybpt.com/apply or email savorcitybpt@gmail.com

---
City Lights 15th Anniversary Party/Motown Revue by Band Central
Friday, April 12, 2019 at 6:30 PM – 9:30 PM
City Lights Gallery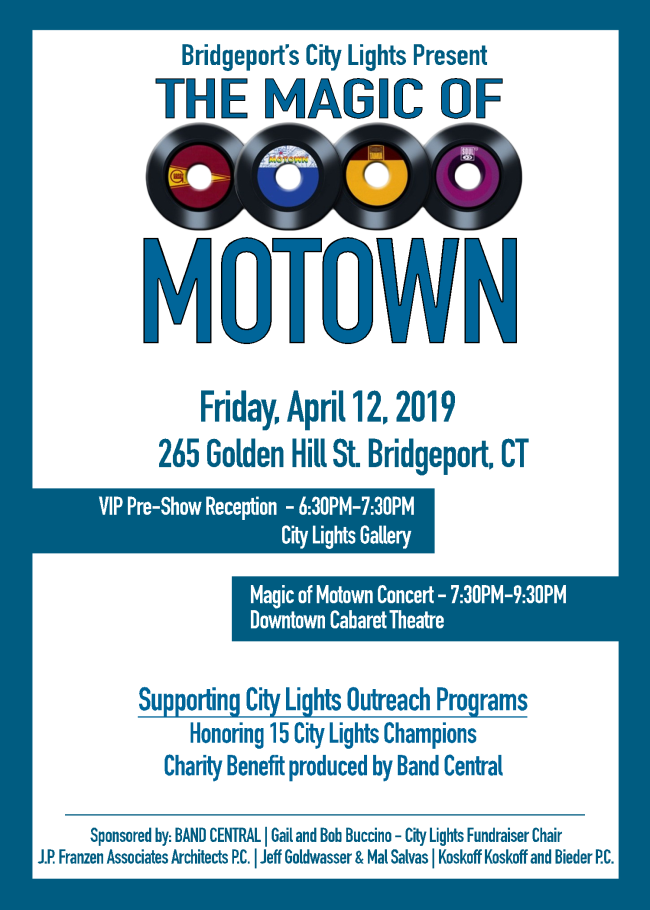 CELEBRATE CITY LIGHTS' 15th ANNIVERSARY ON APRIL 12, 2019 WITH A BAND CENTRAL MOTOWN REVUE AT THE DOWNTOWN CABARET THEATRE! 
Affordable tickets at 2 prices. Click here to reserve your tickets.

The Cabaret Theatre is located just downstairs from City Lights Gallery at 265 Golden Hill St. Downtown Bridgeport CT 06604 203.334.7748.
 
Thank you to Rob Fried and BAND CENTRAL for partnering with us on music enrichment programs for youth and sponsoring the Motown Revue for our 15th anniversary party. The high energy ensemble of outstanding musicians will surely create a fabulous party atmosphere.

At the $50 level, enjoy a  VIP reception at City Lights gallery followed by a high energy concert produced by Band Central. The  Motown Revue features Stephanie Harrison, Soul Tempo, Vincent Ingala, Pat Marafiote, Tim DeHuff, Mike Marble, Lindsay Frank, Trevor Small and Rob Fried.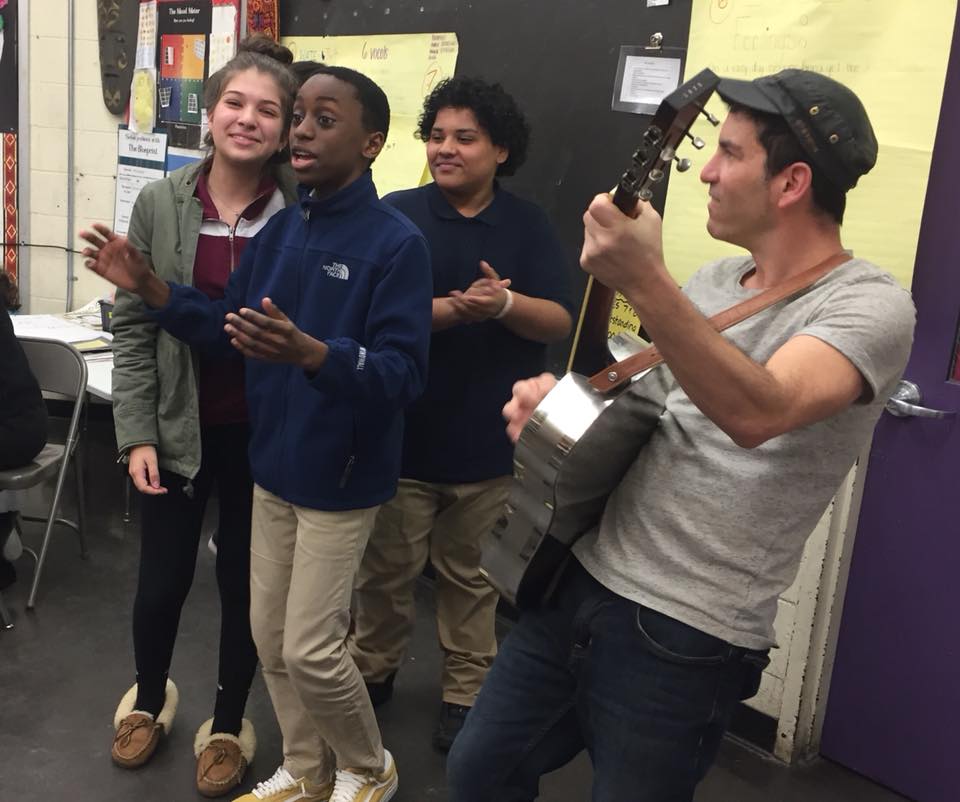 This charity concert supports City Light's outreach programs.Click here to see outreach programs
AFFORDABLE TICKET PRICES AT 2 LEVELS:
$25 admission for the BYOB Motown Revue at the Downtown Cabaret Theatre.
$50 admission includes a pre-show reception at City Lights gallery, along with the performance at the Cabaret Theatre.
---
COMMUNITY EVENTS
---
PechaKucha Night – Bridgeport, Vol. 4: Transformations
Thursday, March 21, 2019 at 6 PM
The Barnum Museum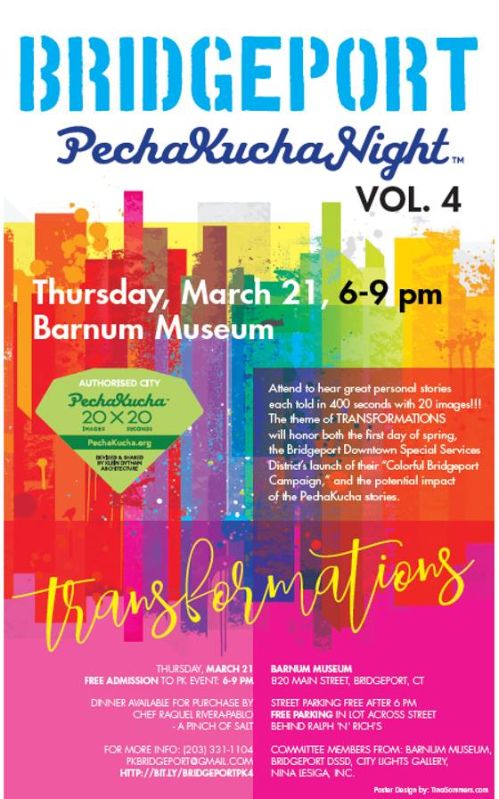 DESCRIPTION
Come cheer on your artist friends, tell your story, chit chat…PechaKucha Night Bridgeport presents Volume 4: Transformations on Thursday, March 21; 6 pm to 9 pm. Want to be a presenter? Fill out a proposal here: http://bit.ly/BPT-PKN-proposal4.
The theme of TRANSFORMATIONS will honor both the first day of spring, the work of the InfoBridgeport, launching their "Colorful Bridgeport campaign, and the potential impact of the PechaKucha stories. This is a free event (donations accepted) and the doors open at 6. Food will be lovingly prepared and sold by A Pinch of Salt Chef Raquel Rivera-Pablo.
PechaKucha Night Bridgeport brings people together from diverse backgrounds to listen to great personal stories and learn from each other in a casual and authentic atmosphere. PechaKucha means "chit-chat" in Japanese. Speakers present their stories accompanied by 20 slides, shown for 20 seconds each, resulting in a total time of 6 minutes and 40 seconds. This licensed format keeps presentations focused and fast-paced.
PechaKucha Nights are organized by local community members and described as "live events with real people telling real stories." Talks are uploaded to an international website including 1,000 participating cities.
---
Fiction vs Fact! The REAL story behind the REEL story!
March 26, 2019 – 12-1 pm
Barnum Museum Event: At Connecticut's Old State House, Hartford, CT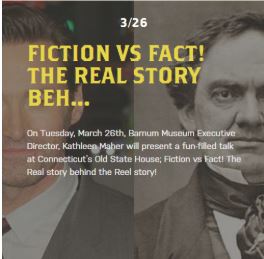 Have you seen the 20th Century Fox film The Greatest Showman and wondered if it accurately portrayed of P.T. Barnum's life and times? Join The Barnum Museum Executive Director, Kathleen Maher for an engaging comparison of the movie's story and the real life story of Barnum.

From Barnum's Connecticut childhood, to his service as a legislator in the Old State House, to his final bow with the Greatest Show On Earth, Ms. Maher will expand on the tales told in the screenplay and reveal the truth behind Barnum's remarkable struggles and triumphs that is even more fantastic than the fictionalized version!
---
The Bridgeport Flea
Saturday, March 30, 12-5
Blends Gallery
You, Me, & Flea!!! Located at Blends Gallery 1163 Main st., Downtown Bridgeport!
Cool, Quirky, Colorful, Dope, Vintage, Refurb'd, Handmade, all here!!!!
---
PERFORMING ARTS AND THEATRE
---
Princess and the Frog – Children's Theatre
February 23 – March 31
Downtown Cabaret Theatre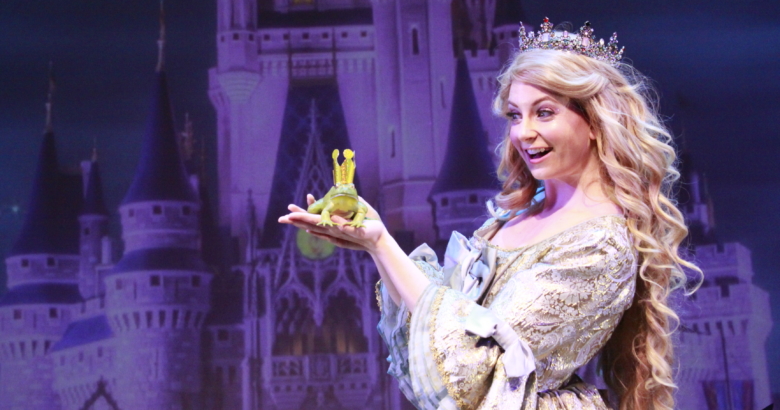 DESCRIPTION
When a young princess is unable to find a suitable prince, she turns to a very unlikely friend to help her. Little does she know that the secret to her happiness is right under her nose in this brand new musical that shows sometimes true love can be found in the least likely of places.

Our Children's Theatre shows approximately run 75-80 minutes with a 10-minute intermission.
---
Sister Act
March 15 – April 07
Downtown Cabaret Theatre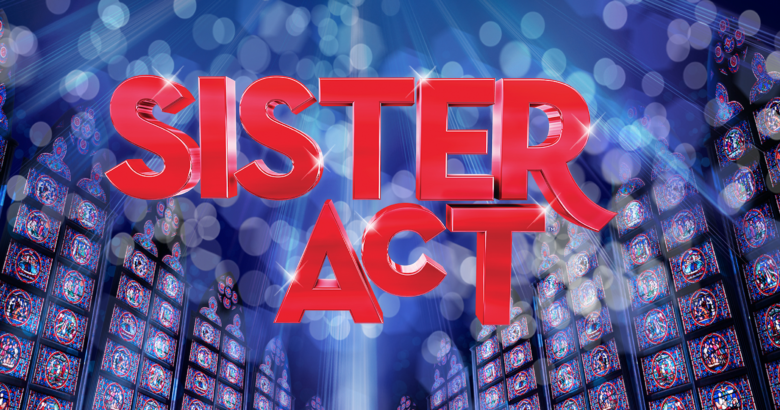 DESCRIPTION
Sister Act is the feel-good musical comedy smash based on the hit 1992 film that has audiences jumping to their feet. When disco diva, Deloris Van Cartier, witnesses a murder, she is put in protective custody in a the assumed safety of a convent. Disguised as a nun, she finds herself at odds with the uptight Mother Superior. Using her unique disco moves and singing talent to inspire the choir, Deloris breathes new life into the church and community. Filled with powerful gospel music (by Tony- and eight-time Oscar winner, Alan Menken) and a truly moving story, this uplifting musical is reason to REJOICE!

---
---
---