JULY FEATURED EVENT
Bridgeport Pride Celebration
The 2018 Bridgeport Pride celebration was held on Thursday, July 19th.
It began with the opening reception for the art exhibit SAMESEX at City Lights Gallery, followed by a Pride Walk to McLevy Green and then a Variety Show at the Bijou Theatre.
Thank you to everyone who participated and sponsors the Triangle Community Center and Dave Ivanko and John Brannelly, Hosted by City Lights Gallery www.citylightsgallery.org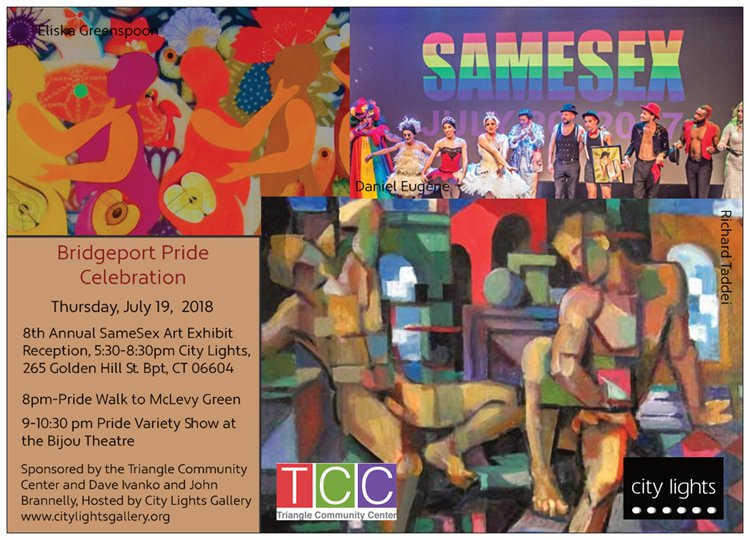 8TH Annual SAMESEX Art Exhibit:
SAMESEX annually reflects the current zeitgeist of the LGBTQ community, their friends, family, neighbors and allies.
Exhibiting Artists: Mario Baez, Nate Bass, Marieta Capobianco, Darron Copeland, Erica Czerwinski, Daniel Eugene, Andrew Graham, Eliska Greenspoon, Don Houston, Maxwell Kale, Julia Liptak, Alison Margo, Marla Mcleod, Cassandra Mendoza, Ricky Mestre, Thomas Mythos, Jon Puozzoli, Aly Maderson Quinlog, Colleen Reilly Rees, Barbara Ruger, Ellen Schinderman, Shilarts, Richard Taddei, Francesca Winfield
---
 JULY EVENTS 2018
---
VISUAL ARTS
---
"Where the Wildflowers Grow…"
Exhibiting Artist: Michele Hubler
Opening Reception: Saturday, July 14th, 2:00 p.m. – 4:00 p.m.
Framemakers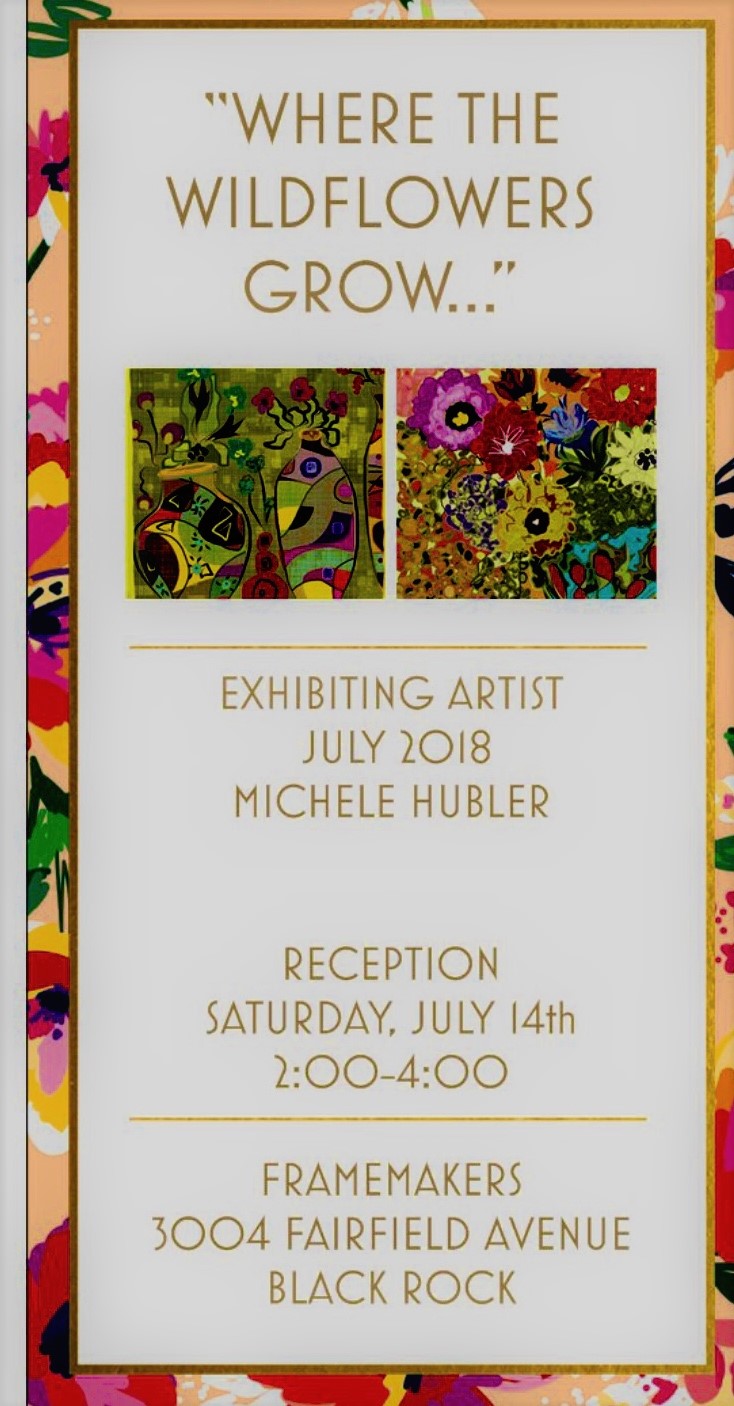 DESCRIPTION
Framemakers is showing the work of Michele Hubler for the month of July.
This exhibit opened on, July 14th, 2018. Gallery and frame shop hours 8:30-5:30pm.
---
COMMUNITY EVENTS
---
Downtown Brideport Farmer's Market
Thursdays at 10:30 a.m. – 2:00 p.m.
McLevy Green
DESCRIPTION
The Downtown Bridgeport Farmer's Market is back! The 2018 season opening day is this Thursday! They will be on McLevy Green from 10:30 a.m. to 2:00 p.m.
In addition to fresh veggies and delicious lunch options, join for live music and art demonstrations!
---
Arts, Culture & the Future of CT's Economy: Gubernatorial Candidate Forum  
Monday, July 31;
4-5pm Networking, Music, Drinks
5-6:30pm Candidate Forum
The State House in New Haven (294 State Street)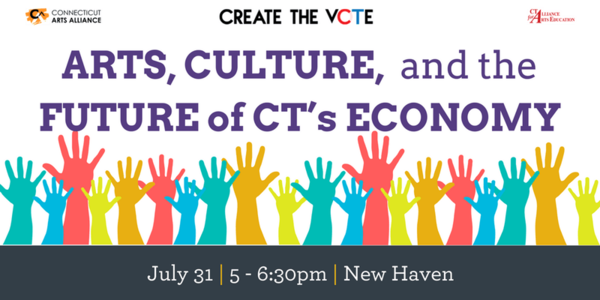 DESCRIPTION
This fall's election of a new governor in Connecticut brings with it hope and opportunity. Over the next several months, the candidates will openly discuss the strengths and challenges of the state and debate their priorities and vision for the next decade and beyond. The Cultural Alliance is a Co-Sponsor for Create the Votefrom CT Arts Alliance and the CT Alliance for Arts Education to ensure that a thriving arts, culture, and creative sector is part of that discussion and one of the priorities for our next governor.
One of the highlights of the Create the Vote campaign is the upcoming Forum on Arts, Culture & the Future of CT's Economy, where the candidates for governor will discuss the issues of the creative community. The event is on July 31 from 5-6:30 at The State House in New Haven, at 294 State Street  – with networking, music and drinks from 4 to 5pm.
What:    Arts, Culture & the Future of CT's Economy: Gubernatorial Candidate Forum
When:   July 31; 4-5pm Networking, Music, Drinks; 5-6:30pm Candidate Forum
Where:  The State House in New Haven (294 State Street).
Candidates Attending: Joseph Ganim, Oz Griebel, Rod Hanscomb, Ned Lamont, Marisa Manley, David Stemerman, Tim Herbst.
Candidates Invited: Mark Boughton, Steve Obsitnik, Cameron Scott, Bob Stefanowski, Micah Welintukonis.
More:    The questions will be based on our candidate questionnaire.
---
SavorCity Bridgeport: Dolphin's Cove
Tuesday, August 7 at 6 PM – 9 PM
Dolphin's Cove Restaurant & Marina
421 Seaview Ave., Bridgeport, Connecticut 06607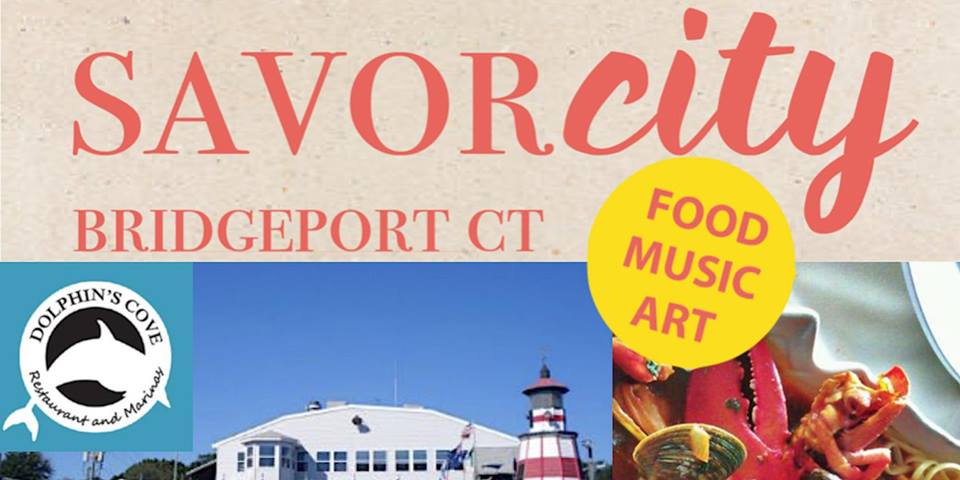 DESCRIPTION
SAVORCITY, a monthly tour of Bridgeport restaurants, food, art, and music, showcasing the culinary and cultural delights of Connecticut's most diverse city, continues for our fourth visit – to the Portuguese and seafood getaway, Dolphin's Cove, on Bridgeport's East End shoreline. Organized by Rick Reyes Productions, Capital for Change, The NEST Arts Factory, and the Cultural Alliance of Fairfield County, SavorCity organizes visits to neighborhood restaurants where guests can experience the authentic local cuisine of Bridgeport's many, diverse neighborhoods. Each restaurant presents a prix fixe menu. To accompany the food, and create a festive mood of celebration, Bridgeport musicians perform and Bridgeport artists showcase their work.
The Tour continues with dinner at Dolphin's Cove, at 421 Seaview Ave., where the Matias family have been serving seafood and Portuguese favorites since 1993. Dinner will comprise a prix fixe buffet for $30, with vegetarian options. Art and music will be announced shortly.
---
PERFORMING ARTS & LIVE CONCERTS
---
The Bijou Theatre Proudly Supports
An Eclectic Night of Music Benefiting The United Way of Naugatuck and Beacon Falls, Featuring Senator George Logan and His Band
"The Electric Lady" 
THU · AUGUST 2, 2018
Doors: 6:30 pm / Show: 7:00 pm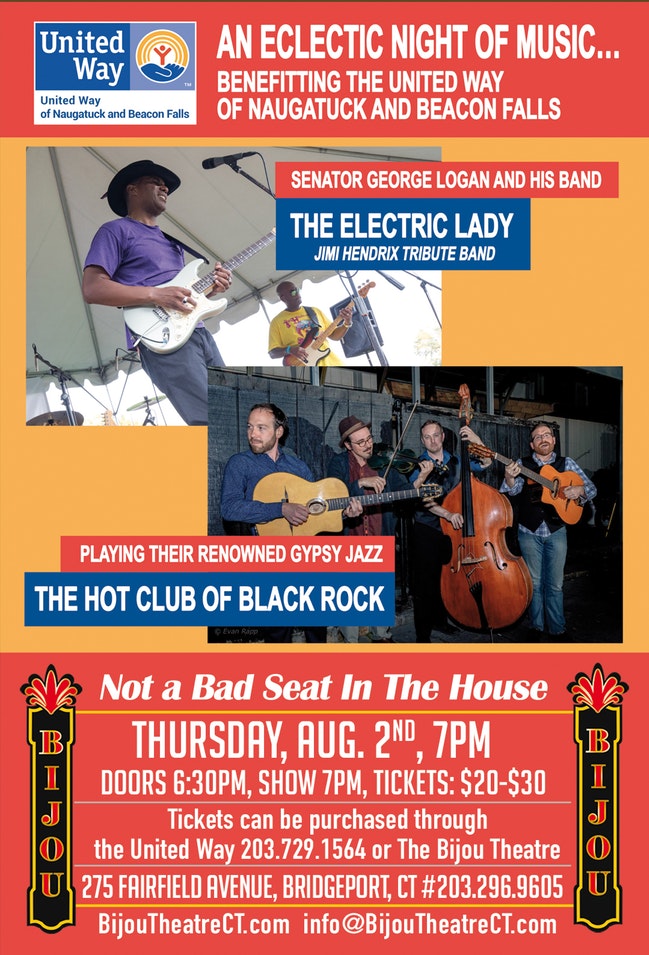 DESCRIPTION
FEATURING SENATOR GEORGE LOGAN AND HIS BAND THE ELECTRIC LADY
The Electric Lady Band – A Jimi Hendrix Tribute that will blow your mind!
THE HOT CLUB OF BLACK ROCK
Paying homage to Django Reinhardt. The Hot Club of Black Rock plays hot swing, or jazz manouche, the kind of jazz that was popular in Paris in the 1920s and 1930s. Think the Moulin Rouge, or a cafe at four in the morning.
---
​An All-Star Tribute Benefit for Neighborhood Studios
Sunday, August 5th, 7pm
Bijou Theatre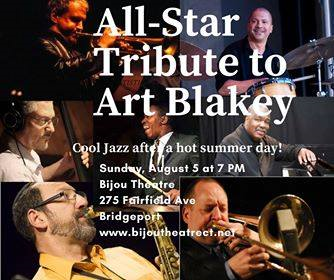 DESCRIPTION
Greg Wall brings together a talented and accomplished group of local and regional musicians to pay tribute to the great Art Blakey.
Leading the group is the Jazz Rabbi, Greg Wall, a celebrated musician and recording artist whose innovative downtown blend of jazz and world music has filled the halls of top venues from Carnegie Hall to stages throughout North America, Europe, and Israel.
Art Blakey's legacy as leader of the Jazz Messengers endured over 5 decades. The Messengers was one of the seminal groups in the second half of the 20th century. Many Messenger alumni went on to become jazz stars in their own right, such as: Lee Morgan, Benny Golson, Wayne Shorter, Freddie Hubbard, Chuck Mangione, Keith Jarrett, Wynton Marsalis, Branford Marsalis, Terence Blanchard among many others.
Help Prepare Children for the Future by Adopting a Camper
​Neighborhood Studios serves over 150 children each summer. Your donation will help insure educational and enriching programs for these children.
Every dollar you donate will help support children attending camp!
---
The Bijou Theatre Presents
Rush Tribute -kRUSH
SAT · AUGUST 4, 2018
Doors: 7:00 pm / Show: 8:00 pm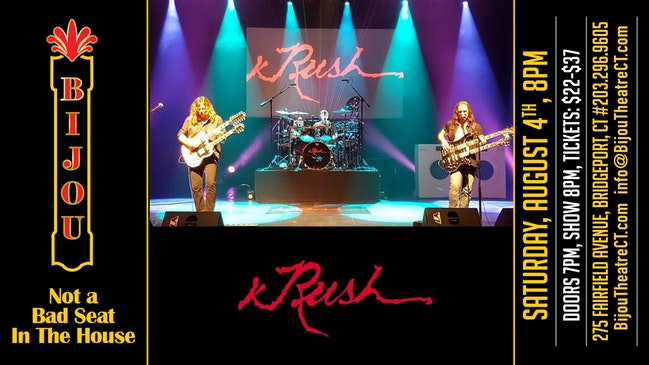 DESCRIPTION
Conceived out of a deep admiration for the musicianship, dedication, and meaning behind every RUSH song, kRUSH strives to reproduce that energy and emotion with every show.
kRUSH is a true 3 piece tribute, replicating not only the music but the look of how it's done live. Frontman Ken Gildea does Geddy Lee proud by playing bass guitar, keyboards, foot pedals and triggers, all while singing over these intricate musical epics, and even throws a little guitar in with use of the double neck bass/ guitar. Andy Logue is Alex Lifeson incarnate reproducing his glorious tones and textures all while working pedals of his own. On percussion Bill Murphy is given the tall task of replicating Neil Peart. Armed with as many drums as he can fit on a riser he does just that!
kRUSH performs RUSH's biggest hits but also throws out deeper tracks like Natural Science, La Villa Strangiato, Bytor and The Snowdog, Losing It, and wows crowds with their doublenecks on Xanadu. Fans are never disappointed as kRUSH touches on all eras of RUSH's impressive 40 year career.
Whether you are a casual fan or a diehard RUSH fan you will appreciate what goes into a kRUSH show and feel like you just saw RUSH themselves perform. Come see what makes kRUSH the best RUSH tribute band you will ever see.
---
FTC PRESENTS:
An Evening With Lyle Lovett And His Large Band
THURSDAY, AUGUST 9, 2018
8:00PM / Doors at 7:00PM
UNDERWRITTEN BY COHEN AND WOLF
TICKETS: $52 – $98
MEMBER DISCOUNT: $5 – $10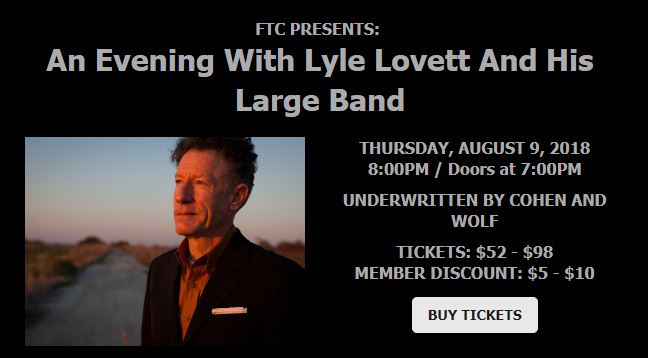 DESCRIPTION
Lyle Lovett's nimble and incisive songs have made him one of the most unique voices in American music. Though a country singer at first glance, Lovett's body of work stretches well into pop territory, as well as big band swing, and contemporary songwriting. Lovett has been a cult figure from the beginning, but since his beginning in the 1980's, he's become increasingly indelible not only as a songwriter but as an actor as well. In addition to his thirteen albums, Lyle Lovett also has substantial film repertoire including "Fear and Loathing in Las Vegas", "Walk Hard", and "The New Guy".
---
Queen by Almost Queen*
August 11th
Downtown Cabaret Theatre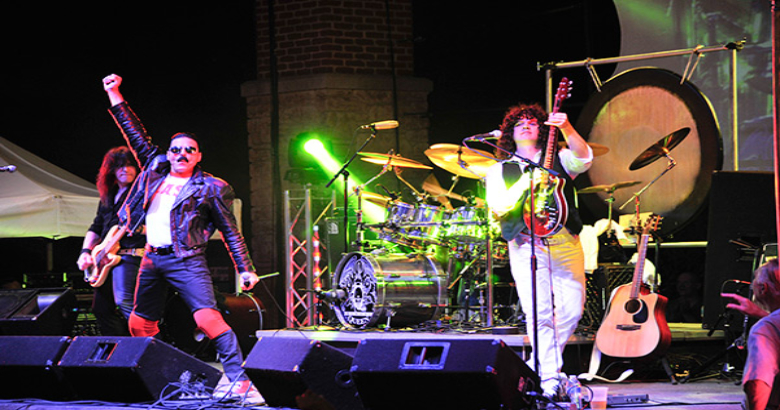 DESCRIPTION
Queen by Almost Queen returns to the Downtown Cabaret Theatre by popular demand ‒ a tribute concert to the best years of Queen! With a four-part band and harmonies, intricate musical interludes, genuine costumes, elaborate lighting, and astounding showmanship, Almost Queen delivers a performance consistent with the energy and spectacle of a real live stage Queen concert.
---
Downtown Thursdays Free Summer Concert Series 2018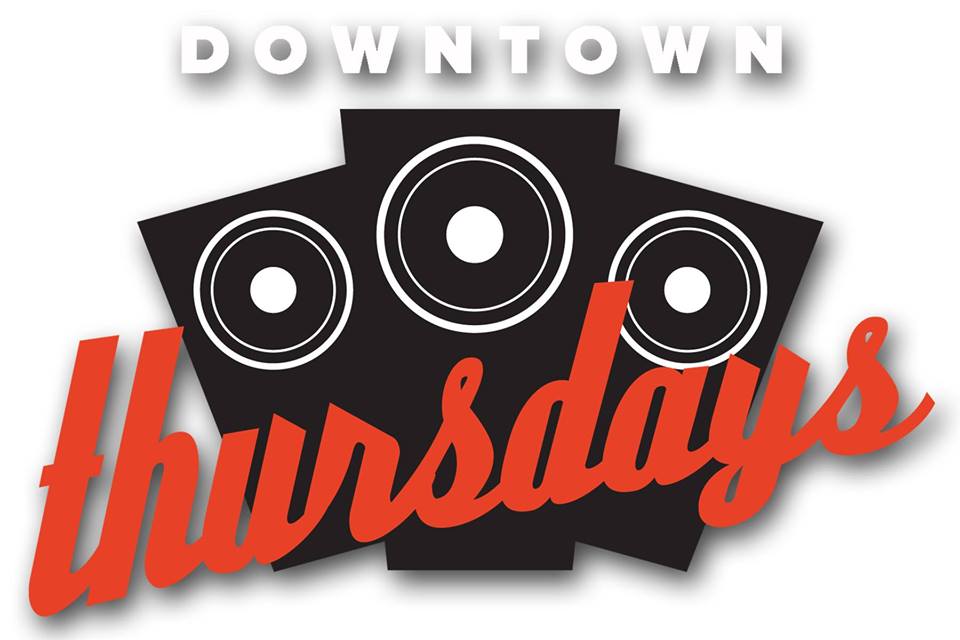 DESCRIPTION
JULY 2018
7/26 – The Legendary Latin Night
Oquesta Afinke  & Sacred Fire: A Santana Tribute Band
AUGUST 2018
8/2 – Soul Alternative Rock (3 Bands)
The Telle, The Color Fields Band, &Phat A$tronaut
8/09 – Rhythm & Blues Night (RnB)
Jelani Sei Band & Le'Mixx Band feat. John Sapchak
8/16 – Rock n Blues Night
Jake Kulak & the Lowdown / The Greg Sherrod Band
8/23 – Old School Hip Hop & RnB Finale
Featuring a Legendary Hip Hop Group @ Seaside Park Bandshell
Thanks to all the sponsors, friends and fans of Downtown Thursdays!  This year has been a challenge due to cut backs and other constraints.  I Luv BPT worked tirelessly along with several volunteers.  We urge you to get involved with us to continue our crusade to grow Bridgeport through Music, Arts, Business, and Culture.  Support the Bridgeport Arts & Cultural Council.
---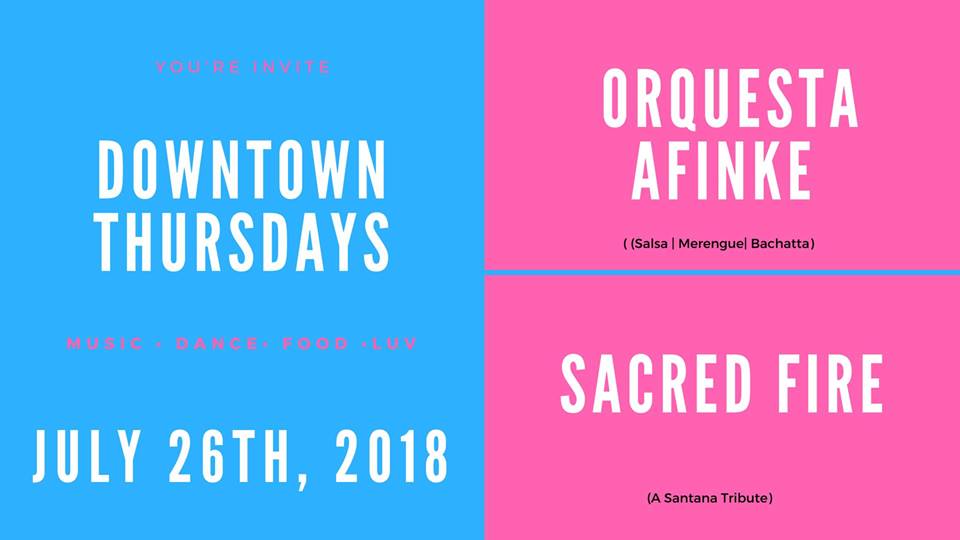 LATIN NIGHT @ MCCLEVY GREEN
July 26, 2018
Welcome to the Legendary Latin Night on the green, where the sounds of percussion, horns, and a sexy guitar take over!
---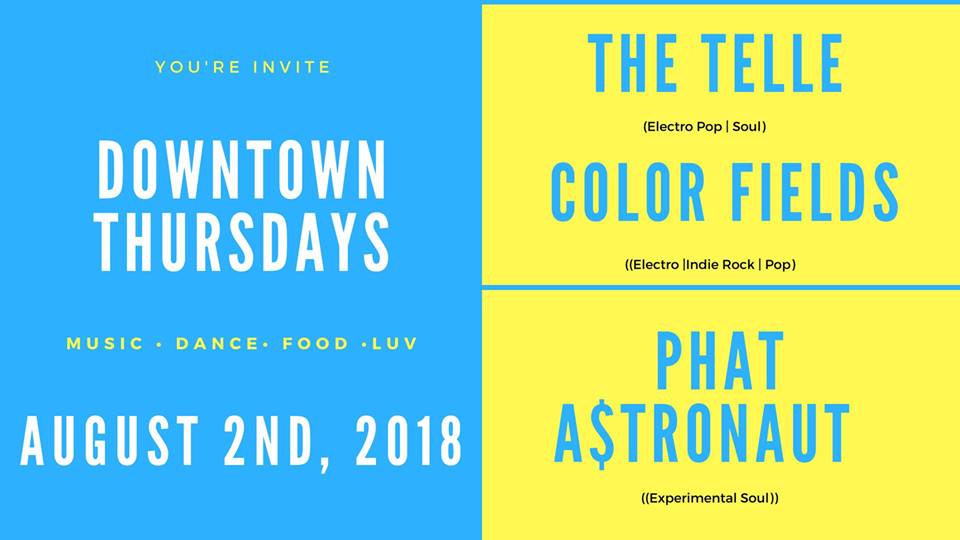 SOUL*ALT*ROCK @ MCCLEVY GREEN
August 02, 2018
Sometimes singers were born to saaannnnggggggggggg. Downtown Thursdays proudly present 3 awesomely diverse powerhouse voices and bands.
The Telle
Electronica, Punk, & Funk best describes the sounds of the Telle. A Simple booming sound from creative musicians.
———————————————————————
The Color Fields Band
———————————————————————
Phat A$tronaut, an experimental soul experience.
Phat A$tronaut is an organically grown, experimental soul ensemble from the funkier parts of a small state called Connecticut.
The band formed shortly after singer/songwriter, Chad Browne-Springer, and guitarist/musical director, Mark Lyon, met on a D'Angelo tribute gig. Their sound consists of booty shaking rhythms and musically induced psychedelia with pop-sensible songwriting at the forefront.
Phat A$tronaut acknowledges many influences, including Prince, Hendrix, D'Angelo, Erykah, Fela, Frank Ocean, Knower, Hiatus Kayote, and many more, while maintaining undeniable originality.
In just over a year of performing, Phat A$tronaut has become a high demand act on the local scene, and are starting to introduce their unique freakiness throughout the Tri-state area and New England.
---
 PechaKucha Night Bridgeport
2 Spots left for participants!
September 12th, 2018
The Barnum Museum
DESCRIPTION
2 Spaces Left for Pecha Kucha Bridgeport Storytellers…
PechaKucha Bridgeport is designed to bring people together to listen to great personal stories. PechaKucha is Japanese for "chit-chat." It is a presentation style in which one speaker uses 20 slides, each shown for 20 seconds resulting in a total time of 6 minutes and 40 seconds. This licensed format keeps presentations focused and fast-paced.
Our first PechaKucha was on May 9th! We had 14 presenters and their stories can be viewed online at: https://www.pechakucha.org/cities/bridgeport/events/5a935d7a3c70efad7400010dThis
PechaKucha is FREE, and registration is not necessary. Arrival by 6:00 PM is a good idea to get a good seat and FOOD will be available to purchase through the community work of CHEF RAQUEL RIVERA PABLO (a PechaKucha presenter at our Vol.#1 event!).
---
ARTS & CULTURE NEWS: Endangered Freeman Homes get $50k grant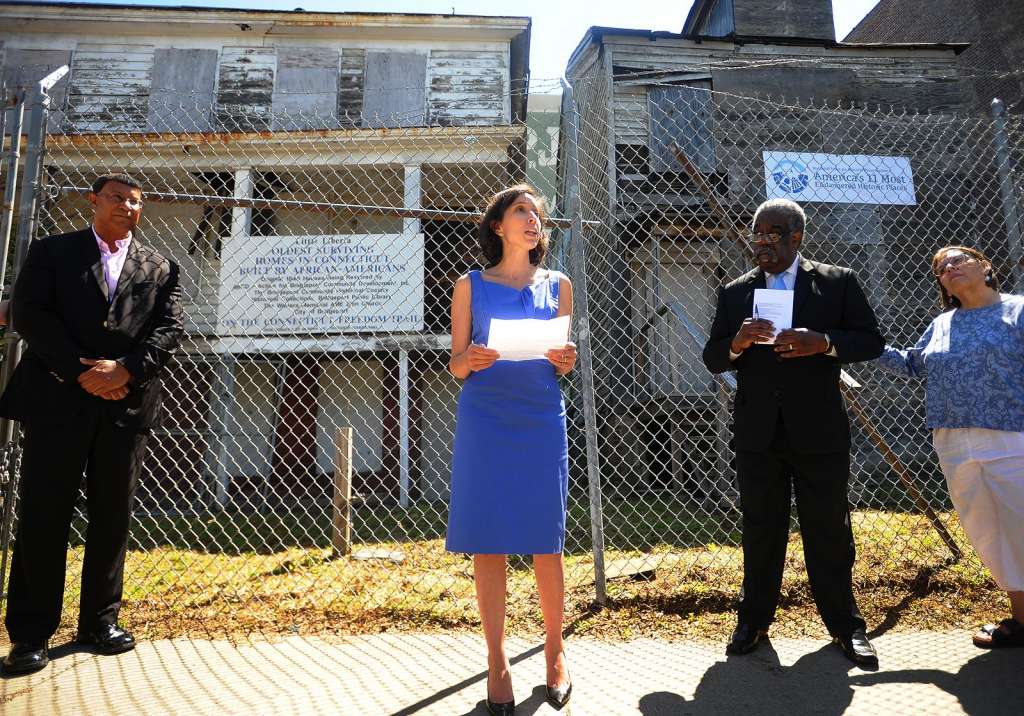 DESCRIPTION
The 1848 Mary and Eliza Freeman Houses in Bridgeport's South End were recently added to the National Trust for Historic Preservation's list of "America's 11 Most Endangered Historic Places." The news was celebrated by ceremonies at the Houses and at Housatonic Community College June 26 (see CT Post article). CT Humanities has announced a $10,000 capacity grant to the organization to create its first-ever strategic plan and to digitally store and preserve its institutional records. July 6th, the National Trust announced a $50,000 grant to the Freeman Center to begin permanent stabilization of the Freeman structures (more…).
The mission of The Freeman Center is not only to "restore, preserve and ensure the viability of the Freeman Houses," but also to "teach the history of Black people in CT; revitalize the surrounding South End community; and facilitate preservation of other African American and Bridgeport communities."
A discussion about these recent developments was featured on the Cultural Alliance of Fairfield County's Spotlight on Arts & Culture earlier this week.