AUGUST FEATURE
Bridgeport Art Trail Artists in the Community,
Bringing Art to the People
We are preparing for our 10th Anniversary of the Bridgeport Art Trail November 8th-11th.
This month we would like to highlight some of the tremendous projects Bridgeport artists have been involved with in the community over the summer!
---
BRIDGEPORT ART TRAIL NEWS
REMINDER: SUBMIT YOUR LISTING FOR
BRIDGEPORT ART TRAIL PROGRAM BOOK/ARTISTS' DIRECTORY BY 9/5/18.
As you enjoy the dog days of summer, Autumn seems a long way off, but we are in the planning stages of the Bridgeport Art Trail weekend scheduled for November 8-11, 2018, the annual city-wide event marks our 10 years in 2018.
Artists, musicians, performers and arts organizations who would like to participate or submit their information for the 2018 program book and artists directory are welcome to submit info, the deadline for submission is: 9/5/18. Please send info to clgallerybpt@gmail.com
Attached please find directions regarding the format for submitting info for the 2018 Bridgeport Art Trail program guide/directory. You can review examples of 2018 listings at:  https://bridgeport-art-trail.org/wp-content/uploads/2017/10/BAT2017_guide_website.pdf
IMPORTANT DATES: 
A planning meeting for the BAT 2018 is scheduled for Thursday, starting at 6: 15 pm August 23, 2018 at City Lights Gallery 265 Golden Hill St. Bridgeport CT. near the Downtown Cabaret Theatre. 
The deadline for submission is September 5, 2018. . Please send any ideas or proposals for new program ideas to be considered to  clgallerybpt@gmail.com
Venues and organizations provide a general listing followed by specific information for the November Art Trail weekend  along with pertinent November/December program info. Theatres, music venues, museums, arts venues are encouraged to create special programs for the city-wide arts celebration weekend or just submit info regarding programs that are part of the regular programs, already taking place November 8-11, 2018.
The Thursday Kick-off party will take place November 8. with a Bridgeport Art Trail sampler exhibit and artists' party, including food, drink, the Park City All Stars, a lineup of Bridgeport musicians..
Find attached a general information about creating and submitting a B.A.T. listing
---
 AUGUST EVENTS 2018
---
VISUAL ARTS
---
SAMESEX – 8th Annual Art Exhibit
City Lights Gallery
\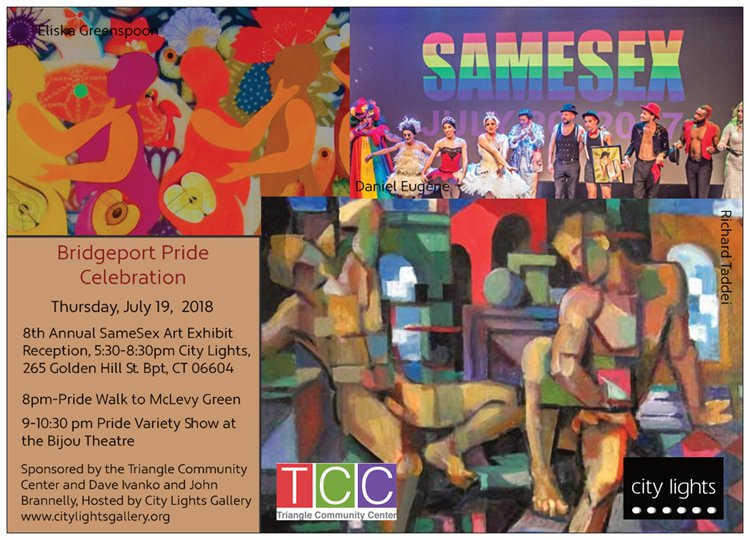 DESCRIPTION
SAMESEX annually reflects the current zeitgeist of the LGBTQ community, their friends, family, neighbors and allies.
Exhibiting Artists: Mario Baez, Nate Bass, Marieta Capobianco, Darron Copeland, Erica Czerwinski, Daniel Eugene, Andrew Graham, Eliska Greenspoon, Don Houston, Maxwell Kale, Julia Rose Liptak, Alison Margo, Marla Mcleod, Cassandra Mendoza, Ricky Mestre, Thomas Mythos, Jon Puozzoli, Aly Maderson Quinlog, Colleen Reilly Rees, Barbara Ruger, Ellen Schinderman, Shilarts, Richard Taddei, Francesca Winfield
---
Drawing and Painting from Life
Figure Drawing
Tuesday, August 21st, 6-9pm
City Lights Gallery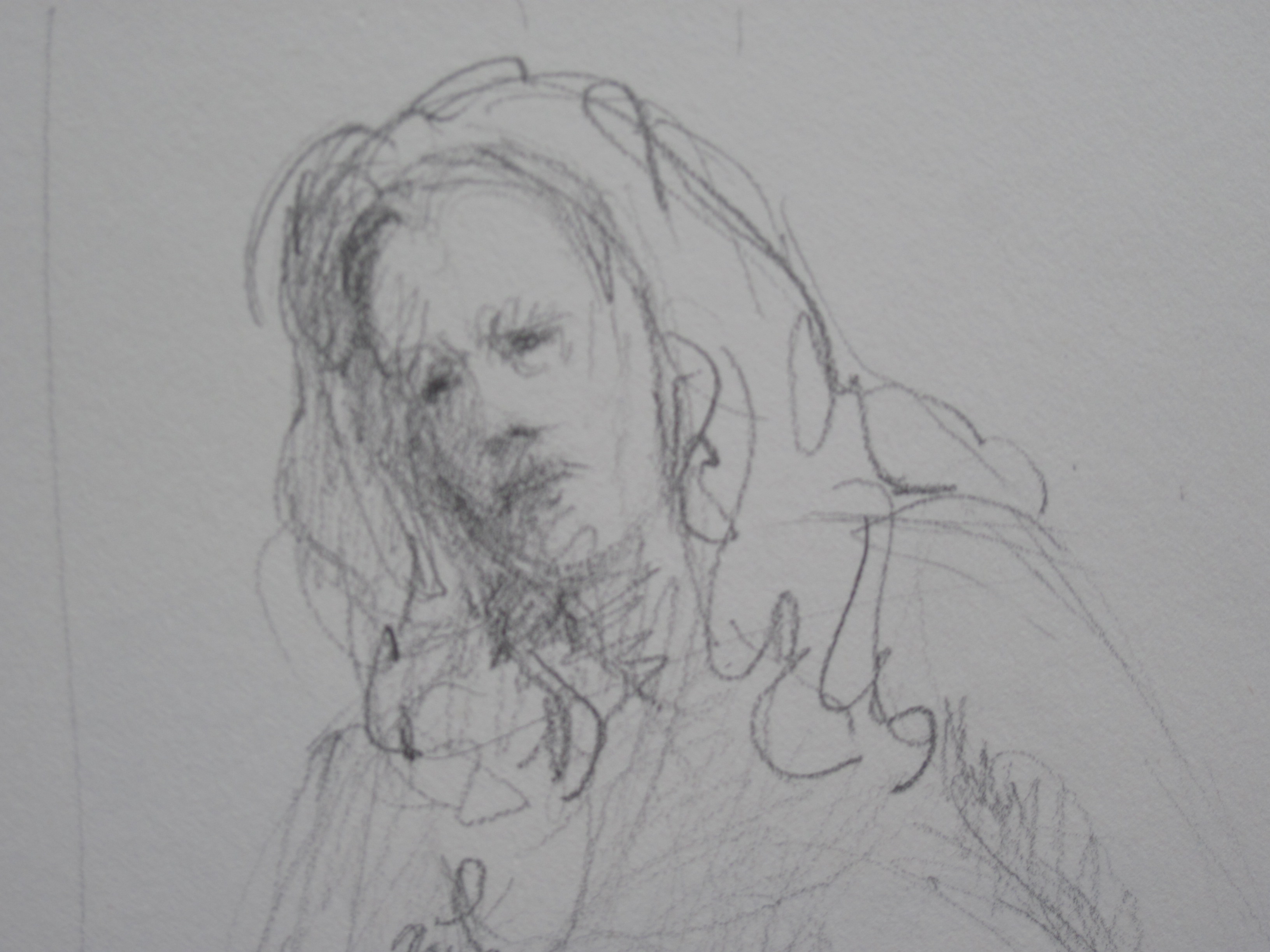 DESCRIPTION
Drawing and painting from life is back at City Lights!
Model fee: $15
We will meet at the New England Ballet Co space, 150 Elm St. It is in the same building as City Lights and the Downtown Cabaret Theatre(265 Golden Hill St.) just on the other side of the building.
Questions call 203.334.7748
Featured Image: Drawing by Suzanne Kachmar
---
COMMUNITY EVENTS
---
Downtown Brideport Farmer's Market
Thursdays at 10:30 a.m. – 2:00 p.m.
McLevy Green
DESCRIPTION
The Downtown Bridgeport Farmer's Market is back! The 2018 season opening day is this Thursday! They will be on McLevy Green from 10:30 a.m. to 2:00 p.m.
In addition to fresh veggies and delicious lunch options, join for live music and art demonstrations!
Participating artists include:
August 9th – Alicia Cobb of ArtSimplicated– creating fine body art-(body painting)
August 16th – Herm Freeman: a retired art teacher who will conduct art demos
August 16th – Iyaba Ibo Mandingo : Visual Art, Art to Wear, Spoken Word
August 23rd –Susan Murray of Finished With Style: Stenciling, Textural Surface Treatments, Upcylced Furniture Artist of the NEST Arts Factory
August 30th – Melida Alford : Jewelry. Prints and Bags
August 30th Shanna Melton. Visual art, art to wear, poetry
---
Marketing Bootcamp for Artists & Creatives
A free SCORE Small Business Workshop co-sponsored by
Milford Center for the Arts and Coastal Arts Guild of CT
Thursday, August 16, 6:30 PM to 8:00 PM
Milford Center for the Arts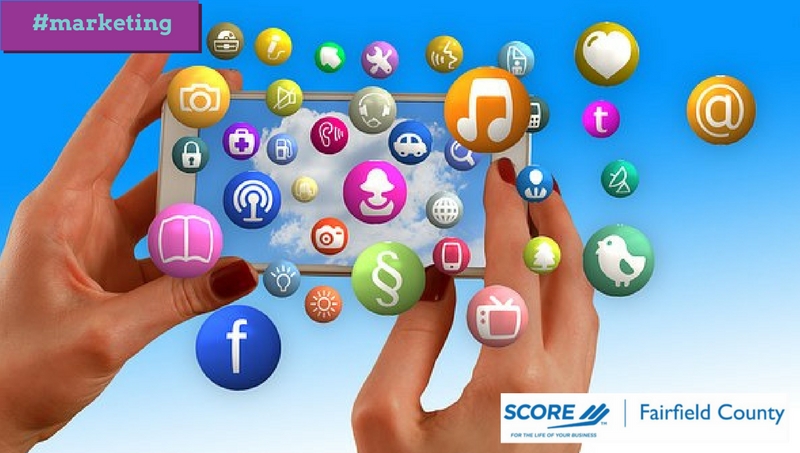 DESCRIPTION
A free SCORE Small Business Workshop co-sponsored by Milford Center for the Arts and Coastal Arts Guild of CT
A lively, fast-paced workshop with tons of tips and hints to expand your community on social media, reach customers, and develop strategies for creative email marketing and e-commerce. Learn how to efficiently and effectively use Facebook, Twitter, Pinterest, and Instagram to connect with fellow creatives, partner with brands, and sell your work.
to create an effective social media strategy
when, where, and what to post online
to balance time and energy online for maximum results
to seek out opportunity
to analyze and track your results
---
PechaKucha Night Bridgeport
September 12th, 2018
The Barnum Museum
DESCRIPTION
PechaKucha Bridgeport is designed to bring people together to listen to great personal stories. PechaKucha is Japanese for "chit-chat." It is a presentation style in which one speaker uses 20 slides, each shown for 20 seconds resulting in a total time of 6 minutes and 40 seconds. This licensed format keeps presentations focused and fast-paced.
Our first PechaKucha was on May 9th! We had 14 presenters and their stories can be viewed online at: https://www.pechakucha.org/cities/bridgeport/events/5a935d7a3c70efad7400010dThis
PechaKucha is FREE, and registration is not necessary. Arrival by 6:00 PM is a good idea to get a good seat and FOOD will be available to purchase through the community work of CHEF RAQUEL RIVERA PABLO (a PechaKucha presenter at our Vol.#1 event!).
---
 LIVE CONCERTS
---
FTC PRESENTS:
An Evening With Lyle Lovett And His Large Band
THURSDAY, AUGUST 9, 2018
8:00PM / Doors at 7:00PM
UNDERWRITTEN BY COHEN AND WOLF
TICKETS: $52 – $98
MEMBER DISCOUNT: $5 – $10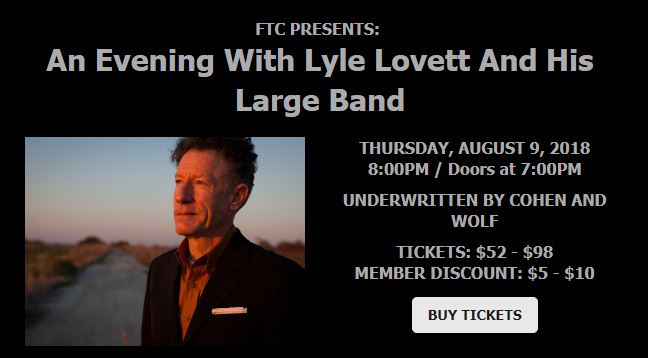 DESCRIPTION
Lyle Lovett's nimble and incisive songs have made him one of the most unique voices in American music. Though a country singer at first glance, Lovett's body of work stretches well into pop territory, as well as big band swing, and contemporary songwriting. Lovett has been a cult figure from the beginning, but since his beginning in the 1980's, he's become increasingly indelible not only as a songwriter but as an actor as well. In addition to his thirteen albums, Lyle Lovett also has substantial film repertoire including "Fear and Loathing in Las Vegas", "Walk Hard", and "The New Guy".
---
Queen by Almost Queen*
August 11th
Downtown Cabaret Theatre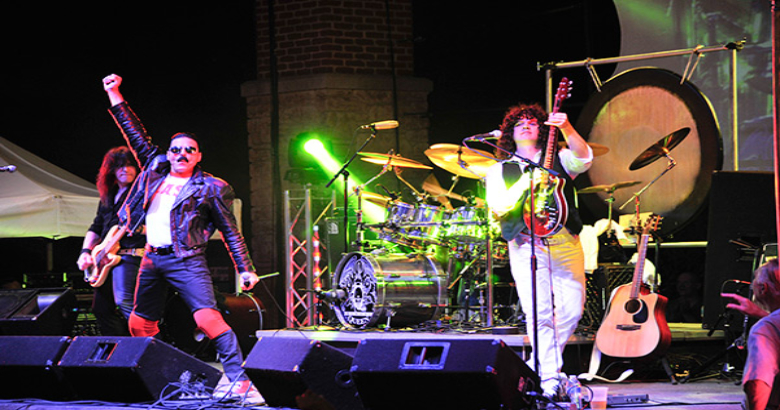 DESCRIPTION
Queen by Almost Queen returns to the Downtown Cabaret Theatre by popular demand ‒ a tribute concert to the best years of Queen! With a four-part band and harmonies, intricate musical interludes, genuine costumes, elaborate lighting, and astounding showmanship, Almost Queen delivers a performance consistent with the energy and spectacle of a real live stage Queen concert.
---
Downtown Thursdays Free Summer Concert Series 2018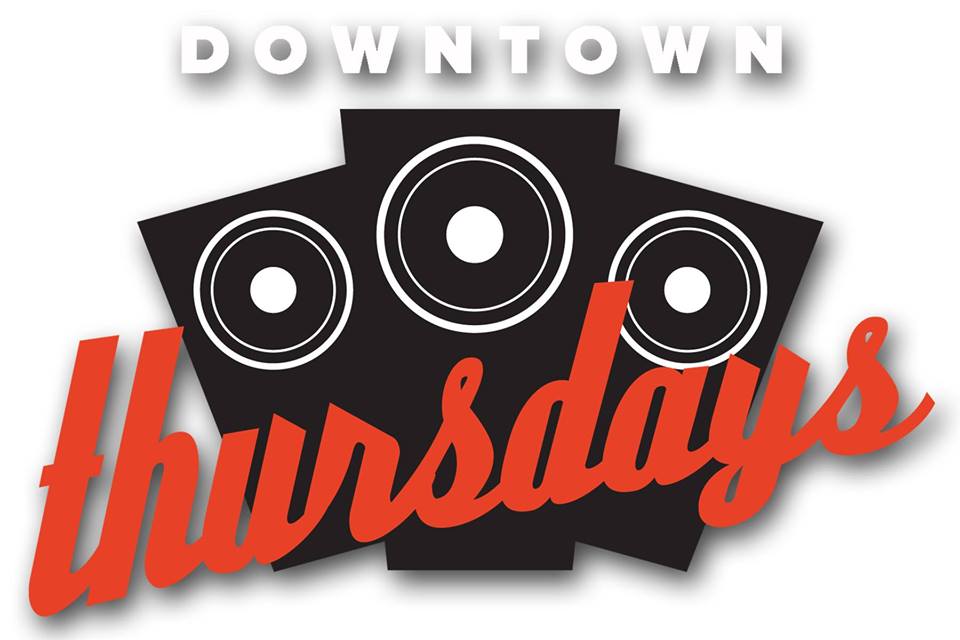 DESCRIPTION
8/09 – Rhythm & Blues Night (RnB)
Jelani Sei Band & Le'Mixx Band feat. John Sapchak
8/16 – Rock n Blues Night
Jake Kulak & the Lowdown / The Greg Sherrod Band
8/23 – Old School Hip Hop & RnB Finale
Featuring a Legendary Hip Hop Group @ Seaside Park Bandshell
Thanks to all the sponsors, friends and fans of Downtown Thursdays!  This year has been a challenge due to cut backs and other constraints.  I Luv BPT worked tirelessly along with several volunteers.  We urge you to get involved with us to continue our crusade to grow Bridgeport through Music, Arts, Business, and Culture.  Support the Bridgeport Arts & Cultural Council.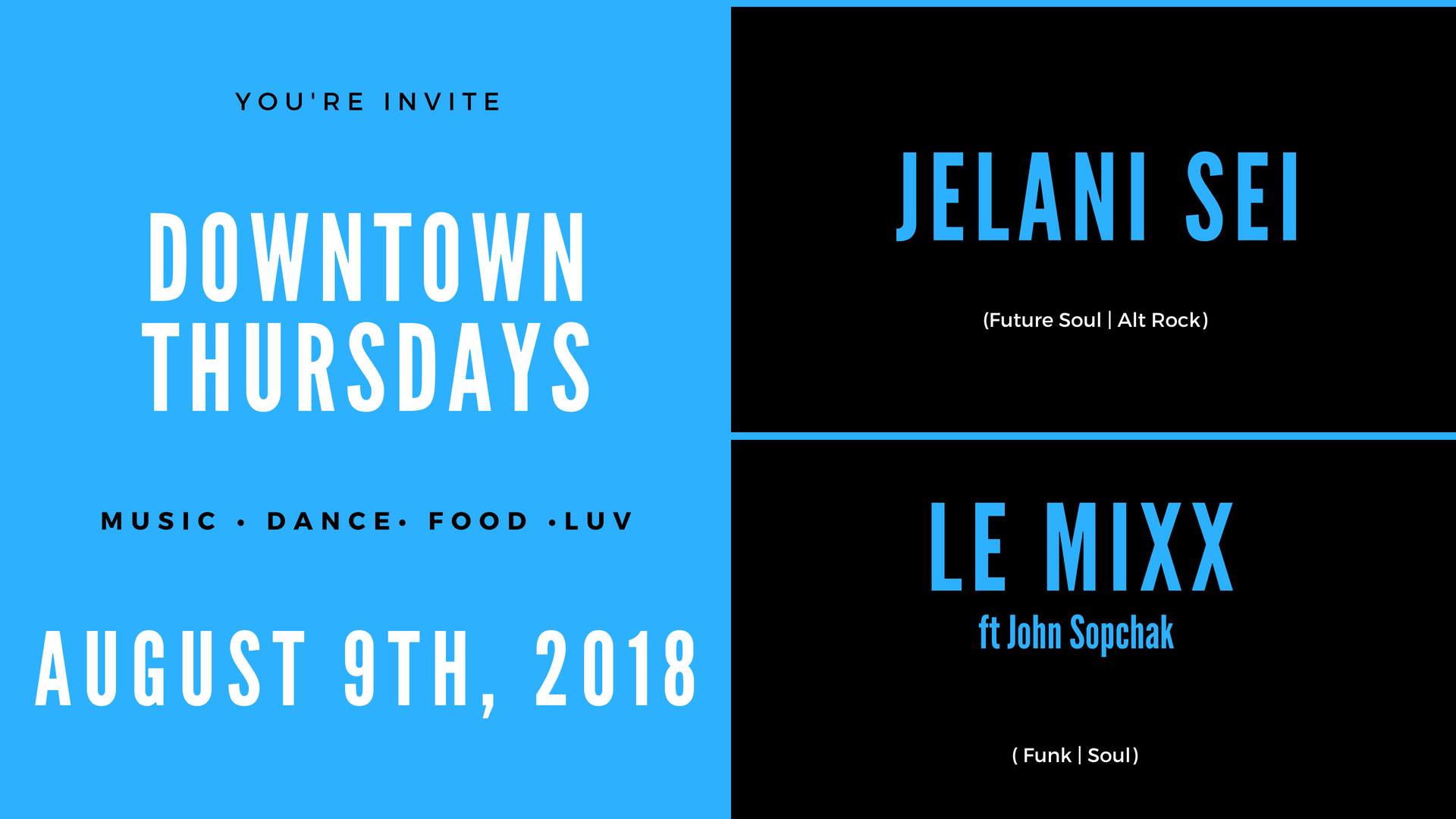 RHYTHM & BLUES @ MCCLEVY GREEN
August 09, 2018
Rain Date: August 10, 2018

August 9th at McClevy Green we celebrate the funk and soul music know as Rhythm & Blues (R&B)
Jelani Sei
Having roots in Evan Lawjelani_seirence's basement, Jelani Sei has evolved into a full lineup that includes Kayana Guity on vocals, Samuel Smith on guitar, Scott White on guitar and Enayi Tamakloe on drums. The completion of the lineup has allowed the band to reach a point of musical clarity they wouldn't have been able to find on their own.
From playing all around New England, into New York City and Philadelphia, they have developed their own sound, self dubbing it as "Progressive R&B."
The night cap belongs to Le' Mixx banc feat. John Sopchak

An eight piece high energy classic Motown, classic soul, funk, rock and reggae review band that also covers blues, jazz. With their wide array of music covering many genres from Marvin Gaye to the Beatles, they are always the crowd pleaser. Le' Mixx has become one of the most sought after dance bands for weddings, corporate affairs, clubs and festivals. You can bet that this band will have everybody up dancing.
---
ROCK'N BLUES @ MCLEVY GREEN
August 16, 2018
Rain Date: August 17, 2018
Rock'n Blues night is a fusion mix of alternative rock, blues, and jazz.
1st the Downtown Thursdays Stage is Jake Kulak and the Lowdown.
Jake Kulak and the LowDown bring their blend of modern and traditional guitar-driven blues and blues-rock to music lovers everywhere. Formed in 2013, these talented young artists have represented CT for the past 4 years at the International Blues Challenge Youth Showcase in Memphis, TN. They have also been nominated for a New England Music Award in the "Best New Act of the Year" category and were one of 6 Boston-area bands to win the the House of Blues emerging artist competition. Bassist Anthony Dailey, from Longmeadow, MA is a crowd favorite with his quiet swagger and tasteful grooves. Drummer, Jeremy Peck, from Manchester, Connecticut is a formally trained, multi-instrumentalist whose killer, high-energy beats anchor the band
Closing this wonderful night of Blues & Rock is the multi-talented Greg Sherrod Band.
Greg Sherrod has been singing his whole life, entertaining audiences throughout New England. Greg spent many years in musical theater, starring in productions like Jesus Christ Superstar (Judas) and Nunsence (Sister Hubert), and being involved in Dandelion Children's Theater. Greg has taken the stage with bands like The Clarke Brothers, Powerhouse, Sugar Daddy, and The Highrollers. Greg has also supported and played with acts likgregsherrode Tower of Power, John Cafferty and The Beaver Brown Band, King's X, Deep Banana Blackout, E.C. Scott, K.D. Bell, and James Montgomery. And Greg has led the house band at The Newport Blues Cafe.
---
Beginnings – Chicago*
Saturday, August 25
Downtown Cabaret Theatre
DESCRIPTION
Beginnings is a tribute to the best of Chicago – a band with more than four decades of hits, five #1 albums, and 20 top-ten hits. This group of world-class musicians and vocalists recreates the sound, excitement, and emotion of Chicago's hits from every decade. Beginnings will be showcasing all of your favorites by Chicago including: "Saturday in the Park," "25 or 6 to 4," and "Beginnings."
Beginnings has headlined and received rave reviews from venues including: Walt Disney's EPCOT Center, Busch Gardens (Tampa), The Town Hall (New York City), The M Resort Spa Casino (Las Vegas), The Wolf Den (Mohegan Sun), South Point Casino & Spa (Las Vegas), The Norris Theater (Palos Verdes), The Villages (Florida), and the Hollywood Casino (Penn National Raceway).
The band was even recently joined on-stage by former Chicago guitarist, Donnie Dacus (Hot Streets & Chicago 13) who stated, "These guys are so good it's scary!"
---
Deadgrass – Live Concert
Saturday, August 25th
Doors: 8:00 pm / Show: 9:00 pm
The Bijou Theatre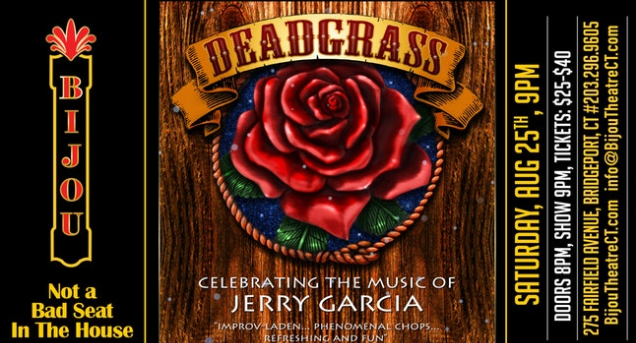 DESCRIPTION
Multi-instrumentalist Matt Turk and Grammy award winner C Lanzbom joined forces to form Deadgrass, a string band adventure through Jerry Garcia's musical world. Bassist Dave Richards, banjo player Russell Gottlieb and fiddler Michael Barrett Donovan complete this fine group of seasoned pros exploring the life works of Jerry Garcia on the instruments that first inspired him. Deadgrass celebrates and interprets the music of Jerry Garcia, drawing from Old & in the Way, JGB, Grisman/Garcia, Jerry's Jug Band days and of course, The Grateful Dead.
---
 PERFORMING ARTS AND THEATRE
---
One of Love – A Theatrical Play
Friday, August 17th – Sunday, August 19th
The Bijou Theatre
DESCRIPTION
LOVE; is it love of neighbor, righteousness, a cause, or belief? Love, what does it mean to you in life and in death?
The interpretation of the Writer/Director Rev. Ina A. Anderson, producer of Trumpednotized, examines history once again. She presents not just the facts, because anyone can read those, but the dramatization and a version of a time in history that affected the lives of many.
A Jonathan Daniels story is not known by many but should be known by all!
At a critical time in our history, 1965, was a pivotal time in every corner of our country and overseas! It is interesting that in 2018 the question remains; Will a man lay down his life for a friend?
This production will surely, leave you wanting more. Come out to the Bijou Theater, and join us, August 17, 18, 19, 2018.
IT IS GOING TO BE FABULOUS!
---
With Love, Marilyn
Sunday, September 9th at 7:30pm
The Klein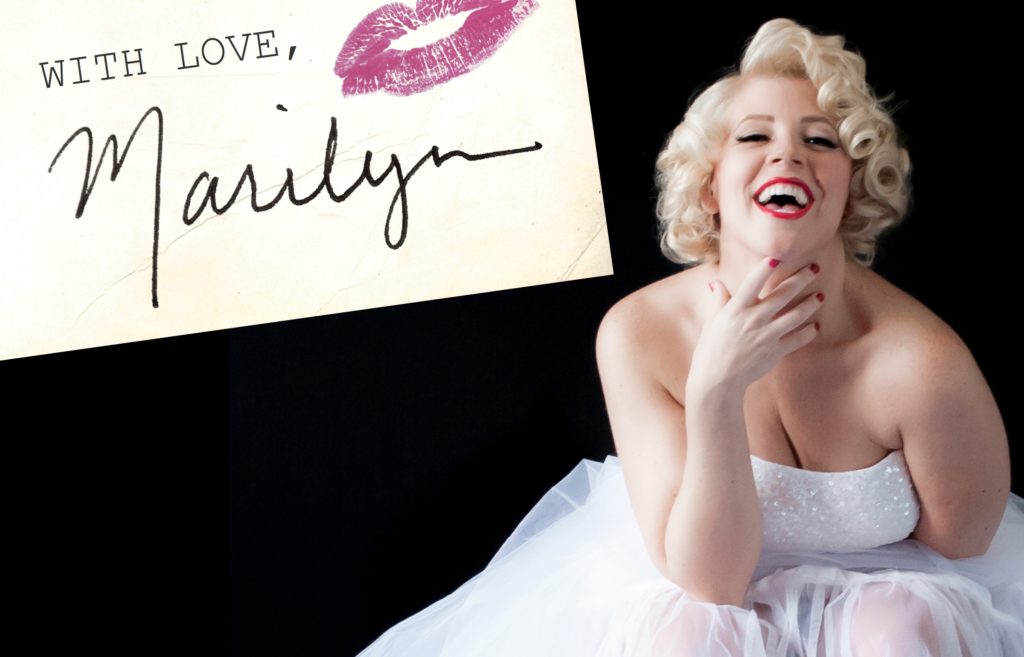 DESCRIPTION
Critically-acclaimed actress Erin Sullivan gives a tour-de-force performance as Marilyn Monroe in this one-woman show. It will transport you back in time with songs made famous by the iconic ingenue, such as "I Wanna Be Loved By You" and "Diamonds Are A Girl's Best Friend" while weaving in the love stories of the many men in Marilyn's life. It is the first stop on a national tour and is produced and directed by Broadway producer Stephanie Rosenberg.
Tickets are $44, $32, & $20
Box office: (800) 424-0160 x2 or www.theklein.org
---
ARTS & CULTURE NEWS
---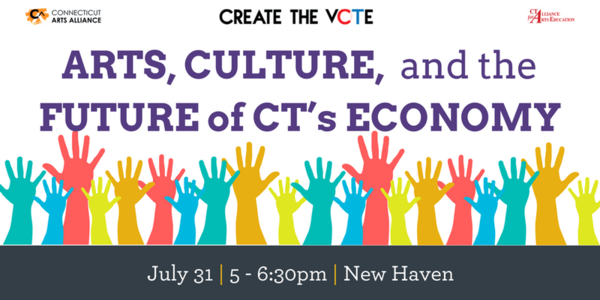 Create the Vote: Gubernatorial Candidate Forum on Arts & Culture
THANK YOU to everyone who attended Connecticut's first-ever gubernatorial candidate forum on arts and culture! Special thanks go to candidates Ned Lamont, Tim Herbst, Oz Griebel, David Stemerman, and Joe Ganim for participating and to host Ann Nyberg for keeping the candidates "on point!"
Thank you also to Cooperative Arts & Humanities High School for hosting the forum and to BAR for hosting our reception afterward.
You can watch the Facebook livestream video of the event here:
REMEMBER TO VOTE!
Remember also to use your voice to help Create the Vote by voting in the primary on August 14!
Registration for primary voting is August 9!
Click here to register to vote online!
Click here for more information on voter registration and deadlines!
We look forward to continuing the discussion with the final candidates. Good luck to all in the primaries!
---
Bridgeport Public Library History Center Awarded Grant to Exhibit the History of the Art Center and its Influence on Community

Bridgeport, CT – A $10,511.00 grant to the History Center of the Bridgeport Public Library has been awarded by Connecticut Humanities to fund an exhibition and public programming conceptualized and delivered by guest curator Michelle Black Smith on the rich history of the Art Center, a vibrant arts and culture organization that had a profound impact on the Bridgeport community during the 1970s and 1980s.
We Are Artists Every One: The Art Center in Action, 1970-1986 is an exhibition of photos, art work, photographs, artifacts, and oral histories that explores the Art Center, its influence on the city of Bridgeport, and the context of its role in the national Black Arts Movement. Public programming will include a lecture, panel discussion, documentary screening, and K-12 public school art instruction, and behind-the-scene tours. The exhibition opens on November 2, 2018 and closes April 30, 2019. All events are free.
"The Art Center was a creative, cultural, social and political space that flourished in the 1970s and early 1980s. Its impact was far greater than its stated mission to teach art, photography, and music," said independent curator, Michelle Black Smith. "A casualty of shifting priorities in the mid-1980s, the Art Center lives on in the work created, the photographs that bear witness to shared experiences, and the trajectory of lives affected by both its existence and its demise. We are delighted that this grant from Connecticut Humanities will allow us to share this underrepresented history with the public, and create an archive for future research."
Connecticut Humanities, a nonprofit affiliate of the National Endowment for the Humanities, supports cultural and historical organizations that tell the state's stories, build community and enrich lives.
For more information about the exhibition, call (203) 545-9127 or visit
http://bportlibrary.org/hc/african-american-heritage/a-b-c-d-cultural-arts-center-a-creative-community-response/
---
 Endangered Freeman Homes get $50k grant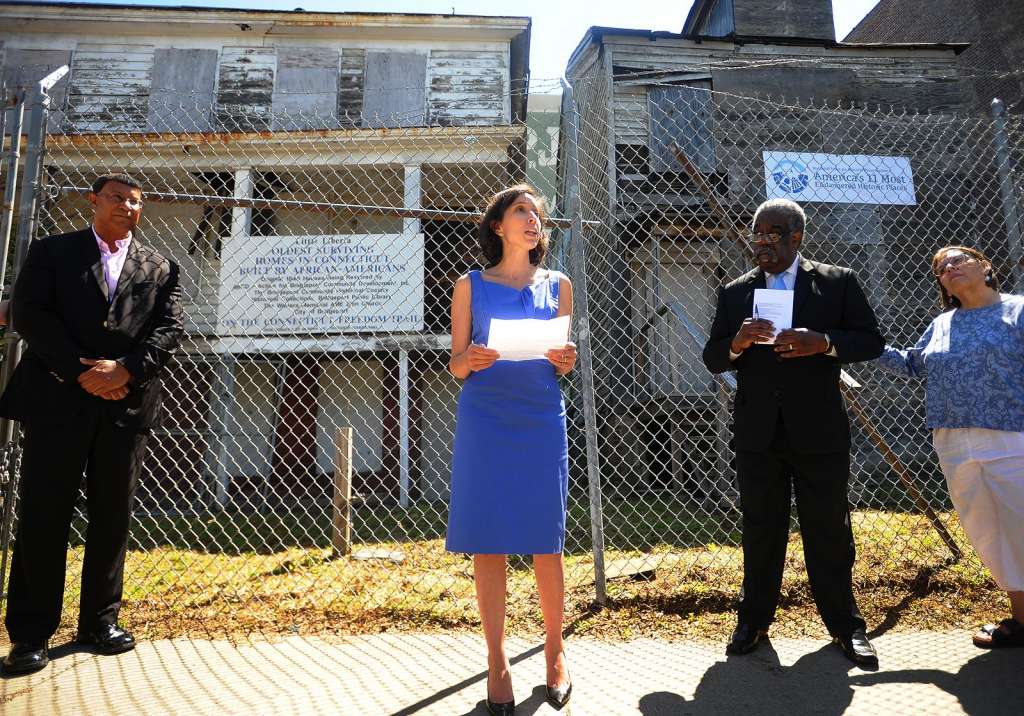 DESCRIPTION
The 1848 Mary and Eliza Freeman Houses in Bridgeport's South End were recently added to the National Trust for Historic Preservation's list of "America's 11 Most Endangered Historic Places." The news was celebrated by ceremonies at the Houses and at Housatonic Community College June 26 (see CT Post article). CT Humanities has announced a $10,000 capacity grant to the organization to create its first-ever strategic plan and to digitally store and preserve its institutional records. July 6th, the National Trust announced a $50,000 grant to the Freeman Center to begin permanent stabilization of the Freeman structures (more…).
The mission of The Freeman Center is not only to "restore, preserve and ensure the viability of the Freeman Houses," but also to "teach the history of Black people in CT; revitalize the surrounding South End community; and facilitate preservation of other African American and Bridgeport communities."
A discussion about these recent developments was featured on the Cultural Alliance of Fairfield County's Spotlight on Arts & Culture earlier this week.