Make Music Day Bridgeport
June 21, 2018
Bridgeport CT joined the international Make Music Day community by participating in CT's first statewide Make Music Day celebration (MMD-BPT).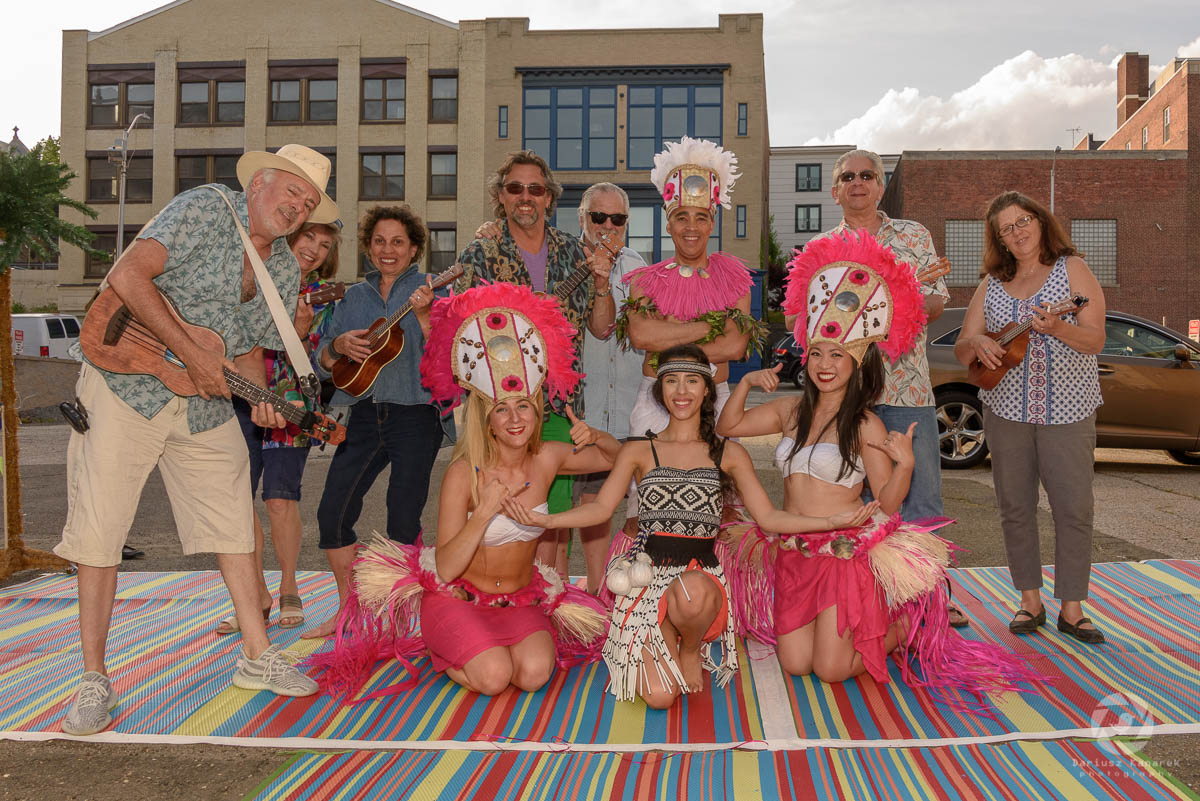 Thank you to all who made this event a success, joyous event day to celebrate community and music. Bank of America, the DSSD, City of Bridgeport, AV Davey Audio Visual, Bijou Theatre CT, Wpkn Radio, CT Post, Hatch 130, all the musicians, Gary Peterson, Steve DiCostanzo, Lauren Coakley Vincent, Phil Kuchma, Rick Reyes, Tim Walsh and Dariusz Kanarek, and Mike Daly at the Connecticut Post.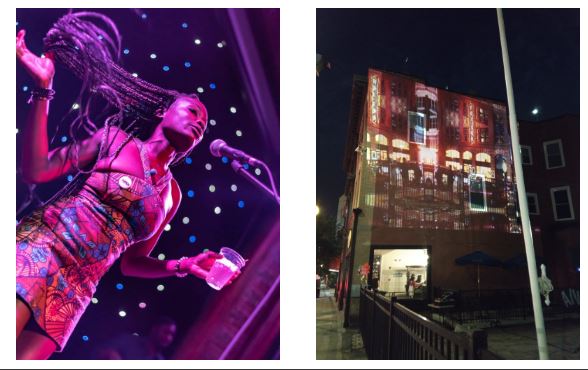 CT POST: Making music at the solstice
By Michael J. Daly
Bridgeport joined the club, an international club, by the way, on Thursday, the day of the summer solstice, and noted in many places around the world as Make Music Day.  READ MORE
---
JULY 2018 ART TO-GO features 
Will Corprew
artist, designer, carpenter of 80 Design, ARTS EAST.
---

ART TO-GO, on I-95 Digital Billboard is a collaboration with the city of Bridgeport to celebrate the 10th anniversary of the Bridgeport Art Trail by monthly showcasing a local artist.
Executive Director Suzanne Kachmar thanks the city for this partnership and says, "" The arts and culture are a natural resource of humanity that needs to be protected, just as we protect forests, air and water supplies. Artists and cultural traditions demonstrate how resilience can be transformed into beauty, solve problems, pass down heritage and build community. Bridgeport artists epitomize this. They are a cultural resource from diverse backgrounds, specializing in a variety of art forms. This billboard project reflects the creativity and potential that is rejuvenating Bridgeport.
Billboard graphic design is an in-kind contribution from Hatch 130. City Lights & Company is a non-profit arts organization that serves the community through art and a grateful recipient of the Hatch 130 Initiative.
---
JULY FEATURED EVENT
Bridgeport Pride Celebration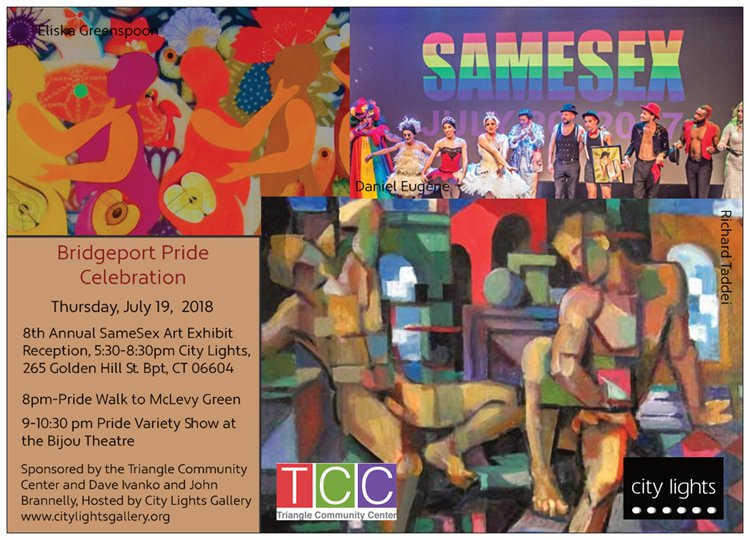 Bridgeport Pride celebration begins with art exhibit reception at City Lights Gallery, followed by a Pride Walk to McLevy Green and then a Variety Show at the Bijou Theatre CT
THANK YOU TO SPONSORS:
Triangle Community Center, Dave Ivanko and John Brannelly
JOIN US FOR THE CELEBRATION:
5:30-8 pm SameSex Exhibit Art Reception Admission: $10- Includes light fare, drink, and D.J. under the tent on the patio,
8 pm  Pride Walk to McLevy Green, FREE Admission, We step off at 8 pm from the Broad St. Steps. FREE.
8:45-10:30pm Doors open at the Bijou Theatre, grab a cocktail and enjoy the Variety Show fundraiser. Admission $25
$30 Combo for the Art Party & Variety Show. Proceeds support City Lights & WPKN Radio.
City Lights & Company is nonprofit organization that serves the community through art and lead organization of the Bridgeport Art Trail and Make Music Day- Bpt.
WPKN radio, 89.5 fm is a community-based, listener supported radio station. Studios are on the campus of the University of Bridgeport, CT.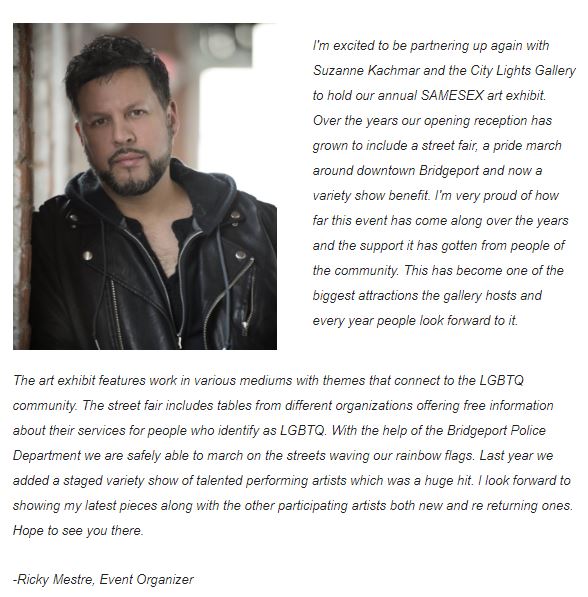 8TH Annual SAMESEX Art Exhibit:
Exhibiting Artists: Mario Baez, Nate Bass, Marieta Capobianco, Darron Copeland, Erica Czerwinski, Daniel Eugene, Andrew Graham, Eliska Greenspoon, Don Houston, Maxwell Kale, Julia Liptak, Alison Margo, Marla Mcleod, Cassandra Mendoza, Ricky Mestre, Thomas Mythos, Jon Puozzoli, Aly Maderson Quinlog, Colleen Reilly Rees, Barbara Ruger, Ellen Schinderman, Shilarts, Richard Taddei, Francesca Winfield
---
 JULY EVENTS 2018
---
40/40 Black & White Art Show & Birthday Celebration
Hosted by Alicia Cobb and Jahmane Artz
Saturday, July 14 at 7 PM – 11 PM
Blends Gallery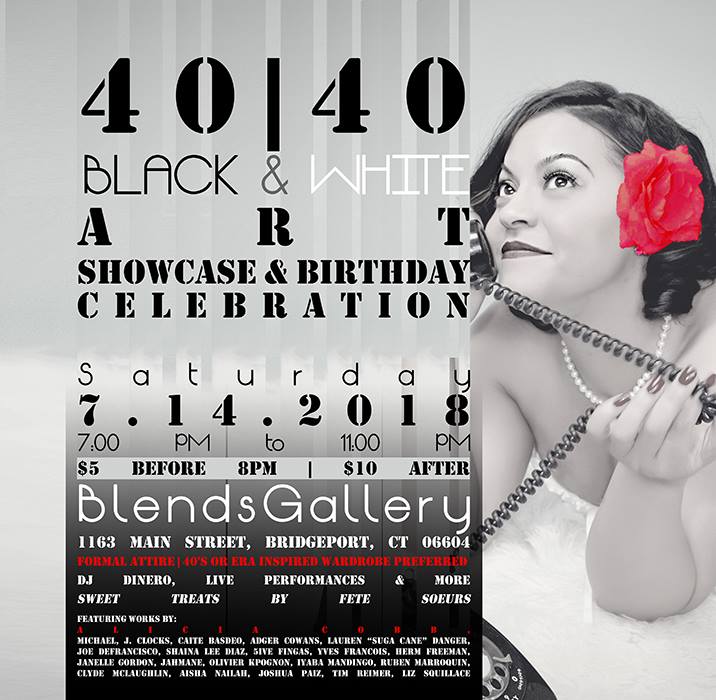 DESCRIPTION
Bridgeport and beyond GET YOUR GEAR READY!!!! Break out those evening gowns, suits and tuxedos! Black and white Formal / Semi Formal attire, 40's or any era inspired wardrobe preferred…because who doesn't like to dress up?
A diverse palette of black and white artwork by some of CT's finest artists.
Light Refreshments * Desserts * Complimentary Wine * Great Music
$5 before 8:00 PM • $10 after 8:00 PM – Cash at the door only!
Sounds by DJ Pharaoh Byron Dinero
Live Vocal Performance by Aleecya Foreman & More
Sweet Treats by Fete Soeurs
Featured Artists: Alicia Cobb • Michael J Clocks • Caite Basdeo • Adger Cowans • Lauren Sugacane Danger • Joseph DeFrancisco • Shaina Lee Diaz • 5IVEFINGAZ • Yves Francois • Herm Freeman • Janelle Gordon • Jahmane Artz • Olivier Kpognon • Iyaba Ibo Mandingo • Ruben Marroquin • Clyde Theophilus Mclaughlin • Aisha Nailah • Joshua Paiz • Tim Reimer • Liz Squillace •
Flyer by Janelle Gordon of kbphotoart
---
"Where the Wildflowers Grow…"
Exhibiting Artist: Michele Hubler
Opening Reception: Saturday, July 14th, 2:00 p.m. – 4:00 p.m.
Framemakers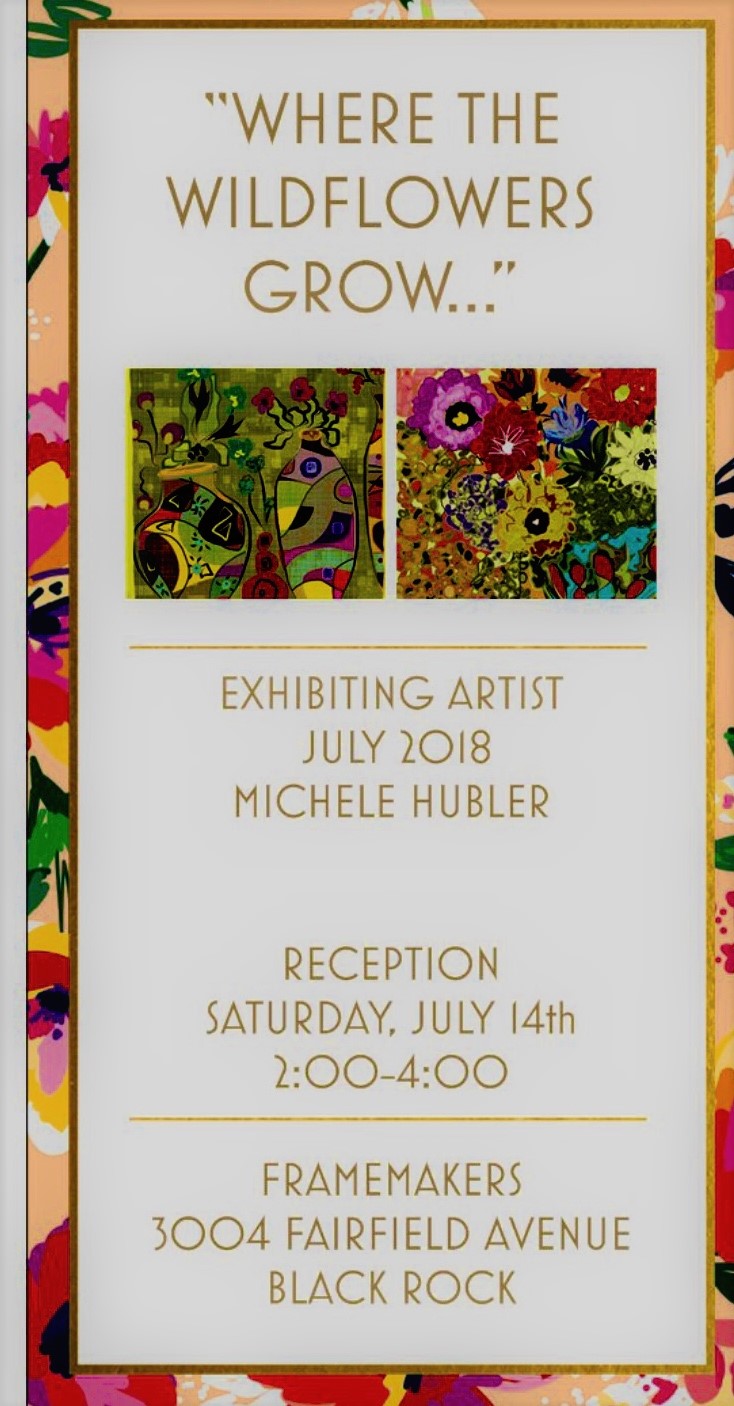 DESCRIPTION
Framemakers is showing the work of Michele Hubler for the month of July.
Opening reception is on Saturday, July 14th, 2018, 2 to 4pm. All are welcome!
---
COMMUNITY EVENTS
---
Running a Successful Creative Business:
Business, Legal and Tax Tips for Creative Types
Thursday, July 12, 2018 from 6:30 PM to 8:00 PM
Milford Center for the Arts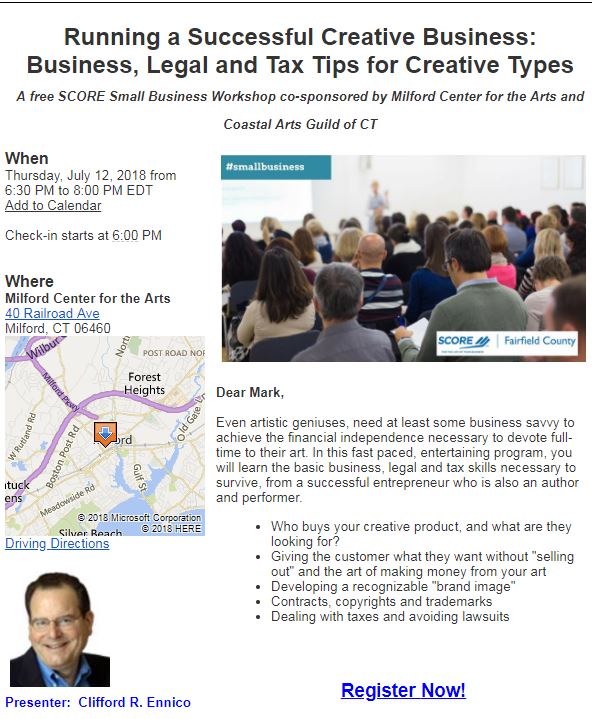 DESCRIPTION
Even artistic geniuses, need at least some business savvy to achieve the financial independence necessary to devote full-time to their art. In this fast paced, entertaining program, you will learn the basic business, legal and tax skills necessary to survive, from a successful entrepreneur who is also an author and performer.
• Who buys your creative product, and what are they looking for?
• Giving the customer what they want without "selling out" and the art of making money from your art
• Developing a recognizable "brand image"
• Contracts, copyrights and trademarks
• Dealing with taxes and avoiding lawsuits
---
Downtown Brideport Farmer's Market
Thursday, July 12 at 10:30 a.m. – 2:00 p.m.
McLevy Green
DESCRIPTION
The Downtown Farmers Market is back! Our 2018 season opening day is this Thursday! We will be on McLevy Green from 10:30 a.m. to 2:00 p.m. In addition to fresh veggies and delicious lunch options (check out the full list of vendors here), we have the chilled out musical talents of Berndine + Velez. Alicia Cobb will be painting bodies beautiful, while Our Woven Community displays their one of a kind bags and fabric products designed and created by artists, who are relocated refugee women now living in Bridgeport.
We've got game! Chess is back with Chess Master Gerald Moore. We will also have corn hole, jenga, and more! Not the gamer type? Then you might enjoy Chef Raquel Rivera-Pablo's live cooking demonstration. She's got the beet! Chef Raquel will be cooking up Beet Top Cork Screw Pasta with Ricotta. Come on out and join us!
---
Design Night Out: Words
Friday, July 20 at 6 PM – 8 PM
McLevy Green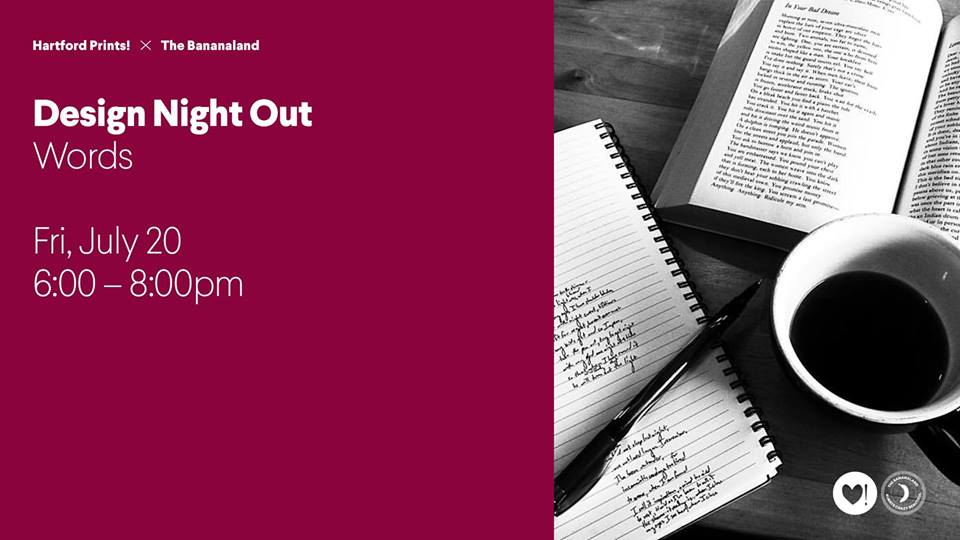 DESCRIPTION
Design Night Out is a free, public event series that happens four times a year between Hartford and Bridgeport for creatives in Connecticut. DNO takes a theme and explores how great design is transforming that theme in Connecticut.
July's theme, "Words," is focused on the authors, poets and the spoken word.
Networking + drinks start at 6:00pm with the panel kicking off at 6:30pm. Stay tuned for a full line-up of panelists!
*Photo by Brett Maddux from Diners of Connecticut
---
Bridgeport Arts Festival 2018
Saturday, July 21st, 10 a.m. – 6 p.m.
McLevy Green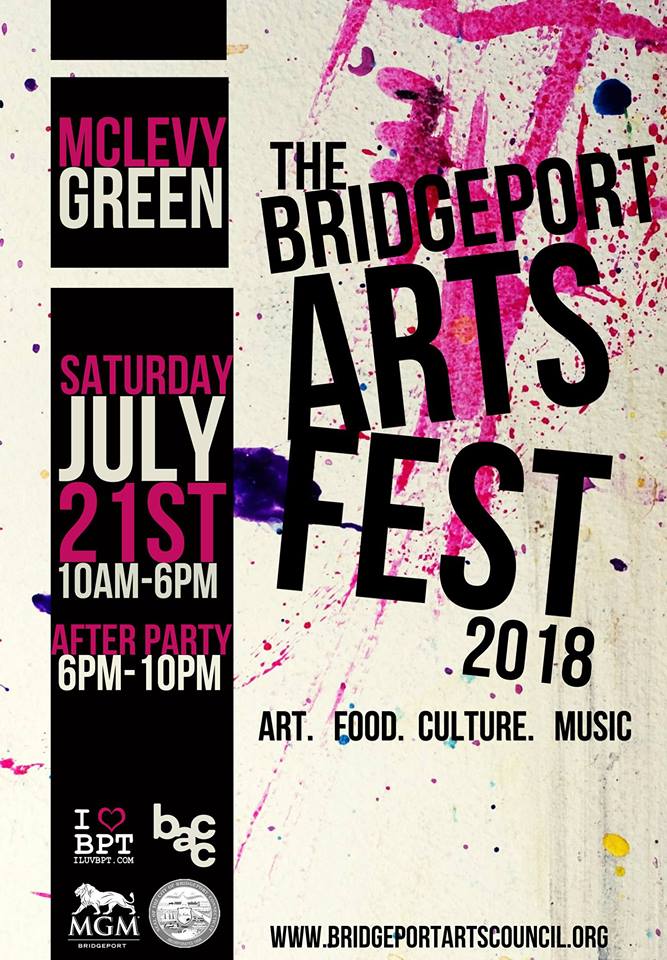 DESCRIPTION
Join us for a day of Art, Food, Culture. Music and Community!
Bring the kids and make it a family day Downtown Bridgeport on the Green!
---
PERFORMING ARTS & LIVE CONCERTS
---
Stars in Concert: Rock Around The Clock
July 13 – July 15th
Downtown Cabaret Theatre
DESCRIPTION
Rock Around the Clock with Elvis, Jerry Lee Lewis, Buddy Holly, Johnny Cash, and Bill Haley from Canada via Berlin, Germany takes the stage at the award winning Downtown Cabaret Theatre (DCT).
July 13 – 15, 2018
July 13 @ 7:30pm
July 14 @ 5:00pm & 8:15 pm
July 15 @ 6:00pm
In 1954, Bill Haley recorded "Rock Around The Clock," even before there was a name for the music, which he founded with it: Rock'n'Roll! Before Elvis began his career and Chuck Berry was in the recording studio for the first time, the record sold over 25 million copies. That is 60 years ago and reason enough to get the fathers of Rock'n'Roll back on stage. Join "Bill Haley," the creator of rock 'n' roll and Buddy Holly, Johnny Cash, Elvis Presley and Jerry Lee Lewis as they bring iconic hits such as "Peggy Sue," "Ring of Fire" and "Great Balls of Fire" back to life.
Described as the "vision of a perfect deception," Stars in Concert is an homage to the world's legendary stars of yesterday and today.  The artists recreate the stars with astonishing authenticity. In this spectacular homage to music industry greats from the last 60 years, the world's best celebrity impersonators succeed in dazzling audiences and creating the perfect illusion of being stars like Bette Midler, Michael Jackson, Whitney Houston, Elvis, Tina Turner and more. Stars in Concert has been honored in Las Vegas for Best Producer 6 times in the past 20 years.
Take a sneak peak of the show by searching "Show trailer – 'Rock Around the Clock'" on our youtube channel, My Cabaret Tube (https://www.youtube.com/watch?v=O-3WdSVGhuk).
For tickets and more information please visit MyCabaret.org or call the Box Office Tuesday -Friday 10am-3pm, (203)- 576-1636 Option 0.
---
Gil Parris Picks the Guitar Hits: Hendrix, Santana, Beck, Blues and Beyond
Saturday, July 14, 2018
Bijou Theatre
Doors: 7:00 pm / Show: 8:00 pm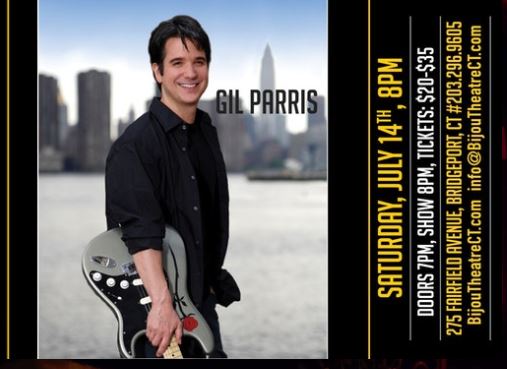 DESCRIPTION
Grammy-Nominated guitar virtuoso Gil Parris picks the guitar Hits: Hendrix, Santana, Beck, Blues and Beyond!
Parris is known for his special blend of Blues, Jazz, Rock and Smooth Jazz. He has recorded and toured both as a solo artist and sideman with major artists like Dr. John, Blood, Sweat and Tears, Diane Schuur, David Mann, Billy Vera, Bobby Caldwell, Toni Braxton to name just a few.is known for his special blend of Blues, Jazz, Rock and Smooth Jazz. He has recorded and toured both as a solo artist and sideman with major artists like Dr. John, Blood, Sweat and Tears, Diane Schuur, David Mann, Billy Vera, Bobby Caldwell, Toni Braxton to name just a few. Some of Gil's career highlights include…
• Major Label Recording Artist, Gil's self titled debut CD was released by RCA/BMG! "A smashing debut"(Guitar One),"An impressive beginning"(Jazziz)
• Seen On NBC's THE TODAY SHOW, CBS, WPIX, FOX 5, RNN, BET's "Studio Jams",The YES Network, The Food Network and on the national DVD release" Masters of the Stratocaster" !
• Has had # 1 Song(s) on MUSIC CHOICE
• Has A Hot Licks Artist Video & the first Truefire artist course, "Inside Out" (4 Cd-Roms)
• The Gil Parris Model Signature Guitar (Reverend) was named "One of the Coolest Artist Signature Guitars of All-Time"by Guitar Player Magazine
---
2018/2019 Season General Auditions Announced For:
LEGALLY BLONDE: THE MUSICAL 
Wednesday, July 18th:
All Auditions from 6:00-7:00pm
(open call sign-up begins at 5:30 pm, sign-up ends at 6:30 pm)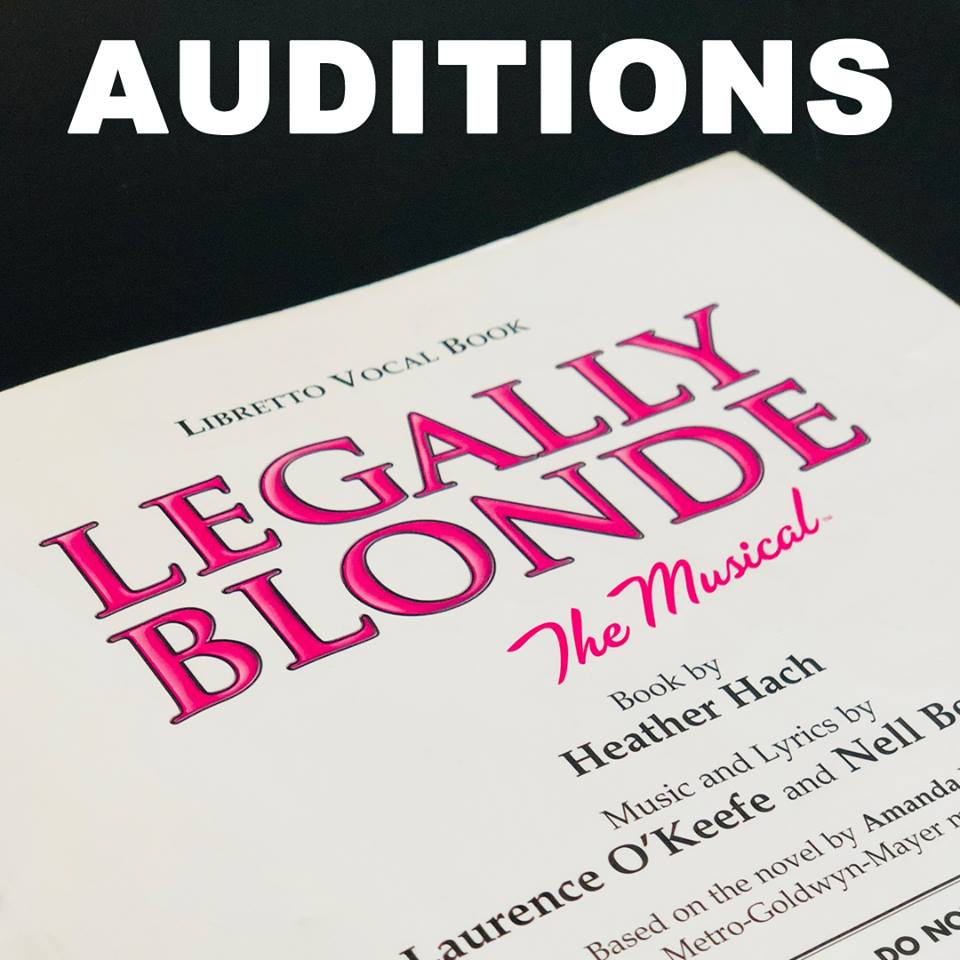 ---
Downtown Thursdays Free Summer Concert Series 2018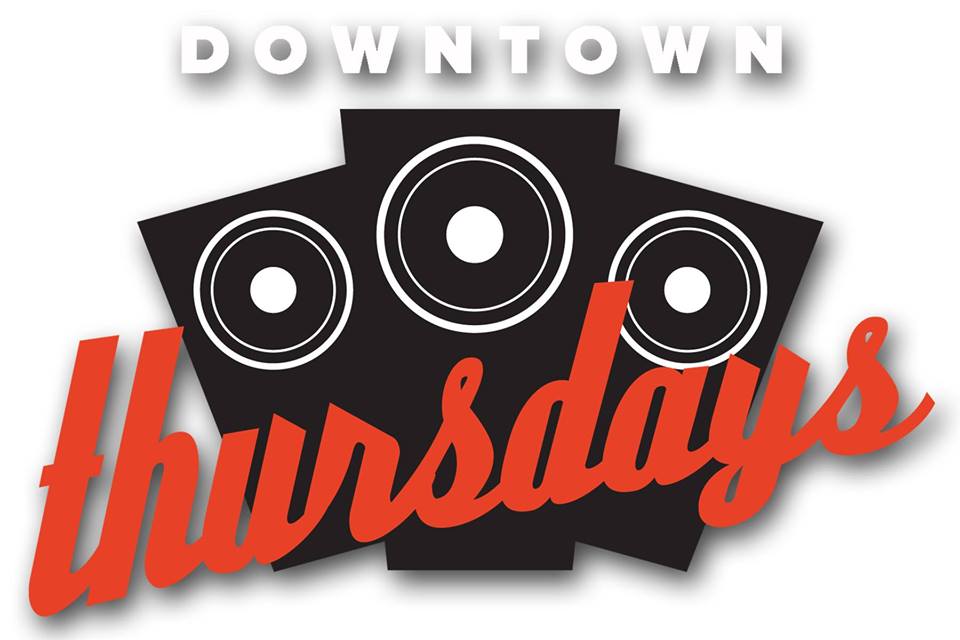 DESCRIPTION
JULY 2018
7/12 –  Salsa meets Afro Beat
Agua Pa' Chocolate & I anbassa @ McClevy Green
7/19 – A Night of Funk and Soul
The Ras Omari Experience & On the Serious Side
7/26 – The Legendary Latin Night
Oquesta Afinke  & Sacred Fire: A Santana Tribute Band
AUGUST 2018
8/2 – Soul Alternative Rock (3 Bands)
The Telle, The Color Fields Band, &Phat A$tronaut
8/09 – Rhythm & Blues Night (RnB)
Jelani Sei Band & Le'Mixx Band feat. John Sapchak
8/16 – Rock n Blues Night
Jake Kulak & the Lowdown / The Greg Sherrod Band
8/23 – Old School Hip Hop & RnB Finale
Featuring a Legendary Hip Hop Group @ Seaside Park Bandshell
Thanks to all the sponsors, friends and fans of Downtown Thursdays!  This year has been a challenge due to cut backs and other constraints.  I Luv BPT worked tirelessly along with several volunteers.  We urge you to get involved with us to continue our crusade to grow Bridgeport through Music, Arts, Business, and Culture.  Support the Bridgeport Arts & Cultural Council.
---
CALL FOR PARTICIPANTS: PechaKucha
DESCRIPTION
Calling all Bridgeport creative people!
We are moving forward on planning our second PechaKucha Night for September 12, 2018 (location still to be determined) and are looking for a fresh set of presenters. In case you missed this event in May, a PechaKucha is a community forum centered on succinct lightening presentations to bring creative minds together for a night of inspiration, networking, and fun. Each presenter speaks from 20 slides which advance automatically every 20 seconds. Over the years, PechaKucha Nights have included everything from design collaboratives, photography projects, family vacations, favorite foods, music, sports, and fashion. For more information please visit the PechaKucha Bridgeport website, email PKBridgeport@gmail.com.
If you or someone you know has a good story to tell, please fill out this proposal form: http://bit.ly/PK-Bridge-Vol2. If you are not sure how to put together your PechaKucha, we've got you covered! To help potential speakers understand what a PechaKucha is and how to create one, there will be a workshop held at the Barnum Museum on July 22 at 4:00 pm. I hope you will sign up!
---
ARTS & CULTURE NEWS: Endangered Freeman Homes get $50k grant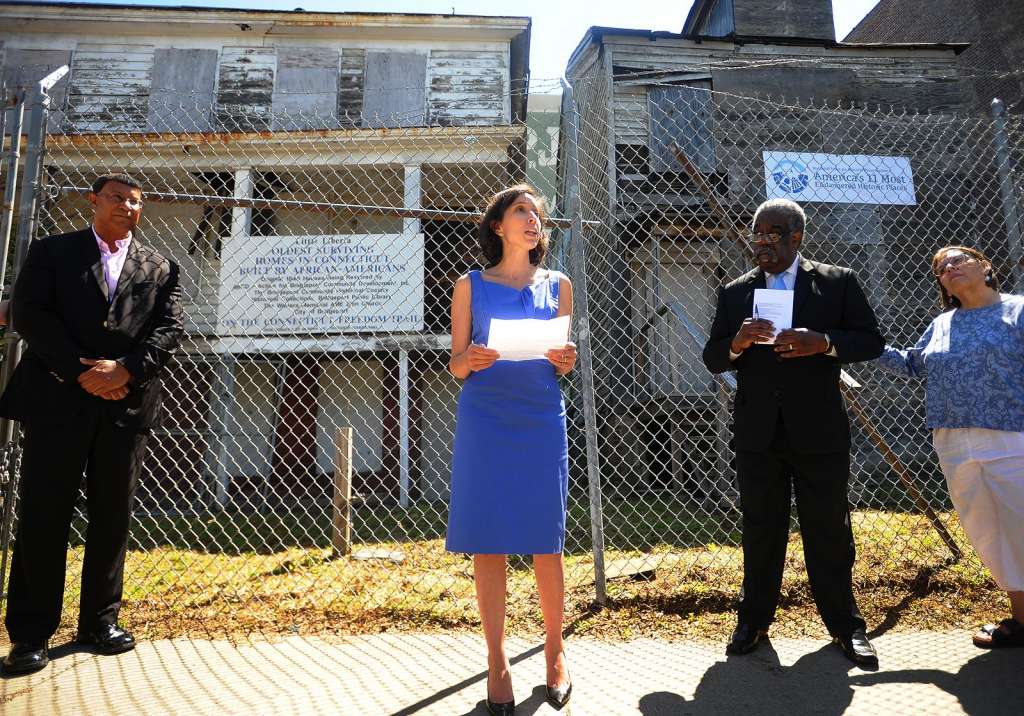 DESCRIPTION
The 1848 Mary and Eliza Freeman Houses in Bridgeport's South End were recently added to the National Trust for Historic Preservation's list of "America's 11 Most Endangered Historic Places." The news was celebrated by ceremonies at the Houses and at Housatonic Community College June 26 (see CT Post article). CT Humanities has announced a $10,000 capacity grant to the organization to create its first-ever strategic plan and to digitally store and preserve its institutional records. July 6th, the National Trust announced a $50,000 grant to the Freeman Center to begin permanent stabilization of the Freeman structures (more…).
The mission of The Freeman Center is not only to "restore, preserve and ensure the viability of the Freeman Houses," but also to "teach the history of Black people in CT; revitalize the surrounding South End community; and facilitate preservation of other African American and Bridgeport communities."
A discussion about these recent developments was featured on the Cultural Alliance of Fairfield County's Spotlight on Arts & Culture earlier this week.