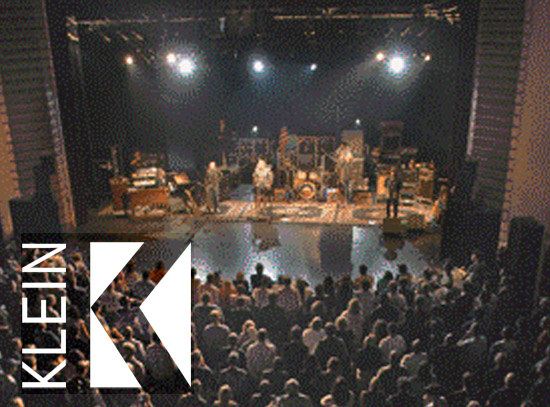 910 Fairfield Avenue
Bridgeport, CT 06601
800-424-0160
www.theklein.org
Map
Parking lot across the street.
We're excited to feature this venue as a Bridgeport Art Trail participant!
Learn more about this location and their year round activities by visiting their direct website.
And receive our bimonthly newsletter to stay up-to-date with Bridgeport arts and cultural events by visiting here.
2016 Updates Coming Soon!
The Klein, a 1,450 seat performing arts center, is now celebrating its 75th anniversary season. The Klein boasts a rich history as a first-rate concert space and host of several local community organizations.
---
2015 Bridgeport Art Trail Programming:
Event: The Klein @ 75: The Celebration Concert

Saturday, November 14; 8 pm
All resident companies that regularly perform at The Klein are staging an unprecedented concert, performing together on the same stage for the first time. Guest Paul Shaffer from the Late Show with David Letterman will host the event. Scheduled to perform: The Greater Bridgeport Symphony; New England Ballet; Fairfield County Children's Choirs; Greater Bridgeport Youth Orchestra; jazz musician Joel A. Martin (creator of Jazzical and Footsteps of Peace); singers and dancers from ASK (After School at the Klein); and All Stars Project.
Tickets cost: $75/$40/$25 and $15 and can be purchased at theklein.org or by calling 800-424-0160.
Event: ReVisit Bridgeport – an exhibition of photographs by Ed Brinsko

Sunday, November 15; 2 pm to 5 pm
Ed was a life-long Bridgeport resident who worked for The Post Publishing Company for 43 years. He created a tremendous historic collection of photographs in the greater Bridgeport area. Several will be seen in this exhibit in the Klein Mezzanine Lounge. Connecticut Post editor Michael J. Daly will be on hand to narrate a slide presentation and welcome questions from attendees. The exhibit is presented by professional photographers Geralene Valentine and Jay Misencik, Ed's nephew.