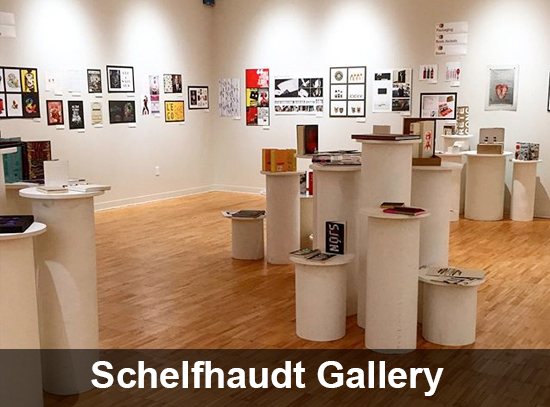 84 Iranistan Avenue
Bridgeport CT
203-576-4030
schelfhaudtgallery.com
schelfhaudtgallery@gmail.com
Gallery Hours: Weekdays 11 am to 5 pm; Saturdays 12 pm to 5 pm
Admission is free and open to the public. Complimentary off-street parking is available.
The Schelfhaudt Gallery has featured some of the most important artists in American art, from Robert Motherwell to Red Grooms, Louise Nevelson, and Alice Neel. The gallery's mission is to showcase mid-career and emerging professional artists for cultural and educational experiences. Located by the beautiful shoreline of the Long Island Sound, the Schelfhaudt Gallery is an oasis for culture and the arts.
_____________________________________________________________________________________________________________________
2017 Bridgeport Art Trail Programming:
Event: Necessary Voices on the Bridgeport Art Trail, Artist talk

Thursday, November 9; starts at 4:30 pm
Emily Larned is known at UB as Chair and Associate Professor of Graphic Design. Many students and faculty have visited her letterpress studio in the American Fabrics Building. What is less known on campus is that Professor Larned's work is collected by over 70 institutions internationally, and her socially engaged art project Impractical Labor in Service of the Speculative Arts (ILSSA) is the subject of a 10 year retrospective at Ringling College (Sarasota, FL) in January 2018.
Learn more about ILSSA and printing-publishing as an artistic practice as Professor Larned visits UB to give an artist talk during her sabbatical year.
Event: Align-able Angles (degrees of points of view)

Regular gallery hours
The Schelfhaudt Gallery is pleased to exhibit a group of artists that use abstract language and formal structure in an unusual vision. The exhibition also has the pervasive use of unusual fabricated elements and everyday objects in the artworks that has a long standing tradition that dates back past to the turn of the century. Angles can reference a point of view of the artist. This example of unique perspectives is diverse and positive with the possibility of change. The exhibition includes sculpture, painting, collage, honey bees, and installation art by David Borawski, Joseph Fucigna, R Elliott Katz, Adam Niklewicz, Amy Vensel, and Etty Yaniv. Curated by Peter Konsterlie.
The exhibition closes January 20, 2018.
Event: Align-able Angles Artist Panel Talk

Saturday, November 11; 2 to 3:30 pm
Hear Align-able Angles artists David Borawski, Joseph Fucigna, R. Elliott Katz , Adam Niklewicz, Amy Vensel, and Etty Yaniv discuss their work in the exhibit at the Schelfhaudt Gallery.