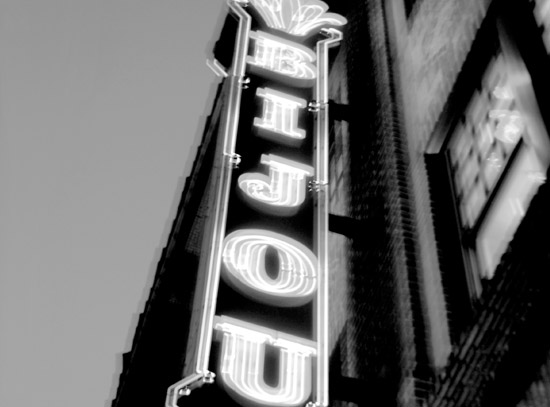 275 Fairfield Avenue
Bridgeport. CT
Executive Director: Gary Peterson
gpeterson@bijoutheatrect.com
203-296-9605
bijoutheatrect.net
The Bijou Theatre is a fully renovated multi-functional venue for live performances and film as well as business and social events. True to its heritage, over 100 years later it is one of the oldest buildings used as a movie house in the country.
During the Bridgeport Art Trail theatre goers will enjoy a nostalgic atmosphere where the past meets the present, viewing screenings of young film makers and videographers presenting their recent works.
---

E2017 Bridgeport Art Trail Programming:
vent: Short Films on Gender, Identity, and Performance

Saturday, November 11; 6:30 to 8 pm
Through an intersectional lens, artists Crystal Heiden (American Fabrics) and Christine Negus (London, Canada) will present a screening of contemporary, international video and film works that reflect on gender, identity, and performance. Pulling from a diverse group of artists from various disciplines.
BE A BODY, or its doppelgänger. [There is power in numbers.] is unabashedly self-centered and unapologetically self-conscious. Through an intersectional lens, artists Crystal Heiden (American Fabrics) and Christine Negus (London, Canada) present a screening of contemporary, international video works that use "The Mirror Machine" as a feminist tool. With a focus on identity construction and reflection, the camera is used to navigate ideas of selfhood. Putting performance at the forefront, these works reframe femme self-portraiture as not simply "The Aesthetics of Narcissism" but intrinsic to self-perception and preservation. As a whole the program sings "ME, MYSELF, AND I" at the top of its lungs, and invites you to do the same.
Crystal Heiden is an artist who works in a variety of media. Heiden investigates the dynamics of landscape, including the manipulation of its effects and the limits of spectacle based on our assumptions of what landscape means to us. Rather than presenting a factual reality, an illusion is fabricated to conjure the realms of our imagination. She holds a BFA in Sculpture from Maine College of Art, and an MFA in Art Theory and Practice from Northwestern University.
Christine Negus is a multidisciplinary artist and writer. She received the National Film Board of Canada's Best Emerging Canadian Video/Filmmaker award through Images Festival. Negus obtained her MFA from Northwestern University and her BFA from Western University. Some of her notable exhibitions and screenings include: the8fest, CROSSROADS, MIX NYC, Artists' Television Access, Dunlop Gallery, AKA artist-run, Milwaukee Underground Film Festival, Media City Film Festival, Swedish Film Institute, Art Gallery of York University, Microscope Gallery, and Kasseler Dokfest. She has had solo exhibitions and screenings at Forest City Gallery, Gallery TPW, gallerywest, Julius Caesar, The Pitch Project, and has an upcoming solo exhibition at Modern Fuel Gallery. Her work has been reviewed in numerous publications, including The Globe and Mail and Modern Painters, and an interview on Negus' video practice appeared in the Spring 2016 issue of BlackFlash Magazine.
This screening will be followed by a Q & A, with curators in attendance. $5 entry fee includes pizza sampling reception from Milano Wine Bar and Pizzeria, cash bar. Thank you for supporting the Bridgeport Art Trail and the Bijou Theatre.
Event: Respect the Passion & Travel Light Films

Sunday, November 12; 6:30 to 9 pm
Daniel Recinos, Respect The Passion; 35 minutes
Local musician and visual artist Daniel Recinos documents six Bridgeport visual artists of #100 Shots, a group of peers who network, collaborate, and support their collective and individual creative, professional and personal growth. This documentary presents a resilient group of artists working individually and together, generating a shared energy that spurs them to seek out opportunities to create and make beauty from the mundane. Through interview and videography, Recinos captures a behind-the-lens view of their process and perception of the world through their commercial and private works.
Lindsay Thompson, Travel Light; 80 minutes
550 miles, 4 filmmakers, 2 cameras, 1 ancient pilgrimage across Spain "It has been said that you know a culture by the stories it tells. If the world converges on Santiago de Compostela every year, bringing stories of pain, redemption, transition, truth, and the beauty of the human experience, could there be a better place to go and collect stories? To see the heartbeat of a world that's changing so quickly?" In the summer of 2013, four young American filmmakers crossed 500 miles of Spain's Camino de Santiago with just their backpacks, basic supplies, and their cameras. Along the way, they captured their own experiences and the intimate stories of the pilgrims they met from all over the world to seek truth on the Camino and find their individual interpretation, "to travel light", practically, psychologically, and spiritually.
Lindsay Thompson is a screenwriter, filmmaker, and educator who attended UNC School of the Art, where she studied Film Directing under Peter Bogdanovich. Her recent projects include writing for the PBS show Arthur and creating the storyline for an educational computer game with Curriculum Associates. For more info: travelightfilm.com/the-film and suchtalltales.com/#overview-1