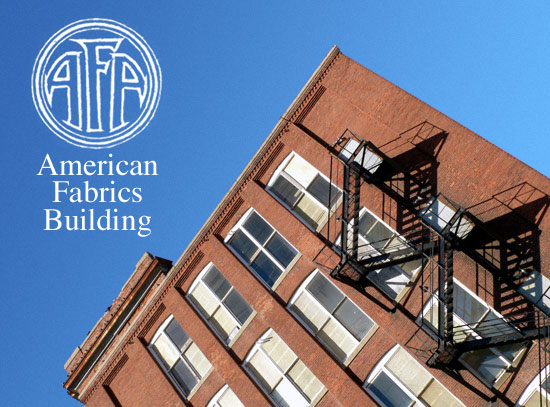 1069 Connecticut Avenue, Building 4
Bridgeport, CT 06607
203-451-5011
www.amfabarts.com
Map
Artists of The American Fabrics Arts Building
Directions:
By Train/Ferry: Metro North or Amtrak to Bridgeport Station. Port Jefferson Ferry to Water Street Dock (next to train Station). AmFab is approximately two and a half miles from the station. Cabs are available from the train station's cabstand.
Traveling I-95 South: Take exit 30/Surf Avenue. Turn right at bottom of ramp onto Surf Avenue. Turn left at the next light onto Connecticut Avenue. Turn right into parking for 1069 Connecticut Ave.
Traveling I-95 North: Take exit 30/Lordship Avenue. Turn left at bottom of ramp onto Lordship.  Lordship becomes Hollister. Go straight through stop sign, and right at next light onto Stratford Avenue. Take 4rd left onto Freeman Street and across CT Ave into parking for 1069 CT Ave.
---
8th Annual Open Studios
Saturday, November 9, 10:00 am – 5:00 pm
Sunday, November 10, 10:00 am – 5:00 pm
Now in its 8th year, AFA Open Studios showcases 28 artists in their studios where the creative process happens, and has become a destination for collectors and art lovers alike. AFA's diverse group of artists are engaged in painting, printmaking, sculpture, quilting, jewelry, photography, ceramics, textiles, design, mixed media and more. This year we have welcomed 10 new artist tenants, lending a fresh perspective to the event. Many artists will be offering affordable art for sale (see the AFA artist listing). Denyse Schmidt Quilts, Jocelyn Braxton Armstrong Ceramics and Brechin Morgan (nautical paintings) will be holding their annual studio sales.
In an effort to give back to the community we love, this year we are supporting the Bridgeport Rescue Mission. The mission, serves those in need, feeds the hungry, shelters the homeless, and helps people conquer drug and alcohol addictions. AFA will be serving as a drop off point for their Thanksgiving Stuff-A-Truck event with food and coats! (see Event Listiing.) On the 4th floor BRM Women's Jewelry Project will be offering their handmade baubles for a modest donation. Lastly, Denyse Schmidt has generously offered a cheerful quilt made from squares her students donate from her Improvisational Workshops. It will be raffled for $5 a chance, with all proceeds going to BRM!
BBQ will be served on Saturday, compliments of The Grumpy Hogg, a new tenant in the complex. Music and dance performances will be happening too! Fun for the whole family! Ample on site free parking and handicap access. See AFA Artists List, at the back of the guide for more information.
Denyse Schmidt Quilts Annual Sample Sale

Saturday, November 9, 10:00 am – 5:00 pm
Sunday, November 10, 10:00 am – 5:00 pm
Samples and overstock from the DS Couture collection, Works collection, and one-of-a-kind studio quilts are priced at 50% off retail list price. Fabrics, including Denyse's best selling (and fanatically collected) designs for JoAnn Stores and Free Spirit Fabrics, will be available in both yardage and scraps for the DIY crafter. Denyse's own timeless quilt pattern collection will also be
available. Project development samples, stationery and more will be offered at take-it-away prices. Prices range from $1 – $5,000. Serious buyers should arrive early—Denyse's sales are well attended! MasterCard, Visa, and cash accepted.
Event: Quilting Demonstration & Bee by the Norwalk Community Quilt Project at Denyse Schmidt Quilts
Sunday, November 10, 11:00 am–2:00 pm
Members of Peace by Piece: the Norwalk Community Quilt Project. The Norwalk Community Quilt Project seeks to enhance the lives of young people and elders in the city of Norwalk by bringing them together in a common endeavor. Over 700 volunteers came together to create the "Growing Together" quilt to celebrate the 10th anniversary of the Stepping Stones Museum for Children and the "Norwalk Has Heart" quilt for the Norwalk Public Library. Local author and illustrator Lizzy Rockwell serves as the group's artistic Director and says it best, "The quilt is a metaphor for the community that created it, showing that good things happen when many come together as one." Join us and learn to stitch and quilt!
Event: Jocelyn Braxton Armstrong Ceramics Annual Studio Sale
Sunday, November 9, 10:00 am – 5:00 pm
Sunday, November 10, 10:00 am – 5:00 pm

JBA Signature Collection of artful objects for the home offered at a 30% discount. This year, she will be holding a silent auction of her ceramic sculptures. This is a chance for collectors to bid and purchase her award winning sculpture at a price which the market will bear. Phone bids accepted. An auction listing will be available in early November at www.jocelynbraxtonarmstrong.
Event: Ulla Surland Annual Studio Sale
Saturday, November 9, 10:00 am – 5:00 pm
Sunday, November 10, 10:00 am – 5:00 pm
Informal fashion show, handmade holiday ornaments and gift items. Featuring quality vintage items from Janis Melone, hand knitted scarves by Leslie Giuliani and sterling silver jewelry by Jackie Podlaski. Also on view is Ulla's interior design portfolio
Event: Thanksgiving Stuff-A-Truck With Food and Coats!
Saturday, November 9, 10:00 am – 5:00 pm
Sunday, November 10, 10:00 am – 5:00 pm

The Bridgeport Rescue Mission will bless more than 4,000 needy families with a turkey and all the fixings plus a winter coat for every member of the family who needs one! Help us, help them by bringing donations to our Open Studio event. Their warehouse is in our complex and AFA is a drop off point. They need:
12-15 lb. frozen turkeys
Canned green beans, corn, peas and sweet potatoes
Canned cranberrysauce
Stuffing mix
Canned gravy
1 lb. cans of coffee
Powdered fruit drink mixes
Demonstrations throughout the weekend:
Textile artist, Christina Blais of One Bobbin, will be offering a free motion quilting demonstration using a domestic sewing machine. Visitors will be able to give it a try and discover the endless possibilities and fun of free motion quilting. Studio #201
Artist and Graphic Designer, Emily Larned, will be hosting a demonstration of letterpress printing from handset type. Studio #310
Once again, Jocelyn Braxton Armstrong will demonstrate throwing clay on the potter's wheel in her ceramic studio, an annual favorite for all! Studio #410PS