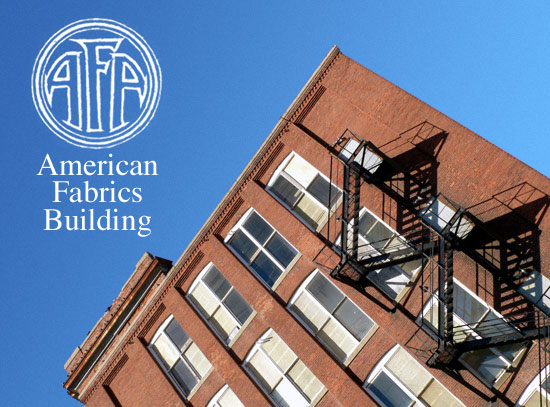 1069 Connecticut Avenue, Building 4
Bridgeport, CT 06607
203-451-5011
www.amfabarts.com
Map
Artists of The American Fabrics Arts Building
Directions:
By Train/Ferry: Metro North or Amtrak to Bridgeport Station. Port Jefferson Ferry to Water Street Dock (next to train Station). AmFab is approximately two and a half miles from the station. Cabs are available from the train station's cabstand.
Traveling I-95 South: Take exit 30/Surf Avenue. Turn right at bottom of ramp onto Surf Avenue. Turn left at the next light onto Connecticut Avenue. Turn right into parking for 1069 Connecticut Ave.
Traveling I-95 North: Take exit 30/Lordship Avenue. Turn left at bottom of ramp onto Lordship.  Lordship becomes Hollister. Go straight through stop sign, and right at next light onto Stratford Avenue. Take 4rd left onto Freeman Street and across CT Ave into parking for 1069 CT Ave.
---
9th Annual Open Studios
Saturday, November 15; 10 am to 5 pm
Sunday, November 16; 10 am to 5 pm
Now in its ninth year, AFA (American Fabrics Arts Building) Open Studios showcases over 30 artists in their studios where the creative process happens. Held in a renovated factory building where linen and lace were once manufactured, the event has become a destination for collectors, interior designers, and art lovers alike. AFA's diverse group of artists are engaged in painting, printmaking, sculpture, quilting, jewelry, photography, ceramics, textiles, design, mixed media, and more. Every year we welcome new artist tenants, lending a fresh perspective to the event. Many artists will be offering affordable art for sale (see the AFA artists list at the back of the guide, for more information). Denyse Schmidt Quilts, Jocelyn Braxton Armstrong Ceramics, Brechin Morgan, Janet Slom, and Ulla Surland will be holding their annual studio sales.
In an effort to give back to the community we love, for the second year we are supporting the Bridgeport Rescue Mission. The mission serves those in need, feeds the hungry, shelters the homeless, and helps people conquer drug and alcohol addictions. AFA will be serving as a drop-off point for their Thanksgiving Stuff-ATruck event, giving patrons the opportunity to donate food and coats for local families in need. (See event listing.)
Lastly, the artists of AFA have joined together to donate an assortment of small works to be packed into a unique handmade tote bag from Ocheltree Design for the AFA Collector's Raffle. The bag is chock full of art lover goodies, and will be raffled for $5 a chance, with all proceeds going to BRM!
There will be food trucks from the Snappy Dawgs (Bridgeport) and Four Flours Bakery (New Haven) in the east parking lot to serve our patrons from 10 am to 5 pm each day. Music and participatory performances will offer fun for the whole family! Ample onsite free parking and handicapped access.
Event: Denyse Schmidt Quilts Annual Sample Sale—Studio #401

Saturday, November 15; 10 am to 5 pm
Sunday, November 16; 10 am to 5 pm

Samples from the DS Couture collection, Works collection, and one-of-a-kind studio quilts will be on view, with a select few available for sale. Denyse's fabrics, including best-selling designs for JoAnn Stores and Free Spirit Fabrics, will be available as cut-to-order yardage, pre-cuts, and scraps for the DIY crafter. Denyse's quilt patterns will also be available at an event-only discount. Project development samples, stationery, and more will be offered at take-it-away prices. Prices range from $1 to $5,000. Serious buyers should arrive early—Denyse's sales are well attended! MasterCard, Visa, and cash accepted.
Event: Quilting Demonstration & Bee by the Norwalk Community Quilt Project at Denyse Schmidt Quilts
Saturday, November 15; 11 am to 2 pm
Peace by Piece: the Norwalk Community Quilt Project, seeks to enhance the lives of young people and elders in the city of Norwalk by bringing them together in a common endeavor. Over 700 volunteers united to create the Growing Together quilt to celebrate the 10th anniversary of the Stepping Stones Museum for Children and the Norwalk Has Heart quilt for the Norwalk Public Library. Local author and illustrator Lizzy Rockwell serves as the group's artistic director and says it best, "The quilt is a metaphor for the community that created it, showing that good things happen when many come together as one." Join in and learn to stitch and quilt!
Event: Jocelyn Braxton Armstrong Ceramics Annual Studio Sale—Studio #410
Saturday, November 15; 10 am to 5 pm
Sunday, November 16; 10 am to 5 pm

JBA Signature Collection of artful objects for the home, offered at up to 50% discount. Jocelyn will also demonstrate throwing clay on the potter's wheel in her ceramic studio throughout the weekend, an annual favorite for all!
Event: Brechin Morgan Annual Studio Sale – Studio #408
Saturday, November 15; 10 am to 5 pm
Sunday, November 16; 10 am to 5 pm

Nautical paintings, large and small, depicting scenes from his solo voyage sailing around the world. Offering special discounts on many works.
Event: Janet Slom Annual Studio Sale—Studio #411
Saturday, November 15; 10 am to 5 pm
Sunday, November 16; 10 am to 5 pm
Paintings, ceramics, drawings, prints, and photography. MasterCard, Visa, and cash accepted. In addition, patrons are invited to participate in guided meditation and a collaborative art experience with Janet. No prior experience necessary.
Events: Emily Larned-Live Art Research Project, Studio #310
Saturday, November 15; 2 to 5 pm
Sunday, November 16; 10 am to 5 pm
Artist and UB professor Emily Larned will conduct a live art research project! Participate and receive a free set of letterpress thank you cards, personally printed before your eyes.
Event: Caroline Valites Participatory Installation – East Parking Lot
Saturday, November 15; 10 am to 5 pm
Sunday, November 16; 10 am to 5 pm
Photography, installation, and sculpture artist Caroline Valites will have a participatory installation using a camera obscura set up in the parking lot on the east side of the American Fabrics Arts building (weather permitting).
Event: Thanksgiving Stuff-A-Truck with Food and Coats!
Saturday, November 15; 10 am to 5 pm
Sunday, November 16; 10 am to 5 pm

The Bridgeport Rescue Mission will bless more than 4,000 needy families with a turkey and all the fixings, plus a winter coat for every member of the family who needs one! Help us to help them by bringing donations to our Open Studio event. Their warehouse is in our complex and AFA is a drop-off point. They are asking for the following contributions:
12–15 lb. frozen turkeys
Canned green beans, corn, peas, and sweet potatoes
Canned cranberry sauce
Stuffing mix
Canned gravy
1 lb. cans of coffee
Powdered fruit drink mixes
Bins for Donations will be placed at both entrances.