Museum, Planetarium and Adventure Park
4450 Park Avenue
Bridgeport, CT
203-372-3521
www.discoverymuseum.org
Map
Museum Hours: Tuesday-Sunday, 10:00 a.m. – 5:00 p.m.
Admission:
$11.00 Adults;
$9 Children ages 32-18, seniors and students with ID
FREE for children under 3
Discounts for AAA, AARP members, military/veterans, special needs chaperones, and groups of 10 or more.
A children's science museum focusing on hands-on learning fun, Discovery Museum offers daily planetarium shows included with admission. The Museum has three floors of interactive exhibits, the Henry B. DuPont III Planetarium, Science on a Sphere, Challenger Center, and much more! Discovery has STEM learning programs, summer and vacation programs, and community-wide events. The Museum may be rented for birthdays, weddings, and corporate events.
2019 Bridgeport Art Trail Programming
Event: The Art of Cris Dam
Thursday, November 8; 10 am to 5 pm
Friday, November 9; 10 am to 5 pm
Saturday, November 10; 10 am to 5 pm
Sunday, November 11; 10 am to 5 pm
The art of Cris Dam lights up the walls at the Discovery Museum as we host our annual Gala and showcase our brand new Digistar Planetarium. City Lights/Bridgeport Art Trail and the Discovery Museum have initiated a partnership to feature local artists in our second floor gallery space.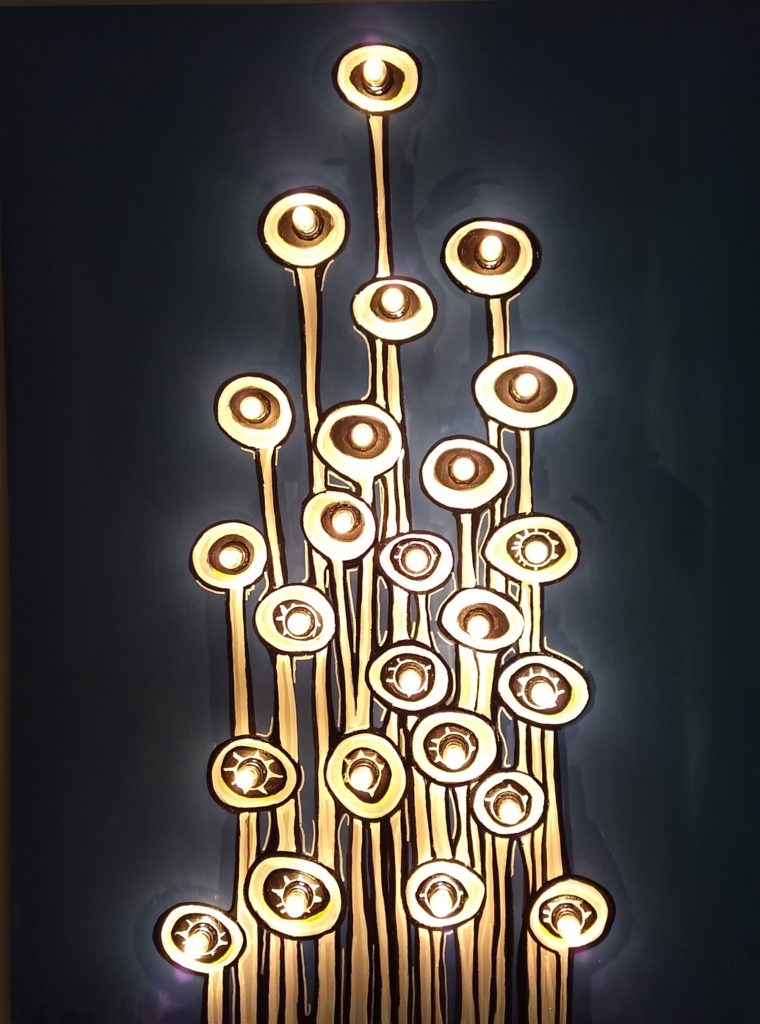 Cris Dam co-founded Dam Stuhltrager in Williamsburg, Brooklyn, in 1998 and was an early gallerist who helped propel that neighborhood into an international art mecca. Cris now maintains his working studio in the Arcade Mall in downtown Bridgeport. His work will be on view in the community exhibit space on the second floor of the Discovery Museum until late December. His unique choice of materials projects a sense of idiosyncratic personality and locomotion to the common lightbulb by incorporating the illuminated spheres into his compositions. He actually paints his paintings while the lightbulbs in the compositions are on to better see the effects of the light on the paintings. He has created site specific work for this exhibit.
His works echo the quality of illumination of moons and stars in the night sky, thus creating companion pieces that echo the installation of the Discovery Museum's recently installed, state-of-the-art, high-resolution, full-dome Digistar planetarium system.
The lightbulb motif also relates to the mission of the Discovery Museum of Science and Innovation and the vision of the current executive director, Bill Finch, who commissioned a sculpture of Lewis Latimer, the inventor who lived in the South End of Bridgeport who perfected the filament that was used in the patent for the Thomas Edison lightbulb.
To see the work of Cris Dam or support the Gala at the Discovery Museum, visit discoverymuseum.org