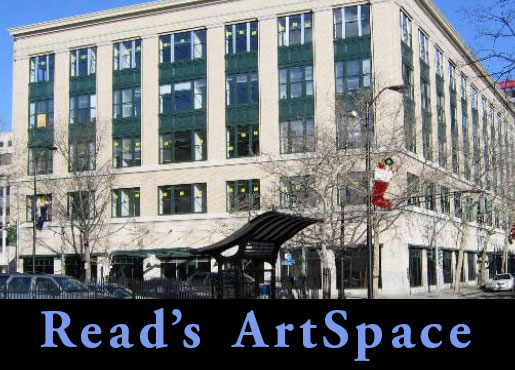 Read's Ground Floor Gallery & Artists' Living and Working Spaces
1042 Broad Street
203-336-0435
facebook.com/thegfgatreadsartspace
Map
Once the Read's department store, an anchor store to the twentieth-century downtown, it is now a community based, redeveloped live/work artist space in downtown Bridgeport. The gallery is utilized by Read's residents to host exhibitions and related programming and is open on an event/appointment basis. Read's artists also exhibit their work in common spaces throughout the building.
---
Event: City Lights presents the Bridgeport Art Trail Kick-Off and Artists' Party

Thursday, November 10; 5:30 pm to 9:30 pm

Attend a FREE celebration featuring local art, music, food, drink.View a sampling of artwork from Bridgeport Art Trail artists while enjoying the Park City All-Stars a musical lineup of local bands and guest artists curated by John Torres of Oh Cassius! Kenny Owens, Scott Packham, Ian Tait, Dave Schneider, Cristyn Martino, Tim Walsh, and Liz Dellingero.
Thank you to WPKN 89.5 Radio for freeing up programmer/deejay Doug Hovey to keep the party mood going between sets with his typical selection of eclectic tunes. Reception fare will include tastings of locally-produced artisanal food and drink including: Asylum Distillery, Meatball Heaven, Harborview Market, and RedBee Honey.
Event: Opening of Artists Choose Artists with Curatorial Assistance by David Green

Thursday, November 10; 6 pm to 10 pm

Read's Artspace hosts its popular Artists Choose Artists exhibit this year and is pleased to invite David Green, the Director of Programs & Membership of the Cultural Alliance of Fairfield County, for an added curatorial experience. This exhibit features new artwork from the talented community of artists who exist in this historic building, as well as their peers who are also exceptionally talented.
Artists Choose Artists is an invitation to build new relations with artists and their audience, and a chance to showcase a strong and diverse exhibit. The opening reception will also feature Chef Mona & her Masquerade of Colors.
Event: Artists Choose Artists Exhibition

Friday, November 11; 12 pm to 5 pm
Saturday, November 12; 12 pm to 5 pm
Sunday, November 13; 12 pm to 5 pm

The Ground Floor Gallery will be open with the exhibition Artists Choose Artists on display. Feel free to peruse at your leisure. Donations are appreciated and most artwork is available for sale.
Event: Artist Panel Discussion

Saturday, November 12; 1 pm to 3 pm

Each artist on the panel will speak individually about their work and then there will be a communal discussion followed by a Question & Answer session. Topics discussed may include process, materials, inspiration, and subject matter. The artists will also speak about why they chose their exhibition partner and how their work relate to each other.
Event: Live Painting by Read's Artists

Sunday, November 13; 1 pm to 3 pm

Live Painting by Read's Artists will give the audience an opportunity to witness the creative process and individual techniques put forward by each painter. Artists will be available to discuss their process and the subject of their work. The audience will get a sneak peek at the exciting progression of visual art.
Event: Frida Kahlo Workshop for kids with Yolanda Vasquez Petrocelli

Sunday, November 13; 1 pm to 3 pm