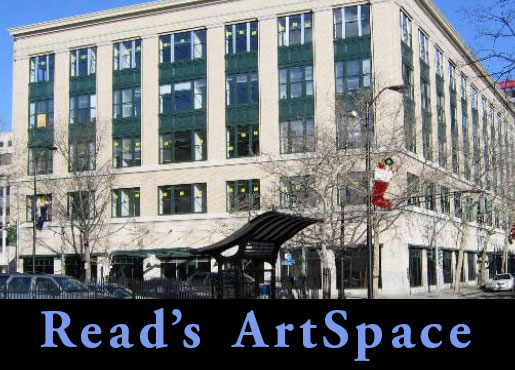 Read's Ground Floor Gallery & Artists' Living and Working Spaces
1042 Broad Street
203-336-0435
facebook.com/thegfgatreadsartspace
Map
Once the Read's department store, an anchor store to the twentieth-century downtown, it is now a community based, redeveloped live/work artist space in downtown Bridgeport. The gallery is utilized by Read's residents to host exhibitions and related programming and is open on an event/appointment basis. Read's artists also exhibit their work in common spaces throughout the building.
---
2017 Bridgeport Art Trail Programming:

Event: City Lights and the Downtown Special Services District host Bridgeport Art Trail Kick-Off and Artists' Party at Read's ArtSpace

Thursday, November 9; 5:30 pm to 9:30 pm

City Lights, the Downtown Special Services District, and the artists of Read's ArtSpace host the Bridgeport Art Trail Kick-Off and Artists' Party. Celebrate and mingle with the Bridgeport art community. Enjoy local art, music, food, and drink.
View a sampling of artwork from Bridgeport Art Trail artists while enjoying the "Park City All-Stars", a musical lineup of local bands and guest artists curated by John Torres of "Oh, Cassius!".
Reception fare will include tastings of locally-produced artisanal food and drink. A donation is sincerely appreciated.
Event: Opening of Artists Choose Artists Exhibit

Thursday, November 9; 6 pm to 10 pm

Read's ArtSpace hosts its popular Artists Choose Artists exhibit this year featuring new artwork from the talented community of artists who exist in this historic building, as well as their peers who are also exceptionally talented.
Artists Choose Artists is an invitation to build new relations with artists and their audience, and a chance to showcase a strong and diverse exhibit.
Event: Artists Choose Artists Exhibition

Friday, November 10; 12 pm to 5 pm
Saturday, November 11; 12 pm to 5 pm
Sunday, November 12; 12 pm to 5 pm

The Ground Floor Gallery will be open with the exhibition Artists Choose Artists on display. Feel free to peruse at your leisure. Donations are appreciated and most artwork is available for sale.
Event: Artist Circle

Saturday, November 11; 2 pm to 3 pm

All area artists are welcome to join our lively discussion of today's art-related hot topics! Seats are assigned numbers, numbers are randomly selected. Who will be in the hot seat next? Whoever is so lucky must choose a topic category and answer a question on the spot before the buzzer sounds. Questions are unknown until chosen, ensuring a fast-paced, fun and maybe even frantically good time for all. The public is welcome to come watch and see what the artists think.