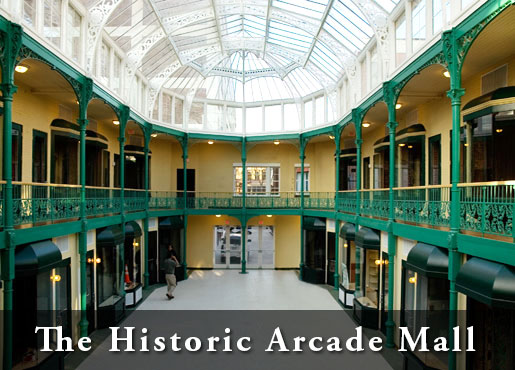 1001 Main Street
Bridgeport, CT 06604
203-395-1395
arcademallbpt.com
The Arcade Mall is a stunning historic restoration of one of the nation's first enclosed shopping malls. The breath-taking atrium has a dramatic Victorian stepped-glass roof. The property was built in 1840 and underwent several interior and exterior renovations during the 1920s, 1950s, and 1980s. It holds historic significance locally and nationally as one of the few remaining arcades from its time period.
The renovated downtown landmark has been reactivated by artists. Its charm and scale make it a perfect location for social gatherings and events.
---
2017 Bridgeport Art Trail Programming:

Event: Open Studios
Friday, November 10; 10 am to 6 pm
Saturday, November 11; 10 am to 6 pm
Visit the artists of the Arcade Mall, sample tasty treats in Arcade Mall restaurants, check out Arcade Mall shops.
Event: Arcade Night!
Friday, November 10; 5 pm to 8:30 pm
An evening of open studios together with musical entertainment by DJ Justin Shay of JMS Jams, guest artist Holly Danger projecting video footage from Danger Gallery's One by One Live Mural Show, plus small bites and drinks.