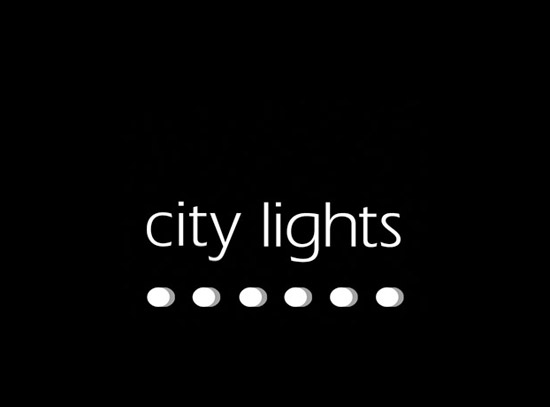 City Lights & Company
265 Golden Hill Street
Bridgeport, CT
203-334-7748
Website
Map
Main Gallery Hours:
Wednesday – Friday, 11:30 a.m. – 5:00 p.m.
Thursday open to 7pm
Saturday, 12:00 – 4:00 p.m.
City Lights gallery has been in operation for 13 years, recently relocated to the Golden Hill Street, joining our building neighbors, The New England Ballet Company and the Downtown Cabaret Theatre. We share a common to create a downtown arts center. Exhibits and programs are free and open to the public and reflect the interests and rich culture of the Park City, bringing people of diverse backgrounds together to experience art and exchange ideas, and to promote the our creative community.
____________________________________________________________________________________________________________
2017 Bridgeport Art Trail Programming:

Event: City Lights and Downtown Special Services District host Bridgeport Art Trail Kick-Off and Artists' Party at Read's ArtSpace
Thursday, November 9; 5:30 to 9:30 pm

City Lights, the Downtown Special Services District, and the artists of Read's ArtSpace host the Bridgeport Art Trail Kick-Off and Artists' Party. Celebrate and mingle with the Bridgeport art community. Enjoy local art, music, food, and drink. View a sampling of artwork from Bridgeport Art Trail artists while enjoying the "Park City All-Stars", a musical lineup of local bands and guest artists curated by John Torres of "Oh, Cassius!". Reception fare will include tastings of locally-produced artisanal food and drink. A donation is appreciated.
This provocative exhibit depicts personal stories of breast cancer patients, their caregivers, and healthcare providers along with the socio-economic conditions regarding treatment, healthcare, appearance, gender, age, and race. Exhibiting artists include Faith Baum and Lori Petcher, Robin Jopp, Karen Kalkstein, kHyal, Iyaba Ibo Mandingo, Sooo-z Mastropietro, Tori Marks, Lee Walther, and Jahmane West.
Sooo-z Mastropietro presents a new work created specifically for this exhibit called BOOB-Tube. Also on view is her work called "Hue-ation" a triptych depicting the rapid mutation of the Hela cells taken from the cancerous biopsy of Henrietta Lacks. Mastropietro is an accomplished artist and musician. She also trained and worked as a surgical technician. She melds this insight and knowledge with a whimsical art material of thick fiber tubes creating intriguing works that encourage the viewer to consider the serious condition of cancer. "Apparel as art" is how the artist, writer, designer, marketing executive and entrepreneur kHyal™ aka MegaGlam describes her "MegaGlam Breast Augmentation Trench" which debuted at the 2016 edition of Art Basel Miami.
Under the direction of Gaye Hyre of ArtBra New Haven, local participants shared their time and creativity to make artful bra constructions on view to support breast cancer patients.
Help us hold an ArtBra Party to raise funds for medical costs for breast cancer patients.
Event: ArtBra Installation: The 7 Stages of Woman, and Laundry Line of Life

On the Golden Hill Street Steps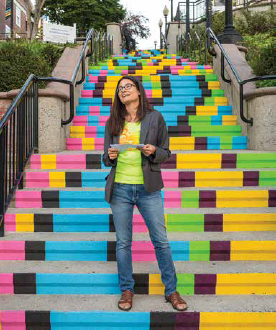 Shakespeare speaks of "The Seven Ages of Man", from infant to youth to maturity through to old age. ArtBra New Haven and City Lights present "The Seven Ages of Woman" as seen through an interpretation of undergarments. From infancy in a 'onesie' and our first training bra, to blossoming youth and defining ourselves through our sense of sexuality, to nursing bras, warrior queens, maturity, the dreaded possibility of needing a mastectomy bra, to larger and more supportive garments in our later years, the Laundry Line displays it all.
Join us at City Lights and the Golden Hill St Steps to pin your art bra contribution on the Line, or pin up a message of support, hope, honor, resilience, strength, and/or remembrance. Cloth and markers for writing massages, and clothes pins for hanging them will be available.
Donations to the medical fund gratefully accepted. We're all in this together, so don't worry about airing your laundry in public. ArtBras will be on view at locations throughout the Bridgeport Art Trail. ArtBra New Haven is the community of breast cancer survivors, their supporters, and fine artists of the greater New Haven region. We collaborate to provide a creative emotional outlet for all survivors, and direct financial support for prescribed medical treatment for under and uninsured patients. Participants create both wearable and non-wearable art which is auctioned at our annual live runway event, modeled by survivors and supporters.
ArtBra New Haven is a 501(c)(3) charitable organization, for more information visit artbra-newhaven.org. Director: Gayle Hyre
Event: Art Trail Urban Bike Tour

Saturday, November 11; 8:45 am to 9:00 pm

Meet up at 8:45 am at 1103 Main Street to enjoy coffee and a snack before pedaling off . The Bike Tour will depart at 9:15 am to explore Bridgeport's hidden treasures and booming art culture. Bob Halstead, local resident and Bridgeport raconteur, will lead a a free bike tour to artists' open studio spaces along the 2017 Bridgeport Art Trail, with visits to 305 Knowlton Street Studios and the Armstrong Gallery, NEST Arts Factory, Archive Movies & Music Store, American Fabrics Arts Building, and more.
Historic stops along the way will include the shuttered Palace & Lowes Majestic Theaters as well as a ride past the Victorian architecture surrounding Washington Park in Bridgeport's Historic District. There will be an afternoon stop for lunch at Pantanal Restaurant & Churrascaria.
Urban Bike Tours of Bridgeport aims to use the bicycle as a means to connect the dots of Bridgeport's flavor, history, and architecture, highlighting local artists' adaptive re-use and repurposing of historic buildings. We will explore the long-vacant, exquisite, and historic Palace and Majestic Theaters, discovering amazing creators of new works in old buildings, all while meandering through historic and ethnic neighborhoods on bikes. Throughout the year, Bob leads several adventures across the city with Urban Bike Tours of Bridgeport. Join the event page for more details via Facebook: Urban Bike Tours of Bridgeport.
Event: ArtBra Party

Sunday, November 12; 1:30 to 3:30 pm

Join us at the Bridgeport Art Trail Pop-Up to Bling a Bra and support Breast Cancer patients. Your artfully embellished bra creation will be added to the temporary outdoor installation on the steps near City Lights, presenting the exhibit, BOOBs. Yes, you need to check this one out.
Event: Saturday Writers' Group

Sunday, November 12; 4:30 pm

Bridgeport's Poetry Ambassador Shanna Melton hosts her bimonthly FREE writers' workshop for poets and writers of all levels. She maintains a safe and stimulating atmosphere while facilitating writing exercises for the supportive writers' group. Newcomers welcome.
Event: Abreast of the Conversation: BOOBs, Art Intersects with Medicine and Healthcare

Sunday, November 12; 4:30 pm

Presented by guest artists Sooo-z Mastropietro and kHyal and Dr. Camelia Lawrence, fellowship trained breast surgeon at St. Vincent's Breast Health Center. A $20 admission fee for this mini-Bridgeport Art Trail fundraiser includes wine and the usual small bites. If this is your first time to a City Lights reception, you will be pleasantly surprised by provocative art, good food and drink, and stimulating conversation.
Meet the guest speakers at a 4:30 pm, presentation starts at 5 pm
Sooo-z will discuss her artwork which explores sociological observations of the breast through anatomical structure. Her perspectives range from motherhood and breastfeeding to surgical technologist, working on breast reconstruction and mastectomy.
Dr. Camelia Lawrence will discuss her personal experience in treating women with breast cancer, why early detection is important, the impact of socioeconomic barriers, and how knowledge about the disease translates into empowerment and vigilance. City Lights/Bridgeport Art Trail thanks Dr. Lawrence for recently joining the City Lights & Company board of directors.
kHyal™ aka MegaGlam, an artist, writer, designer, marketing executive and entrepreneur, will discuss the implications of appearance; living in a female body; and the transformative power and therapeutic value of art and design.