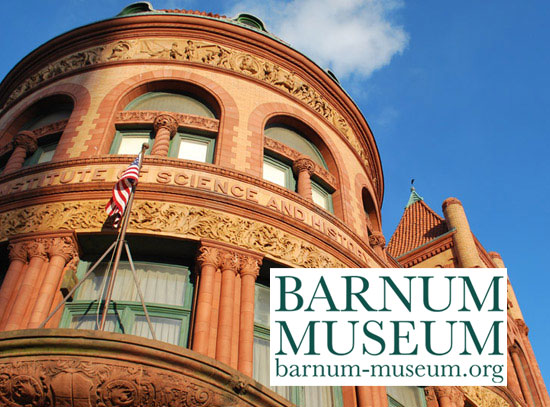 820 Main St.
Bridgeport, CT. 06604
203-331-1104
www.barnum-museum.org
www.barnummuseumexhibitions.org
Barnum Museum on facebook
twitter.com/BarnumMuseum
As one of the longest ongoing museums in the nation, the Barnum Museum remains true to P.T. Barnum's original mission; 'Instructive Entertainment.' For over a century, families from around the world have visited the Barnum Museum and experienced wonder, curiosity, surprise and enrichment. With exhibits ranging from a 4,000 year-old mummy to the recently acquired 'Centaur of Tymfi,' the Museum continues to amaze and enthrall guests of all ages.
"To
inspire curiosity, creativity, and confidence through instructive entertainment"
---
2017 Bridgeport Art Trail Programming:
Event: Guided Tours of the Barnum Museum at People's United Bank Special Event's Gallery
Saturday, November 12; 11 am to 3 pm

The Barnum Museum will host special guided tours of the Museum's vast collection. Items including Tom Thumb carriages, the mythological Centaur, and the menagerie from Bill Brinley's Miniature Circus will be featured for viewing fascination.
Event: Lanterns of Magic!

Saturday, November 12; starts at 2 pm

A presentation by Mr Dick Moore, historian and collector of Magic Lanterns, of exciting, rare and unique magic lantern images that will showcase vivid and scintillating views of early circus spectaculars! Magic Lantern shows are the equivalent to today's Power Point presentations, but they offer a wondrous, magical opportunity to step back in time and experience the thrill of acrobats and performers of bygone entertainment. As part of Mr. Moore's extensive collection, he has amassed hundreds of historically significant lantern slides from the US, UK, and France dating back to the 1860s. Dick Moore is a member and past president of the Magic Lantern Society of the United States and Canada and a member of the Magic Lantern Society in the UK. He is also a member of the Circus Historical Society and Circus Fans of America.
No registration required. $5.00 suggested donation; free to members and children under 12.