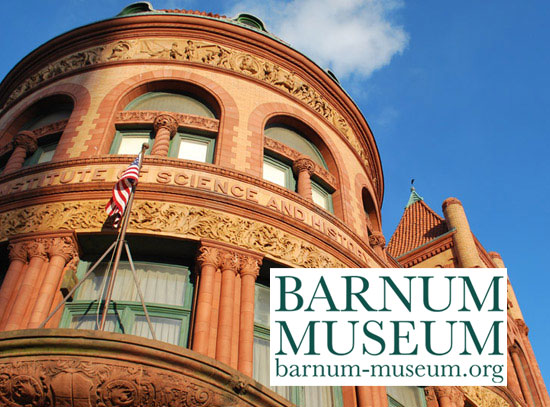 820 Main St.
Bridgeport, CT. 06604
203-331-1104
www.barnum-museum.org
www.barnummuseumexhibitions.org
Barnum Museum on facebook
twitter.com/BarnumMuseum
"To inspire curiosity, creativity, and confidence through instructive entertainment"
The Barnum Museum, the last surviving establishment attributed to the extraordinary American icon, PT Barnum, was originally established by Barnum in 1891 to promote cultural heritage of Connecticut and to celebrate scientific advancements in American technology. It was intended to inspire the public to reach beyond the limits of ordinary expectations, and to see the world as a place of opportunity, knowledge, and wonder.
Barnum's story is a fascinating exploration of 19th century social, commercial, political, and industrial history, and his tale begins long before his circus enterprise was created in 1872. He was an entrepreneur, museum proprietor, Bridgeport mayor, Connecticut legislator, urban developer, community benefactor, philanthropist, temperance leader, abolitionist, lecturer and author. He was committed to the intellectual and cultural development of society, and was a voice for the pursuit of freedom and choice. His impact reaches deep into our American heritage and a full exploration of his impacts and influences are woven into the Museum story through exhibitions and layered narrative.
Stories of Barnum's vast contributions are preserved and interpreted at The Barnum Museum in downtown Bridgeport where, since 1893, it has proudly served an international audience of well over a million students, scholars, and lifelong learners. While still in the midst of a major recovery effort following a tornado strike in 2010 and hurricanes Irene and Sandy, the museum continues to be committed to the cultural, educational, and economic vitality of the greater Bridgeport area.
---
Event: Guided Tours of the Barnum Museum

Thursday, November 10; 11 am to 3 pm
Friday, November 11; 11 am to 3 pm

The Barnum Museum will host special guided tours of the Museum's vast collection. Items including Tom Thumb carriages, as well as the mythological Centaur will be featured for viewing fascination!