1720 Fairfield Ave
Bridgeport, CT
203-247-6111
nestbpt@gmail.com
nestartsfactory.com
facebook page
Bridgeport Art Trail will be online at the NEST this year. 
We can't wait to share an immersive multimedia studio experience with you on November 14 & 15
Stay tuned for details about our schedule, including live streaming performances, artist studio tours, art demos, AMAs, and much more
Click here to stay updated on Nest Arts Factory events.
​
The NEST Arts Factory is a community of artists and musicians working in a wide variety of media in a re-imagined factory building on the west side of Bridgeport, Connecticut. In early 2020, the NEST community will be moving into a larger, stand alone building in the South End of Bridgeport. This move will open up the community to more artists, and include a much larger 1,250 square foot gallery. Consider joining this vibrant and diverse artist community. Visit nestartsfactory.com/apply for studio applications. With this impending change comes the need to "lighten the load" for the move. Many NEST artists will be offering first-caliber artworks for sale at moderate prices during the Art Trail. This is a rare opportunity to expand your art collection or find the perfect gift for the holidays.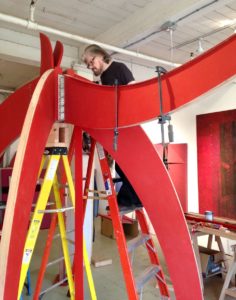 In addition to participating in the annual Bridgeport Art Trail, the nearly three dozen artists and musicians of the NEST Arts Factory host Open Studios events for the public 6 times per year. NEST artists work in a wide variety of media from painting, drawing, and sculpture to ceramics, fiber, and jewelry, and are delighted to share their work and explain their inspiration and process.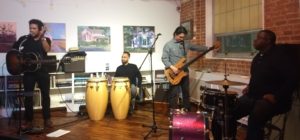 NEST musicians play in an array of genres including acoustic folk, latin, alternative rock, and reggae. Located in the heart of the NEST, the NEST Arts Factory Gallery hosts 6 art exhibitions a year, a mix of invitational and juried exhibits, showcasing national, regional, and local established and emerging artists.
Open space within the NEST allow both performing and visual artists to share their work with the community. Ample onsite and street parking is available for all events.
Nest artists and musicians will have their studios open all weekend and welcome visitors to stop by, ask questions, talk about the classics and new trends, learn something new, see and hear dynamic new artwork being made and performed, and much more.
Event: Open Studios Saturday, November 9; 10 am to 5 pm Sunday, November 10; 10 am to 5 pm Meet the artists of the NEST Arts Factory. Tour the open studios, listen to musicians, enjoy a gallery show, and see a variety of demonstrations. Art on view and for sale includes acrylic and oil painting, sculpture, drawings, collage, jewelry, ceramics, mixed-media, fiber, decorative painting, and much more.
---