1720 Fairfield Ave
Bridgeport, CT
203-247-6111
nestbpt@gmail.com
nestartsfactory.com
facebook page
Bridgeport Art Trail will be online at the NEST this year. 
We can't wait to share an immersive multimedia studio experience with you on November 14 & 15
Stay tuned for details about our schedule, including live streaming performances, artist studio tours, art demos, AMAs, and much more
Click here to stay updated on Nest Arts Factory events.
​
The NEST Arts Factory is a community of artists and musicians working in a wide variety of media in a re-imagined factory building on the west side of Bridgeport, Connecticut. In early 2020, the NEST community will be moving into a larger, stand alone building in the South End of Bridgeport. This move will open up the community to more artists, and include a much larger 1,250 square foot gallery. Consider joining this vibrant and diverse artist community. Visit nestartsfactory.com/apply for studio applications. With this impending change comes the need to "lighten the load" for the move. Many NEST artists will be offering first-caliber artworks for sale at moderate prices during the Art Trail. This is a rare opportunity to expand your art collection or find the perfect gift for the holidays.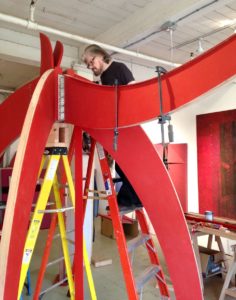 In addition to participating in the annual Bridgeport Art Trail, the nearly three dozen artists and musicians of the NEST Arts Factory host Open Studios events for the public 6 times per year. NEST artists work in a wide variety of media from painting, drawing, and sculpture to ceramics, fiber, and jewelry, and are delighted to share their work and explain their inspiration and process.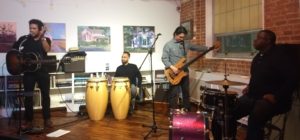 NEST musicians play in an array of genres including acoustic folk, latin, alternative rock, and reggae. Located in the heart of the NEST, the NEST Arts Factory Gallery hosts 6 art exhibitions a year, a mix of invitational and juried exhibits, showcasing national, regional, and local established and emerging artists.
Open space within the NEST allow both performing and visual artists to share their work with the community. Ample onsite and street parking is available for all events.
Nest artists and musicians will have their studios open all weekend and welcome visitors to stop by, ask questions, talk about the classics and new trends, learn something new, see and hear dynamic new artwork being made and performed, and much more.
Event: Open Studios Saturday, November 9; 10 am to 5 pm Sunday, November 10; 10 am to 5 pm Meet the artists of the NEST Arts Factory. Tour the open studios, listen to musicians, enjoy a gallery show, and see a variety of demonstrations. Art on view and for sale includes acrylic and oil painting, sculpture, drawings, collage, jewelry, ceramics, mixed-media, fiber, decorative painting, and much more.
---
2019 Bridgeport Art Trail Programming:
Event: 10 x 10 Art Exhibit in the NEST Gallery Saturday, November 9; 10 am to 5 pm Sunday, November 10; 10 am to 5 pm Celebrate and support the arts in Bridgeport with the annual NEST Arts Factory fundraiser. All works are 10" square and all are $100 each. Start or add to your art collection! This is a fantastic opportunity to purchase work that is worth well more than $100 while helping both the exhibiting artists and the NEST Arts Factory during this unique fundraiser. Come early for the best selection!
Event: NEST Associate Member Exhibit in the Passageway Gallery Saturday, November 9; 10 am to 5 pm Sunday, November 10; 10 am to 5 pm Work by the Associate Members of the NEST is on view and for sale. Media includes painting, watercolor, photography, fiber, and mixed media art. For information about becoming an associate member, visit nestartsfactory.com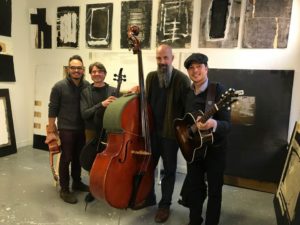 Event:
Live at the NEST moveable concert with Rick Reyes Saturday, November 9; 2 pm to 4 pm- Join songwriter and musician Rick Reyes and his small band for a unique experience as they wander the NEST and play new and old favorite songs in the studio spaces. The acoustics of the high-ceilinged spaces, and vibrant and varied artwork displayed in the studio adds original flavor to this one-of-a-kind, meandering concert.

Event: Art Brunch Sunday, November 10; 10 am to 12 pm
A fabulous way to start the day on Sunday – art and food! Join us for a delicious artist brunch. Hang out with the artists of the NEST Arts Factory and discuss art, life, creativity, and more while sampling tasty treats in a classic art salon style gathering. $5 suggested donation per person. Event: Acoustic Guitar with John Cloonan Sunday, November 10; 10 am to 12 pm Enjoy the sounds of the big band era and classic rock and roll with John Cloonan and vocalist Dawn Ricciardi live during the brunch at the NEST on Sunday morning.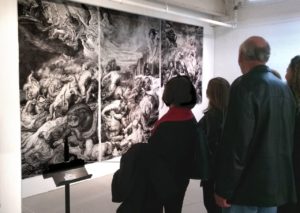 Event: NEST Gift Shop Saturday, November 9; 10 am to 5 pm Sunday, November 10; 10 am to 5 pm The NEST Gift Shop is the perfect place to pick up notecards, calendars, fine art and reproduction prints, small paintings and sculptures, scarves, t-shirts, jewelry, furniture, home décor accessories, and more from your favorite NEST Arts Factory artists. Plus find a full range of local Red Bee Honey products and NEST branded merchandise like mugs and tote bags.
Event: Alicia C Cobb Live Painting Demonstrations, Studio #1 Saturday, November 9; 12 pm to 4 pm – Live Body Painting Sunday, November 10; 12 pm to 3 pm – Live Canvas Painting Raffle of fine body art prints ($250 value) with all proceeds to benefit the NEST Arts Factory. Prints and small works available for sale both days.
Event: Kristin Merrill Studio Sale, Studio #18 Sunday, November 10; 10 am to 5 pm 20% off necklaces including original pieces that combine precious gems, pearls, and metals with found objects. One-of-a-kind sterling silver necklaces are also included in the sale. Visit kristinmerrill.com for a preview of her work.
Event: Jane Davila Annual Studio Sale, Studio #30 Saturday, November 9; 10 am to 5 pm Sunday, November 10; 10 am to 5 pm A selection of original fine art, hand block-printed pillows and purses, collage jewelry, scarves, and more are offered at once-a-year discounted prices. When you visit, sign up for a surface design or printmaking studio workshop or for the artists' mentorship group. Preview online at janedavila.com
Event: The Art of Honey – A Sensory Tasting Experience Saturday, November 9; 2 pm to 2:30 pm Did you know that honey can look and taste differently depending on the types of flowers a honeybee visits? Marina Marchese of Red Bee Honey will guide a honey tasting, where guests will taste 5 different honeys and learn how to match the flavors to the flowers they were made from. $5 suggested donation to benefit the NEST Arts Factory. Marina is also exhibiting her foraged nature curio boxes from her new series Saving Endangered Nature.
Event: Art Trail Postcard Project Saturday, November 9; 10 am to 5 pm Sunday, November 10; 10 am to 5 pm The artists of Bridgeport have created original works of art as the perfect souvenir of the Art Trail experience! All work is 4" x 6" and just $30 each. All proceeds benefit City Lights arts education programs and next year's Art Trail. Show your support and get a great little piece of art!