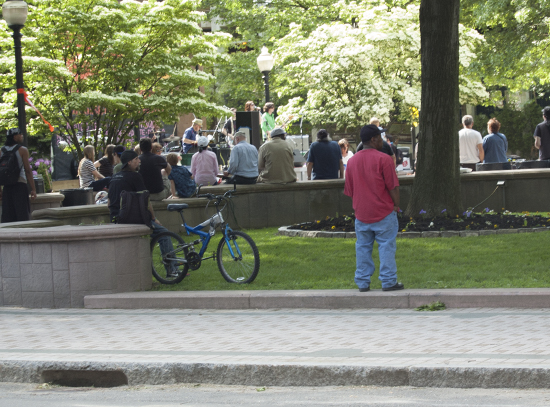 Corner of Broad Street and State Street, Bridgeport, CT
203.576.7233
The Park City's first public park, historic McLevy Green in the heart of downtown Bridgeport was set aside as a public square in 1806. The park is surrounded by landmark architecture and buildings. It is the site of McLevy Hall, a stunning Greek Revival Brownstone built in 1854, where Abraham Lincoln spoke when he campaigned for the presidency.
Today it is a vibrant hub of entertainment, shopping, dining, and relaxation by city residents and visitors. Every summer it is home to the Downtown Farmer's Market, the Downtown Thursday concert series, and Bridgeport Arts Fest, among other festivals and events.
Farmers' Market
Every Thursday from mid-July to mid-October; 10:30 am to 2 pm
infobridgeport.com/downtown-market
facebook.com/BptFarmersMarket
Join us weekly for live music and art demonstrations, local food and special events, including cooking demos by Chef Raquel of A Pinch of Salt.
The Downtown Market accepts SNAP/EBT, WIC and Senior Farmers Market Nutrition Program checks, Bridgeport Bucks, cash, credit, and debit. Through the Bridgeport Farmers Market Collaborative, the market also operates a SNAP incentive program so that for every $1 in SNAP spent at the market, you can purchase $2 in fresh fruits and vegetables.
Downtown Thursdays
203-395-1395
downtownthursdays.com

Downtown Thursdays is a free weekly outdoor summer concert series
happening every Thursday at McLevy Green from 5:30 pm to 9 pm in
Downtown Bridgeport. Downtown Thursdays features local and area
musicians. Lawn chairs and leashed pets are welcome. Invite your
friends, family, co-workers and neighbors, and visit some of the fantastic
downtown restaurants and businesses. Event Organizers are I
LUV Bridgeport, Bridgeport Arts + Cultural Council, and Downtown
Bridgeport Merchants Association.