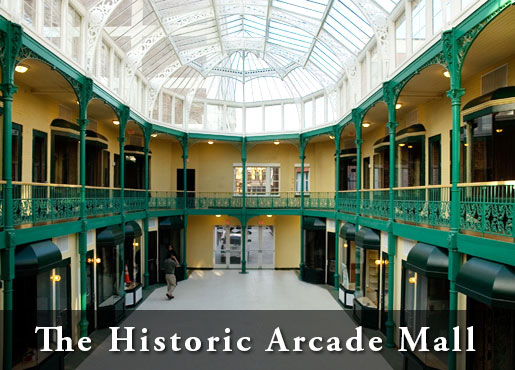 1001 Main Street
Bridgeport, CT 06604
203-395-1395
arcademallbpt.com
The Arcade Mall is a stunning historic restoration of one of the nation's first enclosed shopping malls. The breath-taking atrium has a dramatic Victorian stepped-glass roof. The property was built in 1840 and underwent several interior and exterior renovations during the 1920s, 1950s, and 1980s. It holds historic significance locally and nationally as one of the few remaining arcades from its time period.  The renovated downtown landmark has been reactivated by artists. Its charm and scale make it a perfect location for social gatherings and events. Visit the artists of the Arcade Mall, sample tasty treats in Arcade Mall restaurants, check out Arcade Mall shops.
---
2019 Bridgeport Art Trail Programming:
Studio: Paradox Ink Screenprinting + Murals
Liz Squillace
Arcade Mall, 1001 Main Street, Suite 19a, Bridgeport, CT 06604
203.521.8681 / paradoxink.com
Paradox Ink is the screenprinting and painting studio of Bridgeport Artist, Liz Squillace. Liz is known for the Painted Stairway of the Broad Street Steps, the Bridgeport train station mural, 'Tessellating Arrows and the Passage of Time', and many painted utility boxes in the neighborhood. Her company, Paradox Ink, screenprints live at many local events. Liz Squillace is a Rhode Island School of Design graduate and resident of Read's Artspace live/work studios.
Event: Arcade Art Show, Mezzanine
Friday, November 8; 12 pm to 5 pm
Saturday, November 9; 12 pm to 5 pm
Paradox Ink presents the Arcade Art Show with works by Ruben Marroquin & Liz Squillace on the walls of the 2nd floor mezzanine of the Arcade Mall. See paintings, prints and textile sculptures. Also, Paradox Ink invites you to visit the Painted Stairway of the Broad Street Steps which has recently been renovated and completed this fall.
The Painted Stairway, Broad Street Steps
Have you seen the cRR-razy Broad Street steps near the Downtown Cabaret Theatre and City Lights? Maybe you've taken a selfie there. The BAT thanks artist Liz Squillace and Bridgeport Generation Now for this invigorating splash of color and design, refreshing a public space traversed by many who visit, work, and live in Bridgeport.
Studio: Cris Dam, 19b
Arcade Mall, 1001 Main Street, Suite 23, Bridgeport, CT 06604
718.431.4567 / cristobal.dam@gmail.com / crisdam.com
Artist Cris Dam was born in Alaska, raised in Spain, educated in New York City, and is currently raising a family in Connecticut. In his paintings and murals he combines diverse landscapes and universal patterns found everywhere in nature to connect all cultures. Cris Dan co-founded Dam Stuhltrager in Berlin in 1998, and was an early gallerist who helped propel Williamsburg, Brooklyn into an international art mecca. Dam's bright paintings and large persona made him a recognizable character synonymous with Brooklyn's lively art scene.
Event: Open Studio, Suite 23
Friday, November 8; 11 am to 7 pm
Saturday, November 9; 11 am to 7 pm
Sunday, November 10; by appointment – 718.431.4567
Studio: Robert Valle, 19c
Arcade Mall, 1001 Main Street, Suite 3, Bridgeport, CT 06604
Event Decorating / Planning + Event Space
203.449.3238 / valledesigns@gmail.com / valledesigns.wixsite.com/eventdecor
An interior designer with experience in the fashion industry, Robert Valle believes there is an art to entertaining. He is ardent about ensuring that every element comes together to make an event, no matter how large or small, absolutely amazing and utterly unforgettable. He infuse just the right balance of flair and classic elegance to any affair. Robert has had the pleasure of coordinating a wide variety of events, including weddings, rehearsal dinners, fundraising galas, birthday celebrations and dinner and cocktail parties for clients in CT, NY and New Jersey. His services also include floral design and custom table linens designs and fabrication.
Event: Open Studio, Suite 3
Saturday, November 10; 10 am to 3 pm
An Event Decorator's open studio, a curated art exhibit, past event presentation and a small inventory of seasonal items for purchase.
Studio: dertbag Atelier, 19d
Arcade Mall, 1001 Main Street, Suite 21, Bridgeport, CT 06604
Contact: Philip Post
dertbagdesign@gmail.com / dertbag.us
The dertbag atelier is a retail space and studio space for the brand dertbag. Philip Post is a 21 year old self taught artist from Norwalk, CT. He started his brand dertbag in 2007 at age 12. Post came up with the name after a flare up of his Crohn's disease that made it nearly impossible to go to school. Instead, Philip channeled his energy into his art, creating his own world with dertbag. Post has shown his work in Tokyo, Vienna, NYC, and LA. In 2013 Philip opened his 'dertbag atelier' at age 18. He sells his dertbag brand and his father's brand, Frank Foster Post, here. He also works on his personal artwork and music at the atelier. Kanye West was photographed wearing one of the dertbag designs.
Studio: BPT Creates/Magnacon 7
Arcade Mall, 1001 Main Street, Suite 14, Bridgeport, CT 06604
Contact: Rahz Branch 203.395.1395 / Magnacon7@gmail.com
A multifunctional event and creative space for visual artists, performers, and idea makers of all sorts, with a bike repair shop within its dwelling.
Event: The 6 Year Anniversary Celebration of BPT Creates
Saturday, November 9; 9 pm to 2 am
BPT Creates celebrates with live music, DJs, and more.