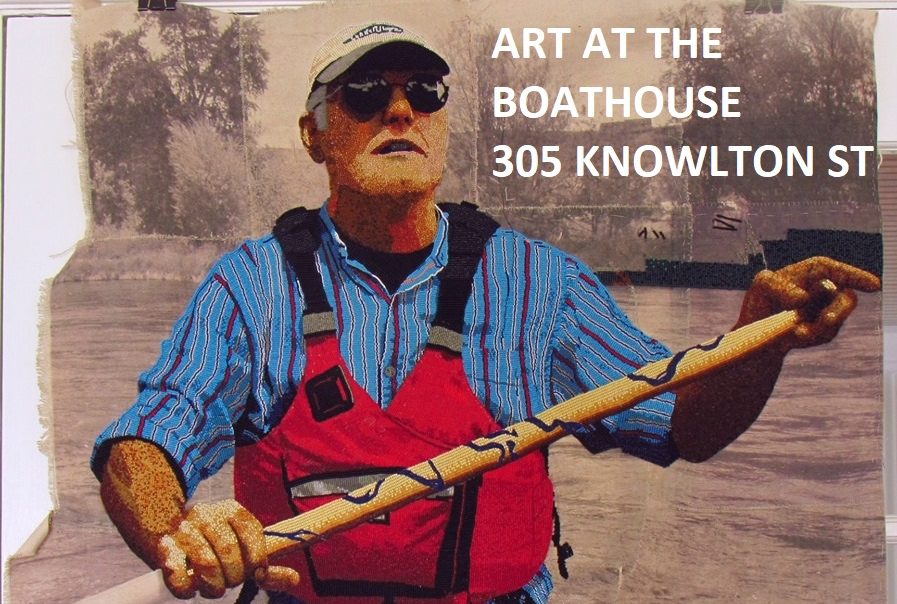 305 Knowlton St.  Bridgeport, CT 
203-333-9796
Event: Art at the Boathouse Pop-Up 
Saturday, November 9; 11 am to 6 pm
Sunday, November 10; 12 to 5 pm
New things are coming to 305 Knowlton Street under the direction and vison of new owner, Shiran Nicholson of Nicholson Events Inc. He welcomes the Bridgeport Art Trail to the Boathouse #27a, to inaugurate the Boathouse, a spacious event site on the Pequonnock River. The artists of 305 Knowlton Street along with regional artists present large-scale art, projections, installations, demonstrations, photography, sculpture, jewelry, storytelling workshop, and salsa dance instruction.
Demos:
Dance Class 12-2pm,November 9, 10. 2019, Saturday, Sunday: Practice for the "This Is Me", music video, Instructor Luis Antonio
Upcycled Mobiles, all day Saturday, Sunday: Semi-Semi Dikoko and David Sepulveda
Bead Embroidery all day Saturday, Sunday: Scott Schuldt
Photo Transfer, all day Saturday and Sunday: Lisa Toto  
Artists at the Boathouse
Yovan Barazza, ES Tattoos, live tattoo demonstration, mural painting
Upcycled Mobiles by Semi-Semi Dikoko and David Sepulveda, upcycledmobiles.com
Will Cody, Collage
Photography, Penny and Rod Cook, penrodphotographs.com
Adiel Dominguez paintings and photography
Kate Henderson Cytiyo-Illusions Installation, katehenderson.art
Sculpture by Iyaba Ibo Mandingo, iyabarts.com Ash Lee Polished by the Sea jewelry with natural & raw materials: seaglass, shells, wood, stones
Beth Lazar Painting and collage
Nina Lesiga, Storytelling Workshop, gottatravelsolo.com
Susan McCaslin, "Cladding" Installation, susanmccaslin.com
Clyde Theophilus Mclaughlin Paintings
Jay Misencik, Geralene Valentine, The Bridgeport Portrait Project, misencik-images.com
John O'Grodnick, muralist and painter, instagram.com/jpoart/
Scott Schuldt, Hand carved canoe paddles, bead embroidery, installation, demonstration, scottschuldt.com
Lisa Toto, Photography, photo transfer demo, Lisatoto3@hotmail.com
Saturday, November 9, 7-10:30 pm DANCE PARTY at the Boathouse with Mikata and Orquestra Afinke
Support arts enrichment programs in Bridgeport schools. Join us
for a night of music featuring MIKATA Afro-Caribbean folkloric
percussion, dance and vocals, and the popular salsa band
Orquestra Afinke, 10-piece band with 3 horns. Among those
performing are teaching artist and world-renowned percussionist Asher Delerme, and the Director of the Mathematics Department of Bridgeport Public schools, Herminio (Tito) Planas.
Storytelling workshop Learn to identify, craft and share personal, true life stories. This workshop is a mix of lecture and hands on exercises for participants to work on their story. Hear stories, tryout story ideas and connect with Bridgeport Art Trail participants through stories. Suited for young adults and adults. 2 pm to 3:30 pm, FREE! Dance Class with Luis Antonio, This Is Me Project, Saturday-Sunday, 12 noon to 2 pm. FREE!
Veronica Martins: Brazilian, artist specializing in drawing faces graffiti and teaching art to children. She also can be commissioned for large scale works.
Jay Misencik & Geralene Valentine at AFII
Photographers
203-268-8306 / misencik.images@gmail.com
www.misencik-images.com
The Bridgeport Portrait Project is a photo/audio/video documentary style, cultural heritage project that introduces you to the people who are Bridgeport.
Event: The Bridgeport Portrait Project
Saturday, November 9; 11 am to 6 pm
Sunday, November 10; 11 am to 5 pm
Jay Misencik and Geralene Valentine present slide shows/videos from their ongoing Bridgeport Portrait Project and other Bridgeport-based photo projects they have produced. The Bridgeport Portrait Project is a documentary-style cultural heritage project that will introduce you to people who make the City of Bridgeport much more than just a place. Jay and Geralene invite you to come share your memories of Bridgeport and volunteer to be included in their project.