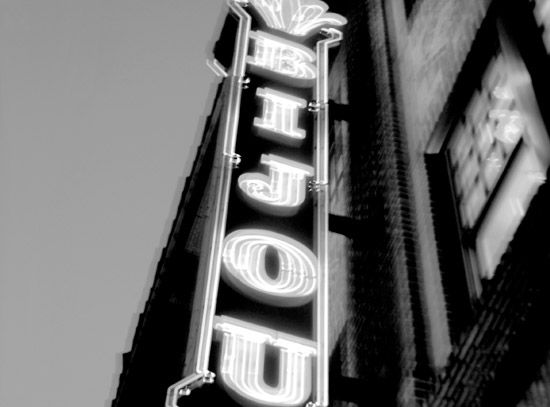 275 Fairfield Avenue
Bridgeport. CT
Executive Director: Gary Peterson
gpeterson@bijoutheatrect.com
203-296-9605
bijoutheatrect.net
The Bijou Theatre is a fully renovated multi-functional venue for live performances and film as well as business and social events. True to its heritage, over 100 years later it is one of the oldest buildings used as a movie house in the country. Join us for a full weekend of events!
---
2019 Bridgeport Art Trail Programming 
Event: Music and Video Showcase
Friday, November 8; 7:15 pm to 10:30 pm (doors open at 7 pm)
A music and video showcase plus an open mic and spoken word event From 7:15 pm to 9 pm, the Bridgeport Art Trail team partners with WPKN and the Bijou Theatre to host this multi-media event featuring the latest music videos of local musicians Fuzz San Giovanni of Caravan of Thieves, and Chris Cavaliere, who collaborated with his wife Marcella Jean to create a quirky short with great songs, lyrics and her signature psych puppets. Another video highlight is The Lark, an exquisite video experience of the Greater Bridgeport Symphony performing in the shuttered Palace Theatre. The music is sublimely paired with the location and the talent. BRAVO! Live performances by Lys Guillorn, Rob Nelson, Brian Larney. Suggested donation of $5 supports the Bijou Theatre, once again generously sharing their venue for the Bridgeport Art Trail weekend.
From 9:15 pm to 10:30pm, Lyrical Voices presents A Night of Poetry and Arts at the historic Bijou Theater for a legendary night of poetry created and hosted by Bridgeport's Poet Ambassador, Shanna T. Melton of Poetic Soul Arts. The soundtrack is provided by DJ Buddha LuvJonz of LuvJonz Entertainment. Arrive at 9 pm to sign up for our open mic that will run promptly from 9:15 pm to 10:30 pm. Poets, storytellers, and musicians are all welcome to perform. Tell your friends to tell their friends to come share poems.
Event: Beatlemania Saturday, November 9;
Doors open at 7 pm, performance begins at 8 pm
An evening of Beatlemania with the Hoffners, the East Coast's foremost Beatles Tribute Show complete with costumes, instruments and, of course, the musical sound of The Beatles. Tickets: $25.00 – $40.00
Event: Vaudeville Frolic
Sunday, November 10; 2 pm to 5 pm
A vaudevillian-style performance art, drag, dance, and music extravaganza in honor and memory of the late Sassie Saltimboca. Hosted by Dolores Dégagé with performers Nick Petrone, Kadijah Vain, Ricky Mestre, Barbra Joan Streetsand, Makayla Beach, Leslie Avery, Chynna Jacobs, Summer Orlando, Lanie Lu Dégagé & Sorcia Warhol. $20 general admission supports the "Sassie Saltimboca Memorial Scholarship Fund". Beneficiaries for 2020 will be City Lights Gallery and the Bridgeport PRIDE 2020 10th Anniversary. Artist Scholarship to be awarded to Luis Felipe Lopez.
Event: The Art of Conversation and Community, PechaKucha – Bridgeport, Storytelling, and the BAT Closing Party
Sunday November 10; 6:45 pm to 9 pm (doors open at 6 pm)
Storytelling with images – the art of sharing personal stories. This Bridgeport PechaKucha event is the closing party of the Bridgeport Art Trail. PechaKucha Night Bridgeport brings people together from diverse backgrounds to listen to great personal stories and learn from each other in a casual and authentic atmosphere. PechaKucha means "chit-chat" in Japanese. Speakers present their stories accompanied by 20 slides, shown for 20 seconds each, resulting in a total time of 6 minutes and 40 seconds. This licensed format keeps presentations focused and fast-paced.
PechaKucha nights are organized by local community members and described as "live events with real people and real communication." Talks are uploaded to an international website including 1000 participating cities. Bridgeport Art Trail artists will be among the presenters at this Sunday evening gathering, also serving as the closing party of the BAT weekend, celebrating the art of conversation and community. Food, created by Raquel Rivera-Pablo of A Pinch of Salt, is available for purchase. The event is free but contributions help defray costs and allow the committee to make a donation to the international PechaKucha organization. $1 of each contribution goes to the international PechaKucha organization.