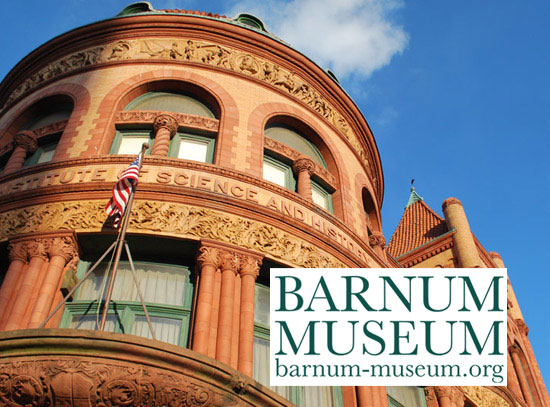 820 Main St.
Bridgeport, CT. 06604
203-331-1104
www.barnum-museum.org
www.barnummuseumexhibitions.org
Barnum Museum on facebook
twitter.com/BarnumMuseum
As one of the longest ongoing museums in the nation, the Barnum Museum remains true to P.T. Barnum's original mission; 'Instructive Entertainment.'
For over a century, families from around the world have visited the Barnum Museum and experienced wonder, curiosity, surprise and enrichment. With exhibits ranging from a 4,000 year-old mummy to the recently acquired 'Centaur of Tymfi,' the Museum continues to amaze and enthrall guests of all ages.
Event: Guided Tours of the Barnum Museum People's United Bank Special Event's Gallery
Thursday, November 7; 11 am to 3 pm
Friday, November 8; 11 am to 3 pm
The Barnum Museum will host special guided tours of the Museum's vast collection. Items including Tom Thumb carriages as well as the mythological Centaur will be featured for viewing fascination.
Event: Pop Up Exhibit: Her Dragons Fly, by Shanna Melton
Friday, November 8, 2019 – January 10, 2020
Barnum Museum Members free – Non-Members $5 suggested