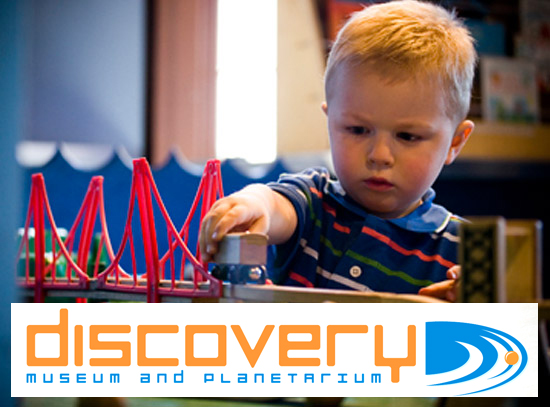 Museum, Planetarium and Adventure Park
4450 Park Avenue
Bridgeport, CT
203-372-3521
www.discoverymuseum.org
Map
Museum Hours: Tuesday-Sunday, 10:00 a.m. – 5:00 p.m.
Admission:
$10.00 Adults;
$$8 Children ages 2-18, seniors and students with ID
FREE for children under 2
Discounts for groups of 10 or more.
A children's science museum focusing on hands-on learning fun, Discovery Museum offers daily planetarium shows included with admission. Interactive exhibits include "Dare to Discover" challenges, "Get Physical!" and a Preschool Play Area. Simulated NASA space missions in Discovery's Challenger Center, a mock space station and mission control with state-of-the-art technologies, create a cooperative learning atmosphere underscored by teamwork, communication, problem-solving, and decision-making and are available for student, scout, and homeschool groups as well as for parties and corporate team building. Numerous special events throughout the year provide STEM learning fun for youths and adults. The Museum may be rented for events, fundraisers and corporate functions.
---
EVENT: Aerospace Art of Norm Siegel Focused on aviation, history, space flight, and exploration

Aerospace Art encompasses a large and dynamic collection of paintings by Norm Siegel. Norm is a graduate of both the High School of Industrial Art (now Art & Design), and of the Cooper Union who has worked for over 40 years in advertising and graphic design.
Norm sold his first illustrations creating monsters for the covers of the monthly pulp fiction magazines Fantastic Universe Science Fiction and Galaxy. He joined the American Society of Aviation Artists in 2000 and the Air Force Art Program in 2004, the latter of which has put him in the seats of many of our latest, hottest and biggest aircraft.
EVENT: Sunset Science: Photography by Michael Florio

Connecticut native Michael Florio has a huge passion for photography, art, science and technology. His love of these subjects has brought him through a rabbit hole of wonder and amazement
His desire to share the incredible aspects of our universe with others is captured through a dynamic study of sunsets and the fascinating reasons why we experience the glorious colors in a twilight sky.
EVENT: Twisting Steel Productions by Sonny Cardinali and Mike Galullo

onny Cardinali and Mike Galullo are two local artists who work together to create kinetic sculpture. Currently three pieces from their collection are on display in the garden at Discovery Museum. Sonny is a self-taught artist and welder, who got his start welding together pieces in the workshop.
Using discarded metal, car parts, motorcycle parts, and household items, he began to create work that catches the wind and moves. Mike is a local artist and seasoned educator who paints and finishes these kinetic sculpture pieces. His aesthetic is informed by both his work in education and by modern art.
These lighthearted pieces move with the wind, and have been featured in newspapers and magazines throughout Connecticut. More information can be found online at twistingsteel.com.