Bijou Theatre
275 Fairfield Avenue
Bridgeport. CT
203-296-9605
bijoutheatrect.net
2019 Bridgeport Art Trail Programming
Event: The Art of Conversation and Community, PechaKucha – Bridgeport, Storytelling, and the BAT Closing Party
Sunday November 10; 6:45 pm to 9 pm (doors open at 6 pm)
The weekend-long arts celebration closes with a popular storytelling party produced by the Bill Derry and Nina Lesiga and others. The theme of the Pechakucha-Bridgeport Art Trail at the Bijou Theatre is leadership and creativity in the arts. Luciana McClure presents New Haven's Nasty Women Project. Cris Dam talks about his passion for painting. Others include: Iyaba Ibo Mandingo-Immigration, Why We Come; Shanna Melton-Art and Service; Janet Luongo-Dream and Realization; Miggs Burroughs-The power of hands in creating and conveying our humanity.

Storytelling with images – the art of sharing personal stories. This Bridgeport PechaKucha event is the closing party of the Bridgeport Art Trail. PechaKucha Night Bridgeport brings people together from diverse backgrounds to listen to great personal stories and learn from each other in a casual and authentic atmosphere. PechaKucha means "chit-chat" in Japanese. Speakers present their stories accompanied by 20 slides, shown for 20 seconds each, resulting in a total time of 6 minutes and 40 seconds. This licensed format keeps presentations focused and fast-paced.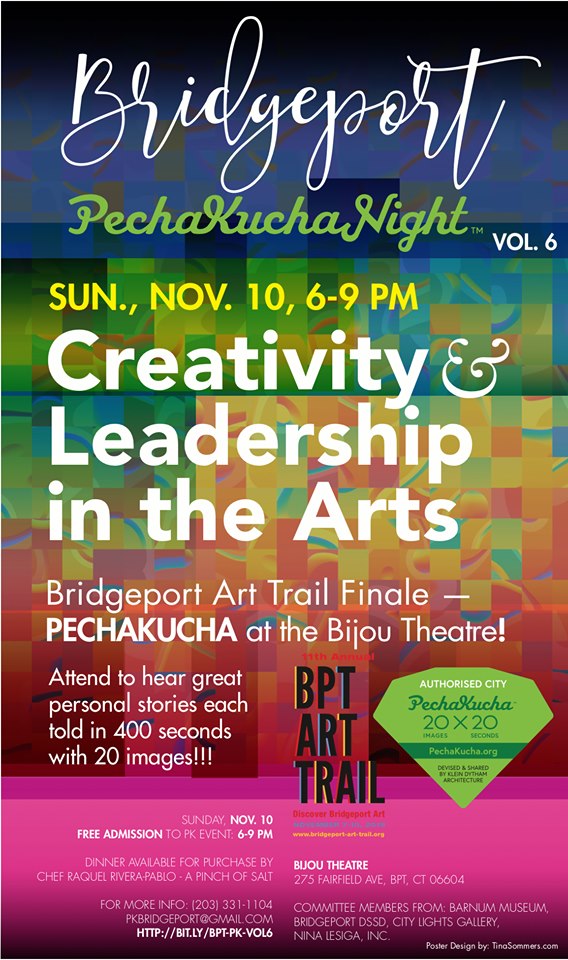 Bill Derry, lead organizer of Pechakucha-Bridgeport nights describes these events as "live events with real people and real communication." Talks are uploaded to an international website including 1000 participating cities. Bridgeport Art Trail artists will be among the presenters at this Sunday evening gathering, also serving as the closing party of the BAT weekend, celebrating the art of conversation and community. Food, created by Raquel Rivera-Pablo of A Pinch of Salt, is available for purchase. The event is free but contributions help defray costs and allow the committee to make a donation to the international PechaKucha organization. $1 of each contribution goes to the international PechaKucha organization.