Greater Bridgeport Pride Celebration Schedule




Thank you to sponsors whose focus is to serve the LGBTQ+ Community

Leonard-Litz LGBTQ Foundation

Healthcare Advocates International


Greater Bridgeport Pride 2021 Schedule
We will practice Covid-safe protocol during this indoor/outdoor reception. Facemasks will be suggested to entr the gallery. No food or drink will be allowed in the gallery. We can mingle at the patio reception. Admission is free.  

FRI 7/30/21
6-8:30 pm OUTwork Exhibit Reception at City Lights Gallery, Indoor exhibit/Outdoor Reception, face masks suggested while in the exhibit. OUTworks features 30 artists presenting a range of artforms.
Exhibiting artists: Erik Anderson, Ake Arnerdal, Mario Baez, Lillia Calvao, Darron Copeland, Claude Desir Jr., Marietta Capobianco, Jon Cuoto, Dolores Degage Hopkins, Val Doty, Daniel Eugene, Andrew Graham, Tristan Griffin, Caitlin Harhai, Luis Lopez, Conor Kovatch, Neil Lavey, Iyaba Ibo Mandingo, Cassandra Mendoza, Ricky Mestre, Carine Monteiro, Victor Pigoretti, Michelle Pontes, Adrian Pullido, Barbara Ringer, Jojo Rivera, Julia Rose, Richard Taddei, Victoria Urso, Mischa Vesely

8pm BPT Pride March steps off from City Lights
9-11 pm Pride Variety show at the Bijou Theatre, music, dance drag, Ballet Eloelle debuts a newly choreographed piece, produced by Ricky Mestre, hosted by Dolores Degage, Tix $15
Post party at TREVI Lounge


SAT 7/31 Mingle and meander at venues within 3 downtown blocks
11am-4pm ARTcade, Art + Vintage + Artisanal Vendors
at Arcade Mall- Ursa Gallery, Paradox Ink 1042 Broad St
City Lights Gallery + City Lights Vintage 265 Golden Hill St
www.citylightsgallery.org
LIVE MUSIC/VENDORS/FOOD & DRINK

Live Music at the Arcade Mall 1042 Broad St.
11-12 Quinn Oneil solo, singing/ acoustic guitar 

12-2 Semaphora 5 piece band "jazzy/indie/prog/rock, sounds like: Steely Dan in Adventure Time cosplay, 10,000 Maniacs giving a TED talk, or Leonard Bernstein's tiny desk concert"

2-4 Nathan Perez Solo trombone with backup tracks, popular and jazz covers

City Lights Vintage and Gallery 265 Golden Hill St, off the Broad St Steps
12-2 Saxophone with back-up tracks   Popular standards/Jazz   
2-4 Netta Walker duo mellow jazzy/hip hop Original musical poetry 
ARTcade Vendors, 1042 Broad St
Reimagined by Design/Ursa Gallery, Here Comes the Sun art exhibit closing party at 6 pm
Byzantine Brat Aromatics– Artful handmade soaps
Passion and Purpose– Artisanal signature aprons and cloth facemasks
Witch Bitch Thrift– Vintage clothing and accessories
Decaying Poetry– Artful poetry books to read and color
Finn Lockwood– Botanical Jewelry and Prints
Frogspeak -artwork and illustrations
Fae Teasures– Candles and nature inspired illustrations
Stoked CT- Local Bridgeport smokeshop and glass art
risarranged – Photography, prints, postcards

City Lights Vintage and Made In Bridgeport- 265 Golden Hill St
Vintage clothing, accessories, furniture, collectibles

Food and Drink at the ARTcade
Berlinetta Beer at the ARTcade- Whet your whistle with a PERFECT PILSNER… like what you'd get in Prague!
Sankofa café Coffee and Eats 
Funchal Americana Delicious Garb abd Go options




11:30 am – 2pm Bpt Film Fest screening- Curator's Choice, LGBTQ Original Shorts/Q & A
Variety includes Horror, Science Fiction, Love Story, Comedy, Buy tix, read about featured films bijoutheatrect.net
2 pm Feature Film Disarm Hate, Documents the Disarm Hate rally and call to action led by artist Jason Hayes as a response to the Pulse Nightclub shooting, narrated by Harvey Fierstein, directed by Juliana Brudek.
6-7:30pm Pre-Theatre OUTwork wine reception at City Lights Gallery
8-10 pm A Night of Retro Camp & Drag
The Golden Gays with Special Guest David Maiocco as Liberace
Travel back in time to the days of free TV, antennas and when you actually needed to leave your seat to change the channels! Liberace energizes the night. "From the moment he enters, Maiocco captures Liberace perfectly" His "performance as Liberace is often eerily accurate… his reproduction of Liberace's uniquely embellished sound is remarkable." – Michael Barbieri – QLife Magazine
The Golden Gays NYC a drag camp comedy trio present a review inspired by the Golden Girls TV Show.
Highlights from 2020
(Paragraph here)
Join our Facebook event page and stay updated by clicking here!
Read about Ricky Mestre, founder of the Bridgeport Pride art exhibit
Proud moment for Bridgeport Connecticut as they raise the rainbow flag to commemorate LGBTQ+ pride month.
City of Bridgeport, CT – Government City Council Official Citation for LGBT Pride Month signed by Council President Aidee Nieves.
The rain didn't stop us last year, COVID won't stop us this year!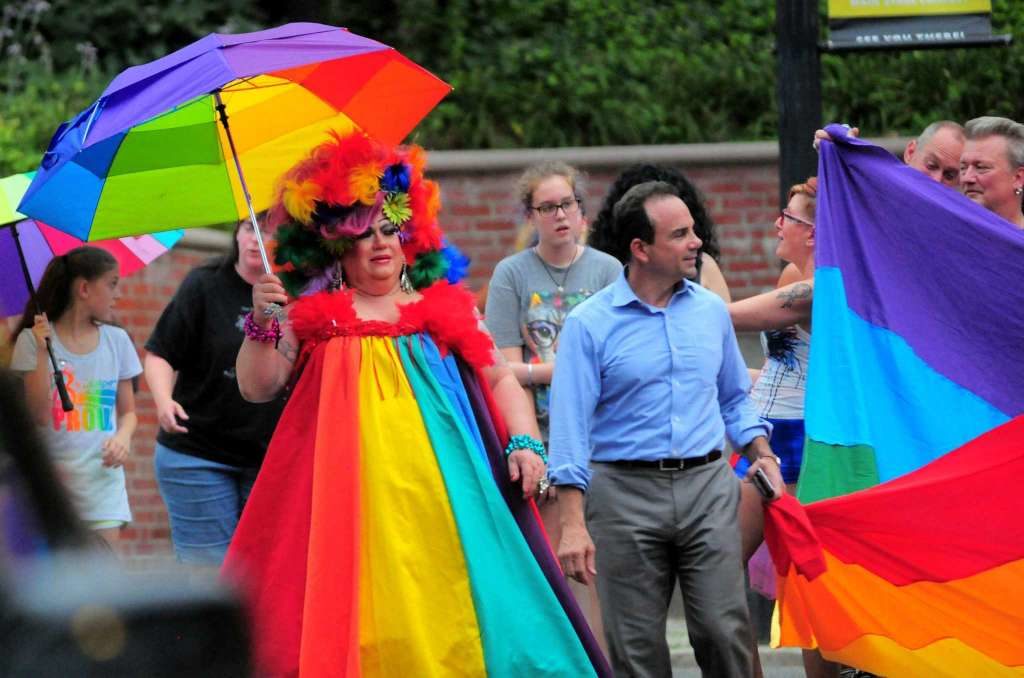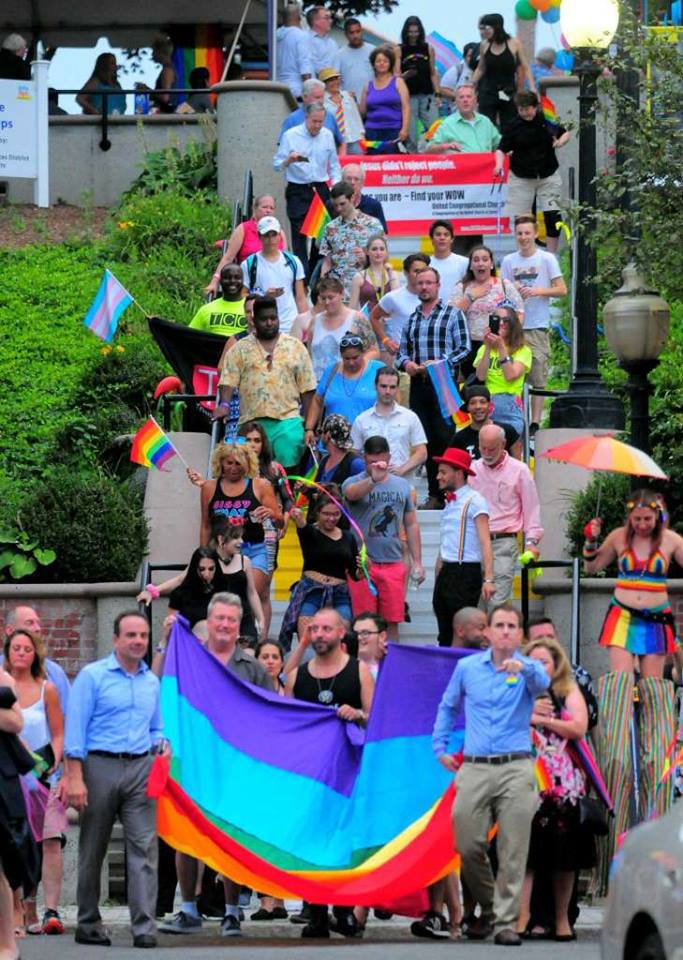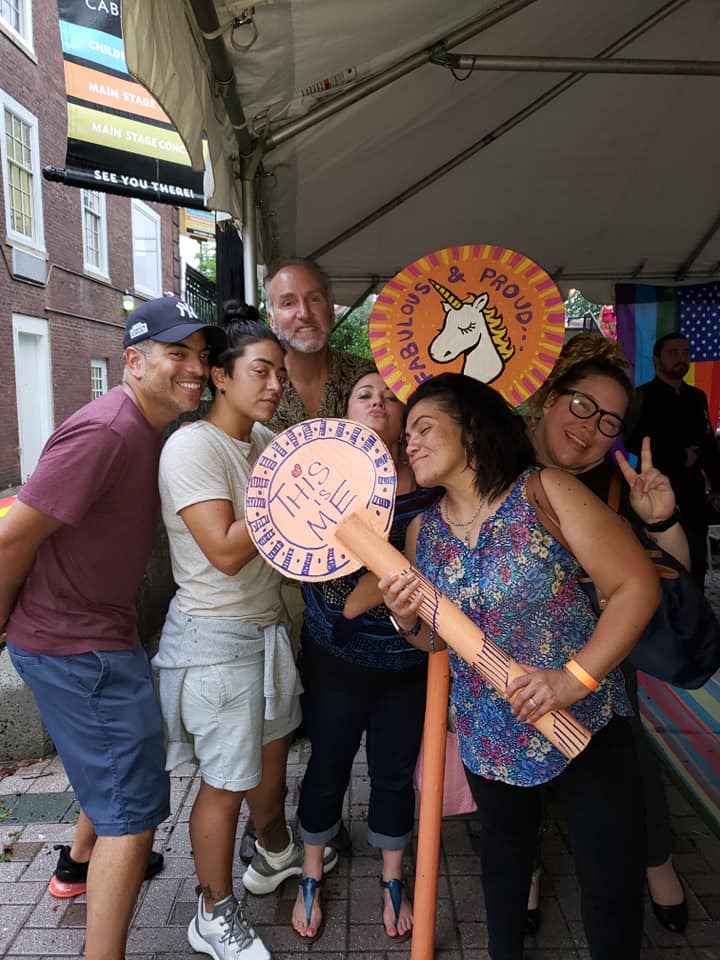 Highlights from the 10 exhibits of Bridgeport Pride Art, shown at City Lights Gallery.