305 Knowlton Street Studios and Armstrong Gallery
305 Knowlton Street
Bridgeport, CT
203-338-9796
Map
The Knowlton Event Venue & Artist Studios
305 Knowlton Street was once home to the Armstrong Manufacturing Company, a well-known tool and die manufacturer in the 1800s, and little-known creator of a technologically advanced prototype "horseless carriage" built in 1895. The building is located on the Pequonnock River estuary in the Washington Park Historic District on Bridgeport's East Side. Once referred to as "Pembrooke City", it is an area rich with some of the finest examples of nineteenth century residential architecture in the country, largely due to PT Barnum and William Noble, who invested heavily in its development.
Today, 305 Knowlton houses a fresh mix of new innovators including small businesses, artists, and an art gallery. This repurposed factory building provides three floors of working studio spaces. 305 Knowlton's diverse community includes artistic talent in painting, drawing, photography, sculpture, and body painting. The Armstrong Gallery is a large, privately-run art space on the main floor with monthly shows, artist talks, live performances, and other events that contribute to our cultural vibrancy. There is plenty of off-street parking in the adjacent lot.
‪The 305 Knowlton artists and businesses maintain a close connection with our local Bridgeport neighborhoods and friends, and we often support or produce our own art programs, exhibits, and workshops in the Armstrong Gallery or the spacious BoatHouse and Dock. Contact Sandy Terebesi for more info‬ at 203-338-9796‬ about renting studios or event space.
Plenty of free parking available in our off-street parking lot, located on the Pequonock River.
---
2019 Bridgeport Art Trail Events:
Visitors to 305 Knowlton may purchase raffle tickets for two great prizes:
Professional photographer's tripod
A photography session offered by 305's Davinci Photographic Services,
LLC, under the direction of Ivan Lopez
Event: Open Studios
Saturday, November 9; 11 am to 6 pm
Sunday, November 10; 12 pm to 5 pm
Meet the artists, see the work, talk the talk! Tour three floors of open studios including our beautiful Armstrong Gallery (downstairs) where you can view and purchase art, including watercolor, acrylic and oil paintings, sculpture, photography, airbrush works, and more. Plenty of free parking available in our new, big off-street parking lot, located on the Pequonock River.
Event: East End Variations, Armstrong Gallery, first floor
Saturday, November 9; 11 am to 6 pm
Sunday, November 10; 12 pm to 5 pm
Join the artists of 305 Knowlton for the annual Art Trail members' exhibit.
Regular Gallery hours: daily from 12 pm to 5 pm
Event: Basket Weaving, Armstrong Gallery
Saturday, November 9; 12 pm and 2 pm
William Heyne is a primitive survival skills and nature awareness teacher. He is currently a mentor at the Two Coyotes School in Newtown CT, where he focuses on connecting students back with nature. He will be holding two free demonstrations on primitive basket weaving. You will see how to assemble a basket from several different raw materials, using 4-5 different techniques. Event: Sound Bath Meditation and Chakra Cleansing Saturday, November 9; 5 pm Crystal sound bath meditation can help to clear and align your chakras. Your chakras affect your health, energy, moods and flow. Explore each chakra through sound bathing and meditation. Join us for this healing chakra experience. Free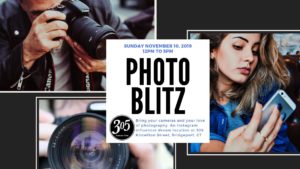 Event: 305 Photo Blitz
Sunday, November 10; 12 pm to 5 pm
Bring your cameras and your love of photography. 305 is the perfect backdrop for beginners and pros. Instagram influencer dream location. We will have styled sets and models available throughout the building. 305 is a beautiful industrial chic building that's a photographers dream. Great for student photographers to build their portfolios and for pros to add to theirs. Free
Saturday, November 9, 11 am to 6 pm
Sunday, November 10, 12 to 5 pm, Art Trail post-party 6:30 to 10 pm.
This rustic arts and events space is at the rear of the 305 Knowlton St building and situated on the edge of the Pequonnock River. The environs are a perfect setting for a unique creative experience. Thank you to the folks at 305 for welcoming local artists to present a diverse art fair and performances.
.