Thank you for your support of the Bridgeport Art Trail 2013!  Here's what happened:
View Super-Sized Art at the 5th Annual Bridgeport Art Trail, City-Wide Open Studios: November 7-10, 2013, Veteran's Day Weekend.
The Art of Chuck Close at Housatonic Museum of Art and the work of his 'KIDs' (mentees from Roosevelt school Bridgeport, CT), is one of the many highlights of the city-wide, 5th Annual Bridgeport Art Trail, November 7-10, 2013. This city-wide event features open-studio receptions, demonstrations and discounted art sales. VIEW ART, TALK ART, BUY ART. Among the locations that visitors can tour on Saturday and Sunday are:  the American Fabrics Building, 305 Knowlton St., Read's ArtSpace and The NEST Art Factory. Art Trail program guides will be available at participating venues. To get info in advance go to www.bridgeport-art-trail.org  or call (203)334-7748, City Lights Gallery.
The 5th Annual Bridgeport Art Trail held on Veteran's Day Weekend, Thursday-Sunday, Nov. 7-10 will kick off Thursday night with art receptions and exhibits throughout the downtown. Starting at the historic Arcade Mall on Main St. from 4:30-7 visitors can visit the CreateHereNow store fronts including Made In Bridgeport and Paradox Ink while Bridgeport's WPKN radio 89.5 FM spins discs and sells vinyl from their vintage PKN collection. Light refreshment by Ripka's Market sponsored by the Downtown Services District.
Art receptions will culminate at Housatonic Museum of Art on the Housatonic Community College campus, hosting an exhibit featuring the art of world renowned artist Chuck Close, who mentors students of Roosevelt school in Bridgeport. The HMA exhibit will also include Roosevelt student work.   Other downtown locations include, UArts at McLevy Hall, City Lights Gallery and the Read's Ground Floor Gallery. The Bridgeport Art Trail is sponsored by Mayor Bill Finch and the city of Bridgeport, The CT Office on the Arts, The National Endowment for the Arts and the Fairfield County Community Foundation and City Lights Gallery.
Visitors can indulge their palette (both visual and gastronomic), with a complementary  Happy Hour Raw Bar  courtesy of  Charles Island Agriculture at 305 Knowlton St., BBQ by the Grumpy Hogg at American Fabrics Arts Building or a Sunday Pancake Breakfast and Honey Drizzle Bar at the NEST Art Factory. Bob Halstead will lead the annual art trail bike tour. Join him at 11:30 a.m. Saturday for a bagel and coffee at City Lights.
Featured art includes drawings, paintings, prints, photography, sculptures, fabric art, pottery, artisanal items for the home, jewelry and apparel.
CREDIT: © Chuck Close in association with Magnolia Editions, Oakland, courtesy Pace Gallery
Rhino by Rick Shaefer of the NEST Art Factory
Chuck Close
The photo credit is Courtesy Magnolia Editions and Pace Gallery
CREDIT: © Chuck Close in association with Magnolia Editions, Oakland, courtesy Pace Gallery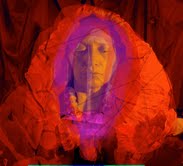 Plegaria…Yolanda Petrucelli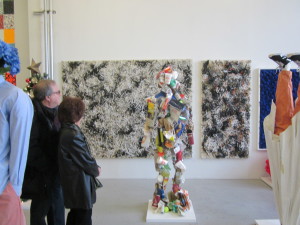 Art Trail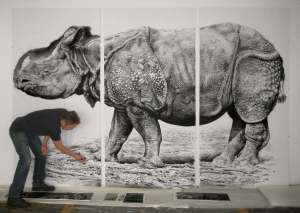 Rick and Rhino

Judy Corrigan. Elizabeth Bullis-Weiss.Open Studio