---
"ART TO GO" BILLBOARD PROJECT: February 2019 – Shanna Melton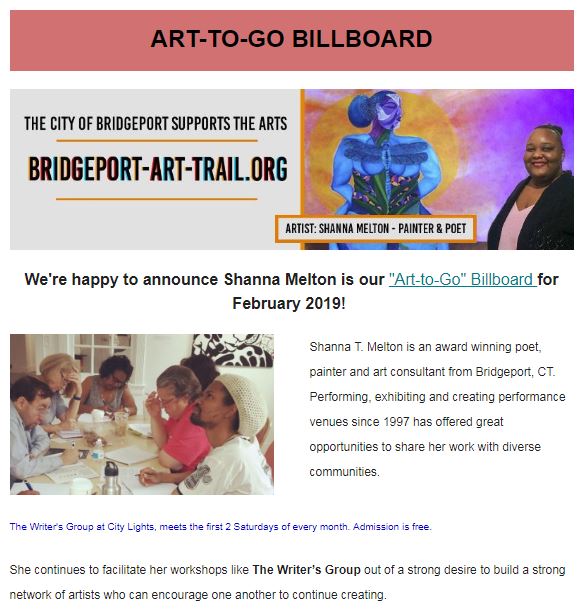 ---
VIEW OUR CLASS CALENDAR HERE
---
FEBRUARY 2019 CURRENT EVENTS – PART 1
---
VISUAL ARTS – NEW EXHIBITS/EVENTS
---
Forgotten Panoramas by Ned Gerard
City Lights Gallery
On view January 17-February 21, 2019
DESCRIPTION
City Lights hosts a second, one person exhibit of photography encouraging viewers to consider fine art photography in relationship to the ubiquitous cell phone shots and advertising. Viewers can follow Ned and experience the beauty, calm and restorative solitude he finds through the perspective of his camera lens while kayaking and trekking to capture forgotten panoramas. Ned is a long time staff photographer for Bridgeport office of CT Post of Hearst Media; this is his debut fine art exhibit.
---
Intersection 5D
On View: Jan 24 – Feb 28, 2019
Read's Artspace Ground Floor Gallery
1042 Broad Street
Bridgeport, Connecticut 06604
The exhibition offers a contemporary framework to conceptualize the artist as a connector to a set of constantly shifting identities. Thematics of context, meaning, and time are addressed in various styles and media including: painting, sculpture, digital, collage, video and 3D fabrication.
In Intersectionality, the Artists are giving us the tools to see, express and together create social change through a new framework that enables us to understand and shape our ever-evolving selves. The exhibit invites the viewer to weave their inner threads as they shift from the expression of one artist to the next and meet them individually and collectively.
Artists: Vasken Kalayjian. Liz Squillace. Adger Cowans. Yolanda Petrocelli. Daniel Lanzilotta.
---
Rhythms – AMFAB: The American Fabrics Arts Building
University of Bridgeport Schefhauldt Gallery
Artist's Discussion February 8th
On View January 22 through March 2, 2019
DESCRIPTION
The exhibit Rhythms features a diverse collection of work from American Fabrics Building artists. You are invited to a discussion with artists to hear about their work and process. Exhibit on view through March 2, 2019.
Gallery hours are Tuesday through Friday from 11 a.m. to 4 p.m. and Saturday from 12 p.m. to 4 p.m. If you are interested in visiting and cannot make our hours, please call 203-240-7333 to schedule an appointment.
---
COMMUNITY EVENTS
---
PechaKucha Night – Bridgeport, Vol. 4: Transformations
Thursday, March 21, 2019 at 6 PM
The Barnum Museum
DESCRIPTION
Come cheer on your artist friends, tell your story, chit chat…PechaKucha Night Bridgeport presents Volume 4: Transformations on Thursday, March 21; 6 pm to 9 pm. Want to be a presenter? Fill out a proposal here: http://bit.ly/BPT-PKN-proposal4.
The theme of TRANSFORMATIONS will honor both the first day of spring, the work of the InfoBridgeport, launching their "Colorful Bridgeport campaign, and the potential impact of the PechaKucha stories. This is a free event (donations accepted) and the doors open at 6. Food will be lovingly prepared and sold by A Pinch of Salt Chef Raquel Rivera-Pablo.
PechaKucha Night Bridgeport brings people together from diverse backgrounds to listen to great personal stories and learn from each other in a casual and authentic atmosphere. PechaKucha means "chit-chat" in Japanese. Speakers present their stories accompanied by 20 slides, shown for 20 seconds each, resulting in a total time of 6 minutes and 40 seconds. This licensed format keeps presentations focused and fast-paced.
PechaKucha Nights are organized by local community members and described as "live events with real people telling real stories." Talks are uploaded to an international website including 1,000 participating cities.
---
Bridgeport PechaKucha Workshop for PechaKucha Volu
Aim Higher Together Bridgeport
Thursday, March 28, 2019
Blends Gallery
---
SAVE THE DATE
The biggest one-day RECORD FAIR in New England
Brought to you by WPKN 89.5-FM (Bridgeport)
---
LIVE CONCERTS & FILM
---
Lucky Peterson Blues Band
Saturday, February 16, 2019
Doors: 7:00 pm / Show: 8:00 pm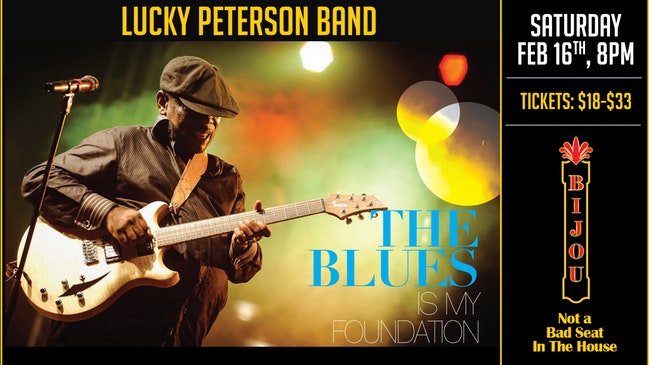 DESCRIPTION
American Blues legend, the multi-instrumentalist Lucky Peterson, is one of the most riveting performers of the modern blues era. A searing lead guitarist, a rich and powerful organist, and a first-rate vocalist, Lucky's musicianship effortlessly translates gospel, rock, and jazz into a 21st century blues. Many reminisce about the bygone days of the blues, but its flame still burns hot in the hands of Lucky Peterson!
---
PERFORMING ARTS AND THEATRE
---
Rumpelstiltskin – Children's Theatre
January 12 – February 10
Downtown Cabaret Theatre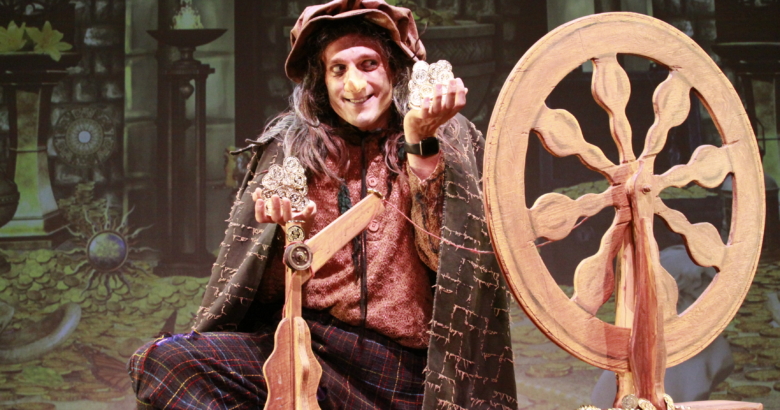 DESCRIPTION
What's in a name? An awful lot in this classic tale of peculiar magic troll and a special young girl willing to give anything to spin straw into gold and become a Princess. But when the cost is too high, it is up to the quick-thinking and determination of the Princess to play the ultimate trick on the ultimate trickster.
---
1984
February 1 – 17
Downtown Cabaret Theatre
DESCRIPTION
What if one thought cost you everything? 1984 is the un-nerving stage adaptation of George Orwell's dystopian masterpiece. 1984 brings us the story of Winston Smith, a cog in the giant machine state of Oceania. Under the close eye of Big Brother, Winston has been caught struggling for scraps of love and freedom in a world awash with conformity, distrust, control, and violence. With the brutal "help" of four Party Members, Winston is forced to confess his Thoughtcrimes before an unseen inquisitor, and the audience — which acts as a silent witness to his torture.
One of the most widely referenced and best-known fiction titles of all time, 1984 makes the dark implications of unchecked, out-of-control state power feel urgent and real.
Please note: This production may contain flashing lights, strobe effects, loud noises, gunshots, smoking, and graphic depictions of violence and simulated torture.
ADVISORY: Due to the strong adult content we urge parents or guardians to research the play further before purchasing tickets for children under the age of 18.
---
Elton John* by Captain Fantastic
March, 9, 2019
Shows: 5:00 pm / 8:15 pm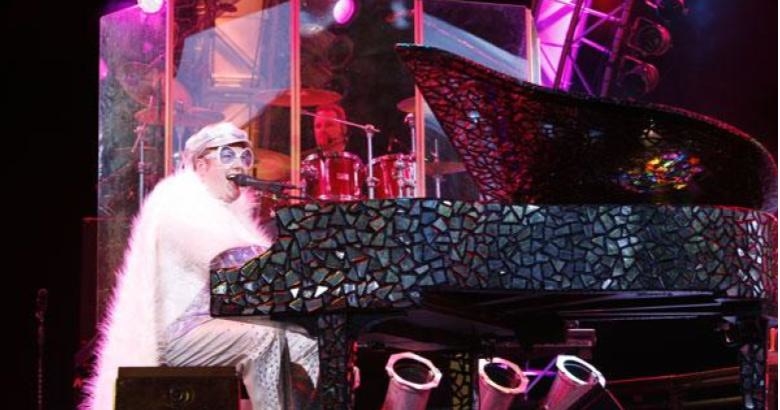 DESCRIPTION
Take a journey with the Rocketman. Captain Fantastic, the premier Elton John Tribute Show, will dazzle you with an amazing musical extravaganza! "You're gonna hear electric music, solid walls of sound", as Captain Fantastic and the Rocketband perform stunning recreations of your favorite Elton John hits from the 70's. Captain Fantastic will amaze you with costumes that go from bizarre to breathtaking, and his amazing 5-foot baby grand piano will shower you with lights, smoke, lasers, and a few surprises. You may think you've gone down the Yellow Brick Road!
---
---