A short month with a busy calendar, February comes to a close with film, lectures, and more.
Plus, March into next month with the WPKN Music Mash, Sister Act, PechaKucha Storytelling and a great calendar of arts and culture events!
---
"ART TO GO" BILLBOARD PROJECT: February 2019 – Shanna Melton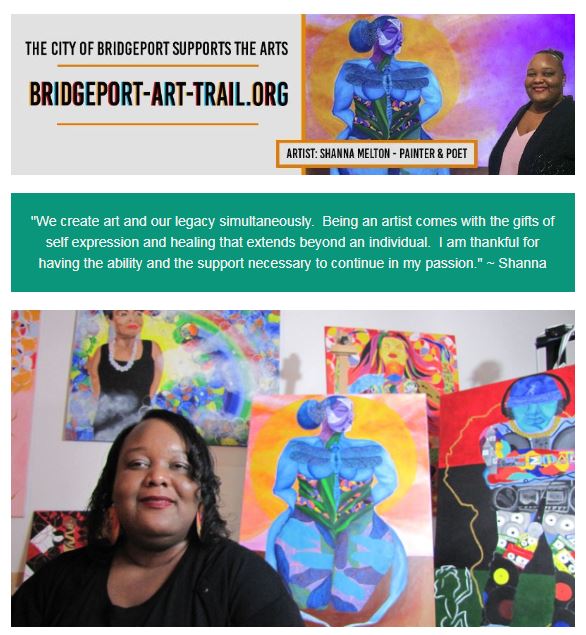 Shanna T. Melton is an award winning poet, painter and art consultant from Bridgeport, CT. Performing, exhibiting and creating performance venues since 1997 has offered great opportunities to share her work with diverse communities.
She continues to facilitate her workshops like The Writer's Group out of a strong desire to build a strong network of artists who can encourage one another to continue creating.
---
VIEW OUR CLASS CALENDAR HERE
Visit our class calendar full details on upcoming art classes including quilting, figure drawing, creative writing workshops, dance, and more!
---
FEBRUARY 2019 CURRENT EVENTS – PART 2
---
VISUAL ARTS – NEW EXHIBITS/EVENTS
---
Exhibit: Re-Education of Smedley Butler by Scott Schuldt
On View February 28- April 6, 2019
City Lights Gallery
Opening Reception and Artist Talk
Thursday, March 14, 2019
5:30-8:30 PM, Artist Talk at 7:30PM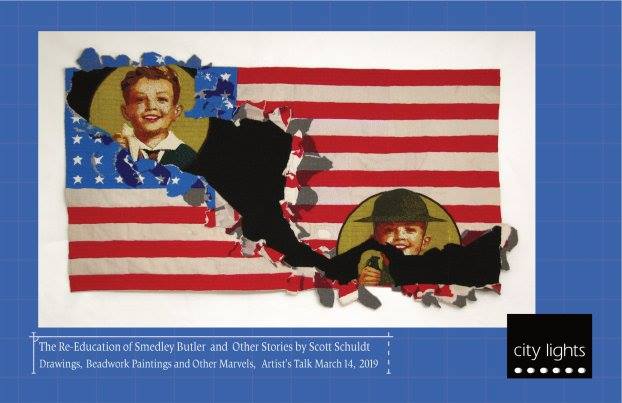 DESCRIPTION
DON'T MISS this astonishing exhibit, "The Re-Education of Smedley Butler and other Stories; Drawings, Beadwork Paintings, and Other Marvels by Scott Schuldt, February 28- April 6, 2019, at City Lights Gallery, 265 Golden Hill St. Bridgeport, CT 06604 www.citylightsgallery.org

Scott will present an artist's talk at the reception on Thursday March 14, 2019. The free reception is open to the community running 5:30-8:30 pm with an artist's talk at 7:30 pm. Scott's artist's talk will seem more like tales told around a campfire, but he says they are all "nonfiction."

The beaded embroidery has the mesmerizing effect like the elaborate fineness of the book of Kell's contrasted by the slap-in-your-face content and imagery of tragic American recent history of the military-industrial complex and other big business meldings with U.S. government.

SCOTT SCHULDT, ABOUT "THE RE-EDUCATION OF SMEDLEY BUTLER"
Smedley Butler served in nearly everyone of the "banana war" conflicts between 1900 and 1930. He went from being a Quaker enlistee to retiring as a General and becoming a whistleblower revealing the dirty tricks he did in support of US foreign policy and became an outspoken critic of US economic policies and especially those that required use of the US military in order to succeed. He is the last American to have been awarded two Congressional Medals of Honor.
FROM SMEDLEY BUTLER:
"I spent 33 years and four months in active military service and during that period I spent most of my time as a highclass muscle man for Big Business, for Wall Street and the bankers. In short, I was a racketeer, a gangster for capitalism. I helped make Mexico and especially Tampico safe for American oil interests in 1914. I helped make Haiti and Cuba a decent place for the National City Bank boys to collect revenues in. I helped in the raping of half a dozen Central American republics for the benefit of Wall Street. I helped purify Nicaragua for the International Banking House of Brown Brothers in 1902-1912. I brought light to the Dominican Republic for the American sugar interests in 1916. I helped make Honduras right for the American fruit companies in 1903. In China in 1927 I helped see to it that Standard Oil went on its way unmolested. Looking back on it, I might have given Al Capone a few hints. The best he could do was to operate his racket in three districts. I operated on three continents."
– Smedley Butler, 1935

---
Intersectionality: Art, Nature+Technology
A Panel Discussion
February 23, 2019, 2 – 5 PM
Read's Artspace Gallery
Read's Artspace Ground Floor Gallery
1042 Broad Street
Bridgeport, Connecticut 06604

The Read's Artspace Gallery cordially invites you to a special panel discussion with the artists Adger Cowans, Vasken Kalayjian, Daniel Lanzilotta, with guest presenters Berna Tural and Moira Williams, Intersectionality, Art, Nature + Technology.
The panelists and our presenters will offer a contemporary framework to conceptualize the role of the artist as a connector to a set of constantly shifting identities, nature and the environment and technology.

In Intersectionality, the Artists are giving us the tools to see, express and together create social change through a new framework that enables us to understand and shape our ever-evolving selves. The exhibit invites the viewer to weave their inner threads as they shift from the expression of one artist to the next and meet them individually and collectively.
You can also enjoy the unique exhibition which is currently on view until February 28, 2019.
Gallery Hours:
Tuesday – Saturday: 12PM – 5PM

Artists: Vasken Kalayjian. Liz Squillace. Adger Cowans. Yolanda Petrocelli. Daniel Lanzilotta.
---
NEST Arts Factory Spring Open Studios
Saturday, March 9 from 2-5 pm
Nest Arts Factory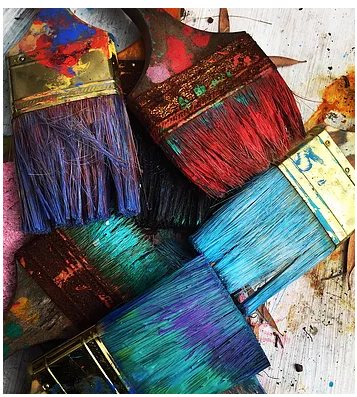 DESCRIPTION
Visit the artists of the NEST and see lots of new and exciting artworks in the studios, the gallery, and all of the hallways! There will be art, art supplies, decorative items, and furniture for sale at excellent prices. It's the perfect time to start your holiday shopping
---
City Lights 15th Anniversary Party/Motown Revue by Band Central
Friday, April 12, 2019 at 6:30 PM – 9:30 PM
City Lights Gallery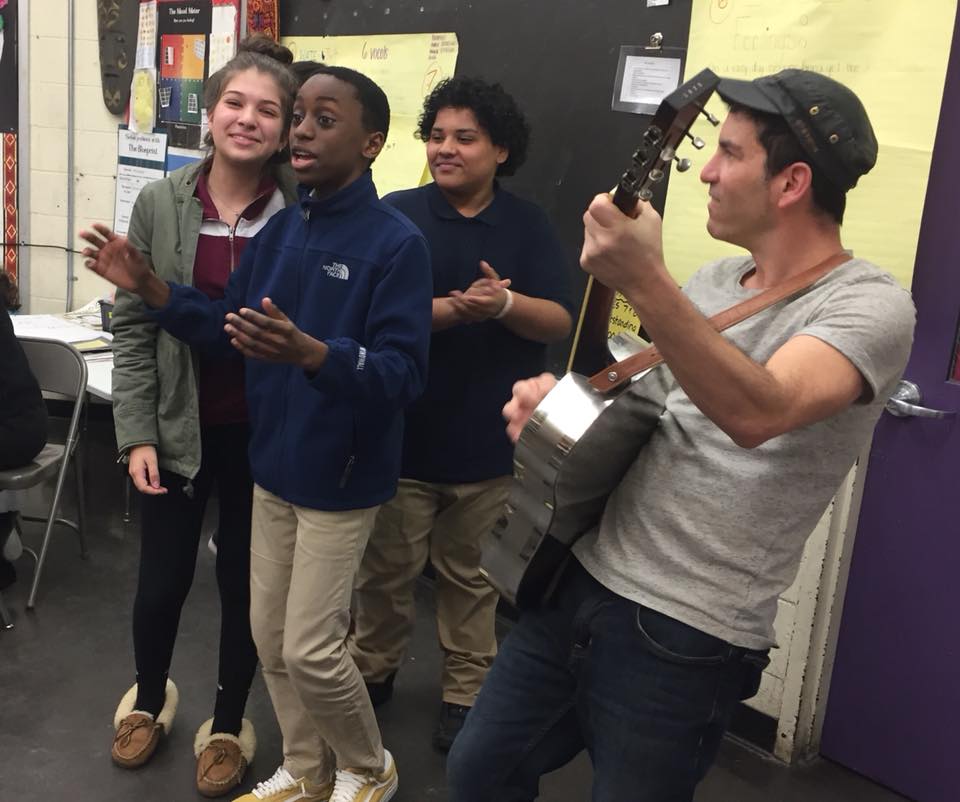 15 YEARS!!!! Wow, Times flies when you are serving the community through art… OK yes, having fun too!
CELEBRATE WITH CITY LIGHTS ON APRIL 12, 2019
at the Downtown Cabaret Theatre. Band Central creates the party atmosphere with fabulous Magic of Motown Revue. The Cabaret Theatre is located just downstairs from City Lights Gallery at 265 Golden Hill St. Downtown Bridgeport CT 06604 203.334.7748.
Thank you to Rob Fried and BAND CENTRAL for partnering with us on the music enrichment programs and sponsoring the Motown Revue for our 15th anniversary party. The high energy ensemble of outstanding Band Central musicians will surely create a fabulous party atmosphere.
This charity concert supports City Light's outreach programs.Click here to see outreach programs
AFFORDABLE TICKET PRICES AT 2 LEVELS:
$25 admission for the BYOB Motown Revue at the Downtown Cabaret Theatre.
$50 admission includes a pre-show reception at City Lights gallery, along with the performance at the Cabaret Theatre.
---
COMMUNITY EVENTS
---
PechaKucha Night – Bridgeport, Vol. 4: Transformations
Thursday, March 21, 2019 at 6 PM
The Barnum Museum
DESCRIPTION
Come cheer on your artist friends, tell your story, chit chat…PechaKucha Night Bridgeport presents Volume 4: Transformations on Thursday, March 21; 6 pm to 9 pm. Want to be a presenter? Fill out a proposal here: http://bit.ly/BPT-PKN-proposal4.
The theme of TRANSFORMATIONS will honor both the first day of spring, the work of the InfoBridgeport, launching their "Colorful Bridgeport campaign, and the potential impact of the PechaKucha stories. This is a free event (donations accepted) and the doors open at 6. Food will be lovingly prepared and sold by A Pinch of Salt Chef Raquel Rivera-Pablo.
PechaKucha Night Bridgeport brings people together from diverse backgrounds to listen to great personal stories and learn from each other in a casual and authentic atmosphere. PechaKucha means "chit-chat" in Japanese. Speakers present their stories accompanied by 20 slides, shown for 20 seconds each, resulting in a total time of 6 minutes and 40 seconds. This licensed format keeps presentations focused and fast-paced.
PechaKucha Nights are organized by local community members and described as "live events with real people telling real stories." Talks are uploaded to an international website including 1,000 participating cities.
---
A FUNDRAISER FOR THE BARNUM MUSEUM
David Ferrari Presents
Extreme Magic with Illusionist Eric Wilzig
Saturday, March 16, 2019
Doors: 6:00 pm / Show: 7:00 pm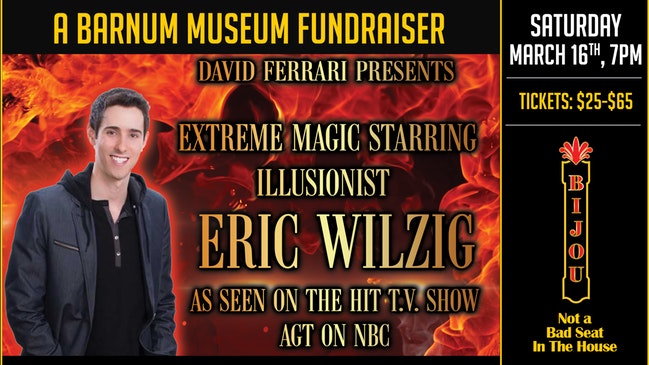 With over 2,500 national and international performances to date —— including appearances on NBC's hit TV show "America's Got Talent," sold-out shows at The Tropicana and Caesars Hotel & Casino, headline acts in Times Square, Europe, Canada and the Caribbean —— Eric is considered the hottest rising star in the magic industry.
Known during his childhood as the "little entertainer," Eric's fascination with the art of magic began at five years old with a coin trick his father had brought home. Fast forward to age 10, when Eric received a standing-ovation for his magic act from a packed house onboard Royal Caribbean's "The Explorer of the Seas" cruise ship. It was at that point that Eric realized magic wasn't going to just be his hobby, but his life!
At age 12, The Extreme Magic Of Eric was born with Eric creating the name, the tone, the presentation and make-up of this award-winning show. Learning directly from David Copperfield, Criss Angel, and other masters of illusion in Las Vegas, Eric has continuously reshaped and modernized his performance to become a world-wide wonder receiving rave reviews wherever he goes. Combining an explosive mix of large cutting-edge illusions, mind-blowing daring escapes, outrageous stunts, customized lighting, and special effects, The Extreme Magic of Eric is truly a one-of-a-kind traveling illusion show!
---
Aim Higher Together Bridgeport
Thursday, March 28, 2019
Blends Gallery
---
WPKN MUSIC MASH
The biggest one-day RECORD FAIR in New England
Brought to you by WPKN 89.5-FM (Bridgeport)
---
FILM
---
WPKN's Music on Film Series Presents: Finding Fela
Thursday, February 21, 2019
Doors: 6:00 pm / Show: 7:00 pm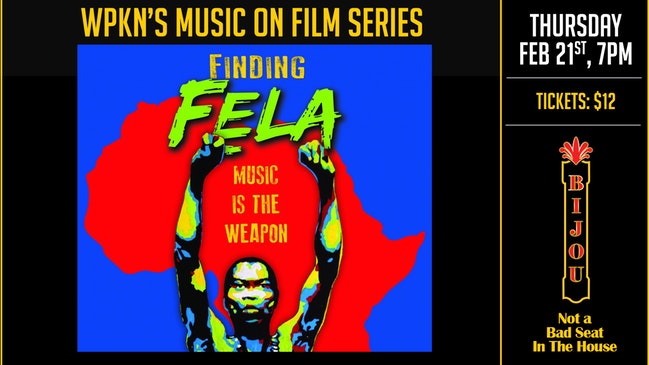 DESCRIPTION
Finding Fela tells the story of Fela Anikulapo Kuti's life, his music, his social and political importance. He created a new musical movement, Afrobeat, using that forum to express his revolutionary political opinions against the dictatorial Nigerian government of the 1970s and 1980s. His influence helped bring a change towards democracy in Nigeria and promoted Pan Africanist politics to the world. The power and potency of Fela's message is completely current today and is expressed in the political movements of oppressed people, embracing Fela's music and message in their struggle for freedom. Finding Fela was directed by the Academy Award winning director, Alex Gibney.

---
WPKN's Film Series Presents: Symbiotic Earth
Tuesday March 5, 2019
Doors: 6:00 pm / Show: 7:00 pm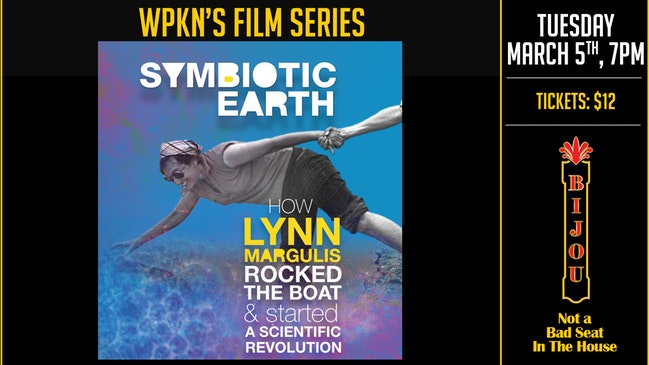 Symbiotic Earth explores the life and ideas of Lynn Margulis, a brilliant and radical scientist, whose unconventional theories challenged the male-dominated scientific community and are today fundamentally changing how we look at ourselves, evolution, and the environment.

---
PERFORMING ARTS AND THEATRE
---
Princess and the Frog – Children's Theatre
February 23 – March 31
Downtown Cabaret Theatre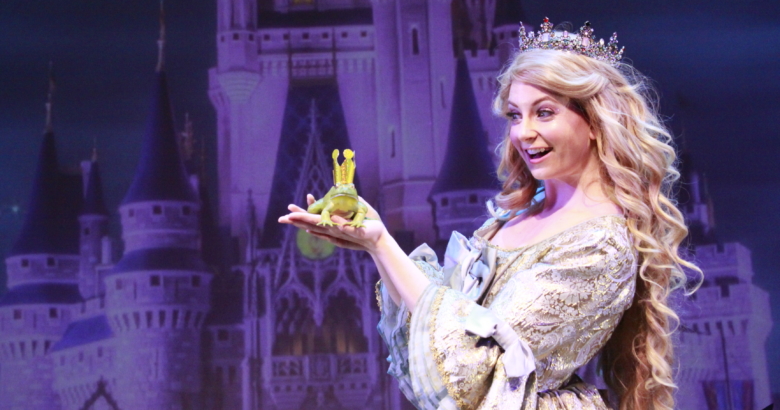 DESCRIPTION
When a young princess is unable to find a suitable prince, she turns to a very unlikely friend to help her. Little does she know that the secret to her happiness is right under her nose in this brand new musical that shows sometimes true love can be found in the least likely of places.

Our Children's Theatre shows approximately run 75-80 minutes with a 10-minute intermission.
---
Sister Act
March 15 – April 07
Downtown Cabaret Theatre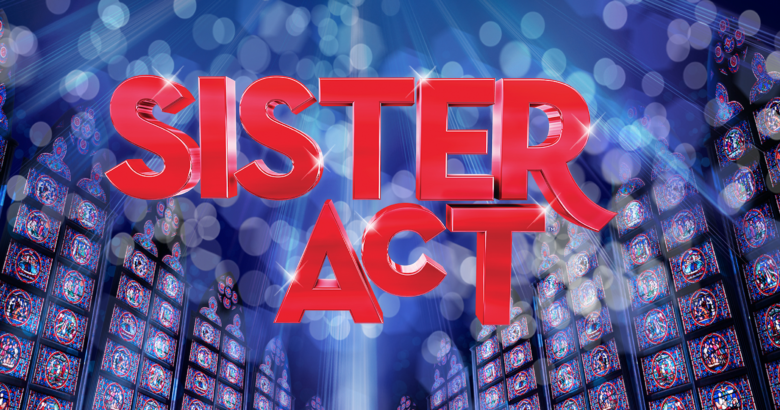 DESCRIPTION
Sister Act is the feel-good musical comedy smash based on the hit 1992 film that has audiences jumping to their feet. When disco diva, Deloris Van Cartier, witnesses a murder, she is put in protective custody in a the assumed safety of a convent. Disguised as a nun, she finds herself at odds with the uptight Mother Superior. Using her unique disco moves and singing talent to inspire the choir, Deloris breathes new life into the church and community. Filled with powerful gospel music (by Tony- and eight-time Oscar winner, Alan Menken) and a truly moving story, this uplifting musical is reason to REJOICE!

---
LIVE MUSIC & CONCERTS
Lee Squared – An Evening with Liberace & Miss Peggy Lee
Friday, March 1, 2019
Doors: 7:00 pm / Show: 8:00 pm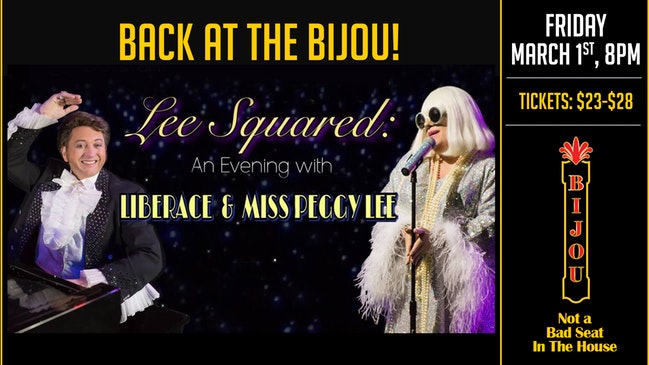 In this funny and touching tribute, New York City Bistro and MAC Award Winners David Maiocco and Chuck Sweeney reprise their iconic performances as the music legends who defined four decades of music and pop culture. Two Lees for the price of one!

Liberace lived a life of flamboyance, sparkle, and lavish costumes. In this funny and touching tribute, the virtuoso musician gets one more chance to glitter and shine as he tickles the ivories through his favorite songs. Miss Peggy Lee is beyond description. These two music legends defined four decades of music and pop culture

Formed in 2016, Lee Squared features New York City favorites David Maiocco as Liberace and Chuck Sweeney as Peggy Lee. Long time friends and collaborators, Maiocco and Sweeney had been performing these iconic characters indiviually and decided that two Lees were better than one (Liberace was known to friends as "Lee") So they imagined what it would be like if both were alive and touring together today. The result is an evening of music and laughter, from the virtuoso playing of Liberace, to the sultry jazz and swing of Miss Lee.

Maiocco and Sweeney are each Bistro and MAC Award Winners, for Musical Direction and Outstanding Impersonation, respectively, and have jointly won the 2017 Bistro Award for Lee Squared in the category of Outstanding Musical Comedy Duo! Maiocco, a graduate of The Boston Conservatory, spent two decades in NYC as a Music Director, Off Broadway Conductor, and Broadway Orchestra Pianist prior to taking on the role of Liberace. David is truly honored to perform as a licensed artist of The Liberace Foundation for the Performing and Visual Arts in professional theatres nationwide. Sweeney is a veteran musical theater artist who has performed solo shows–as himself or as Peggy Lee– in cabarets from Montreal to Miami Beach and points in between. An accomplished actor, he has also had roles in Off-Broadway productions and regional theaters (e.g. South Pacific, Personals, etc)

---
The Bouchard Bros – Blue Oyster Cult Founding Members
Friday, March 8, 2019
Doors: 7:00 pm / Show: 8:00 pm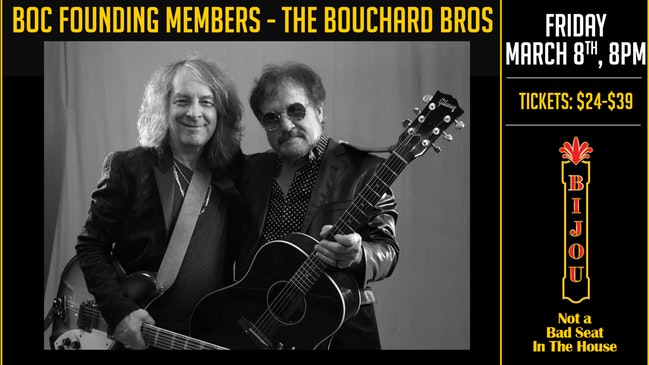 Blue Öyster Cult's longest lasting and most commercially successful lineup included founding members Joe and Albert Bouchard. The original band recorded for Columbia Records in the 1970s and 1980s, and has nine gold and two platinum records to their credit. The Bouchard Bros are multi-instrumentalists who also compose, producer & engineer. This show is a close-up look at two creative brothers whose music has lasted over the decades. The show also features Joan Levy Hepburn on guitar and vocals.

---
Elton John* by Captain Fantastic
March, 9, 2019
Shows: 5:00 pm / 8:15 pm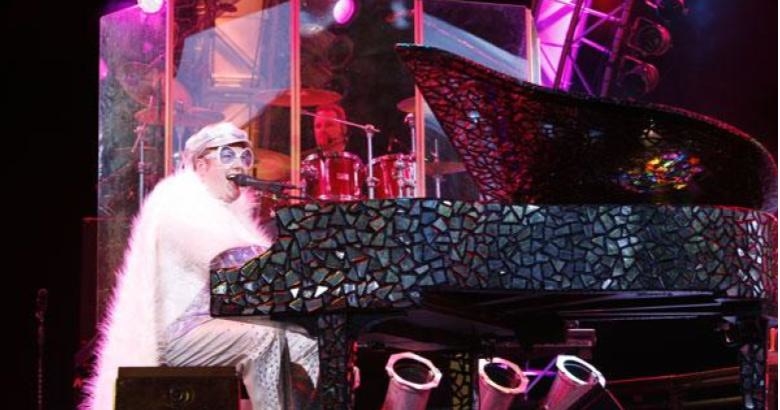 DESCRIPTION
Take a journey with the Rocketman. Captain Fantastic, the premier Elton John Tribute Show, will dazzle you with an amazing musical extravaganza! "You're gonna hear electric music, solid walls of sound", as Captain Fantastic and the Rocketband perform stunning recreations of your favorite Elton John hits from the 70's. Captain Fantastic will amaze you with costumes that go from bizarre to breathtaking, and his amazing 5-foot baby grand piano will shower you with lights, smoke, lasers, and a few surprises. You may think you've gone down the Yellow Brick Road!
---
---