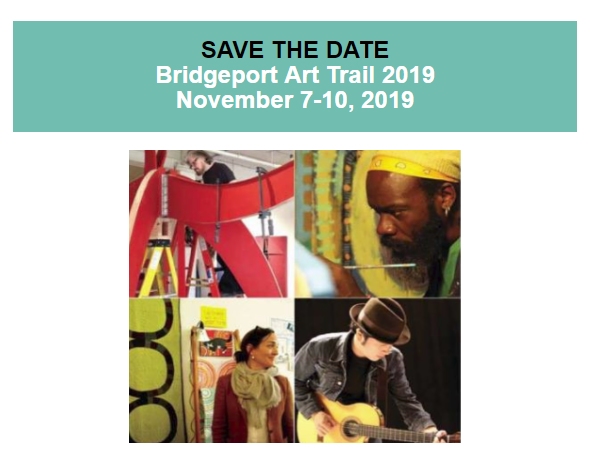 ---
VISUAL ART
---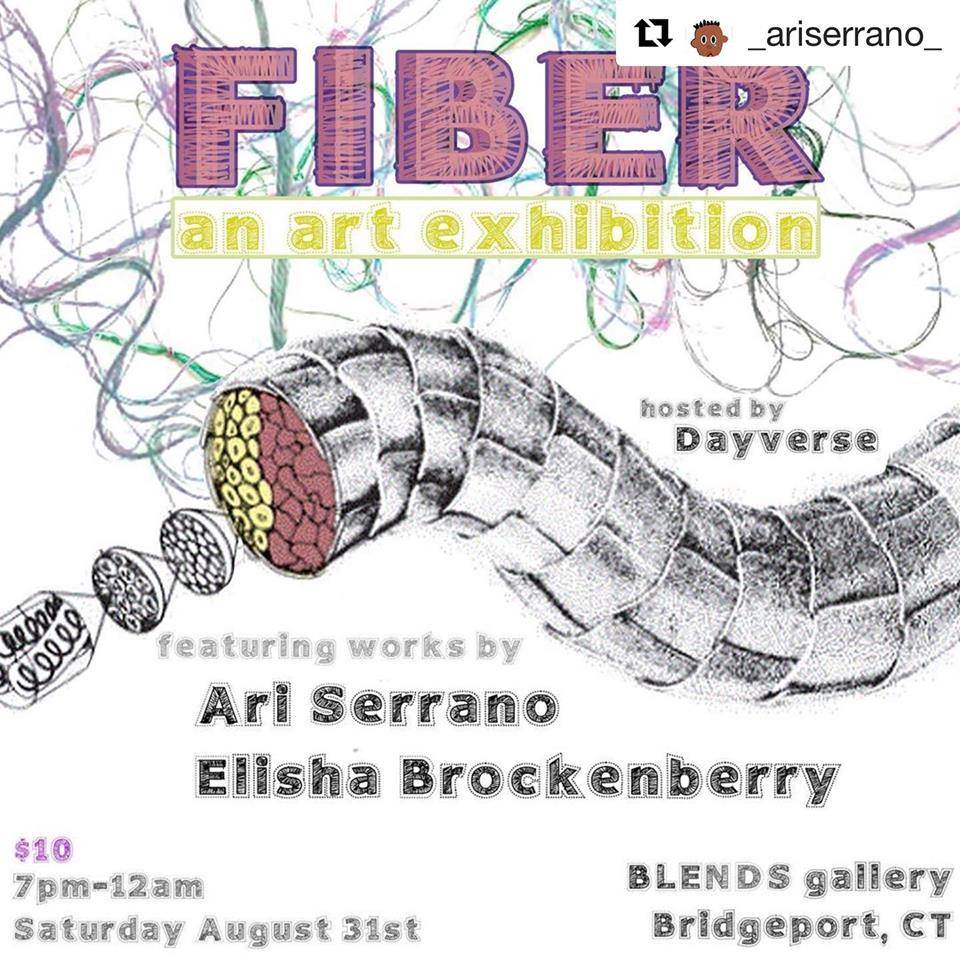 Fiber: An Arts Exhibition
Saturday, August 31, 2019
Gallery Hours: 7PM-Midnight 
Live installation and exhibit featuring works by Ari Serrano and Elisha Brockenberry. Refreshments provided by Two Roads. The exhibit includes live sewing, garment display and hair demonstrations.
---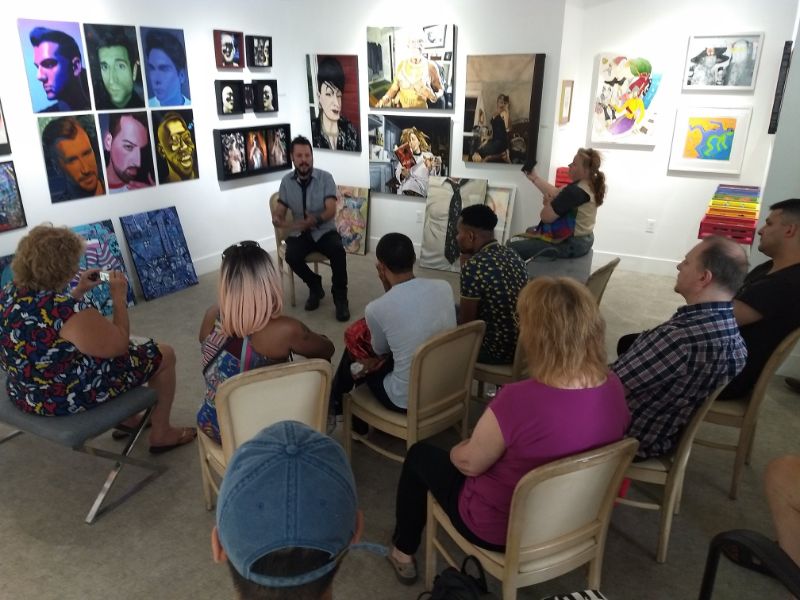 SameSex Exhibit explores LGBT themes, same-sex attraction, related feelings and issues of 2019. Artists need not be gay, lesbian, bisexual or transgender to participate.
Artists: Christopher Augerson, Mario Baez, Patrice Barrett, Marieta Capobianco, Benjamin Casiano, Darron Copeland, Kevin Cox, Erica Czerwinski, Coco Garner, Andrew Graham, Delayne Gratopp, Kate Henderson, Don Houston, Susan Stinson-Hurwitz, Maxwell Kale, Niki Key, Mia Lipstick, Luis Lopez, Barbara Loss, Samuel McPherson, Ricky Mestre, Nancy Moore, Dale Parson, Adrian Pulido, Jon Puozzoli, Barbara Ringer, Ellen Schindermann, Susan Tabachnick, Richard Taddei, Amanda Walker
Thank you to sponsors:
Triangle Community Center,
Tito's Vodka, Trevi Lounge, Circle Care Center,
John Brannelly and Dave Ivanko, Holiday Inn Bridgeport
---

Read the full article: "SAMESEX Stuns At City Lights"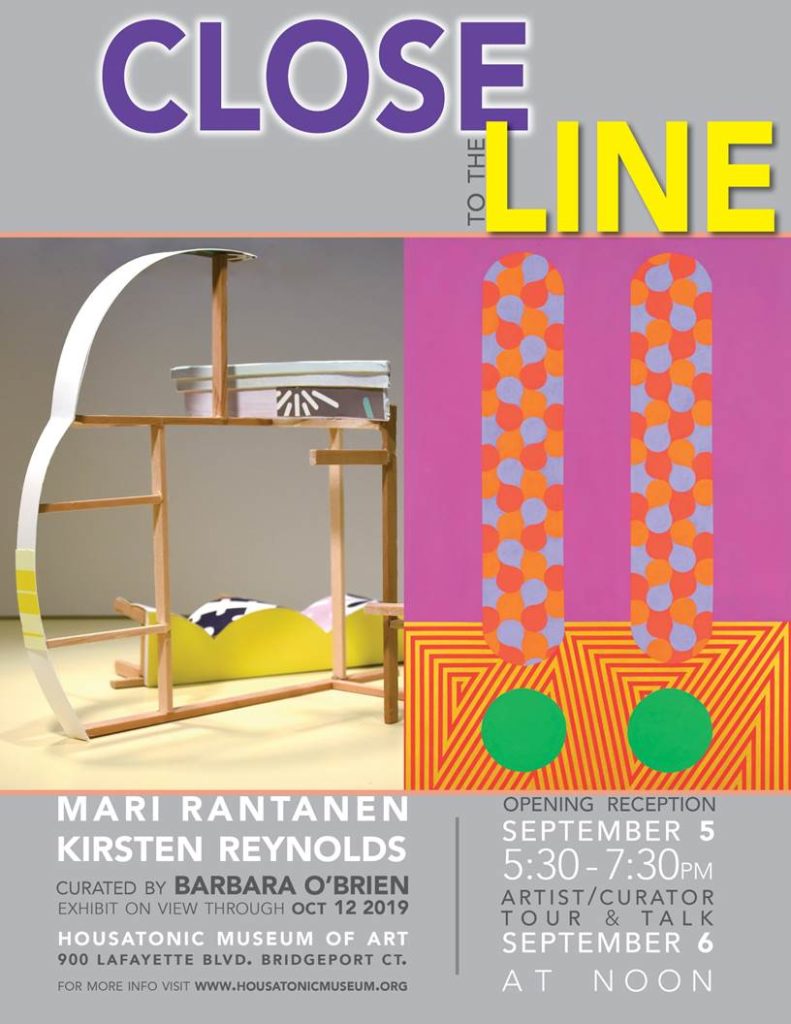 Close to the Line
Housatonic Museum of Art
Exhibit Opening Thursday, September 5, 2019
Hours: 5:30PM – 7:30 PM
The Housatonic Museum is pleased to present Close to the Line: Mari Rantanen and Kirsten Reynolds, an investigation of geometric abstraction through a performative lens. Curated by Barbara O'Brien, the exhibition will be on view in the Burt Chernow Galleries at the Housatonic Museum Art September 5 – October 12, 2019. A reception with the artists and curator will be held on Thursday, September 5 from 5:30PM – 7:30PM. This event is free, and the public is cordially invited to attend.
---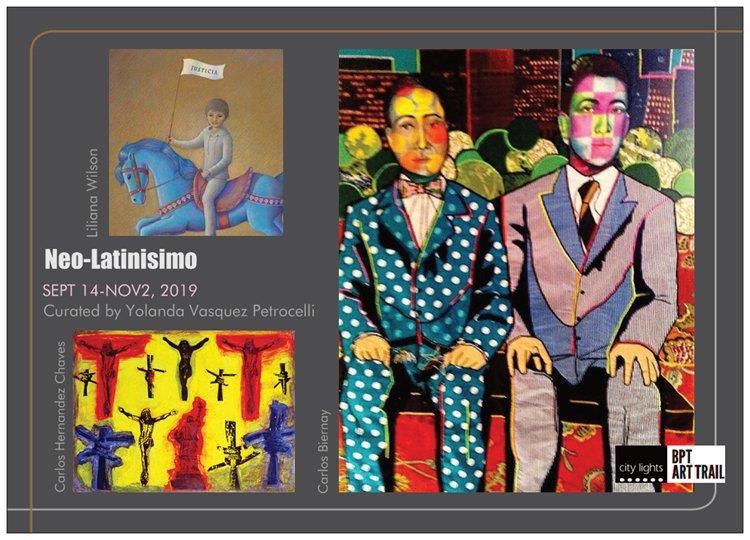 Latinisimo, Art Exhibit Reception and Flag Raising
Saturday, September 14, 2019 
Event Time:  2 PM – 6 PM
2PM: Flag raising recognizing Mexican Independence
4-6PM: Artist's Talk and Reception  
City Lights Gallery 
LATINISIMO, A Biennial exhibit curated by Yolanda Vasquez Petrocelli, she descirbes it as, " an exhibit beyond geographies, color and identities", featuring Latin American artists living in USA.
Santa Barazza, Carlos Bautista Biernnay, Ann Chamberlain, Carlos Hernandez Chaves, Adiel Dominguez, Ivan Gaete, Sergio Garcia, Gabriela Galarza-Block, Julia Justo, Maria Lino, Luis Lopez, Miguel Angel Melchor, Aisha Nailah Perez, Yolanda Petrocelli, Valerie Rhodes, Ana Ruiz-Castillo, Liliana Wilson
---
COMMUNITY EVENTS
---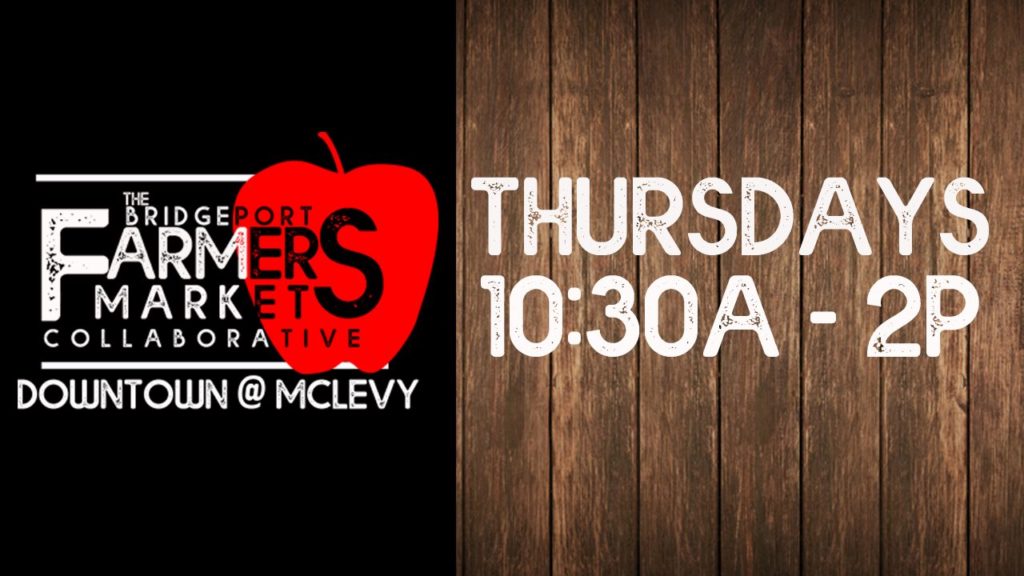 Downtown Market at McLevy
Thursdays, 10:30 AM – 2:00 PM
McLevy Green
The Bridgeport Downtown Farmers Market 2019 season is in full swing! On Thursdays from July 10th through October 10th, the DSSD will host the Downtown Farmers Market from 10:30 a.m. to 2:00 p.m in McLevy Green (102 Bank Street).
Come enjoy fresh fruits and veggies, food, crafts, live music, and more! Our vendors this year include: A Pinch of Salt Chef Raquel Rivera-Pablo Artist & Craftsman Supply Bridgeport Betzy's Latin Flavors, Elegantly Casual Cuisine, Fortuna's Catering Co. of Bridgeport, GardenMind Decor,
#hotchicksexceptionaleggs, Killam & Bassette Farmstead, LLC, Leisha's Bakeria LLC, Proof Pizza Truck, Rooster's Rise, Smith's Acres LLC, Southwest Community Health Center, Inc., Popcorn Bar Avangrid, CMC Energy Services Connecticut
---
Colorful Conversation: Discover Downtown
Hosted by InfoBridgeport
Thursday, August 22, 2019
Event Hours: 5:30 PM – 7:30 PM
Bridgeport DSSD
181 State Street
Bridgeport, CT 06604
Downtown Bridgeport radiates with diversity. Its many hues of humans, food, art, and business make it a place unlike any other. Please join us for a COLORFUL CONVERSATION to celebrate the full spectrum of Downtown and its beautiful and vibrant overlapping forms, shapes, and colors that intersect through its people, streets, places, and spaces. We will be revealing our new web presence and engaging in a variety of fun ways to DISCOVER DOWNTOWN.

We invite you to this discussion about your Downtown, how it is being shaped, and what you would like to see in its future. Then we hope you will roll out onto McLevy Green with us to enjoy the closing night of the Downtown Thursdays summer concert series!

---
LIVE MUSIC AND PERFORMING ARTS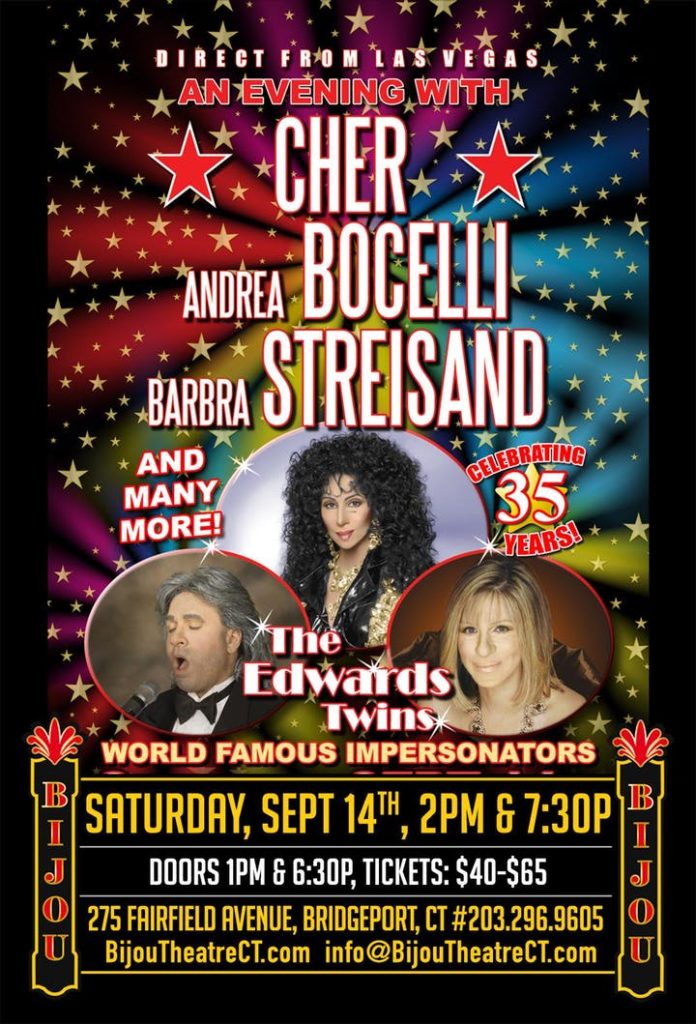 ---
Cher, Billy Joel, Streisand & More! 
Vegas Impersonators The Edwards Twins
Saturday, September 14, 2019
Doors: 1 PM / Show: 2 PM
The world famous Edwards Twins take you on a trip through pop culture with their amazing Impersonations!
Remember all the wonderful Variety shows we all grew up on in the 70's & 80's? Now is your chance to see them live and re-created by Las Vegas' number one impersonators of all time. All your favorite legendary Superstars come alive in An Evening with The Stars. The NBC Today show says "it's one of the most extraordinary shows we have ever seen." Sonny & Cher, Billy Joel, Elton John, Neil Diamond, Lionel Richie, Stevie Wonder, Ray Charles, Lady Gaga, Celine Dion, Rod Stewart, Bette Midler, Barbra Streisand, Andrea Bocelli, Tom Jones, and many many more hosted by THE EDWARDS TWINS FROM LAS VEGAS. All live vocal. USA TODAY and THE BOSTON GLOBE raves "A Must see show" Each Star sings their number 1 hits as well as of your favorite songs.
---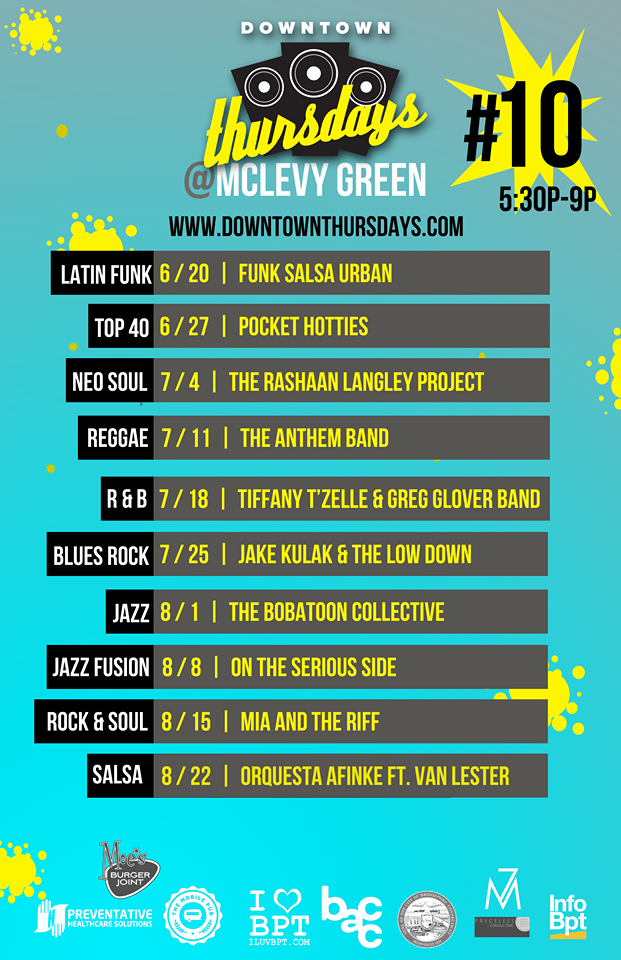 ---
THEATRE & FILM
---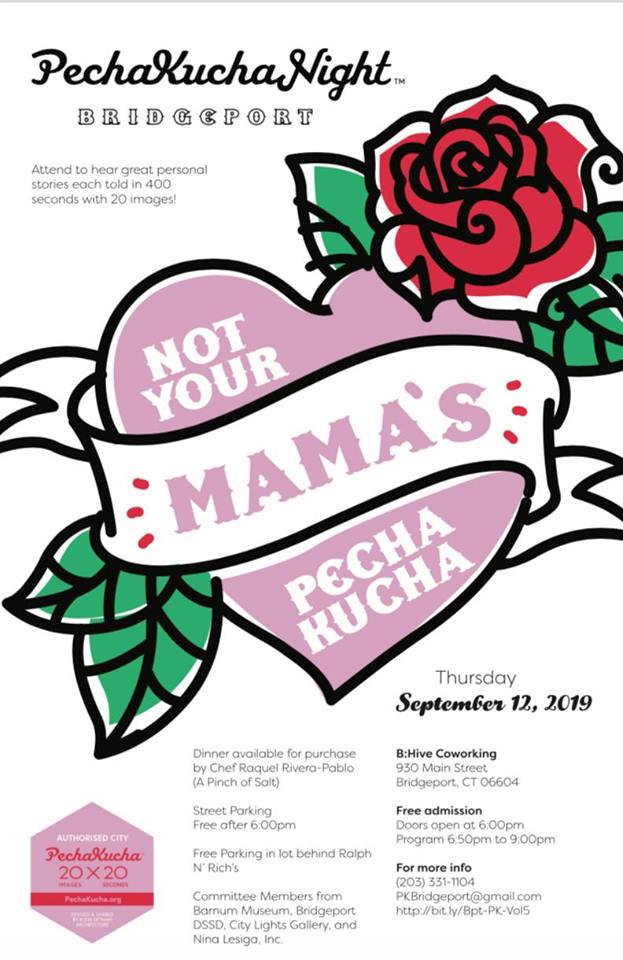 Bridgeport PechaKucha, Volume 5
Not your Mama's Pechakucha
Thursday, September 12, 2019 at 6 PM – 9 PM
B-HIVE Coworking space
Bridgeport PechaKucha, Volume 5, will be at the B-HIVE Coworking space on Thursday, Sept. 12th. Attend to hear great personal stories each told in 400 seconds with 20 images!!!! The theme will be NOT YOUR MAMA'S PECHAKUCHA! (Some content will be edgy and "adult!").
WE'RE LOOKING FOR MORE Artists, Veterans, Writers, Dancers, Musicians, History Buffs, Cooks, Librarians, Barbers, Unicyclists, Botanists, Body Builders, Foodies, Teachers, (pretty much anyone with a passion about something) to share personal stories at this Bridgeport PECHAKUCHA – VOL 5.
To help potential speakers with the process of understanding what a Pechakucha is and how to create the slides and presentation there will be one workshop at the Barnum Museum on Saturday, August 10th from 2:00-3:30.
---
48 Hour Film Project – Awards Night
Friday, August 23, 2019
Doors: 7 PM / Show: 8 PM
---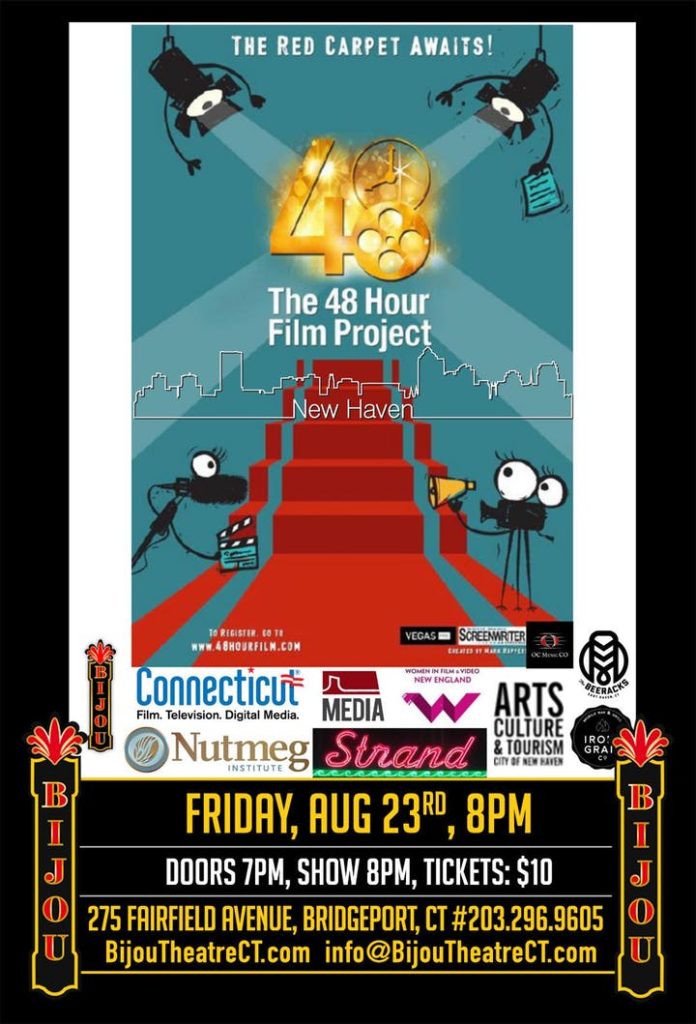 On July 26th, 30 plus teams of creative filmmakers set forth to make short films in just 48 hrs.
30 plus teams of creative filmmakers set forth to make short films on July 26th. The Judges have spoken and the Awards will be handed out after we screen some of the nominees!
30 plus teams of creative filmmakers set forth to make short films on July 26th. The Judges have spoken and the Awards will be handed out after we screen some of the nominees!
Put on your Red Carpet BEST and join us for our best of NHV48HFP 2019 Screening & Golden Awards Night!
---