SAVE THE DATE…  
Bridgeport Art Trail Nov. 8-11, 2018!
Friends, we are less than two months away from our 10th annual Bridgeport Art Trail.
The  2018 line-up of programs  is nearly complete. Celebrate a decade of arts and culture in this city. Stay tuned for announcements on events and developments as we start our countdown to the main event.
Newbies can check out 2017 BAT highlights here.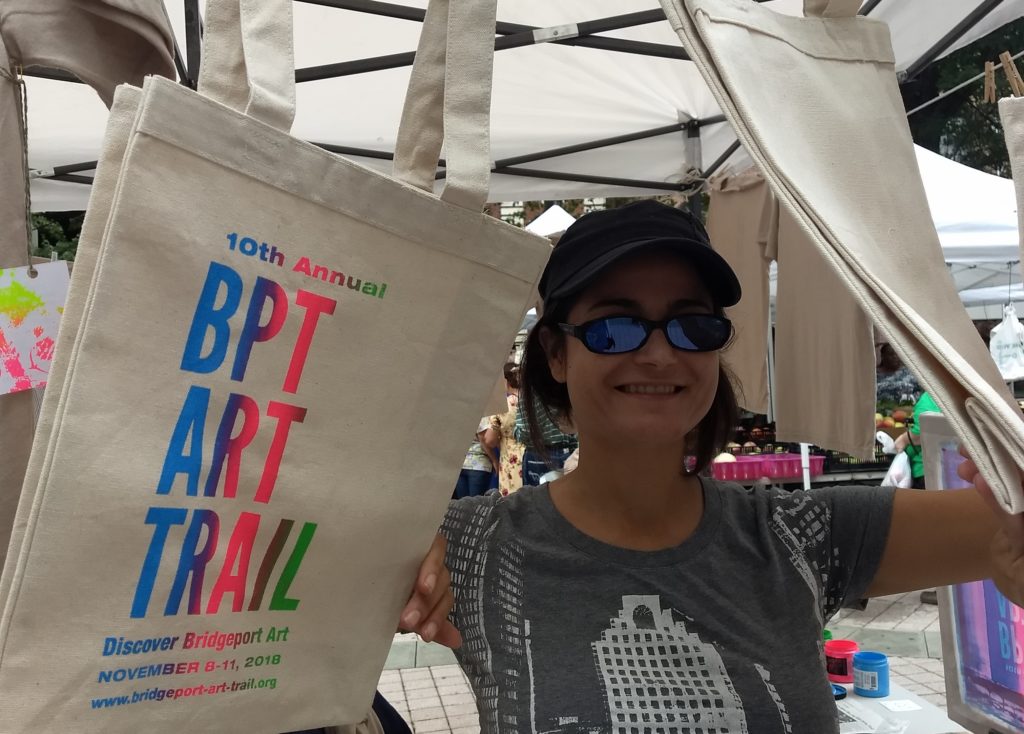 ---
"ART TO GO" BILLBOARD PROJECT: SEPTEMBER

City Lights is on the go, building momentum for its 10th annual Bridgeport Art Trail, city-wide arts celebration by initiating new public art program: "Art to Go".
To recognize this anniversary Mayor Ganim and the City of Bridgeport have partnered with City Lights and the Bridgeport Art Trail to feature "Art to Go," an initiative that will recognize Bridgeport art on the I-95 digital billboard, changing monthly throughout the year. September's featured artist is Read's Artspace resident Yolanda Petroceli.
Billboard graphic design is an in-kind contribution from Hatch 130. City Lights & Company is a non-profit arts organization that serves the community through art and a grateful recipient of the Hatch 130 Initiative.
Yolanda Vasquez Petrocelli
"As a contemporary artist living at Read's Artspace, Bridgeport, my works are inspired by a rich culture of colors where I live and ethical laws of my mestiza heritage of protecting the land, its people, and the political of chaos we live now. I attempt to give the viewer  paz, esperanza solidaridad."
---
CALL FOR PARTICIPANTS FOR PECHAKUCHA BRIDGEPORT
NOVEMBER 11TH
BRIDGEPORT ART TRAIL 

PECHAKUCHA-CALL for artists, storytellers, anyone… with a story or project they would like to share with the public in a fun, comfortable atmosphere.
Registration required, deadline October 10, 2018, presentation workshop Saturday, October 6 at the Barnum Museum,  820 Main St. Downtown Bridgeport, CT. 06604.
Bridgeport Art Trail artists will be among the presenters at this Sunday Nov. 11, 2018 evening gathering serving also as an interactive  closing party of the Bridgeport Art Trail, celebrating the art of conversation and community.
PechaKucha nights are organized by local community members and described as "live events with real people telling real stories." Talks are uploaded to an international website including 1000 participating cities.
If you would like to present, please fill out a proposal here: http://bit.ly/BPT-PKN-proposal3
To help potential speakers with the process of understanding what a Pechakucha is and how to create the slides and presentation there will be one workshop at the Barnum Museum on Saturday, Oct. 6th at 2:00. You can find the registration on our FaceBook page: http://bit.ly/FB-Pechakucha-Bridgeport . If you have any questions email PKBridgeport@gmail.com or call City Lights Gallery (203) 334-7748.
Pecha Kucha Night Bridgeport brings people together from diverse backgrounds to listen to great personal stories and learn from each other in a casual and authentic atmosphere. PechaKucha means "chit-chat" in Japanese. Speakers present their stories accompanied by 20 slides, shown for 20 seconds each, resulting a total time of 6 minutes and 40 seconds. This licensed format keeps presentations focused and fast-paced.
Bijou Doors open at 6 pm.  $1 contribution goes to the international PechaKucha.org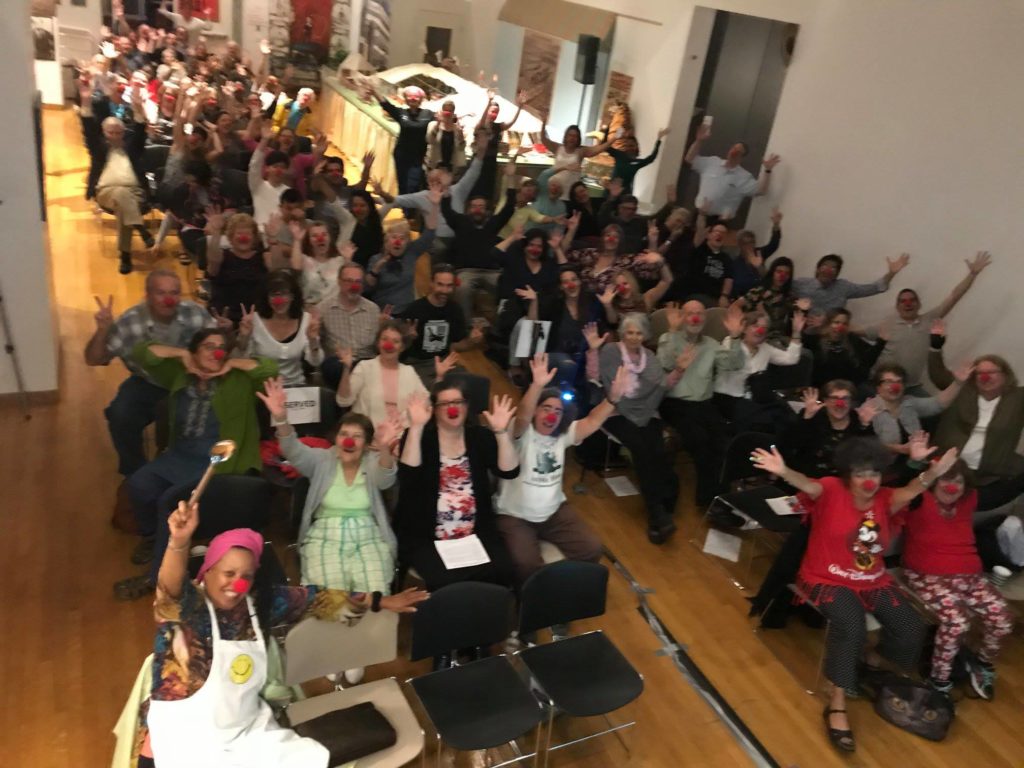 MANY THANKS TO THE AMAZING PechaKucha PRESENTERS at the Bridgeport PechaKucha – VOL #2 tonight: Lady Beth Lazar, Jeff Becker, Mike Roer, Ellen Hardy, Jeanette Harris, Rae Anne Locke, Dean Schuster, Katie Settel, and Nina Lesiga. Each story was unique with 20 images that lasted 20 seconds each! We took this picture of the ENTIRE WONDERFUL GROUP (presenters and the audience) all with clown noses for at least two reasons: THE FUN OF IT, and WE WERE AT THE BARNUM MUSEUM.
Special thanks AS WELL to Raquel Rivera-Pablo of A PINCH OF SALT who made delicious healthy food available to attendees!
Bridgeport PechaKucha is planned and implemented, through licensing from the PechaKucha Global Foundation in Tokyo, as a community building project by the Barnum Museum, City Lights Gallery, the Downtown Special Services District and Nina Lesiga Productions! The next PechaKucha will be on Nov. 11th – a Sunday night – at the Bijou Theater. To propose a presentation, please complete an online proposal: http://bit.ly/BPT-PKN-proposal3
---
 SEPTEMBER EVENTS 2018
---
VISUAL ARTS
---
Figurative & Landscape Art with Herm Freeman & Ben Casiano 
Thursday, September 27th, 2018, 6:00-8:00 pm
Klein Mezzanine Gallery
The Klein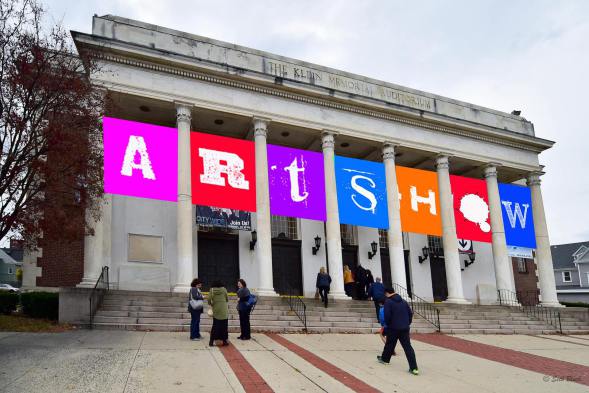 DESCRIPTION
Figurative & Landscapes with Herm Freeman & Ben Casiano
Free Admission/Open Bar
---
Exhibit Opening Reception: Afrika360
Saturday, September 29
8 PM – 11 PM
Blends Gallery
1163 Main Street
Bridgeport, Connecticut 06604
DESCRIPTION
"AFRIKA360: The Journey" is a collection of new work by painter, poet, performer Iyaba Ibo Mandingo. the exhibit will include paintings, sculptures and a live performance piece by Iyaba as he takes us along on his journey home to Afrika after 400 years.
---
Migrant's Alphabet Exhibit
Opening Reception: Oct. 4, 5:30-8:30pm
City Lights Gallery, Bridgeport
On View: 10/4/18 – 10/18/18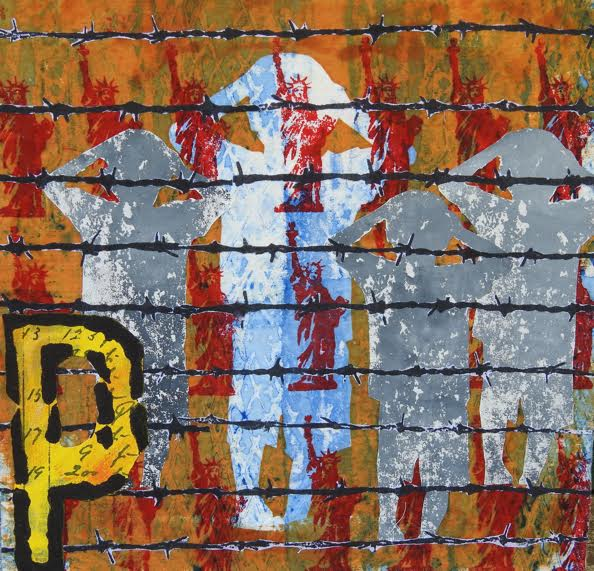 DESCRIPTION
In 1846, two Quaker sisters, Mary and Hannah Townsend, published the Anti-Slavery Alphabet to bring attention to the abolitionist cause against enslavement. Inspired by this book of Illuminated characters and accessible poetry, Bridgeport artist Jane Davila started a project, the Migrant's Alphabet, to bring awareness, education, and conversation to the current crisis of immigration in the United States and around the world.
Jane has invited leading mixed media artists and activists from all over the US and locally from Connecticut, to create 12" square works of art for each letter of the Migrant's Alphabet. The Migrant's Alphabet exhibit of 26 mixed media artworks will debut at City Lights Gallery in Bridgeport, opening October 4, and then travel to a variety of venues across the nation. A book will be published of all of the art and the accompanying poetry. All proceeds from the sales of the book will be donated to organizations defending and working to better immigrant communities.
The Migrant Alphabet website is under construction and will serve as a resource for education, links to donate funds, the art on view with statements and links to the individual artists, and information about the exhibits and events.
---
On View- Drawn to Color
Thursday, September 6th, 5:30 PM – 8:30 PM
City Lights Gallery
265 Golden Hill St, Bridgeport, Connecticut 06604
DESCRIPTION
"Drawn to Color, Exhibit at City Lights 9/6-9/29/18 " features paintings by 24 artists who work in the studio of Leona Frank. Each of the painters uses color in her/his own way. Some prefer highly intense color, while others enjoy the subtlety of understated color. Some artists seek to use naturalistic color, and others seek to be more experimental. Regardless of one's approach, color is a powerfully evocative element in these paintings.
EXHIBITING ARTISTS:
Mia Auray, Mary Lou Bierman, Bean Corcoran, Gianne Craw, Stacy Fowle, Andy Fowle, Leona Frank, Richard Frank, Sheila Goldman, Joyce Greenfield, Ulla Heheberger, Peggy Henkel, Marie Hulme, Judy Kubica, Carol Lisi, Carol Luders, Wendy MacCordy, Jody Peterson, Teri Shimmel, Gina Smith,
Karen Tarshis, Jo Titsworth, Dara Tomeo and Dede Traynor
LEONA FRANK:
Leona Frank is a painter who has taught art in private and group lessons to both children and adults for many years. The painters she works with use a variety of media. There is also a wide variety of subject matter and style being explored in her studio. The appreciation of individuality of expression and the search for individual solutions are hallmarks of her experienced approach to teaching art.
MORE ABOUT COLOR:
Color is one of the essential Principles of Art. It is also one of the most enjoyable and subjective aspects of artmaking. Major movements in the history of art, such as Impressionism, Op Art and Pointillism were based on new visions of color theory, and painters such as Monet, Seurat, Rothko and Albers each revolutionized painting by exploring unique properties of colors and how colors behave in relation to each other.
---
The Discovery Museum 
Exhibits On View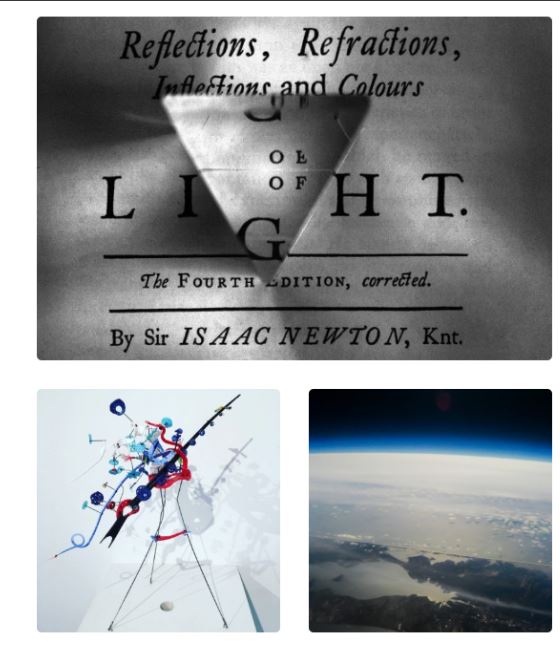 DESCRIPTION
PLASTIC PRIMA VERA BY DANIEL LANZILOTTA
Daniel Lanzilotta's artistic mission is to bring greater significance to the seemingly insignificant. Daniel calls himself a "plastician," working with plastic waste, detritus, rubbish, fragments of litter, trash, flotsam, and jetsam. He works predominantly with plastic ocean debris. He has collected a majority of his debris from the Atlantic Ocean along Southwestern France and northern Spain, as well as the Bronx River, Orchard Beach, other sites in the Bronx, and along Coastal Connecticut's Long Island Sound.
Daniel uses his art to engage his viewers to ponder their consumer habits contributing to plastic debris affecting our shared environments. Daniel's mission is to help people and communities to shift in baby steps to a more sustainable lifestyle.
Daniel's work is inspired and influenced by Gestalt Philosophy, specifically Kurt Koffka's principle posit, "The whole is other than the sum of its parts." Daniel's "whole" invites the viewer to find increased value and richness in the common and mundane. The world has become plasticized. He rescues this debris from landfills, oceans, beaches and other waterways. He recoups wasted, discarded materials. Daniel repurposes insignificant items and gives them a new purpose. Significance. Beauty. A new vision.
Daniel Lanzilotta was born and raised in the Bronx. He is a graduate of Carnegie Mellon University and holds a Bachelor of Fine Arts Degree. He is a Bronx 200 artist. His work has been shown in Europe, New York, Pennsylvania, New Jersey, and California. Daniel is also a classically trained chef and has a culinary arts degree from The New York Restaurant School. He currently owns and operates Leap Foods, a private dinner party and events service.
LOST IN LEARNING: THE ART OF DISCOVERY BY EVA KOLEVA TIMOTHY
Eva Timothy has been fascinated by history for as long as she can remember. Growing up in Europe, she was continually surrounded by the stories of the great explorers, artists, and inventors.
Her own learning journey has taken her from the University of Utah where she received a B.A. in Communications – emphasis on film and photography to a certification program at The Oxford School of Photography and a Licentiateship Certification from the Royal Photographic Society of Great Britain.
Eva believes that the art's purpose is to empower us in looking beyond the dulling distractions and to focus on our noblest aspirations in life.
In the Lost in Learning project, Eva explores learning through the photographer's lens where unique angles, the play of light versus shadow, and an intense focus all combine to tell an unforgettable tale.
For Eva, learning is the never-ending voyage. It draws us throughout our lives to pursue our potential and in the process to come to a better understanding of those who have so brilliantly blazed the trail before us.
SUNSET SCIENCE: PHOTOGRAPHY BY MICHAEL FLORIO
Connecticut native Michael Florio has a huge passion for photography, art, science, and technology. His love of these subjects has brought him through a rabbit hole of wonder and amazement. His desire to share the incredible aspects of our universe with others is captured through a dynamic study of sunsets and the fascinating reasons why we experience the glorious colors in a twilight sky.
He wishes to reignite the imagination in adults and inspire young people, whether it is through the art of photography, exploring the cosmos through a telescope, or creating an at-home science project.
---
OBJECT LESSONS:
Recent Acquisitions and Highlights of the Permanent Collection
Housatonic Museum of Art
Atrium in front of the Burt Chernow Galleries
DESCRIPTION
Drip-Drop, Tick-Tock, featuring work by Joe Fucigna, has been postponed due to damage to the gallery, the Housatonic Museum of Art believes that the SHOW MUST GO ON!!
The permanent collection has been reinstalled throughout the campus featuring over TEN thematic installations to include Collage, Photography, Sculpture, Paintings, Drawings and Prints.
We have also included two works by Joe Fucigna and we will be celebrating in the atrium of our newly renovated facility!
---
COMMUNITY EVENTS
---
Downtown Brideport Farmer's Market
Thursdays at 10:30 a.m. – 2:00 p.m.
McLevy Green
DESCRIPTION
The Downtown Bridgeport Farmer's Market is held every Thursday on McLevy Green from 10:30 a.m. to 2:00 p.m.
In addition to fresh veggies and delicious lunch options, join for live music and art demonstrations!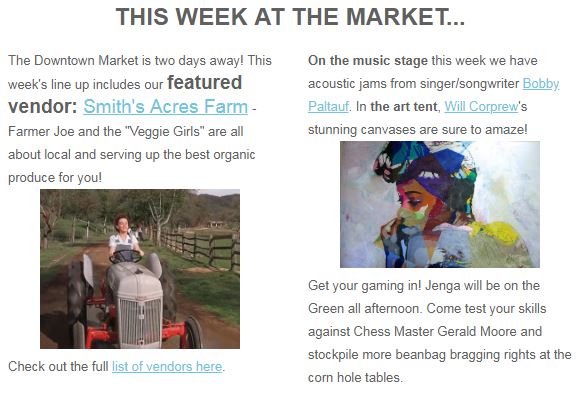 ---
Workshop: Copyright Basics for Artists, Photographers
and Other Creative Types
A free SCORE Small Business Workshop co-sponsored by Milford Center for the Arts and Coastal Arts Guild of CT
Thursday, September 27, 2018 from 6:30 PM to 8:00 PM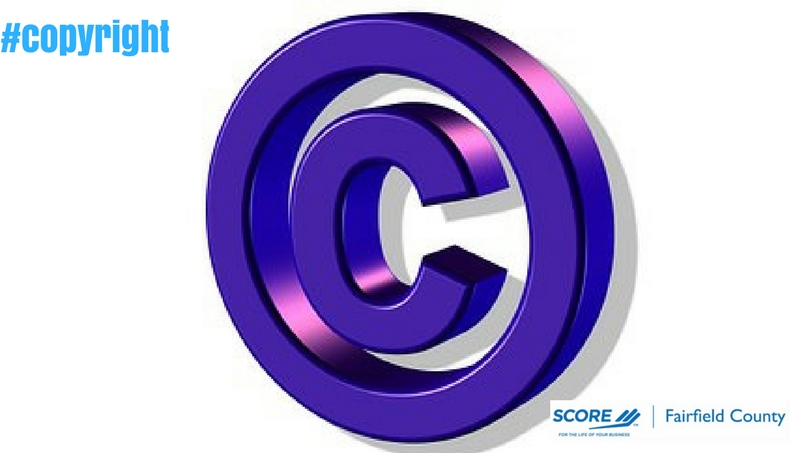 DESCRIPTION
A free SCORE Small Business Workshop co-sponsored by Milford Center for the Arts and Coastal Arts Guild of CT
Thursday, September 27, 2018 from 6:30 PM to 8:00 PM
Without proper copyright protection, it is almost impossible for an artist, photographer or other creative type to build a unique and recognizable "brand" in the marketplace. Every creative professional needs to know the basics of U.S. and international copyright law.
• What is copyright, and why is it important?
• What must you do to claim a copyright?
• Can I use someone else's copyrighted work without permission?
• Am I protected when I post my work online?
• What should I do if I see someone has copied my work without permission?
… and much more
---
Barnum: A Story of Wonder and Imagination 
Saturday, September 23rd at 2:00 PM
Barnum Museum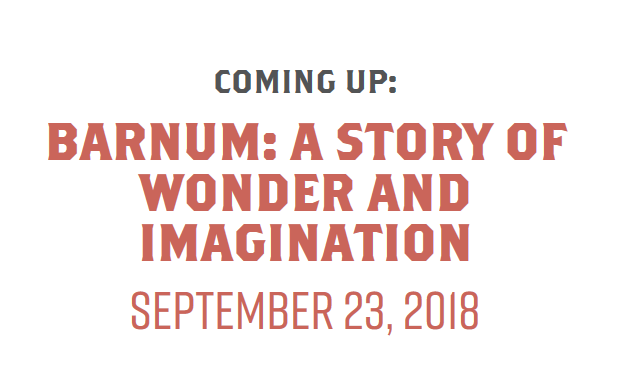 DESCRIPTION
Barnum: A Story of Wonder and Imagination
On Sunday, September 23, 2018 at 2:00 PM, join us at the Barnum Museum for a special presentation.
Tom Lee is a professional storyteller with thirty years' experience performing traditional stories, folktales, and myths for adults and for children. His repertoire is a rich trove of myths and stories from cultures around the world; some are centuries old, some originated thousands of years ago.
After encountering a traditional story that Tom finds intriguing, he researches its origins going back in time through various manuscripts, often in other languages, to get as close as he can to the source of the tale. After this process of research and discovery, Tom crafts his own retelling of the story in a version that he hopes is both true to the original, and relevant to audiences of today. Spending time with the curator and collections at the Barnum Museum, Tom will create and present a special Barnum story spun from his research and imagination. Storytelling in museum galleries creates a synergy between art and language. "I tell stories that reveal the narratives depicted within the artworks from the museum's collection. Paintings, sculpture and artifacts spring to life in the context of the stories, myths and legends they depict."
As a frequent guest artist at the Metropolitan Museum of Art, Tom brings together his passion for research, art, and story, continually connecting with new audiences of all ages. In addition, Tom is a performing arts partner with the Yale Center for British Art and the Metropolitan Opera Education Conference.
---
 LIVE CONCERTS & FILM
---
Van Halen Tribute – Completely Unchained
Bijou Theatre
Saturday, September 29, 2018
Doors: 7:00 pm / Show: 8:00 pm
DESCRIPTION
Completely Unchained are four talented and creative musicians that re-create the ultimate Van Halen production – the attitude, sounds, excitement, energy and most of all the fun that Van Halen produced as one of the best rock bands in the world. Starting off by reproducing the very best of the original line up, then merging the "Van Hagar" era with some David Lee Roth solo hits, completes a whole catalog of the greatest hard rock songs ever recorded.
Completely Unchained takes the concept of a tribute band and raises it to a whole new level. Not only do we recreate the music with unsurpassed skill, but the stage energy and the production at a Completely Unchained show is unmatched. No one else brings the entire package together like Completely Unchained. Come to a show and judge for yourself.
Admission: $22.00 – $37.00
---
Film Short – Ain't Playin Wit Ya
Bijou Theatre
Thursday, October 4, 2018
Doors: 8:00 pm / Show: 9:00 pm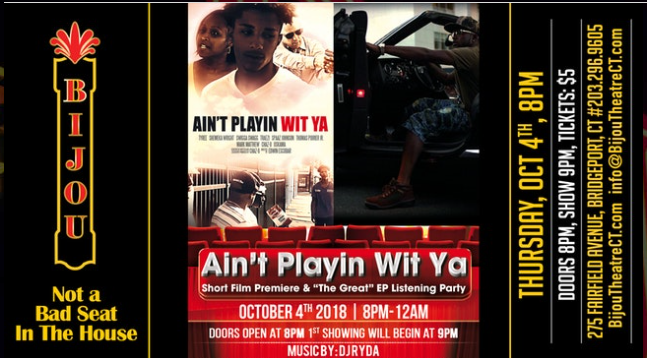 DESCRIPTION
Official premiere of the short film "Ain't Playin Wit Ya" and "The Great" EP listening party.
Film was written by recording artist Chaz-O and directed by Edwin Escobar
Music by DJ Ryda!
Appetizers served – Cash Bar – Free Raffle
Admission:  $5.00
---
WPKN's Music on Film Series at the Bijou
Fall 2018 Schedule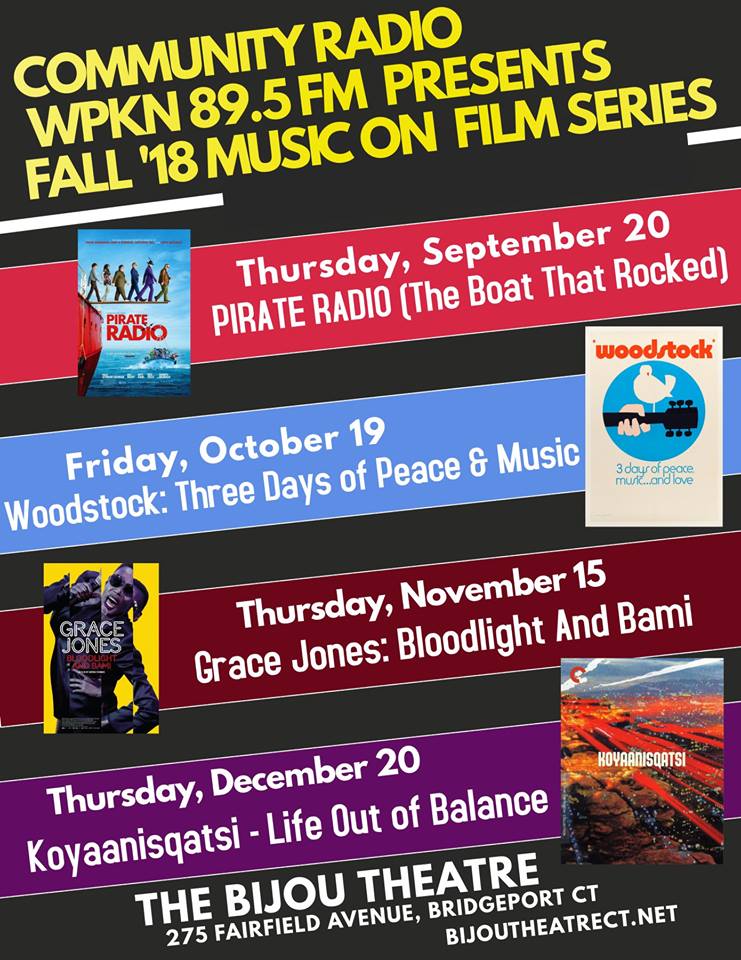 ---
WPKN's Music on Film Series 
Film: Pirate Radio
Thursday, September 20th
Doors: 6:00 pm / Show: 7:00 pm
Bijou Theatre
DESCRIPTION
The Boat That Rocked (retitled Pirate Radio in North America, Good Morning England in France, Radio Rock Revolution in Germany, and I Love Radio Rock in Italy) is a 2009 British comedy film written and directed by Richard Curtis, with pirate radio in the United Kingdom during the 1960s as its setting. The film has an ensemble cast featuring Philip Seymour Hoffman, Bill Nighy, Rhys Ifans, Nick Frost, and Kenneth Branagh. Set in 1966, it tells the story of the fictitious pirate radio station "Radio Rock" and its crew of eclectic disc jockeys, who broadcast rock and pop music to the United Kingdom from a ship anchored in the North Sea while the British government endeavors to shut them down. It was produced by Working Title Films for Universal Pictures, and was filmed on the Isle of Portland and at Shepperton Studios.
---
 PERFORMING ARTS AND THEATRE
---
NEW ENGLAND BALLET COMPANY 
"Open Community" NUTCRACKER Auditions
150 Elm Street, Bridgeport 
Sunday, September 23rd, 2018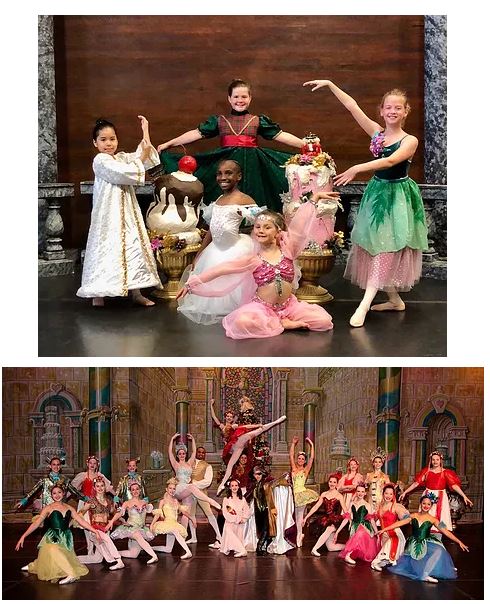 DESCRIPTION
Please arrive the half-hour before your audition time for Registration.
Proper dance attire required.  No parents allowed in audition room.
Performances fees:   (Due at the time of registration)
One role:  $100.  Two roles:  $195.  Three or more roles:  $250.
(Academy of New England Ballet Company students ask about discount.)
​
Questions: (203) 345-4194 or 203-494-9205
MORE INFORMATION
---
Legally Blonde – The Musical
September 21 – October 14
Downtown Cabaret Theatre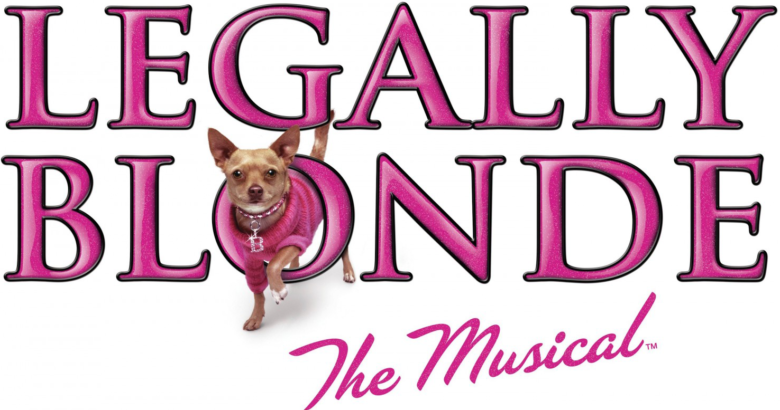 DESCRIPTION
A fabulously fun award-winning musical based on the adored movie, Legally Blonde follows the transformation of Elle Woods, as life is turned upside down when her boyfriend Warner dumps her so he can attend Harvard Law. With the support of some new friends, though, Elle tackles stereotypes and scandal in pursuit of her dreams in this action-packed show, exploding with memorable songs and dynamic dances.
---
ARTS & CULTURE NEWS
---
Peter Konsterlie Memorial Fund – Schelfhaudt Gallery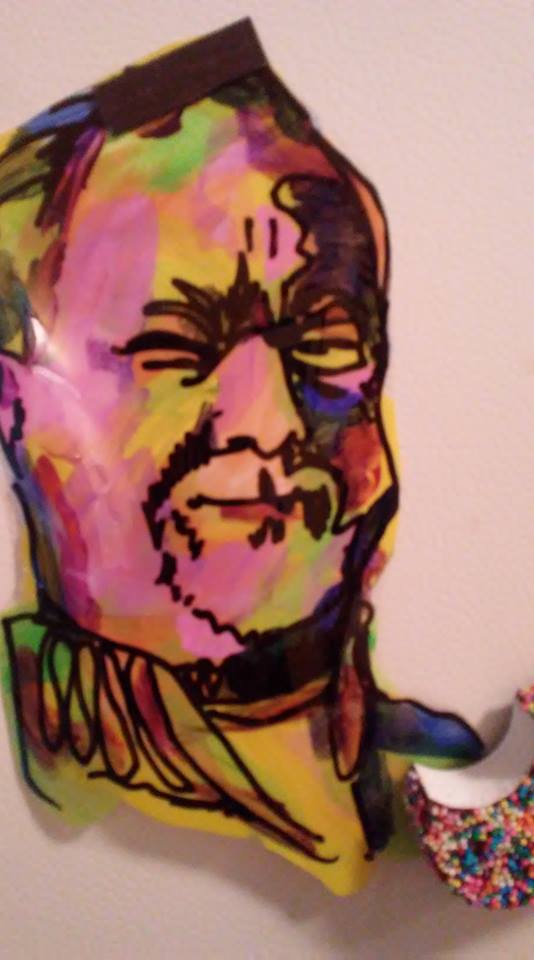 We are saddened by the loss of Bridgeport artist Peter Konsterlie. In addition to his independent work as an artist, Peter was the Gallery Director of the Schelfhaudt Gallery at University of Bridgeport and Professor at University of Bridgeport's Shintaro Akatsu School of Design. There will be a celebration of Peter's life and retrospective of his work at his beloved Schelfhaudt gallery in the fall.
To memorialize Peter there is a fundraiser to create an endowment in his name that will support the continued work of the gallery. If you would like to contribute, the website is https://give.bridgeport.edu/.  Under designation a dropdown bar select the Peter Konsterlie Memorial Fund.
---
Bridgeport Public Library History Center Awarded Grant to Exhibit the History of the Art Center and its Influence on Community

Bridgeport, CT – A $10,511.00 grant to the History Center of the Bridgeport Public Library has been awarded by Connecticut Humanities to fund an exhibition and public programming conceptualized and delivered by guest curator Michelle Black Smith on the rich history of the Art Center, a vibrant arts and culture organization that had a profound impact on the Bridgeport community during the 1970s and 1980s.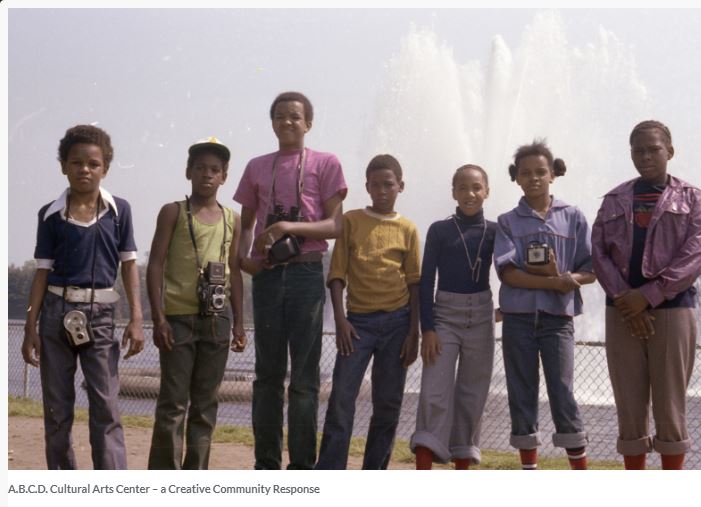 We Are Artists Every One: The Art Center in Action, 1970-1986 is an exhibition of photos, art work, photographs, artifacts, and oral histories that explores the Art Center, its influence on the city of Bridgeport, and the context of its role in the national Black Arts Movement. Public programming will include a lecture, panel discussion, documentary screening, and K-12 public school art instruction, and behind-the-scene tours. The exhibition opens on November 2, 2018 and closes April 30, 2019. All events are free.
"The Art Center was a creative, cultural, social and political space that flourished in the 1970s and early 1980s. Its impact was far greater than its stated mission to teach art, photography, and music," said independent curator, Michelle Black Smith. "A casualty of shifting priorities in the mid-1980s, the Art Center lives on in the work created, the photographs that bear witness to shared experiences, and the trajectory of lives affected by both its existence and its demise. We are delighted that this grant from Connecticut Humanities will allow us to share this underrepresented history with the public, and create an archive for future research."
Connecticut Humanities, a nonprofit affiliate of the National Endowment for the Humanities, supports cultural and historical organizations that tell the state's stories, build community and enrich lives.
For more information about the exhibition, call (203) 545-9127 or visit
http://bportlibrary.org/hc/african-american-heritage/a-b-c-d-cultural-arts-center-a-creative-community-response/
---
 Endangered Freeman Homes get $50k grant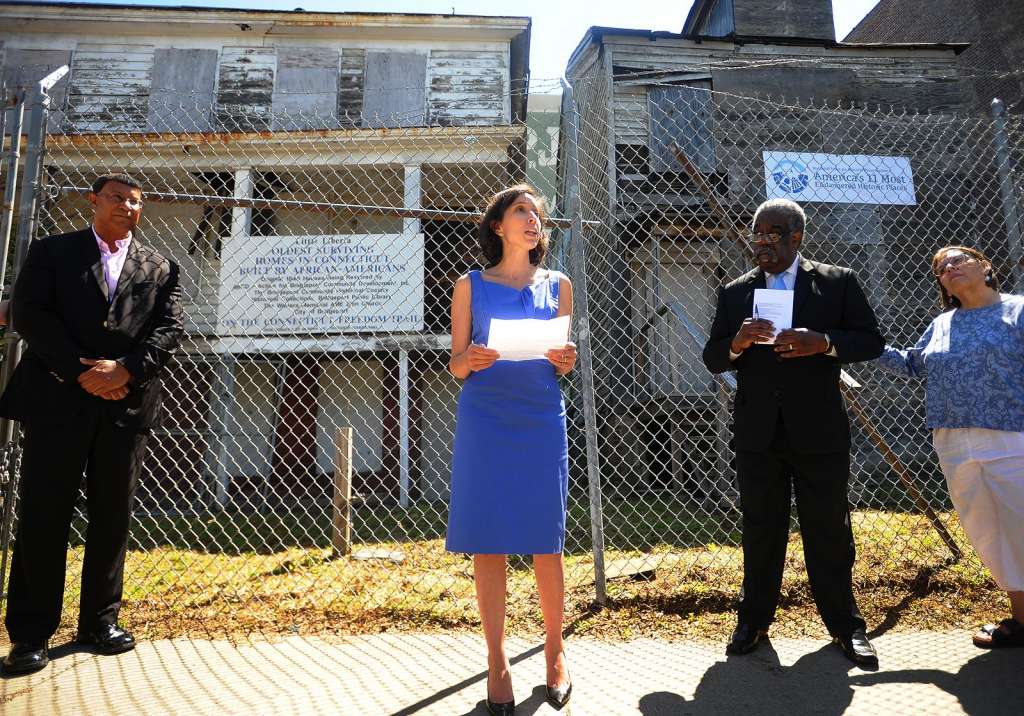 DESCRIPTION
The 1848 Mary and Eliza Freeman Houses in Bridgeport's South End were recently added to the National Trust for Historic Preservation's list of "America's 11 Most Endangered Historic Places." The news was celebrated by ceremonies at the Houses and at Housatonic Community College June 26 (see CT Post article). CT Humanities has announced a $10,000 capacity grant to the organization to create its first-ever strategic plan and to digitally store and preserve its institutional records. July 6th, the National Trust announced a $50,000 grant to the Freeman Center to begin permanent stabilization of the Freeman structures (more…).
The mission of The Freeman Center is not only to "restore, preserve and ensure the viability of the Freeman Houses," but also to "teach the history of Black people in CT; revitalize the surrounding South End community; and facilitate preservation of other African American and Bridgeport communities."
A discussion about these recent developments was featured on the Cultural Alliance of Fairfield County's Spotlight on Arts & Culture earlier this week.