"ART TO GO" BILLBOARD PROJECT: SEPTEMBER

City Lights is on the go, building momentum for its 10th annual Bridgeport Art Trail, city-wide arts celebration by initiating new public art program: "Art to Go".
To recognize this anniversary Mayor Ganim and the City of Bridgeport have partnered with City Lights and the Bridgeport Art Trail to feature "Art to Go," an initiative that will recognize Bridgeport art on the I-95 digital billboard, changing monthly throughout the year. September's featured artist is Read's Artspace resident Yolanda Petroceli.
Billboard graphic design is an in-kind contribution from Hatch 130. City Lights & Company is a non-profit arts organization that serves the community through art and a grateful recipient of the Hatch 130 Initiative.
---
BRIDGEPORT ART TRAIL NEWS
REMINDER: SUBMIT YOUR LISTING FOR
BRIDGEPORT ART TRAIL PROGRAM BOOK/ARTISTS' DIRECTORY BY 9/5/18.
As you enjoy the dog days of summer, Autumn seems a long way off, but we are in the planning stages of the Bridgeport Art Trail weekend scheduled for November 8-11, 2018, the annual city-wide event marks our 10 years in 2018.
Artists, musicians, performers and arts organizations who would like to participate or submit their information for the 2018 program book and artists directory are welcome to submit info, the deadline for submission is: 9/5/18. Please send info to clgallerybpt@gmail.com
Attached please find directions regarding the format for submitting info for the 2018 Bridgeport Art Trail program guide/directory. You can review examples of 2018 listings at:  https://bridgeport-art-trail.org/wp-content/uploads/2017/10/BAT2017_guide_website.pdf
IMPORTANT DATES: 
The deadline for submission is September 5, 2018. . Please send any ideas or proposals for new program ideas to be considered to  clgallerybpt@gmail.com
Venues and organizations provide a general listing followed by specific information for the November Art Trail weekend  along with pertinent November/December program info. Theatres, music venues, museums, arts venues are encouraged to create special programs for the city-wide arts celebration weekend or just submit info regarding programs that are part of the regular programs, already taking place November 8-11, 2018.
The Thursday Kick-off party will take place November 8. with a Bridgeport Art Trail sampler exhibit and artists' party, including food, drink, the Park City All Stars, a lineup of Bridgeport musicians..
Find attached a general information about creating and submitting a B.A.T. listing
---
 SEPTEMBER EVENTS 2018
---
VISUAL ARTS
---
Exhibit Reception- Drawn to Color
Thursday, September 6th, 5:30 PM – 8:30 PM
City Lights Gallery
265 Golden Hill St, Bridgeport, Connecticut 06604
DESCRIPTION
"Drawn to Color, Exhibit at City Lights 9/6-9/29/18 " features paintings by 24 artists who work in the studio of Leona Frank. Each of the painters uses color in her/his own way. Some prefer highly intense color, while others enjoy the subtlety of understated color. Some artists seek to use naturalistic color, and others seek to be more experimental. Regardless of one's approach, color is a powerfully evocative element in these paintings.
EXHIBITING ARTISTS:
Mia Auray, Mary Lou Bierman, Bean Corcoran, Gianne Craw, Stacy Fowle, Andy Fowle, Leona Frank, Richard Frank, Sheila Goldman, Joyce Greenfield, Ulla Heheberger, Peggy Henkel, Marie Hulme, Judy Kubica, Carol Lisi, Carol Luders, Wendy MacCordy, Jody Peterson, Teri Shimmel, Gina Smith,
Karen Tarshis, Jo Titsworth, Dara Tomeo and Dede Traynor
LEONA FRANK:
Leona Frank is a painter who has taught art in private and group lessons to both children and adults for many years. The painters she works with use a variety of media. There is also a wide variety of subject matter and style being explored in her studio. The appreciation of individuality of expression and the search for individual solutions are hallmarks of her experienced approach to teaching art.
MORE ABOUT COLOR:
Color is one of the essential Principles of Art. It is also one of the most enjoyable and subjective aspects of artmaking. Major movements in the history of art, such as Impressionism, Op Art and Pointillism were based on new visions of color theory, and painters such as Monet, Seurat, Rothko and Albers each revolutionized painting by exploring unique properties of colors and how colors behave in relation to each other.
---
Past, Present, Future
Featuring Artworks by Clyde Theophilus McLaughlin
Opening Reception Saturday September 7th, 5-8pm
Blends Gallery
---
OBJECT LESSONS:
Recent Acquisitions and Highlights of the Permanent Collection
Thursday, September 13 from 5:30 to 7:30 pm in the
Housatonic Museum of Art
Atrium in front of the Burt Chernow Galleries
DESCRIPTION
Drip-Drop, Tick-Tock, featuring work by Joe Fucigna, has been postponed due to damage to the gallery, the Housatonic Museum of Art believes that the SHOW MUST GO ON!!
The permanent collection has been reinstalled throughout the campus featuring over TEN thematic installations to include Collage, Photography, Sculpture, Paintings, Drawings and Prints.
We have also included two works by Joe Fucigna and we will be celebrating in the atrium of our newly renovated facility!
---
COMMUNITY EVENTS
---
Downtown Brideport Farmer's Market
Thursdays at 10:30 a.m. – 2:00 p.m.
McLevy Green
DESCRIPTION
The Downtown Bridgeport Farmer's Market is held every Thursday on McLevy Green from 10:30 a.m. to 2:00 p.m.
In addition to fresh veggies and delicious lunch options, join for live music and art demonstrations!
---
PechaKucha Night Bridgeport
September 12th, 2018
The Barnum Museum
DESCRIPTION
PechaKucha Bridgeport is designed to bring people together to listen to great personal stories. PechaKucha is Japanese for "chit-chat." It is a presentation style in which one speaker uses 20 slides, each shown for 20 seconds resulting in a total time of 6 minutes and 40 seconds. This licensed format keeps presentations focused and fast-paced.
Our first PechaKucha was on May 9th! We had 14 presenters and their stories can be viewed online at: https://www.pechakucha.org/cities/bridgeport/events/5a935d7a3c70efad7400010dThis
PechaKucha is FREE, and registration is not necessary. Arrival by 6:00 PM is a good idea to get a good seat and FOOD will be available to purchase through the community work of CHEF RAQUEL RIVERA PABLO (a PechaKucha presenter at our Vol.#1 event!).
---
SavorCity Bridgeport: Ola Latin Kitchen
Wednesday, September 12th, 6-9pm
Ola Latin Kitchen
DESCRIPTION
Explore the Food, Music, and Art of Bridgeport
SAVORCITY, a monthly tour of Bridgeport restaurants, food, art, and music, showcasing the culinary and cultural delights of Connecticut's most diverse city, continues for our fifth visit – to Ola Latin Kitchen on 694 Brooklawn Ave, in Bridgeport's Brooklawn/St. Vincent section. Organized by Rick Reyes Productions, Capital for Change, The NEST Arts Factory, and the Cultural Alliance of Fairfield County, SavorCity organizes visits to neighborhood restaurants where guests can experience the authentic local cuisine of Bridgeport's many, diverse neighborhoods. Each restaurant presents a prix fixe menu. To accompany the food, and create a festive mood of celebration, Bridgeport musicians perform and Bridgeport artists showcase their work.
Our exploration continues with dinner at Ola Latin Kitchen, in the Brooklawn/St. Vincent neighborhood on Wed. Sept 12, 6-8pm. Presenting an artful blend of Latin styles and bold flavors, on a $30 prix fixe menu with vegetarian options, chef-owner René Lemus spins regional ingredients into beautifully balanced dishes, reflecting the cuisine of Latin America inflected with Portuguese and Spanish flavors. Our musician will be guitarist Victor Anthony Ramirez and the art on the walls will be the astonishing textile weavings by Ruben Marroquin.
For details of each month's tour and upcoming restaurants, see the Facebook page at https://www.facebook.com/savorcity/. To sign up for updates, send a request to savorcitybpt@gmail.com.
Jane Davila, Managing Director of The NEST Arts factory curates the art for each event. Rick Reyes, of the Cosmic Jibaros, curates the music. Funding by Capital for Change assists in marketing the restaurants.
---
Bridgeport Arts and Culture Thematic Meeting
Hosted by Plan Bridgeport
Saturday, September 15 at 10 AM – 12 PM
University of Bridgeport, Tower Room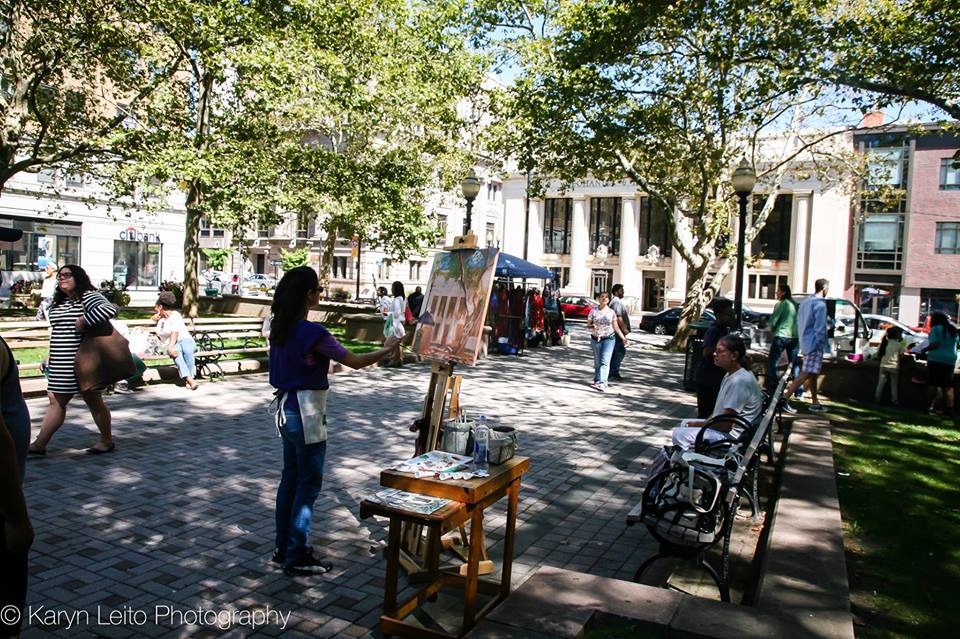 DESCRIPTION
Join us for a discussion on arts and culture in the City of Bridgeport. This meeting will dive deeper into the issues and potential solutions. We can't wait to hear your bold ideas for the future of Park City #PlanBridgeport
Your input and feedback will guide Bridgeport's Master Plan which is a guiding document that establishes a vision for growth and determines strategies to achieve that vision. The Master Plan examines how economic development, housing, transportation, infrastructure, sustainability, public health, and the environment interact throughout Bridgeport.
---
Workshop: Copyright Basics for Artists, Photographers
and Other Creative Types
A free SCORE Small Business Workshop co-sponsored by Milford Center for the Arts and Coastal Arts Guild of CT
Thursday, September 27, 2018 from 6:30 PM to 8:00 PM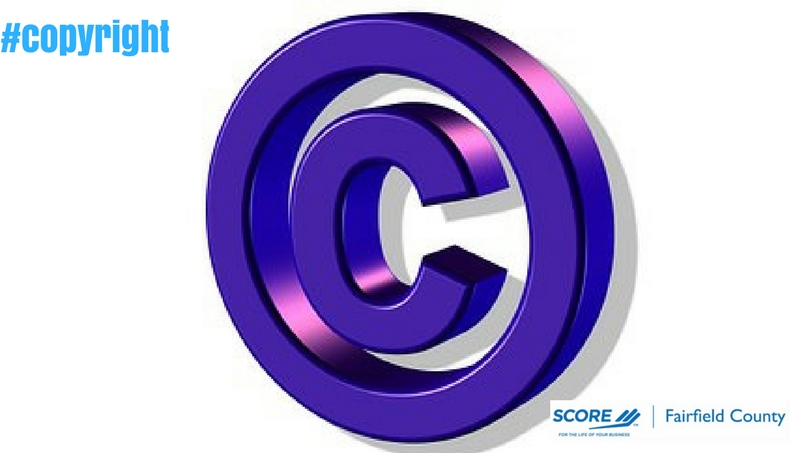 DESCRIPTION
A free SCORE Small Business Workshop co-sponsored by Milford Center for the Arts and Coastal Arts Guild of CT
Thursday, September 27, 2018 from 6:30 PM to 8:00 PM
Without proper copyright protection, it is almost impossible for an artist, photographer or other creative type to build a unique and recognizable "brand" in the marketplace. Every creative professional needs to know the basics of U.S. and international copyright law.
• What is copyright, and why is it important?
• What must you do to claim a copyright?
• Can I use someone else's copyrighted work without permission?
• Am I protected when I post my work online?
• What should I do if I see someone has copied my work without permission?
… and much more
---
 LIVE CONCERTS & FILM
---
The Ultimate Michael Jackson Experience – Joby Rogers
Saturday, September 8, 2018
Doors: 7:00 pm / Show: 8:00 pm
DESCRIPTION
The Ultimate Michael Experience" starring Joby Rogers is the essential Michael Jackson Tribute Show. "UMX" celebrates the music and dancing of the legendary 'King of Pop'! This multimedia theatrical experience takes audiences on an amazing journey through the life and music of one the greatest and inspirational entertainers of all time. "UMX" is a high energy production dedicated to the Music, Dancing and Spirit of the iconic Michael Jackson. As the mirror image of MJ, Joby Rogers has entertained sold out audiences worldwide for over a decade. Joby is the only Tribute Artist with the recognition of being personally chosen by Michael Jackson in a signed statement as an "Official Substitute" & is the only Tribute Artist to ever appear credited on the Cover of "Rolling Stone Magazine".
Joby Rogers stunning resemblance to Jackson combined with the intricate dance moves of the genius himself presents an exhilarating performance preserving the legacy and spirit of the "Entertainment Icon". Be prepared for an evening to remember.
---
Jimmy Buffett* by Changes in Latitudes
September 15th, Shows at 5:00 pm & 8:00 pm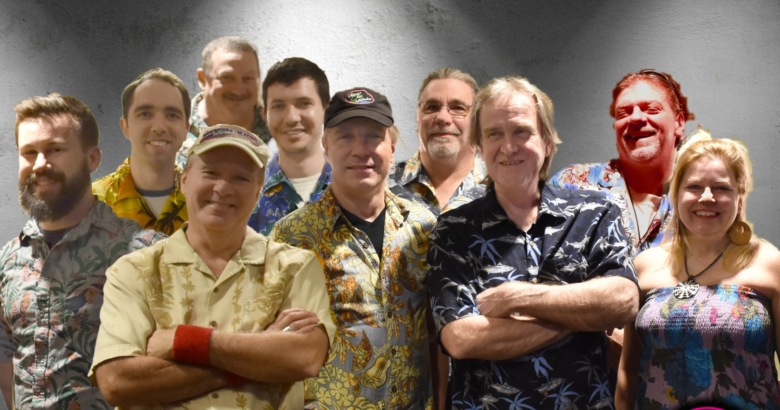 DESCRIPTION
Changes In Latitudes is the leading concert celebrating the iconic Jimmy Buffett. Grab a cocktail and hear your favorite hits as Steve Kareta portrays the Mayor of Margaritaville along with his nationally acclaimed band.
Changes In Latitudes will take you on a musical cruise around the sun-drenched tropical islands of the Caribbean. Bring your friends and your kids because It's Five O'Clock at the Downtown Cabaret.
---
An Evening with Cher, Elton John, Bette Midler, & Streisand*:
Las Vegas' The Edward Twins
Sunday, September 16th
Doors: 1:00 pm / Show: 2:00 pm
The Bijou Theatre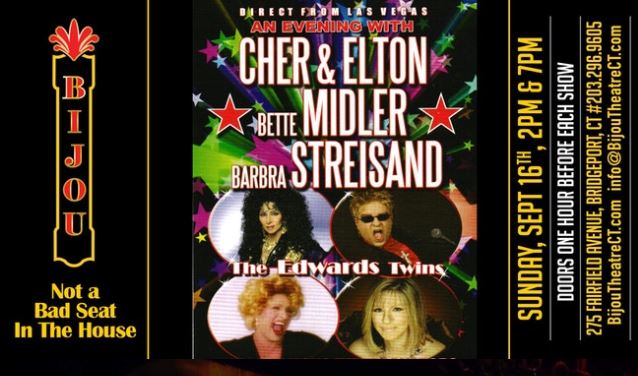 DESCRIPTION
Remember all the wonderful Variety shows we all grew up on in the 70's & 80's? Now is your chance to see them live and re-created by Las Vegas' number one impersonators of all time. All your favorite legendary Superstars come alive in An Evening with The Stars. The NBC Today show says "it's one of the most extraordinary shows we have ever seen." Sonny & Cher, Billy Joel, Elton John, Neil Diamond, Lionel Richie, Stevie Wonder, Ray Charles, Lady Gaga, Celine Dion, Rod Stewart, Bette Midler, Barbra Streisand, Andrea Bocelli, Tom Jones, and many many more hosted by THE EDWARDS TWINS FROM LAS VEGAS. All live vocal. USA TODAY and THE BOSTON GLOBE raves "A Must see show" Each Star sings their number 1 hits as well as of your favorite Songs…
"Extraordinary"-The NBC Today Show
---
WPKN's Music on Film Series at the Bijou
Fall 2018 Schedule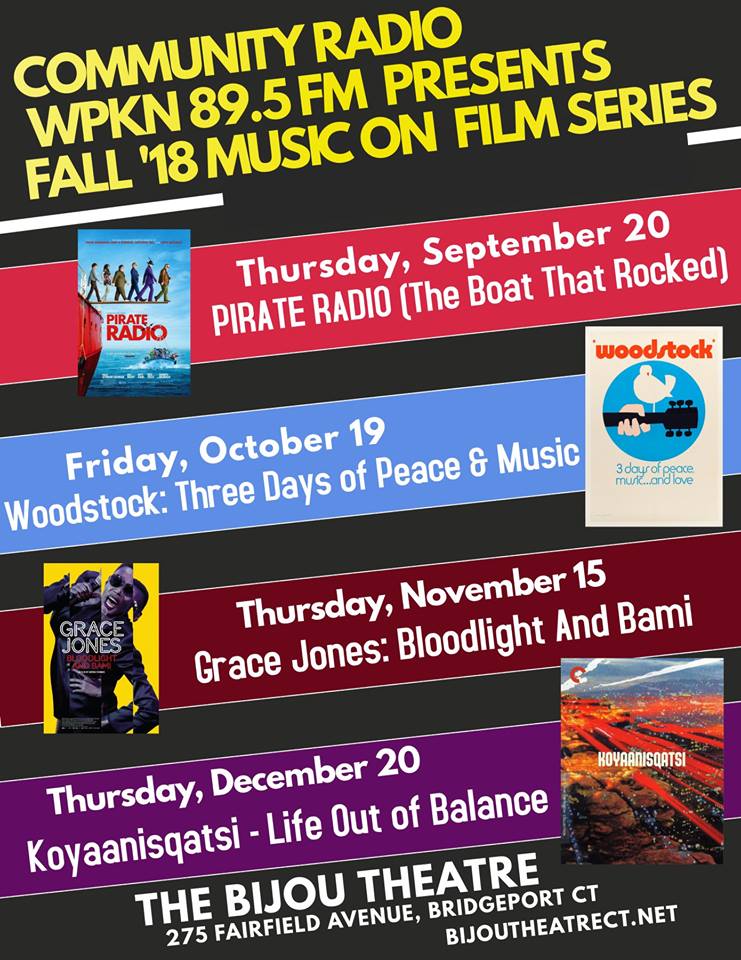 ---
WPKN's Music on Film Series 
Film: Pirate Radio
Thursday, September 20th
Doors: 6:00 pm / Show: 7:00 pm
Bijou Theatre
DESCRIPTION
The Boat That Rocked (retitled Pirate Radio in North America, Good Morning England in France, Radio Rock Revolution in Germany, and I Love Radio Rock in Italy) is a 2009 British comedy film written and directed by Richard Curtis, with pirate radio in the United Kingdom during the 1960s as its setting. The film has an ensemble cast featuring Philip Seymour Hoffman, Bill Nighy, Rhys Ifans, Nick Frost, and Kenneth Branagh. Set in 1966, it tells the story of the fictitious pirate radio station "Radio Rock" and its crew of eclectic disc jockeys, who broadcast rock and pop music to the United Kingdom from a ship anchored in the North Sea while the British government endeavors to shut them down. It was produced by Working Title Films for Universal Pictures, and was filmed on the Isle of Portland and at Shepperton Studios.
---
 PERFORMING ARTS AND THEATRE
---
With Love, Marilyn
Sunday, September 9th at 7:30pm
The Klein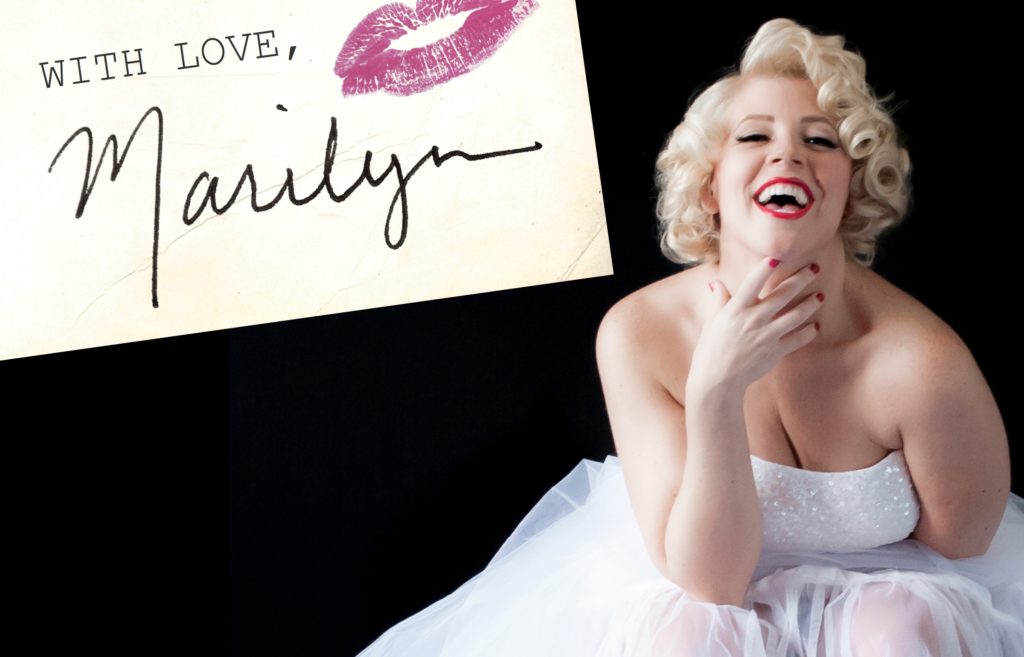 DESCRIPTION
Critically-acclaimed actress Erin Sullivan gives a tour-de-force performance as Marilyn Monroe in this one-woman show. It will transport you back in time with songs made famous by the iconic ingenue, such as "I Wanna Be Loved By You" and "Diamonds Are A Girl's Best Friend" while weaving in the love stories of the many men in Marilyn's life. It is the first stop on a national tour and is produced and directed by Broadway producer Stephanie Rosenberg.
Tickets are $44, $32, & $20
Box office: (800) 424-0160 x2 or www.theklein.org
---
Legally Blonde – The Musical
September 21 – October 14
Downtown Cabaret Theatre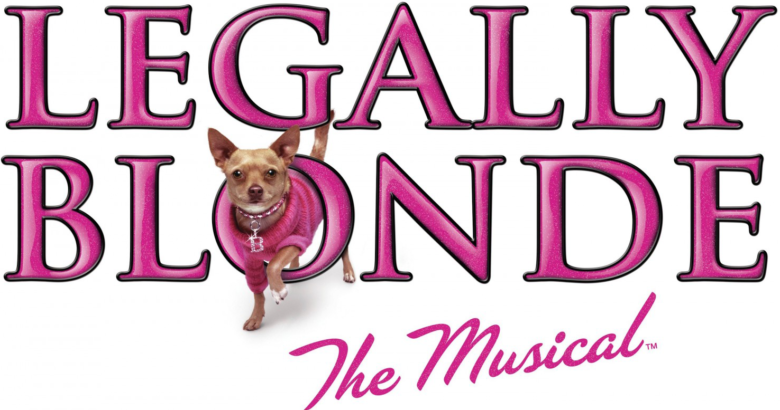 DESCRIPTION
A fabulously fun award-winning musical based on the adored movie, Legally Blonde follows the transformation of Elle Woods, as life is turned upside down when her boyfriend Warner dumps her so he can attend Harvard Law. With the support of some new friends, though, Elle tackles stereotypes and scandal in pursuit of her dreams in this action-packed show, exploding with memorable songs and dynamic dances.
---
ARTS & CULTURE NEWS
---
Peter Konsterlie Memorial Fund – Schelfhaudt Gallery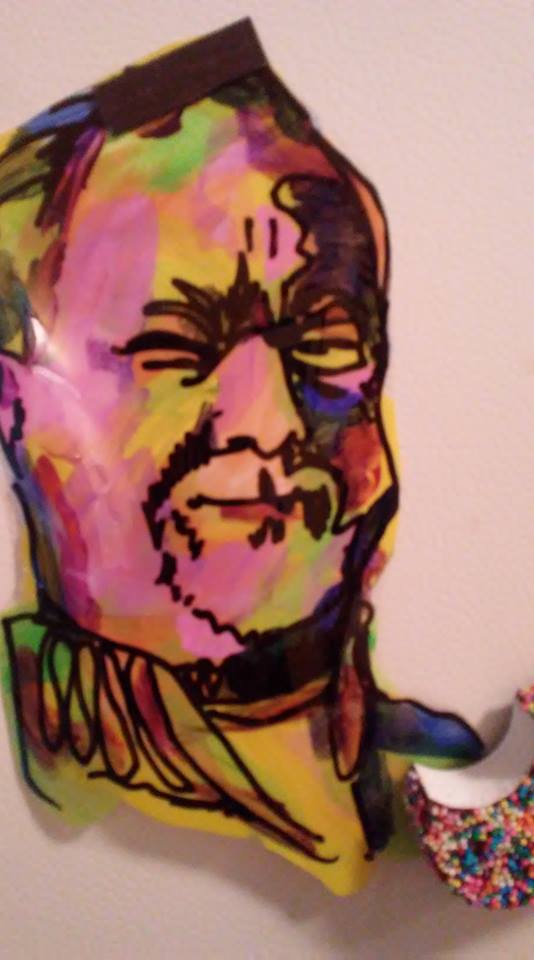 We are saddened by the loss of Bridgeport artist Peter Konsterlie. In addition to his independent work as an artist, Peter was the Gallery Director of the Schelfhaudt Gallery at University of Bridgeport and Professor at University of Bridgeport's Shintaro Akatsu School of Design. There will be a celebration of Peter's life and retrospective of his work at his beloved Schelfhaudt gallery in the fall.
To memorialize Peter there is a fundraiser to create an endowment in his name that will support the continued work of the gallery. If you would like to contribute, the website is https://give.bridgeport.edu/.  Under designation a dropdown bar select the Peter Konsterlie Memorial Fund.
---
Jenny Lind Scholar Swedish Soprano at Queens Museum "Wake and Unmoored" through September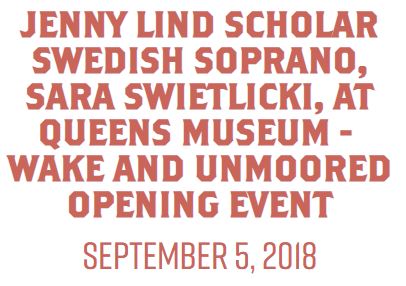 The Barnum Museum participated in organizing an event with the Queens Museum –  Wake and Unmoored –  an event in partnership with Times Square Arts and No Longer Empty.
The Barnum Museum helped to bring the 2015 Jenny Lind Scholar, Swedish soprano Sara Swietlicki to celebrate the opening event in Times Square on Wednesday, July 11th.  "Sara came to the United States in 2015 and performed at the Barnum Museum.  Her magnificent voice is a tribute to the artistry and legacy of the acclaimed Jenny Lind."
Artist Mel Chin has created a massive augmented-reality project that features an animatronic statue of Swedish Nightingale, Jenny Lind.  The exhibition will be the centerpiece of NY's Time Square through September.
For more information:   https://www.nytimes.com/2017/11/21/arts/design/mel-chin-augmented-reality-times-square.html  and http://www.queensmuseum.org/events/wake-and-unmoored
https://barnum-museum.org/events/queensmuseum/
---
Bridgeport Public Library History Center Awarded Grant to Exhibit the History of the Art Center and its Influence on Community

Bridgeport, CT – A $10,511.00 grant to the History Center of the Bridgeport Public Library has been awarded by Connecticut Humanities to fund an exhibition and public programming conceptualized and delivered by guest curator Michelle Black Smith on the rich history of the Art Center, a vibrant arts and culture organization that had a profound impact on the Bridgeport community during the 1970s and 1980s.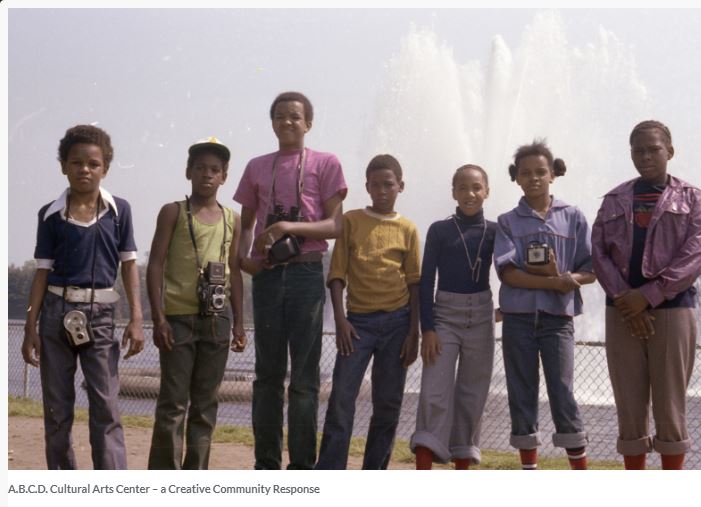 We Are Artists Every One: The Art Center in Action, 1970-1986 is an exhibition of photos, art work, photographs, artifacts, and oral histories that explores the Art Center, its influence on the city of Bridgeport, and the context of its role in the national Black Arts Movement. Public programming will include a lecture, panel discussion, documentary screening, and K-12 public school art instruction, and behind-the-scene tours. The exhibition opens on November 2, 2018 and closes April 30, 2019. All events are free.
"The Art Center was a creative, cultural, social and political space that flourished in the 1970s and early 1980s. Its impact was far greater than its stated mission to teach art, photography, and music," said independent curator, Michelle Black Smith. "A casualty of shifting priorities in the mid-1980s, the Art Center lives on in the work created, the photographs that bear witness to shared experiences, and the trajectory of lives affected by both its existence and its demise. We are delighted that this grant from Connecticut Humanities will allow us to share this underrepresented history with the public, and create an archive for future research."
Connecticut Humanities, a nonprofit affiliate of the National Endowment for the Humanities, supports cultural and historical organizations that tell the state's stories, build community and enrich lives.
For more information about the exhibition, call (203) 545-9127 or visit
http://bportlibrary.org/hc/african-american-heritage/a-b-c-d-cultural-arts-center-a-creative-community-response/
---
 Endangered Freeman Homes get $50k grant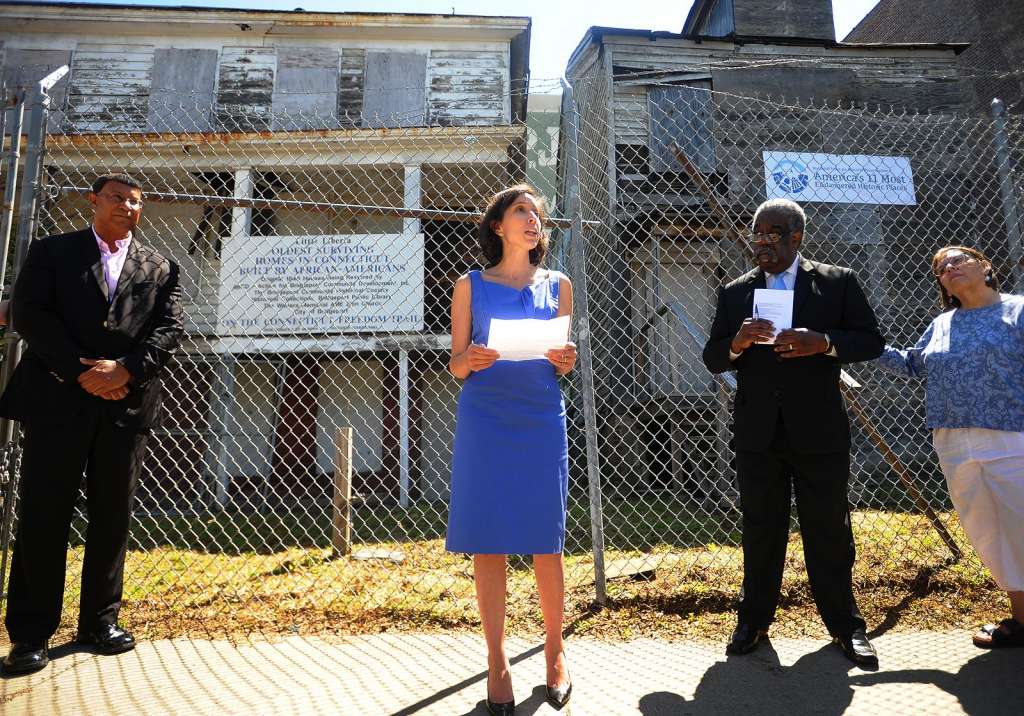 DESCRIPTION
The 1848 Mary and Eliza Freeman Houses in Bridgeport's South End were recently added to the National Trust for Historic Preservation's list of "America's 11 Most Endangered Historic Places." The news was celebrated by ceremonies at the Houses and at Housatonic Community College June 26 (see CT Post article). CT Humanities has announced a $10,000 capacity grant to the organization to create its first-ever strategic plan and to digitally store and preserve its institutional records. July 6th, the National Trust announced a $50,000 grant to the Freeman Center to begin permanent stabilization of the Freeman structures (more…).
The mission of The Freeman Center is not only to "restore, preserve and ensure the viability of the Freeman Houses," but also to "teach the history of Black people in CT; revitalize the surrounding South End community; and facilitate preservation of other African American and Bridgeport communities."
A discussion about these recent developments was featured on the Cultural Alliance of Fairfield County's Spotlight on Arts & Culture earlier this week.