Summer is just around the corner and Bridgeport is heating up! May ends with two exhibit openings next week. Plus, live concerts, call for artists/musicians, and exciting community events! 
Save The Date
Make Music Day Bridgeport 
June, 21, 2019
Details Coming Soon! 

READ THE FULL ARTIST FEATURE AND Q&A HERE
CALL FOR ART & BRIDGEPORT ART NEWS
_______________________________________________________
Help support Nest Arts Factory, a key member of the Bridgeport Arts Community and Bridgeport Art Trail!
A Message form the Nest:
As many of you know, the NEST will be relocating to a new larger building this year. We need to raise an additional $50,000 for our construction costs to create studios in a new-to-us cool old factory in the South End of Bridgeport. We've invested a lot of time and money on this building and we're down to just a final $50,000 to complete the project and get the NEST community of artists into our new NEST. We hope you'll consider making a donation to help us expand and continue to thrive in Bridgeport. bit.ly/savethenest
If you'd like to make a tax deductible donation, you can send a check to Cultural Alliance of Fairfield County, attn: Save the NEST, 301 West Avenue, Norwalk CT 06850, or make an immediate donation on our Go Fund Me page at bit.ly/savethenest
Thank you! We love Bridgeport and want to stay here and continue to provide workshops, concerts, poetry readings, open studios, and all sorts of events for all of you! Xoxo
__________________________________________________________________________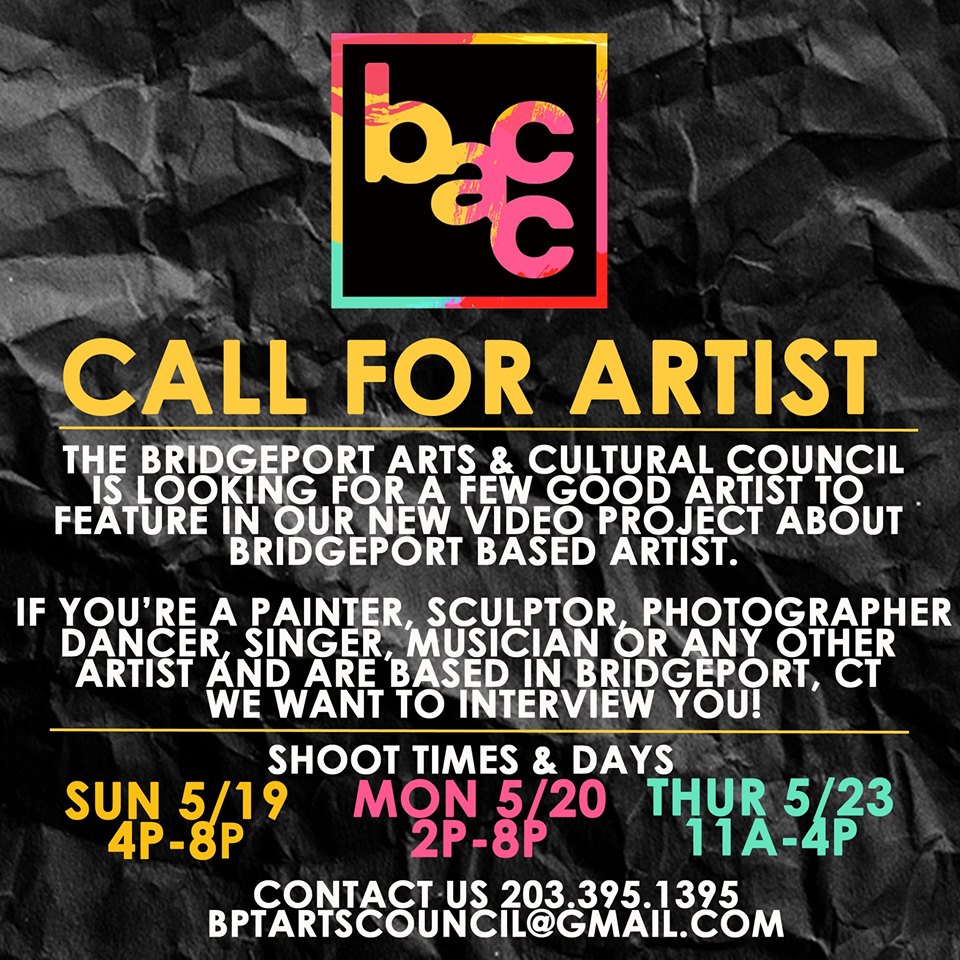 Call for Artist: A video project about YOU!
The Bridgeport Arts & Cultural Council is looking for a few good artists to feature in our new video project about Bridgeport based artist.
If you're a painter, sculptor, photographer, dancer, singer, musician or any other artist and are based in Bridgeport, CT we want to interview you about art!
Shoot times:
Sunday May 19th 4pm-8pm
Monday May 20th 2pm-8pm
Thursday May 23rd 11am – 4pm
Location:
BPT Creates
1001 Main st ste 14
Bridgeport, CT 06604
Please contact us to schedule your shoot time.
203.395.1395
__________________________________________________________________________
CALL FOR ART: SAMESEX 2019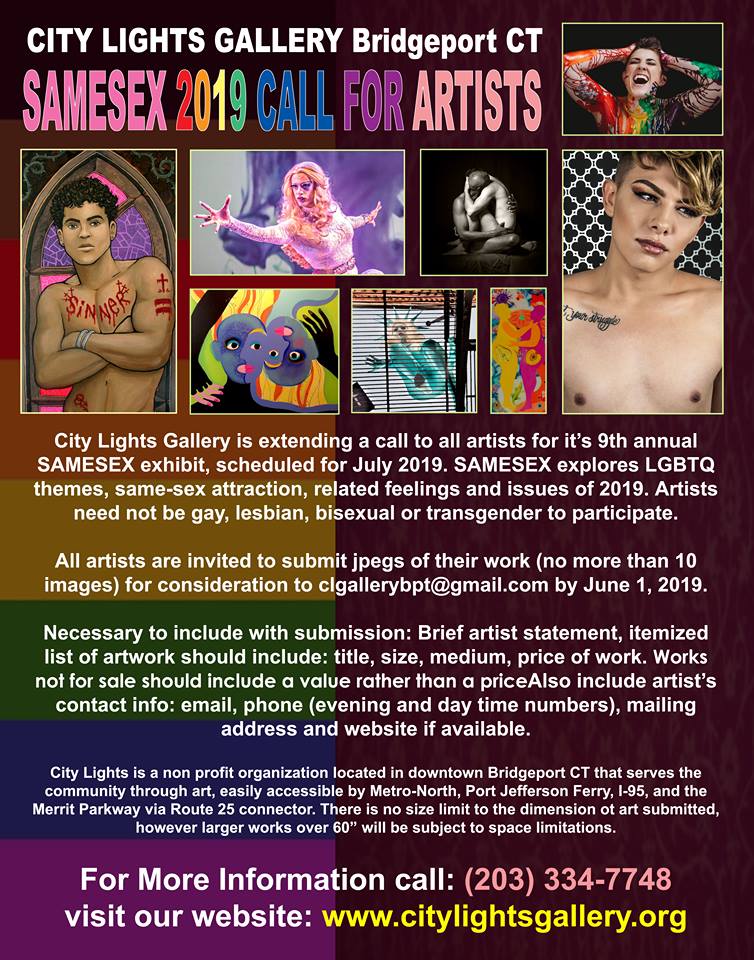 MAY 2019 CURRENT EVENTS – PART 1
VISUAL ARTS – NEW EXHIBITS/EVENTS
Black Rock: 375, Exhibition Opening Reception
Thursday, May 23, 2019 at 6 PM – 8 PM
Fairfield Museum and History Center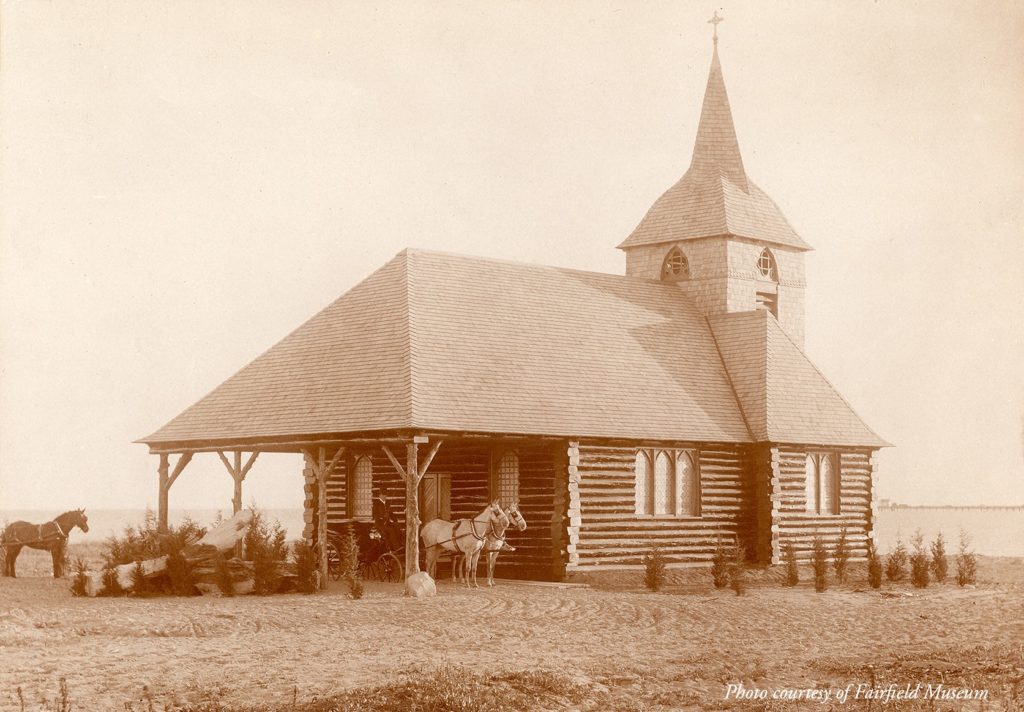 Join us as we open this exhibition full of rare photographs, artifacts and artwork related to the history of Black Rock. Founded 375 years ago, the neighborhood of Black Rock has tied together the communities of Fairfield and Bridgeport, while retaining its unique personality and sense of place. Through the ages of sail, steam, and rail Black Rock has served as a beacon of ingenuity, strength, and comfort for its residents and visitors alike.
Presented in celebration of Black Rock's 375th Anniversary with the Black Rock History Committee and the Black Rock Community Council. Special thanks to Phil Blagys, Paula Butturini, Susan Graham, Betty Oderwald, and Bruce Williams.
_____________________________________________________________________
Harmony – Group Exhibit
Opening Reception: Thursday, May 30, 5:30-9PM
City Lights Gallery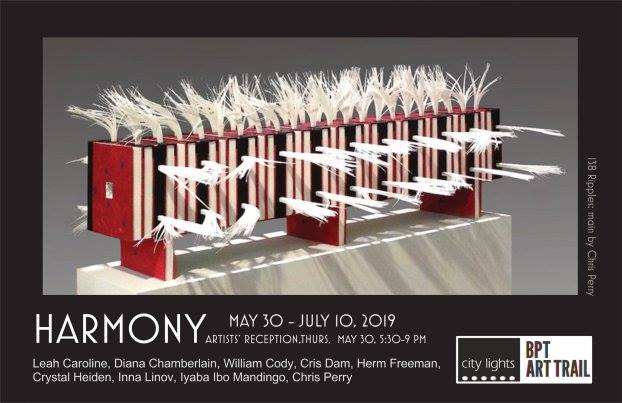 This exhibit explores the principle of Harmony presented by artists who work in diverse materials, featuring: Leah Caroline, Diana Chamberlain, William Cody, Cris Dam, Herm Freeman, Crystal Heiden, Inna Linov, Iyaba Ibo Mandingo, Chris Perry, co-curated by Jane Davila and Suzanne Kachmar.
Harmony: Rhythm, repetition, proximity; combining similar and related forms, motifs, objects and visual elements.
On View: May 30 – June 10
City Lights Gallery and Frameshop
Gallery Hours: W-F 11:30-5, Sat 12-4, Thurs open 'til 7pm
City Lights Vintage Shop Hours: Thurs 12-7 pm Fri 12-5, Sat 12-4pm
_______________________________________________________________________
Selected & Collected
Hosted by Artists of 305 Knowlton
Opening Reception: Friday, May 31, 6-10PM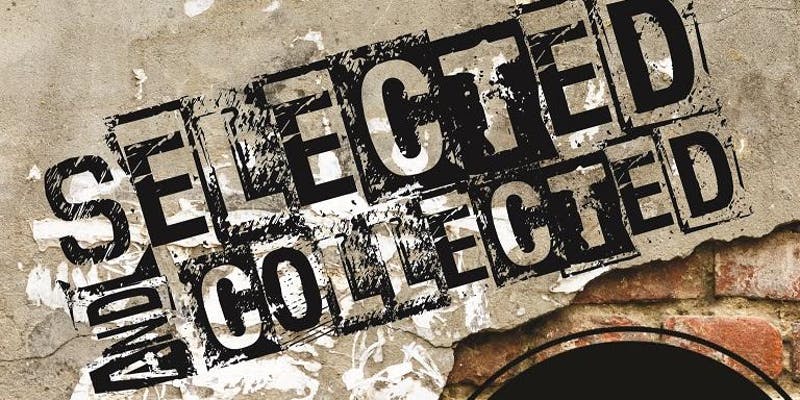 Join us for the opening of our next art show, Selected & Collected – Transformative Art from the Collective Artists of 305 Knowlton!
Light refreshments and complimentary wine will be served. There will also be pop up shops and a raffle of small art works (cash only).
Admission is free, donations appreciated!
COMMUNITY EVENTS
History Hustle II Benefit Concert
Hosted by Bridgeport Hope School and Hub & Spoke
Thursday, May 30, 2019 at 6 PM – 8 PM
Hub & Spoke Restaurant
History Hustle II Benefit Concert for Bridgeport Hope School: students and local artists performing to raise money for a history field trip!
$10 suggested donation to BHS; food and beverage sales to Hub & Spoke restaurant.
---
Jane's Walk: Explore Colorful Bridgeport
Saturday, June 8, 2019 at 9:30 AM – 4 PM
BPT Creates / Magnacon 7
1001 Main St Ste 14, Bridgeport, Connecticut 06604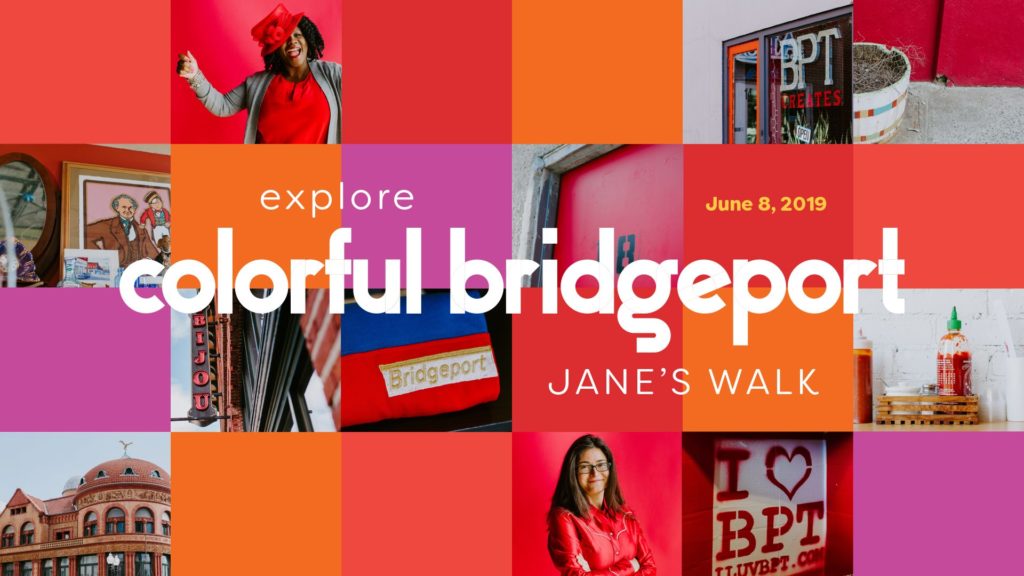 Join us for a Jane's Walk, a unique story about how you see, interact with, and feel about your city. On a Bridgeport Jane's Walk, you can explore the city, connect with your neighbors, and contribute to thoughtful conversations about creative, community-driven city building.
Opt-in to the day of activities at any point and for whatever portion you wish! We will start off the morning at BPT Creates / Magnacon 7 at 9:30 a.m. to learn about the legacy of Jane Jacobs and local Bridgeport activists just like her, watch short films inspired by Jane's legacy, and engage in a vibrant panel discussion.
At noon, we will walk over to El Pueblito Restaurant for a delightful lunch including food, art, and music organized by SavorCity. Lunch reservations must be made in advance, sign up here: https://www.eventbrite.com/e/savorcity-bridgeport-el-pueblito-tickets-61952734296.
Walking and bike tours kick off at 2:00 p.m. in McLevy Green. Expert guides will take you through an exploration of #colorfulbridgeport, it's history, and unique places.
SavorCity Bridgeport: El Pueblito
Saturday, June 8, 2019
12:15 PM – 2:00 PM
El Pueblito Restaurant
121 Wall Street
Bridgeport, CT 06604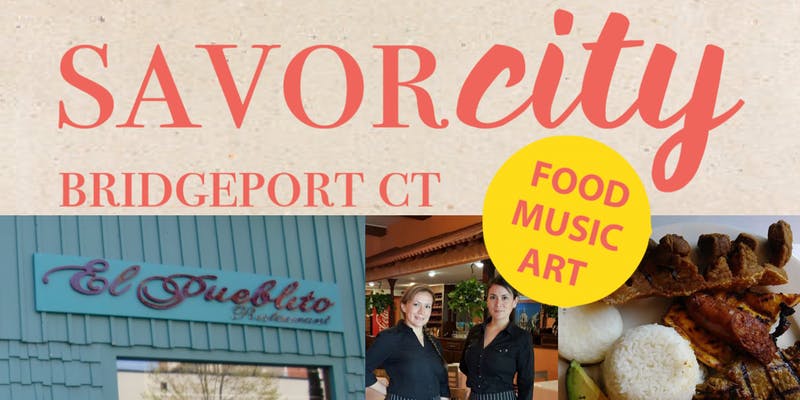 We invite you to join us at SavorCity, a monthly tour of Bridgeport restaurants, food, art and music, showcasing the cultural delights and hidden gems of Connecticut's most diverse city.
Our seventh visit is to El Pueblito at 121 Wall Street., Bridgeport, in Downtown Bridgeport. This edition of SavorCity is being held in conjunction with Jane's Walk Bridgeport, a production of Bridgeport Downtown Special Services District. Our artist for El Pueblito is JuliaRose Arts; our musicians are Edwin Rivera and Band.
____________________________________________________________________________
Bridgeport PechaKucha Night, Volume 5: Dream it, be it, do it!
Tuesday, June 18, 2019 at 6 PM – 9 PM
The Barnum Museum
Bridgeport PechaKucha, Volume 5, will be at the Barnum Museum on Tuesday, June 18th.
Attend to hear great personal stories each told in 400 seconds with 20 images!!!! The theme will be DREAM IT!!! BE IT!! DO IT!!
This is a free event (donations accepted since we try to make a $1 donation per person to the global PechaKucha organization) AND cover costs!
The doors open at 6:00. Food will be lovingly and deliciously prepared and sold by Raquel Rivera-Pablo The program will begin at 6:45PM and will be completed by 9:00PM with a 15 minute intermission.
____________________________________________________________________________
LIVE MUSIC & CONCERTS
Allman Brothers Tribute – Brothers of the Road Band
Saturday, May 25, 2019
Doors: 7:00 pm / Show: 8:00 pm
Bijou Theatre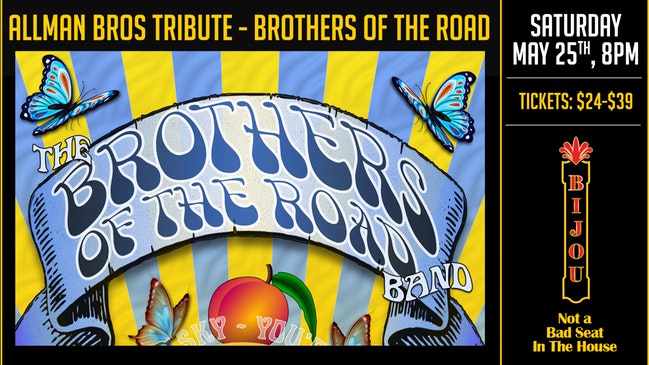 Come share an evening of Allman Brothers music with the most authentic and longest performing ABB Tribute in the country!
The Bijou and the BOTRB are proud to be raising money at this show for the Memory Box Project (heirloom memorabilia boxes for families of fallen soldiers). Please visit the donation table in the lobby! More info at: www.memoryboxproject.org
---
Yellow Brick road – Tribute to Elton John
Saturday, June 1, 2019
Doors: 7:00 pm / Show: 8:00 pm
Bijou Theatre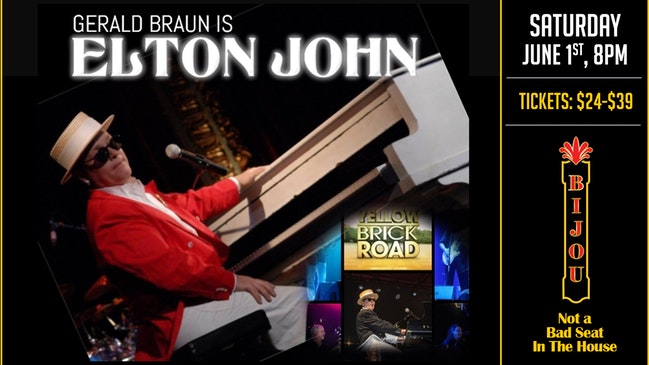 There is no other performer who looks and sounds so much like Elton John, nor any tribute act that provides the experience of being at an actual Elton John concert, the way Gerald Brann and Yellow Brick Road does. Brann not only bears an uncanny resemblance to the international superstar, complete with his mannerisms and gap-toothed smile, but he meticulously re-creates Elton John's vocals and playing to the letter. To truly capture the essence of the piano man, Brann dresses in custom-tailored replica costumes and Elton's trademark sunglasses.
---
Latin Dance Party – Orquesta Afinke
Friday, June 7, 2019
Doors: 7:00 pm / Show: 8:00 pm
Bijou Theatre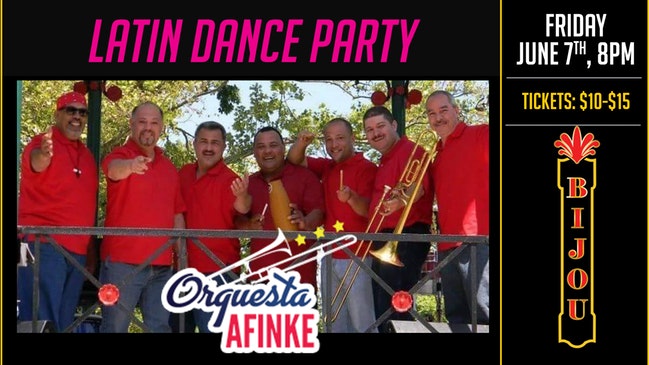 Our sound will have everyone on their feet dancing in seconds!
ORQUESTA AFINKE is a latin musical group that features a dynamic percussion, a swinging rhythm section and a harmonious brass section. Playing the best of salsa (salsa dura), merengue, cumbia, bolero, plena, latin jazz, and more!
___________________________________________________________________________