MARCH & EARLY APRIL EVENTS
---
VISUAL ART – NEW EXHIBITS
---
10 Women, 10 Years Art Exhibit
Opening Reception
Thursday, March 22 at 5:30 PM – 8:30 PM
City Lights Gallery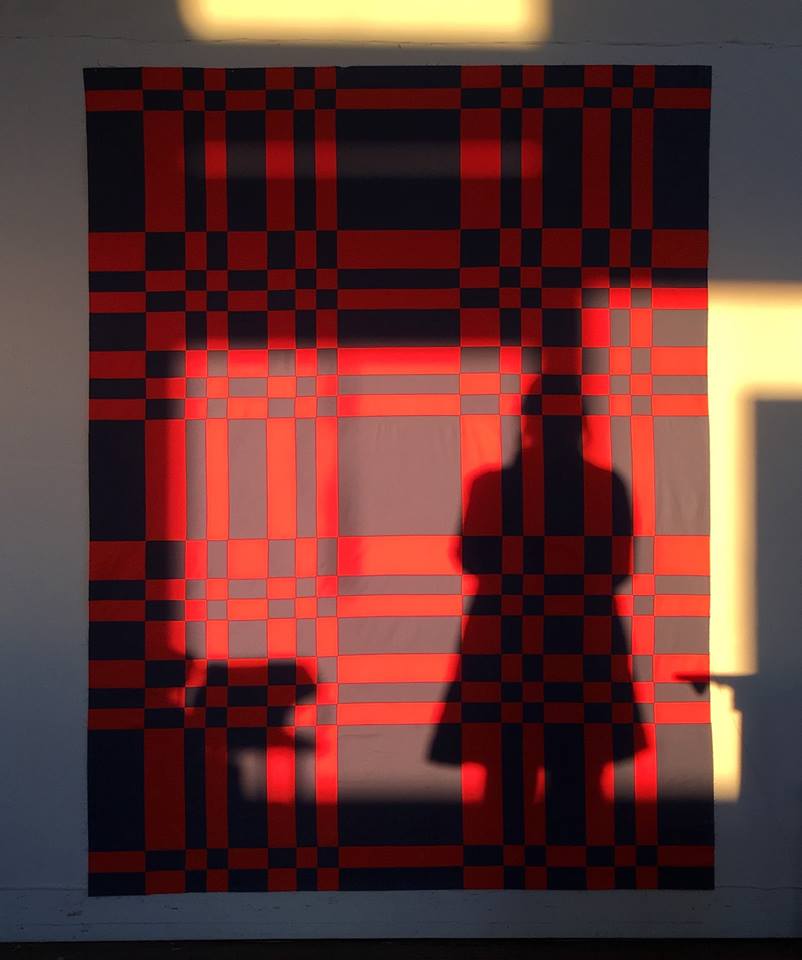 DESCRIPTION
2018 marks the 10th year of the Bridgeport Art Trail. City Lights recognizes 10 women artists and women run organizations, whose commitment, time and talent are integral assets that ensure the production of a successful annual city-wide arts celebration. This exhibit is the official kick-off the countdown towards the 10th annual Bridgeport Art Trail November scheduled 8-11, 2018.
Thank you to the exhibiting artists including: Alicia Cobb, Jane Davila, Robin Jopp, Crystal Heiden, Liz Helling, Marcella Kovacs, Shanna Melton, Susan Murray, Denyse Schmidt, Yolanda Vasquez-Petrocelli
Art above: Denyse Schmidt Quilts, the light in her studio in American Fabrics building casts a shadow of the artist upon one her exquisite quilts.
---
BRIDGES: Art Connecting Communities 
Opening Reception: Wednesday, March 28th from 5-7 pm
On View: March 22 – April 13, 2018
Maggie Daly Arts Cooperative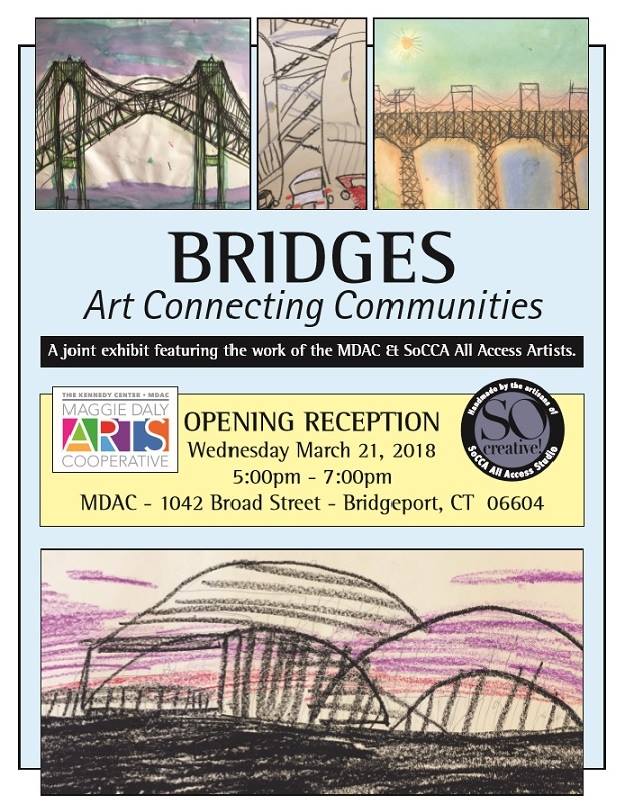 DESCRIPTION
The MDAC artists have joined together with the artists of SoCCA's All Access programs for the first time in this exhibition. "Bridges" is an art exhibition that not only focuses on the structure of bridges, but the connection within our own communities. This show will be on display at MDAC's gallery on weekdays from March 22nd to April 13th from 10am to 3pm.
---
Housatonic Museum of Art Gallery Talk
March 23, from 1:30pm to 2:30pm
Gallery Talk with Curator D. Dominick Lombardi on March 23, from 1:30pm to 2:30pm.
This event is free and the public is welcome to attend.
---
VISUAL ART – ON VIEW
---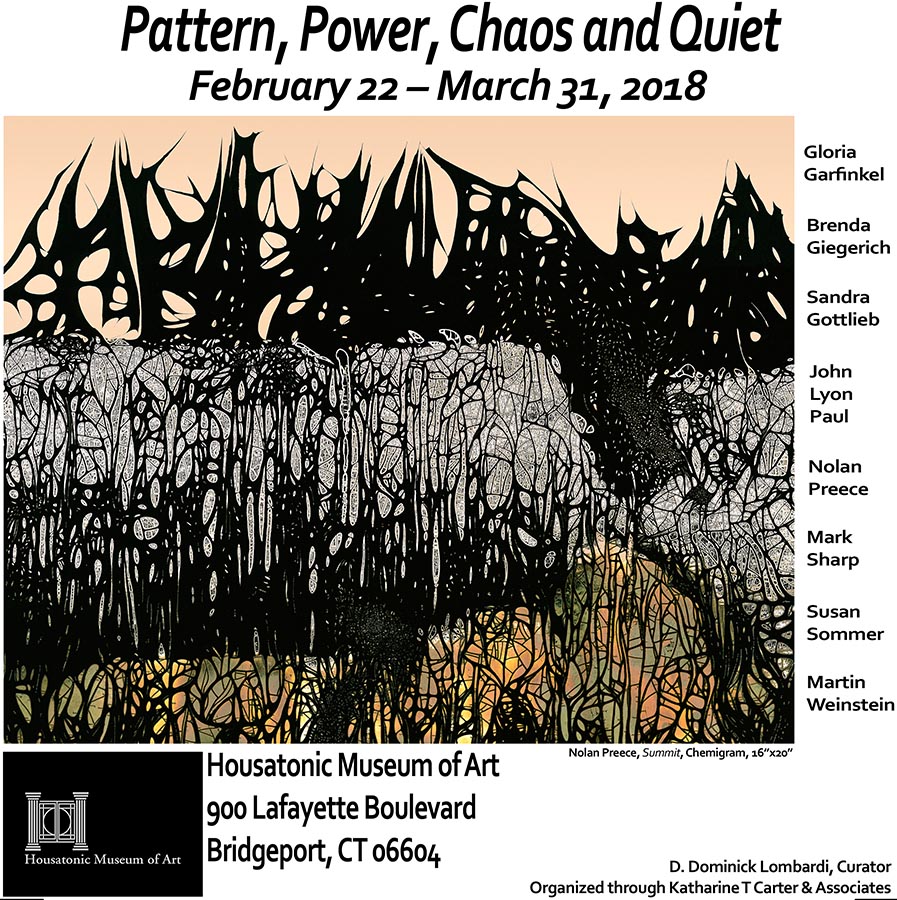 Pattern, Power, Chaos and Quiet
On View February 22 – March 31
Housatonic Museum of Art
DESCRIPTION
Artist have forever been drawn to nature as a subject. Through the art of Gloria Garfinkel, Brenda Giegerich, Sandra Gottlieb, Nadene Grey, Steward Nachmias, John Lyon Paul, Susan Sommer and Eve Stuart you will see and experience nature in a variety of ways where the very essence of nature is both challenged and embraced. Curated by D. Dominick Lomardi.
---
NEST Associate Member Exhibit
Opening Reception: Saturday, March 10 from 2-5 pm
On View: March 10 – April 7, 2018
Nest Arts Factory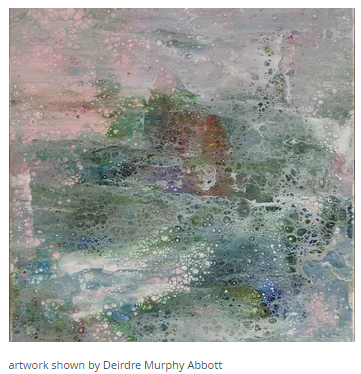 DESCRIPTION
​The NEST Associate Members are exhibiting fresh new work in a wide variety of media, including oil, acrylic, and watercolor painting, mixed media, fiber, and ceramics.
---
Cinque Terre by Herm Freeman
On View for the month of March
Framemakers Picture Framing & Art Gallery
3004 Fairfield Ave. Black Rock section of BPT.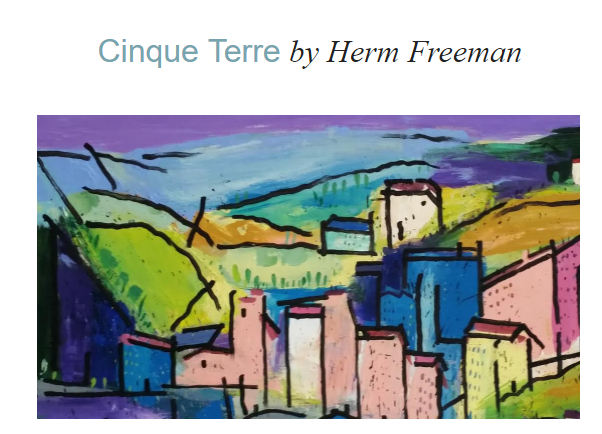 ---
COMMUNITY EVENTS
---
Call for Participants: Pechakucha- A Storytelling Feast!
Workshop:  Sunday, April 8th at 3:00
Save the Date: Pechakucha show May 9th
The Barnum Museum
DESCRIPTION
A new social phenomenon is about to invade Bridgeport after taking 1000 cities around the world by storm.
The name of this event sounds exotic and hip because it is.  It's PechaKucha and it technically translates to "Chit-Chat", but that's somewhat misleading.   It's a group of people each presenting for six minutes and forty seconds with 20 compelling photos or visuals shown 20 seconds each to make it succinct, inspiring, fun and/or funky.  It is a tasty storytelling feast!
This is a call to all creative types to share authentic, possibly unexpected personal stories for the fun of it to spark new ideas and collaborations with snacks and beverage of your choice (the first event will be BYOB). Presenting a PechaKucha entitles you to have your slides and voice posted on an internationally viewed website and the opportunity to create exciting new connections between people in the real and digital audiences.
WE'RE LOOKING FOR Artists, Writers, Dancers, Musicians, History Buffs, Cooks, Librarians, Barbers, Unicyclists, Botanists, Body Builders, Foodies, Teachers, Tattoo Artists (pretty much anyone with a passion about something) to share personal stories in an inaugural Bridgeport PECHAKUCHA. The first Pechakucha will be at the Barnum Museum, hence the theme, a quote from P.T. himself, "The noblest art is that of making others happy!"
To help potential speakers with the process of understanding what a Pechakucha is and how to create the slides and presentation there will be two workshops at the Barnum Museum, one on Thursday, March 8th at 5:30 and another on Sunday, April 8th at 3:00.  You can attend in person or watch on Facebook Live on the Bridgeport Pechakucha Facebook page: http://bit.ly/FB-Pechakucha-Bridgeport . If you have any questions email PKBridgeport@gmail.com or call John Swing at the Barnum Museum (203) 331-1104 (X100).
---
Call for Performers: Make Music Bridgeport
Registration opens March 15, 2018
Save the Date: June 21st, 2018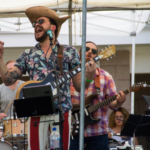 DESCRIPTION
The CT Office on Culture has invited the city of Bridgeport to join the international Make Music Day by participating in CT's first statewide Make Music Day celebration on June 21. An eclectic mix of free-opportunities to make and enjoy music are in formulation, including lunch-time music in public spaces like the Broad St steps, an open-mic evening at McLevy Green and live performances and interviews broadcasted from WPKN radio, 89.5 fm.
Community partners organizing the Make Music Bridgeport are City Lights/Bridgeport Art Trail, the Downtown Special Services District, WPKN radio 89.5 fm.
Bridgeport is the home of a growing community of musicians and recording studios producing Reggae, Rap, Blues, Baroque, Bluegrass and more. Homegrown music events include PorchFest, the Black Rock Famer's Market Hootenanny and Downtown Thursdays. Interested musicians please email clgallerybpt@gmail.com.
Mark your calendar for June 21. Check back to  http://www.makemusicday.org/bridgeport/ as we grow our list of programs and performers which presently consists jazz, bluegrass and Afro-Caribbean drumming.
The Make Music Day celebration started in France 35 years ago and is growing into a popular global event. Learn More Here: http://www.makemusicday.org/
---
Poetic Soul Arts Presents
The Women Gather ~ Use Your Voice to Change Your Life
A Celebration of Women Poets & Fundraiser for Camp Hope/The Center for Family Justice
Thursday, March 29, 2018, 6:30pm-9:00pm
Blends Gallery
1163 Main St.
Bridgeport, CT 06604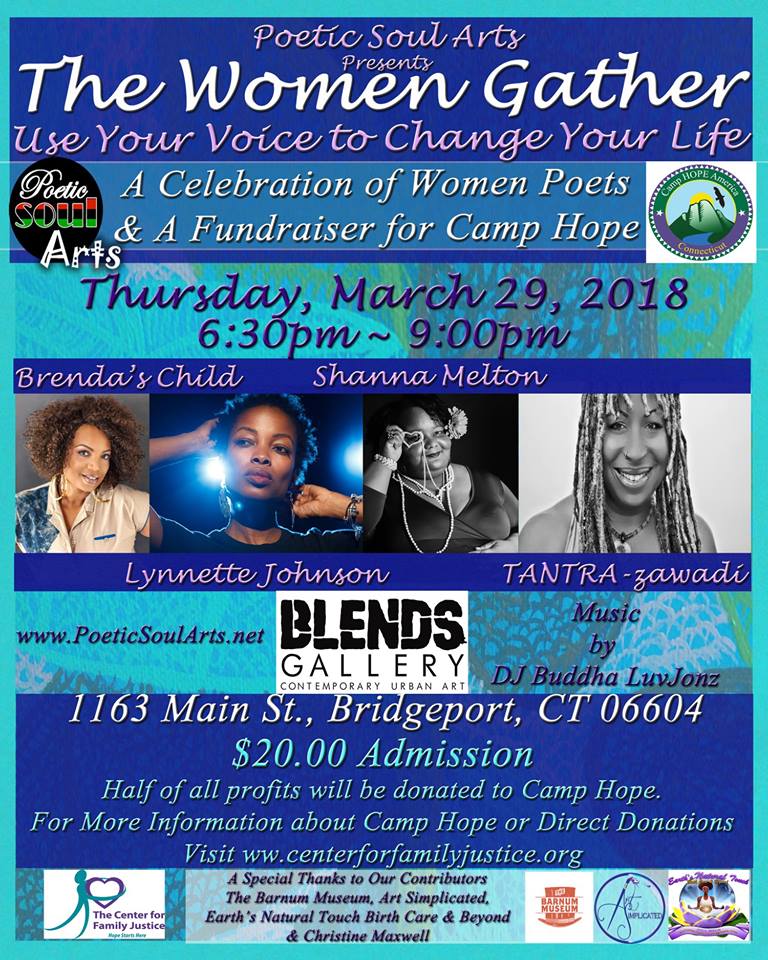 DESCRIPTION
Poetic Soul Arts Presents
The Women Gather ~ Use Your Voice to Change Your Life
A Celebration of Women Poets & Fundraiser for Camp Hope/The Center for Family Justice
$20.00 Admission ~ Half of all profits will be donated to camp hope. If you would like to make additional donations, the option will be available that evening or you can visit www.centerforfamilyjustice.org.
Featured Poets Include
Tantra Zawadi, Lynnette Johnson, Brenda's Child ~Latoya Writes and Shanna Tanika Melton
Music by Buddha LuvJonz of LuvJonz Entertainment
The mission of Camp Hope is as follows…
"Our goal is to give back to children and teens the childhood's they have lost.
The impact of being a primary or secondary victim of domestic or sexual violence or child abuse is devastating and can have profound long-term consequences. Children exposed to trauma have been deprived of the safety and security that should be a rite of childhood. They are also at a higher risk for residual , social and behavioral impact.
Camp HOPE America is a growing national network of camps created to respond to this kind of trauma in a sensitive, therapeutic way.
Clinical research shows the Camp HOPE model helps children and teens overcome obstacles in a safe, supportive environment; improves self-esteem; and makes them more emotionally resilient."
Visit www.centerforfamilyjustice.org for more information about Camp Hope and the great work that they do to assist families in our community.
A special thanks to our contributors which include…
Kathleen Maher/ The Barnum Museum, Alicia Cobb/ Art Simplicated, Scihonor Ruiz, Earth's Natural Touch Birth Care & Beyond, Christine Maxwell
Please support and connect with these important companies in the Bridgeport Community.
There are limited spots for vendors. Please inbox shatamel@gmail.com for information.
---
Rock The Vote – CT Against Gun Violence Fundraiser
Sunday, March 25th at 5:00 pm
Bijou Theatre
DESCRIPTION
Excel Entertainment puts on one hell of a show! Come enjoy this fun high energy band and help support the movement to keep our loved ones safe! Register to vote, have some fun and help support CT AGAINST GUN VIOLENCE.
Excel Ent review: "A month later, our friends still talk about how great you and your band are. You had everyone dancing and they did not want the party to end."
---
FILM
---
Metropolis Screening: Art Film Classics from Pre-Cell Phone Era
Wednesday, March 28th, 7:30 p.m.
City Lights Gallery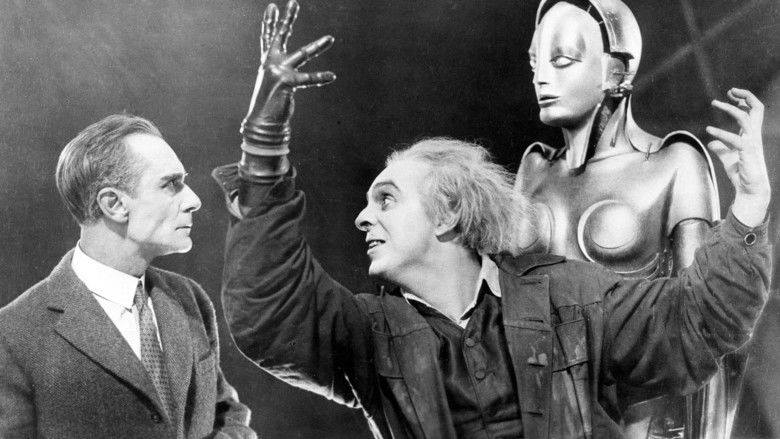 DESCRIPTION
In 2018 City Lights is being nostalgic, maybe it's due to the inspiration of our recently opened Pop-Up shop of Vintage clothing furniture and collectibles. We will host a series of screenings of art films from the 20th century, from the "pre-cell phone era" curated by Gerald Moore. Join us on Wednesday, March 28, 7:30 pm. for Metropolis by Fritz Lang, "visually awe-inspiring science fiction classic from the silent era".
---
Park City Underground Cinema
Thursday, March 29th
Hosted by Park City Design & Upstairs 118
118 Congress St, Bridgeport, CT 06604
DESCRIPTION
Celebrate Bad Thursday with a short film festival at Upstairs 118!
$15 entrance fee gets you access to the lounge, screening room, and game room.
Come for the films, stay for the awesome!
---
PERFORMING ARTS & THEATRE
---
Goldilocks: Children's Theatre
February 24 – March 31
Downtown Cabaret Theatre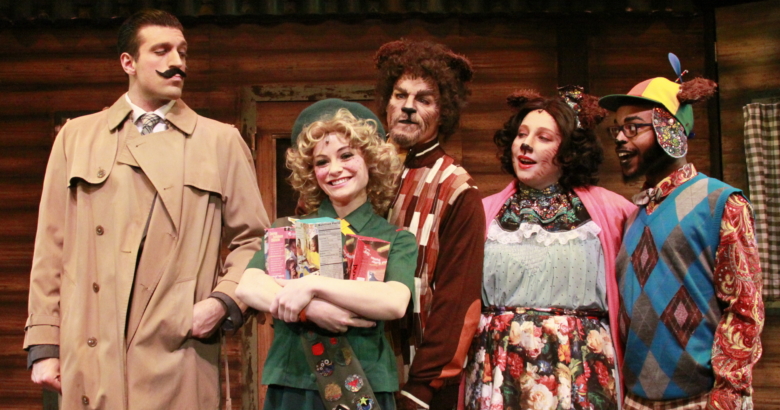 DESCRIPTION
A brand new twist on the classic tale of a mischievous little girl and her encounter with the bear family. This topsy-turvy new adaptation is full of fun and adventure that is not too big, not too small, but just right.
Our Children's Theatre shows approximately run 75-80 minutes with a 10-minute intermission.
Director/ Choreographer: Christy McIntosh-Newsom
TICKETS: $19-$23
SEASON TICKETS AVAILABLE: Save up to $40!
---
Jesus Christ Superstar
March 16 – April 08
Downtown Cabaret Theatre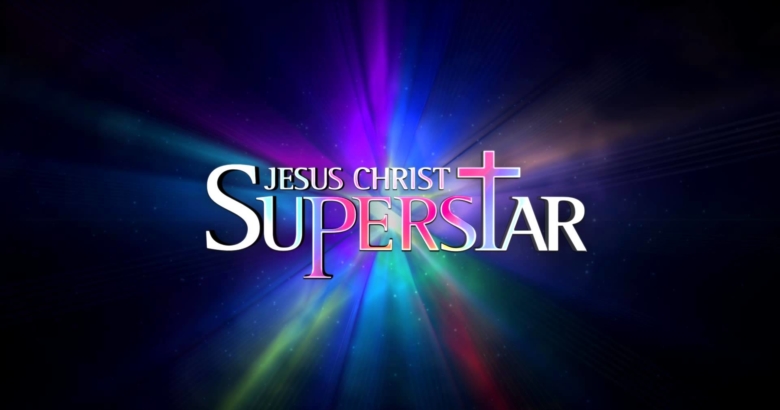 DESCRIPTION
Andrew Lloyd Webber's 1970 rock opera follows Christ's final days, dramatized with emotional intensity, thought-provoking edge and explosive theatricality. Jesus Christ's meteor-like rise provides a parallel to contemporary celebrity worship, and as his radical teachings are evermore embraced, Judas increasingly questions the enlightened motives of this new prophet, resulting in betrayal. Propelled by a stirring score, by turns driving and majestic, satirical and tender, this rock opera illuminates the transcendent power of the human spirit.
Director & Choreographer: Lance Gray
Musical Director: Eli Newsom
TICKETS: $28-$33
SEASON TICKETS AVAILABLE: Save up to $55!
---
Welcome to the 80's
Spring 2018 Fundraiser
The Klein
Thursday, March 22, 2018
DESCRIPTION
Want to support our arts education program? Enjoy a fun evening at the pre-show wine reception in the Mezzanine starting at 5:30PM. Come for the apps, stay for the show!
DONATIONS ACCEPTED AT THE DOOR
TICKETS: (800) 424-0160
PARKING: $5
---
The Bijou Theatre Presents
The Last Waltz Live
Saturday, March 31, 2018
The Bijou Theatre
DESCRIPTION
The Rev Tor Band brings you a live performance of The Band's classic 1978 concert film, "The Last Waltz". The show features renditions of all the hits by The Band featured in the film, including "The Weight", "Up On Cripple Creek", and "The Night They Drove Old Dixie Down" as well as songs by Bob Dylan, Neil Young, Eric Clapton and many more. Musicians from the local music scene perform the songs of the film's original special guests, making each show a unique all-star experience at every venue it is performed.
Doors: 7:00 pm / Show: 8:00 pm
Tickets: $28.00 – $43.00
---
LECTURES & TALKS
---
'No More Pink Teas': The Militant Surge for Woman Suffrage
Historical Talk
Sunday, March 25 from 2-3:30 p.m.
Barnum Museum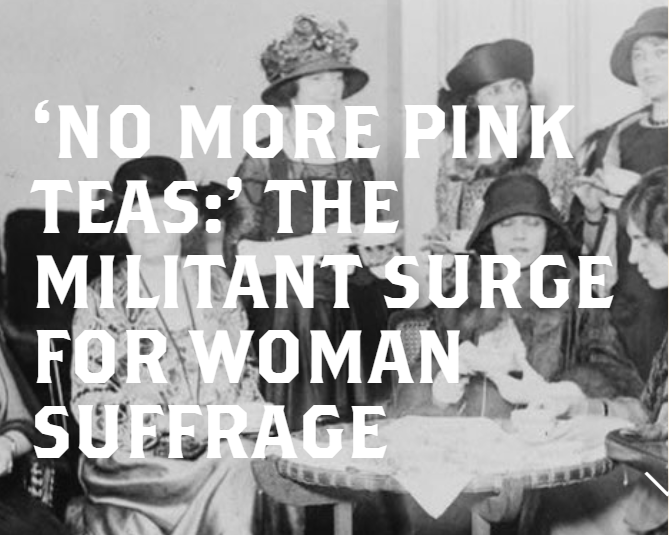 DESCRIPTION
Join Progressive-era suffrage historian Joanie DiMartino to discover how national and Connecticut suffragists participated in a surge of militant political activism that led to women gaining the right to vote in 1920. This is an excellent talk to celebrate Women's History Month, March. As a nod to the title, the afternoon's activities will include light refreshments, with tea of course.
The Barnum Museum at 820 Main Street in Bridgeport will present a talk entitled, "No More Pink Teas: The Militant Surge for Woman Suffrage," on Sunday, March 25 from 2 to 3:30 p.m.
The 1910s saw an increase in bold suffrage activity, from large parades held at State Capitols … such as the one in Hartford, Conn. to picketing at the White House, and holding "Watchfire for Freedom" protests.
Connecticut, and Bridgeport in particular, were well represented in the struggle. Join Progressive-era suffrage historian Joanie DiMartino to discover how national and Connecticut suffragists participated in a surge of militant political activism that led to women gaining the right to vote in 1920. DiMartino is a poet, historian and a feminist. Work as a writer and as a museum professional allows her to offer connections between the scholarly historical record and contemporary audiences, in particular the unique lives and perspectives of women throughout history. DiMartino supports the settled, the strong, and the strange. She does this by maintaining and sharing the artifacts and stories that are necessary and vital to people's identity, and by presenting them in ways that are thought-provoking, engaging, and accessible, whether that medium is a poetry collection, a scholarly talk, a workshop, an article, a sermon or a series of innovative museum programs.
DiMartino has stated that if her work inspires or encourages others to visit museums, interview grandmothers, care for a family heirloom, write a poem, or start a journal, so much the better.  She states, "We must write ourselves into the history of the future.  Use your tools.  Stain the page and spill ink."
This is an excellent talk to celebrate Women's History Month, March. As a nod to the title, the afternoon's activities will include light refreshments, with tea of course. This event is free to Barnum Museum members. However, seating is limited so reservations are required. To register, please visit Eventbrite.
Interested parties may also contact by phone at 203-331-1104 x100.   There is no donation required but a suggested donation of $7.50 per person.  The event is free to all Museum Vision Members and children under 12.
---
Fiction vs Fact! The REAL story behind the REEL story!
Thursday, April 5th, 7:00 to 8:30 PM
The Barnum Museum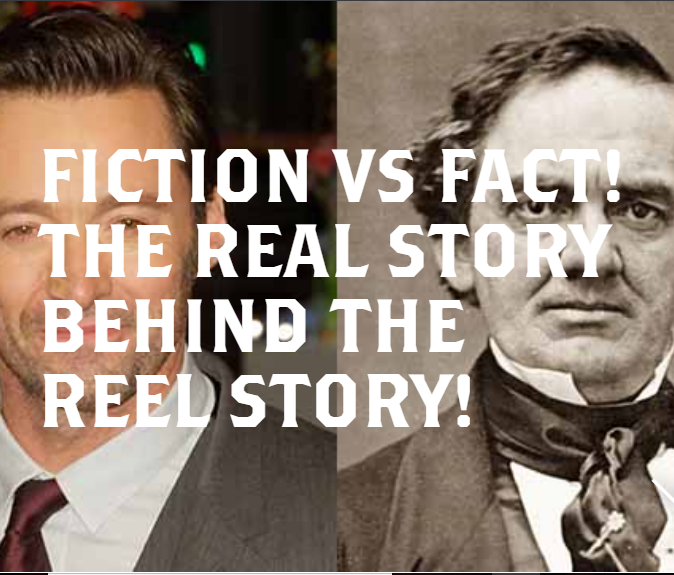 By popular demand, Barnum Museum Executive Director Kathleen Maher will host an encore performance of her lively talk – Fact vs. Fiction! The Real Story Behind the Reel Story!
Have you seen the 20th Century film The Greatest Showman yet? If you haven't, go and enjoy! If you have already seen it, we are sure you have a lot of questions about the accuracy of P.T. Barnum's life and times. Kathy has the answers and will share numerous bits and pieces of history that will set the record straight.
All in the spirit of fun, Kathy's talk will illuminate guests with an engaging journey through many key elements of the movie. From the depiction of Barnum's childhood to his final bow with the Greatest Show On Earth, the talk will expand the screenplay and reveal even more fantastic stories of struggles and triumphs!
Consider this a Spoiler Alert. As portrayed in the movie, Barnum had a hard childhood. Kathy is happy to say he (Barnum) "actually had a very pleasant childhood growing up in Bethel, CT and recounts many happy moments of his youth in his autobiography. And as many folks in Connecticut know, there is no 'beach' in Bethel! So there are all kinds of liberties taken with the screenplay. Many plots are entanglements of truths and fictions drawn from his life. The hour and forty-five minute movie covers about 50 years of his long and busy life, yet his daughters don't age."
The talk will take place in our gallery. Come see the miniature suit worn by Tom Thumb when he met Queen Victoria, P. T. Barnum's top hat, and a gold medal presented to him for his dedication to the Temperance movement. That's right…Barnum was one of the leading champions of liquor reform and legislation!
If you are curious about P.T. Barnum, excited about the movie, or just want to learn more about how the Barnum Museum was involved, come and enjoy a fun evening that will surely have you leaving with a new and refreshed perspective. You'll never look at Hollywood the same way!
** PLEASE NOTE: SPACE IS LIMITED; THERE IS NO RESERVED SEATING. Doors open at 6:30 pm.  Tickets are on sale now (free to members, $5 plus fees to non-members.)  Register and buy tickets at Eventbrite.
For questions, please call the museum at (203) 331-1104, x100.
---
SCORE WORKSHOPS FOR ARTISTS
Housatonic Community College
Beacon Hall Room 357
900 Lafayette Boulevard
Bridgeport, CT 06604
---
Trademarks for Creatives
Wednesday, March 21st from 6:30 to 8:30 p.m.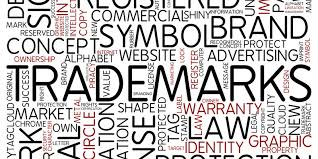 One of the trickiest parts of starting any business is choosing the right name. You need to be sure your name can be trademarked and that you can build a killer Internet and social media presence around it. It gets even trickier with multiple brands, or when the name that appears on your products and services is different from your company name.
• The five steps you must follow in selecting a name for your business
• "Common law" trademarks vs. "registered" trademarks
• Federal vs. state trademarks vs. service marks
• When can a name be trademarked?
• What do you do when your name cannot be trademarked?
• What to do if you receive a nasty "cease and desist" letter from someone that has a similar name
A free SCORE Small Business Workshop co-sponsored by Housatonic Community College
---
Copyright Basics for Artists, Photographers and Other Creative Types
Wednesday, April 4th from 6:30 to 8:30 p.m.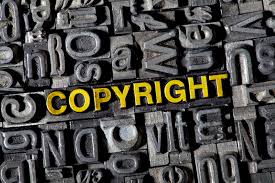 Without proper copyright protection, it is almost impossible for an artist, photographer or other creative type to build a unique and recognizable "brand" in the marketplace. Every creative professional needs to know the basics of U.S. and international copyright law.
• What is copyright, and why is it important?
• what must you do to claim a copyright?
• can I use someone else's copyrighted work without permission?
• am I protected when I post my work online?
• what should I do if I see someone has copied my work without permission?
…and much more
A free SCORE Small Business Workshop co-sponsored by Housatonic Community College and the Coastal Arts Guild of CT
---
Marketing Bootcamp for Artists & Creatives
Thursday, April 12th from 6:30 to 8:00 p.m.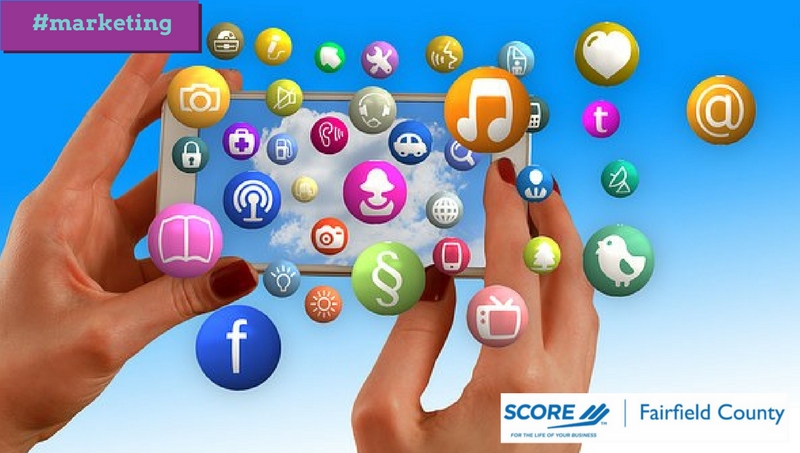 A lively, fast-paced workshop with tons of tips and hints to expand your community on social media, reach customers, and develop strategies for creative email marketing and e-commerce. Learn how to efficiently and effectively use Facebook, Twitter, Pinterest, and Instagram to connect with fellow creatives, partner with brands, and sell your work.
• to create an effective social media strategy
• when, where, and what to post online
• to balance time and energy online for maximum results
• to seek out opportunity
• to analyze and track your results
Presenter: Jane Davila
Jane Davila is a printmaker, fiber, and mixed-media artist who also has over 25 years of retail and e-commerce experience. She teaches art quilting, surface design, and creative marketing workshops extensively across the US as well as internationally, including in South Korea, Canada, and Australia. Jane has written several bestselling books on surface design and art quilting, and is the managing director of the NEST Arts Factory in Bridgeport CT.
A free SCORE Small Business Workshop co-sponsored by Housatonic Community College and the Coastal Arts Guild of CT
---
CALLS FOR ART
---
\