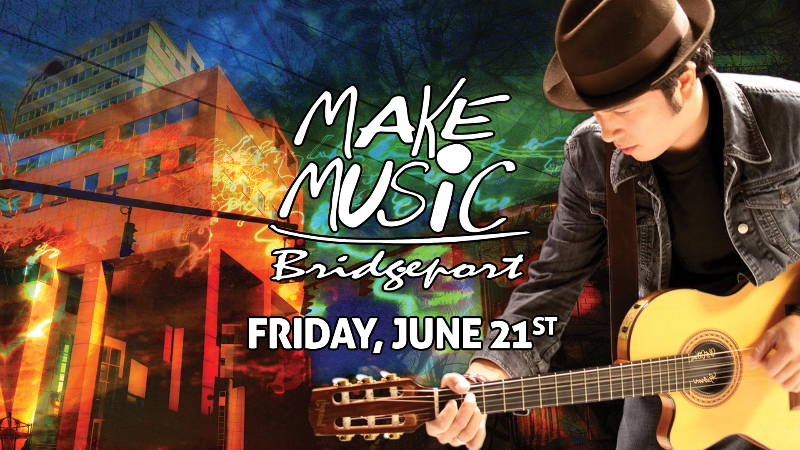 City Lights/Bridgeport Art Trail thanks the CT Office of the Arts for their ongoing support and partnership. Make Music is a free celebration of music around the world on June 21st. Launched in 1982 in France as the Fête de la Musique, it is now held on the same day in more than 1,000 cities in 120 countries. The CT Office of the Arts initiated statewide participation last year and continue to lead and support this project.
More Information
Bridgeport will be participating with a full schedule of free music in downtown Bridgeport including a lunchtime lineup and an evening concert at the Bijou Theatre, broadcast live on Wpkn Radio 89.5 fm.
MAKE MUSIC DAY BRIDGEPORT
EVENTS SCHEDULE
---
LUNCH-TIME MUSIC IN PUBLIC SPACES
12:00-1:30 pm

DOWNTOWN BRIDGEPORT
Take a stroll around Downtown Bridgeport at three lunchtime locations.
Grab a bite, do some shopping at City Lights Vintage, and participate in this citywide event!
Location: Broad Street
Performer: Billy Lopez-vocals and keyboard plays popular covers
Location: Broad Street Steps by the Downtown Cabaret Theatre
Performer: James Moss on kalimba and Asher Delerme on percussion
Location: Funchal American Buffet on the corner of Main and Fairfield Ave,
Performer: Chris Cavaliere on guitar
Location: Holiday Inn Main Street
Performer: George Kachmar jazz guitar and Kenny Owens percussion
---
CAPTAIN'S COVE SEAPORT 
Nina Lesiga on Ukulele
The 2nd Annual Make Music Day Bridgeport is coming to Captain Cove's boardwalk (1 Bostwick Ave, Bridgeport, CT). Ukulelist Nina Lesiga will hold a sing-along and play- along where she brings ukuleles with her and will encourage the public to play and songs with her. All ages and all experience levels are welcome – even first timers. If you own a ukulele, please bring it with you.
---

Happy Hour Jazz Guitar at Trattoria A'Vucchella,
5-7:30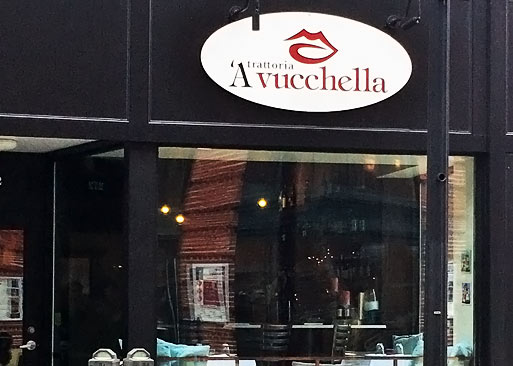 What a great way to welcome summer, a nice glass of Italian wine, a nosh from a selection of fine Italian cuisine. Join after work or before the FREE concert at the Bijou Theatre.

MAKE MUSIC DAY BRIDGEPORT
FREE CONCERT AND LIVE BROADCAST

BIJOU THEATRE AND 89.5 FM WPKN COMMUNITY RADIO
7:00-10:00 pm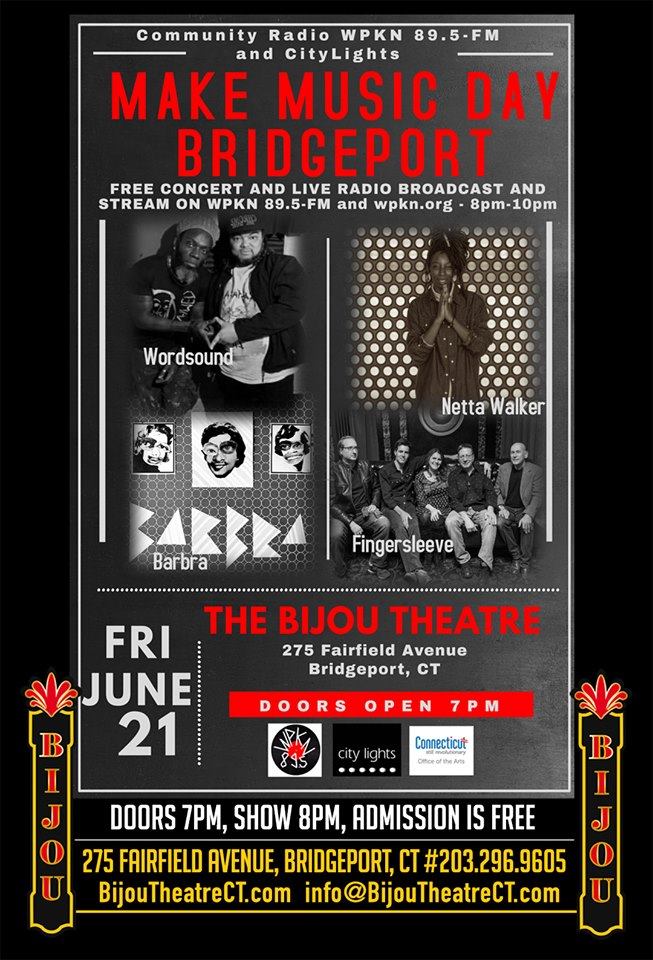 ARTISTS PERFORMING
NETTA WALKER – Hip-hop/poetess
WORDSOUND w/ Iyaba Ibo Mandingo & DJ Chrome– utilizing the combination of MC and DJ that is so familiar in hip-hop- "Speaking truth to power in the spirit of Peter Tosh, The Last Poets and Fela Kuti."
BARBRA– new jazz/experimental with some urban beats thrown in the mix.
FINGERSLEEVE – great roots band with originals and few well-chosen covers in the mix too. Female guitarist and co-lead singer.
Thank you to  the Bijou Theatre and WPKN Radio 89.5-FM for partnering with City Lights Gallery and the Bridgeport Art Trail on MAKE MUSIC Day-Bridgeport, 6/21/19
The free concert Bijou line up features Netta Walker, Barbara, The Iyaba Ibo Mandingo Band, and Fingersleeve.
The concert will be broadcast live on WPKN 89.5 FM radio.
---
CURRENT EVENTS
---
VISUAL ART
---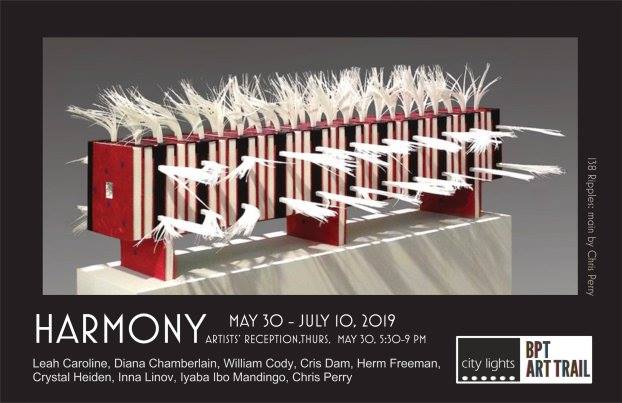 Harmony – Group Exhibit 
On View Till July 10, 2019
City Lights Gallery
This exhibit explores the principle of Harmony presented by artists who work in diverse materials, featuring: Leah Caroline, Diana Chamberlain, William Cody, Cris Dam, Herm Freeman, Crystal Heiden, Inna Linov, Iyaba Ibo Mandingo, Chris Perry, co-curated by Jane Davila and Suzanne Kachmar.

---
9th Annual SAMESEX Exhibit
July 18-August 30

Opening Reception, July 18,2019
5:30-8:00 PM
Hosted by City Lights Gallery and Bridgeport Pride
Join for the opening of the 9th Annual SAMESEX Exhibit at City Lights Gallery. View the exhibit and mingle at the indoor/outdoor patio reception featuring a DJ and light refreshments.
City Lights Vintage, adjacent to the gallery, will also be open. Partake in a fun shopping experience as attendees rummage through an eclectic inventory of clothing, furniture and collectibles. 5th Annual Pride Walk steps off at 7:30 followed by the BPT Pride Variety Show!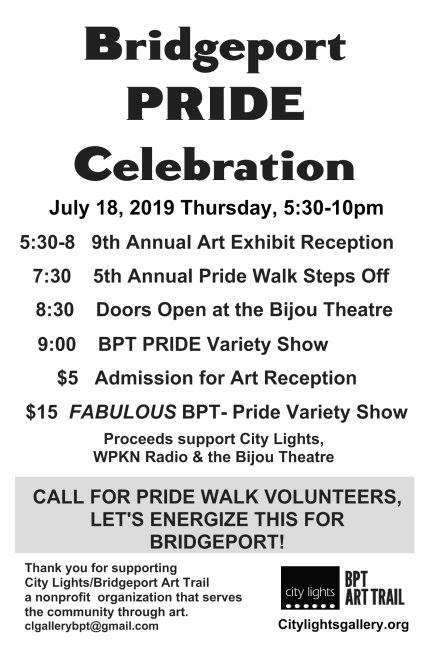 ---
COMMUNITY EVENTS
---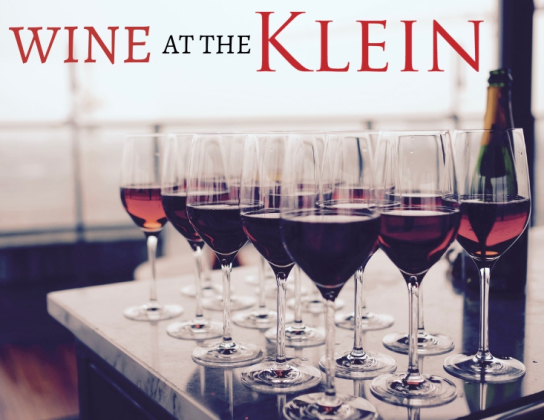 Third Annual – Wine at The Klein
Thursday, June 20, 2019
6:30PM – 9:00PM
The Klein
An Evening of Cabaret, Cabernet & Spirits!
Taste 50+ wines on our stage!
Featuring wines and spirits from Kindred Spirits & Wine Shop. Plus, the talented Maureen Hamill & David Harris perform the great show tunes of our era! Kindred Spirits wine experts will discuss the sample wines between songs. And not to mention there will be delicious hors d'oeuvres – need we say more??
Proceeds benefit future programs at The Klein & Klein Theatre Arts! Organized by Kindred Spirits & Wine Shops with stores in Fairfield, Westport, Monroe, & Shelton.
---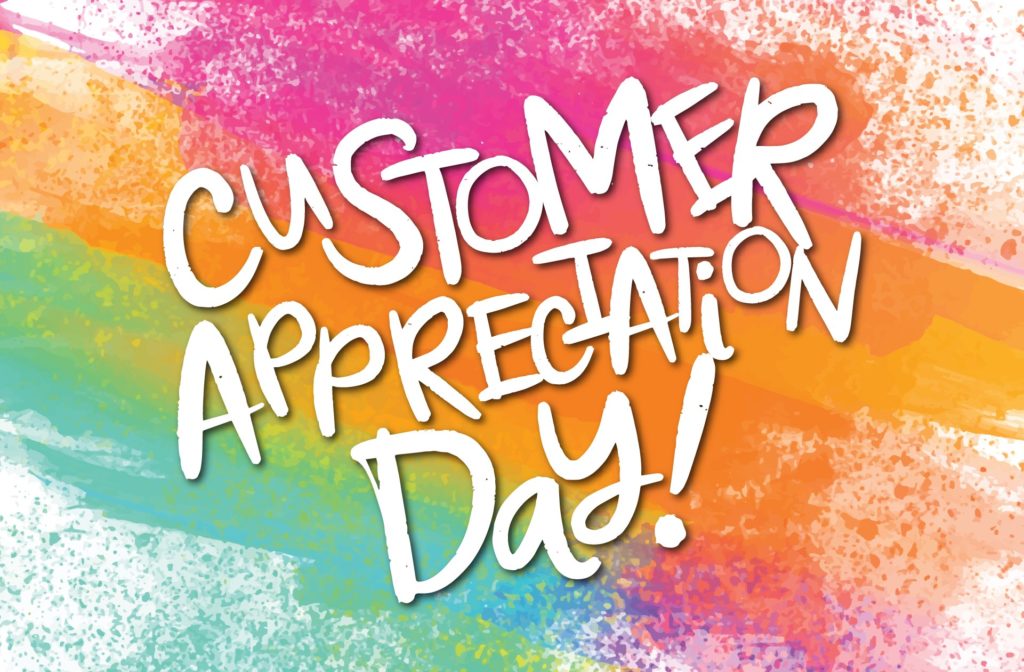 A&C Customer Appreciation Day
Saturday, June 29, 2019 at 9 AM – 5 PM
Artist & Craftsman Supply Bridgeport
1001 Main St, Bridgeport, Connecticut 06604
We want to thank you for being our valued customer; come celebrate with us! During our customer appreciation day, you'll have the chance to enter our raffle to win a $100 A&C gift card and more! Try out our temporary Jagua Tattoo Kit from Jacquard and take advantage of our awesome summer sales. We can't wait to celebrate!

---
LIVE MUSIC AND PERFORMING ARTS
---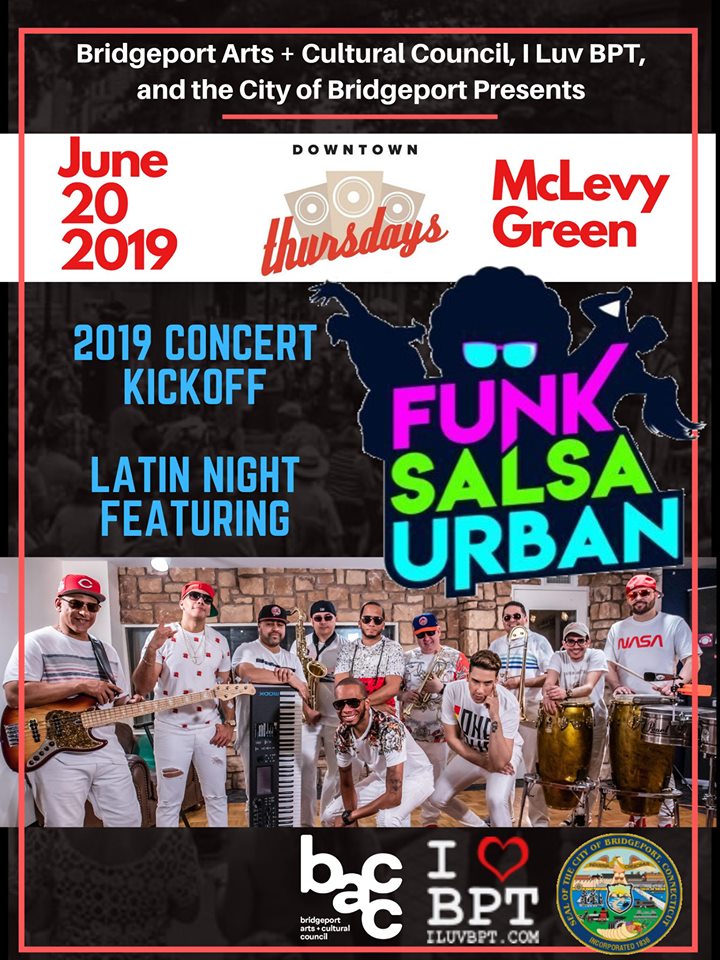 Downtown Thursdays featuring Funk Salsa Urban
Jun 20, 2019
5:30 PM – 9 PM
McLevy Green
Back by Popular Demand, The dynamic Latin fusion sounds of Funk Salsa Urban
New York based Latin band F.S.U (Funk Salsa Urban) are making their mark in music scene. Inspired by 90's Latin group DLG, Funk Salsa Urban is fusing the basic Salsa rhythms with elements of Funk & Urban to create an inner city new sound. Between fusing the different types of rhythms, they are also using Spanglish lyrics to cater to a broader audience.
---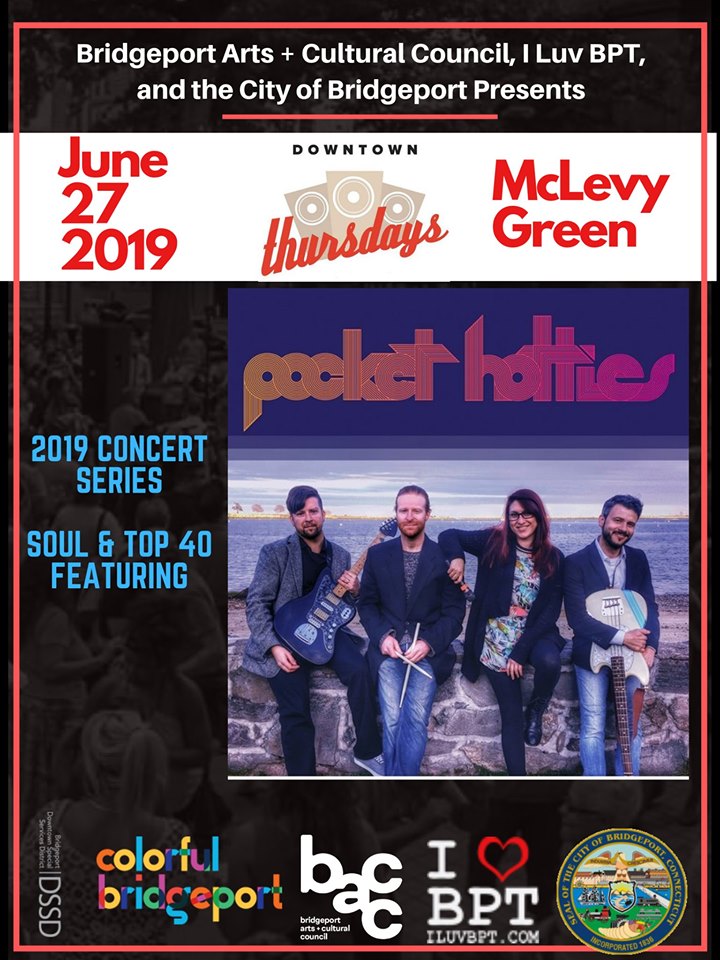 Downtown Thursdays featuring Pocket Hotties
Thursday, June 27, 2019 at 5:30 PM – 9 PM
McLevy Green
Local Legends, Crowd Favorites, Mash Up Artists. From Rock to Soul, R&B to Hip Hop, Disco to Classics. Pocket Hotties are Backkkkk!
In a world where cover bands are far too plentiful, dj's rule the club scene, and television passes for entertainment at a bar, comes a band that reminds us what we love about live music. Familiar yet fresh, the never-ending mashups brought forth by the Hotties whip the crowd into a quivering dance party from the window to the walls. Boisterous enough for the bar, crisp enough for corporate events and wild enough for your wedding.

---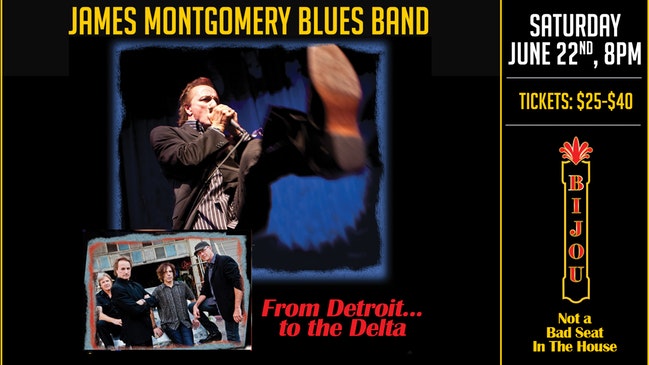 James Montgomery Band
Saturday, June 22, 2019
Doors: 7:00 pm / Show: 8:00 pm
Bijou Theatre
When blues legend James Montgomery plays the harmonica, he "brings it on home". Whether it's recording with Kid Rock, sitting in with Gregg Allman, or fronting his hot band of thirty years, Montgomery plays with authority. While growing up in Detroit he learned first-hand from the masters – James Cotton, John Lee Hooker, and Jr. Wells – at the legendary "Chessmate." Over the years, he's carried on in the tradition and continues to be a vital presence in Blues as one of the most dynamic performers on the scene.
MORE INFORMATION

---
CAN'T MISS SUMMER 2019!
---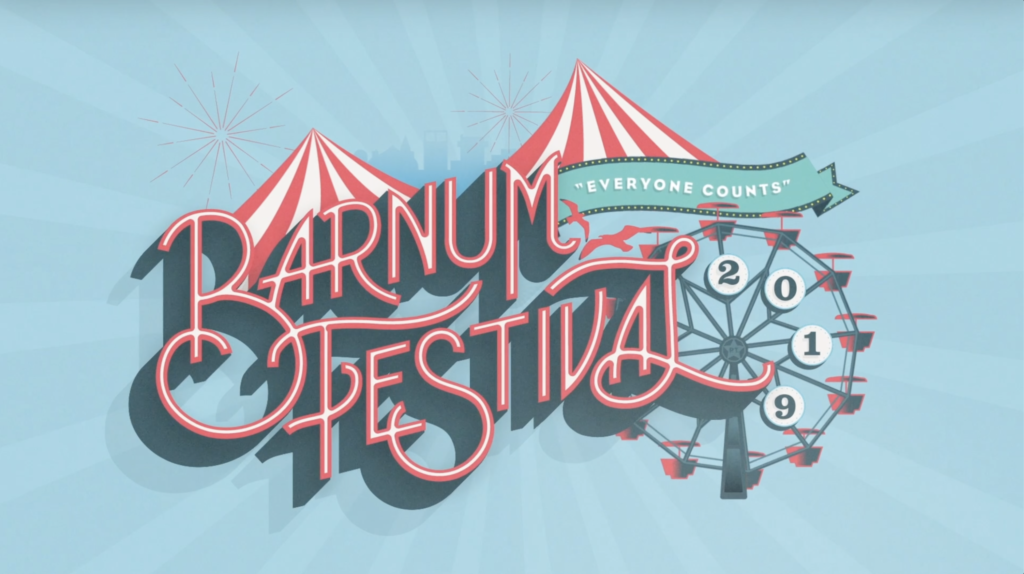 The annual Barnum Festival is a seasonal celebration of the City of Bridgeport and its surrounding towns, including Monroe, Trumbull, Easton, Shelton, Stratford, and Fairfield. Dating back to 1948, the festival originated to help support local businesses and honor P.T. Barnum—a world-renowned showman and city leader. The Barnum Festival events span from late spring to early summer each year in an effort to build community spirit, foster philanthropy, and celebrate the many diverse cultures represented by residents. The festival culminates in a weekend-long Barnum Palooza that hosts parades, concerts, fireworks, and other family-friendly festivities.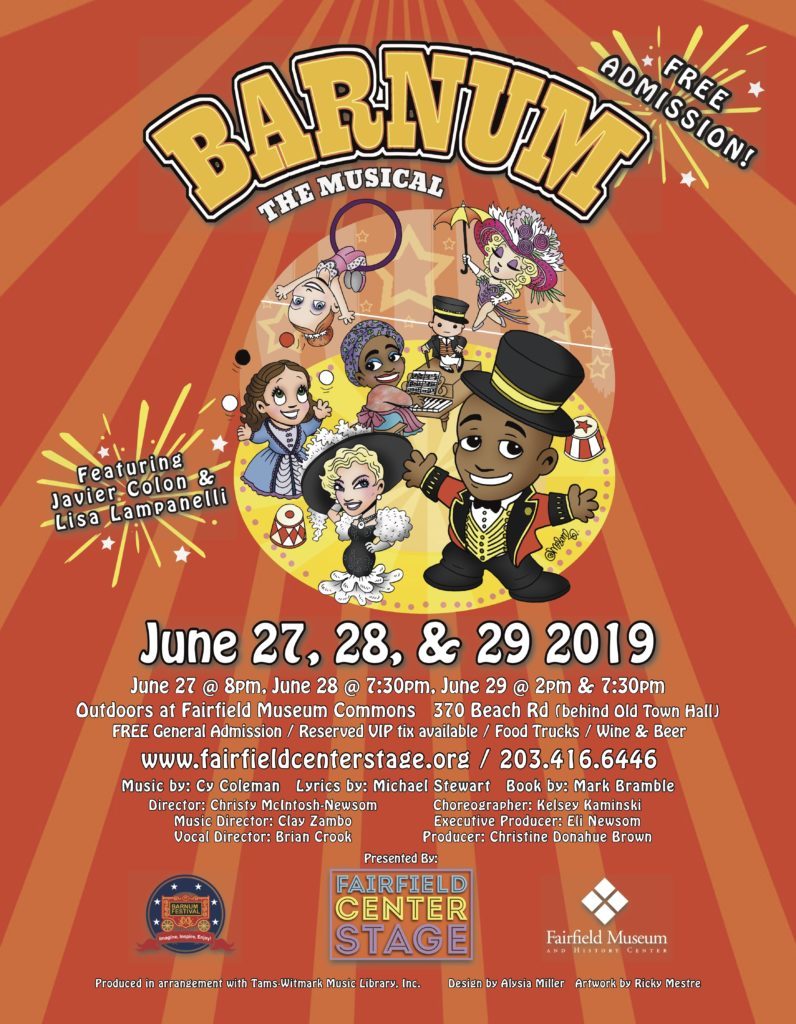 ---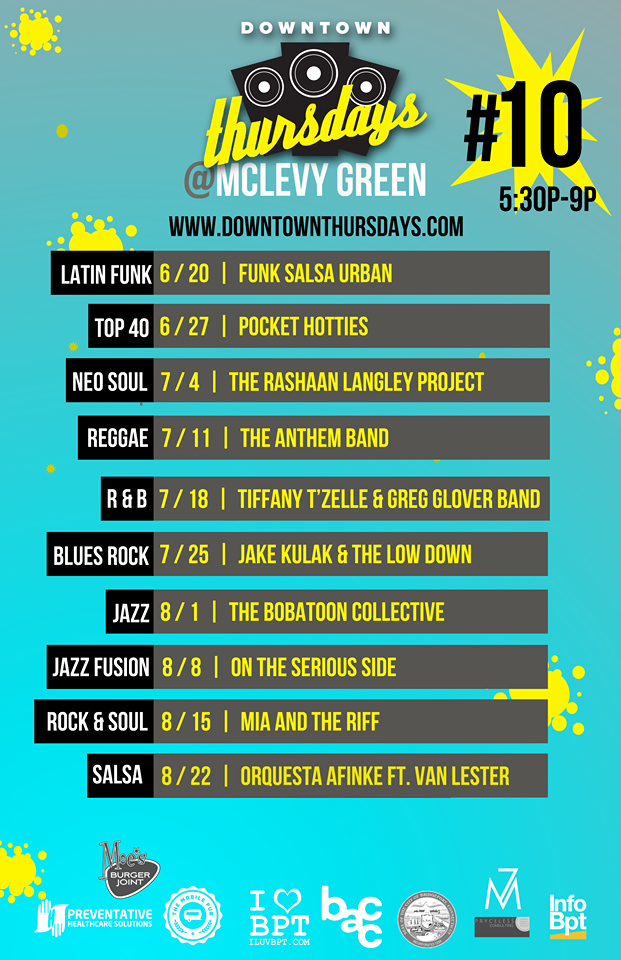 ---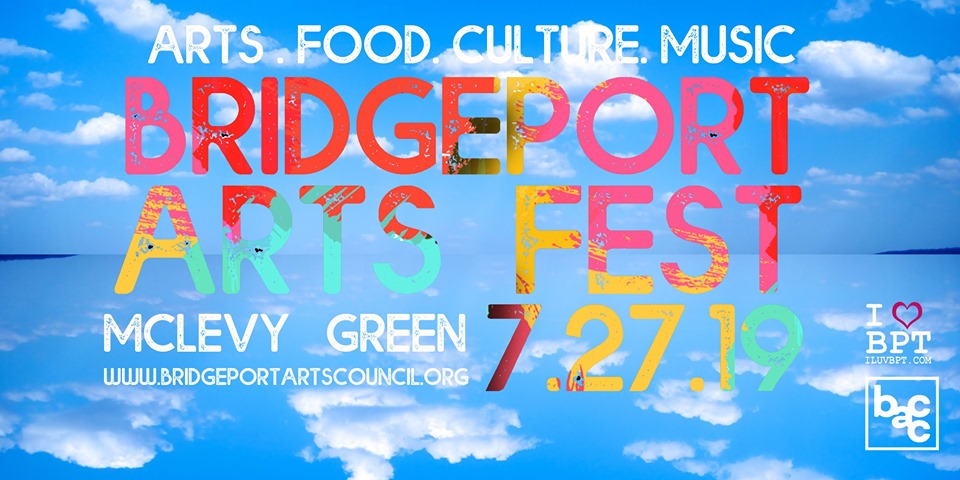 The Bridgeport Arts Festival
Arts. Food. Culture. Music
Saturday July 27th 2019
Downtown Bridgeport @ McLevy Green
Stay tuned for further updates on vendors, performers, sponsorship and more. More Information: bptartscouncil@gmail.com