FEBRUARY UPCOMING EVENTS
---
VISUAL ART
---
Less Guns, More Roses
Hosted by CT Arts Against Violence
Opening Reception February 23rd, 5-10 p.m.
Blends Gallery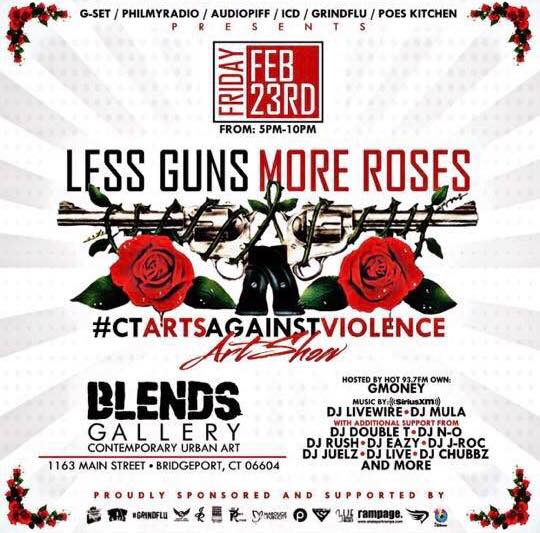 DESCRIPTION
CT Arts Against Violence brings art exhibit- Less Guns More Roses to Blends Gallery, 1163 Main St. Bridgeport on Friday, Feb. 23rd from 5-10pm.
Bridgeport artist Liz Squilllace of Paradox Ink  will have screenprinted tees made exclusively for the show!
---
Pattern, Power, Chaos and Quiet
On View February 22 – March 31
Housatonic Museum of Art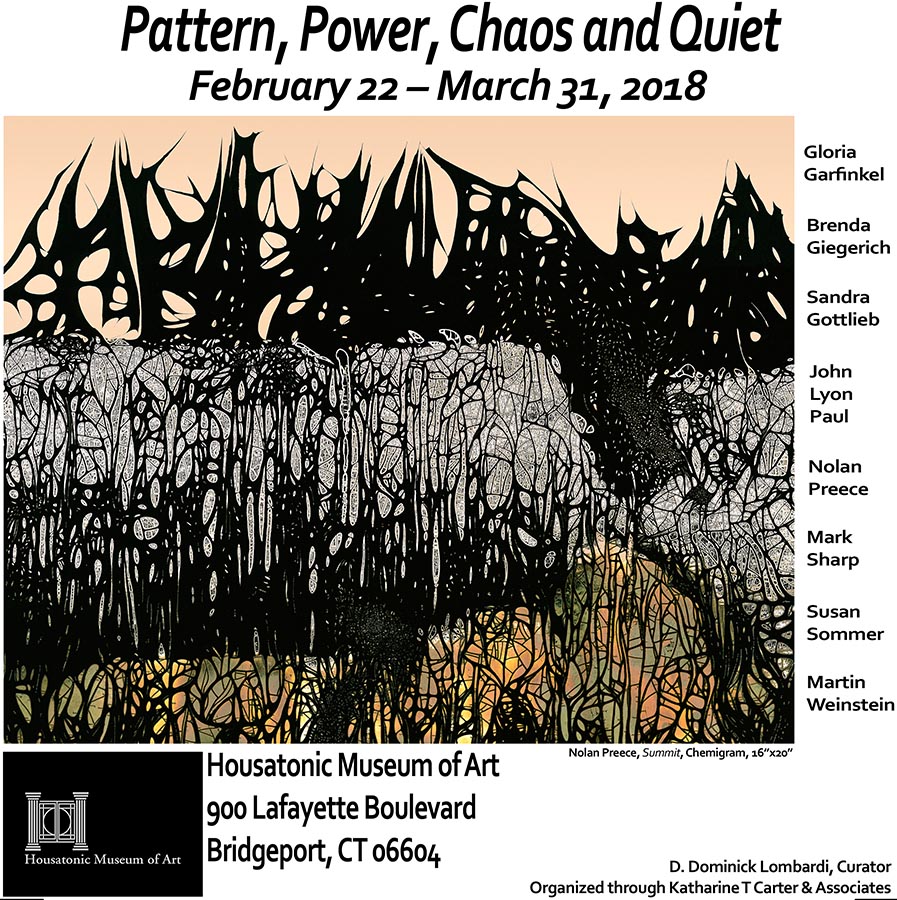 DESCRIPTION
Artist have forever been drawn to nature as a subject. Through the art of Gloria Garfinkel, Brenda Giegerich, Sandra Gottlieb, Nadene Grey, Steward Nachmias, John Lyon Paul, Susan Sommer and Eve Stuart you will see and experience nature in a variety of ways where the very essence of nature is both challenged and embraced. Curated by D. Dominick Lomardi.
---
History of Woman Art Show
March 8th, 6 p.m. – 8 p.m.
The Klein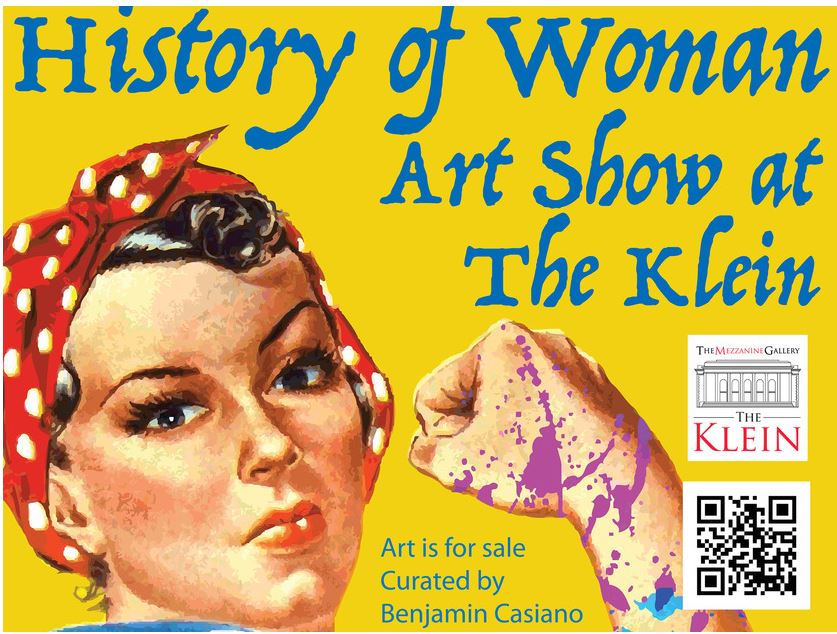 ---
America's Monsters, Superheroes and Villains 
Schelfhaudt Gallery
The University of Bridgeport
On View February 9th through March 18, 2018
DESCRIPTION
The University of Bridgeport's Schelfhaudt Gallery welcomes the SuperMonster市City! exhibition America's Monsters, Superheroes and Villains, a truly monstrous exhibition of vintage toys, models, posters, and more Opening February 9, 2018 and running through March 18, 2018.
The exhibit features over 130 vintage original toys, posters, advertising materials, television commercials and movie trailers in this comprehensive exhibition telling the story of six decades of America's cultural icons.  America's Monsters, Superheroes and Villains playfully illustrates how the playtime icons of American culture reflect our country's changing ideals and serve as historical documentation of our nation's emerging creativity and evolving norms and conventions.  Museum-goers will come face-to-face with vintage objects and artifacts that illuminate the changes in toy design, children's play, and social mores across 60 years.
Both children and adults love to be safely scared by werewolves, vampires, the Frankenstein Monster, and other misshapen creatures of the night and learn how to do good by superheroes and sheroes.  This stunning array of toys and advertising designs and packaging bring the monsters, heroes and antiheroes from America's Golden Era to the Fairfield area for the first time.  The exhibition features creators, designers and artists such as James Bama, Todd McFarlane, Stan Lee, Jim Steranko, and vintage toys from Mattel, Hasbro, Aurora, Marx, and others are included in the exhibition. Informative panels guide attendees through the historical context and creative advances across the decades.
Curated by SuperMonster市City! managing director Stephen Rueff, the objects are drawn from David Barnhill's privately-held, original-owner collection of over 200,000 toys and toy-related posters, film and video collected from around the world, making this one of the largest private collections of toys and toy-related memorabilia in America. For interviews and more information email Stephen Rueff at Stephen@SuperMonsterCity.com
The opening reception for America's Monsters, Superheroes and Villains will be held Friday Feb. 9th from 5:30 to 7:30 p.m. Attendees are encouraged to come in costume, especially on Opening Night!
The exhibition runs from Feb. 9th through March 18, 2018 at the Schelfhaudt Gallery, located at University of Bridgeport, Arnold Bernhard Center 84 Iranistan Avenue, Bridgeport CT. 06604
The exhibition is open and the admission is free to the general public.
---
Vintage Nights at City Lights: Sip & Shops on Thursdays
City Lights Vintage
265 Golden Hill St. Downtown Bridgeport CT
DESCRIPTION
Every Thursday is a special night at City Lights Vintage. We will be hosting hands-on workshops where you become the fashion statement. Make one of a kind jewelry, design your own perfume scent from botanicals and oils. Choose from the eclectic inventory to accessorize your personal style while enjoying refreshments. On Thursday nights Robin Gilmore Jopp of Made In Bridgeport will happily help you find that special statement piece.
---
Art Moves at City Lights
Resident Artist: Will Corprew
January 15 – February 28, 2018
City Lights Gallery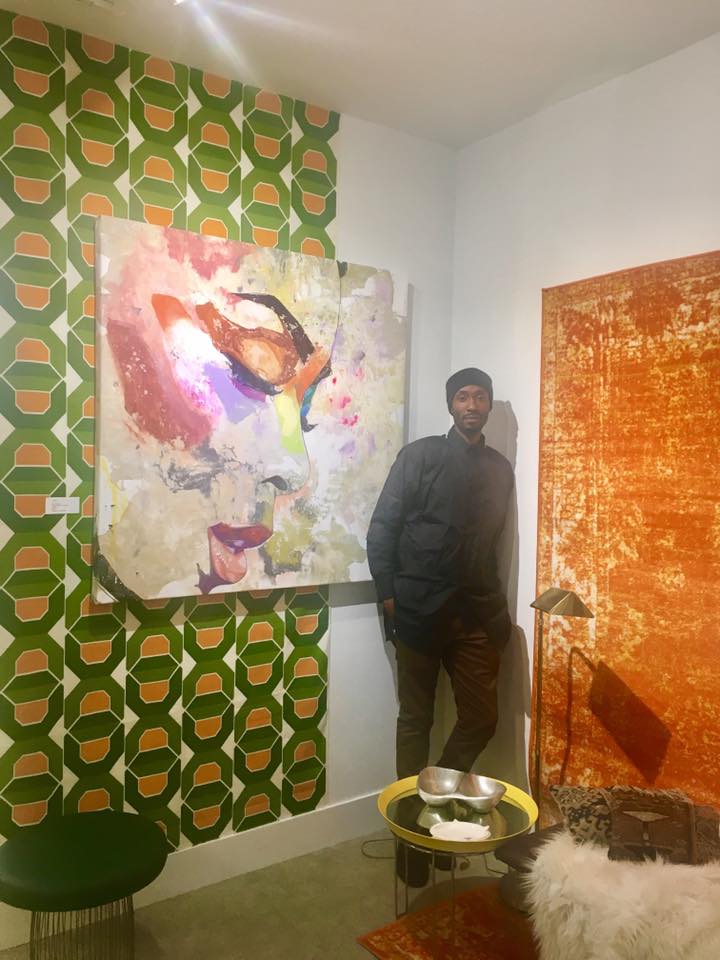 DESCRIPTION
View the creations and designs of "resident artist" Will Corprew including large scale portraits that combine realism and abstraction complimented by interior design elements. He presents his work in interior design vignettes including select furniture, textile design upcycled pieces. Also in the exhibit are the steampunk lamps of Jason Aleska,
---
Intuitive Painting for Children
Workshops by Kristen Ambrosi
Nest Arts Factory
1720 Fairfield Avenue
Bridgeport, CT 06605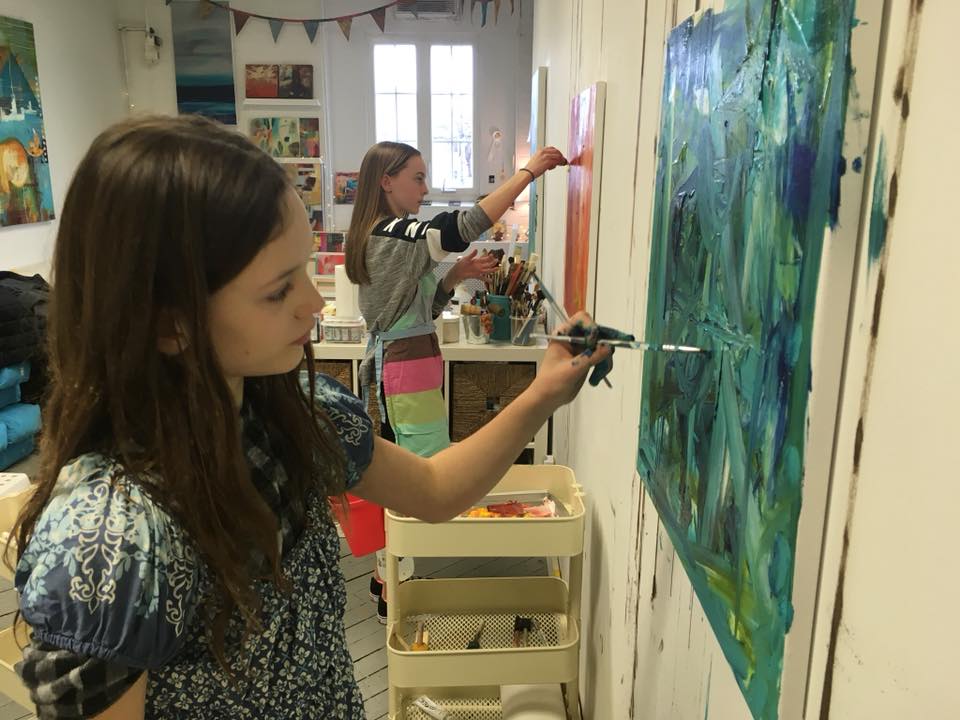 DESCRIPTION
Instructor: Kristen Ambrosi
$50.00/hour or $80.00/two hours
Under the guidance of painter and yoga instructor Kristen Ambrosi, children learn techniques for art and for living, cultivating exploration, play, freedom, and curiosity, both on and off the canvas.
Using quality art materials, children are encouraged to:
• Experiment with making marks
• Choose colors that delight their senses
• Listen to and follow their inner voice
• Try new approaches
• Find solutions and express themselves creatively
New schedule is now open. Call to schedule a class for your young artist!
Lessons are available either privately or in groups of up to four.
All materials are provided at $50/hour or $80/two hours
---
SPECIAL EVENTS
---
WPKN's MUSIC MASH '18- RECORD FAIR
Saturday, March 3rd
Read's Artspace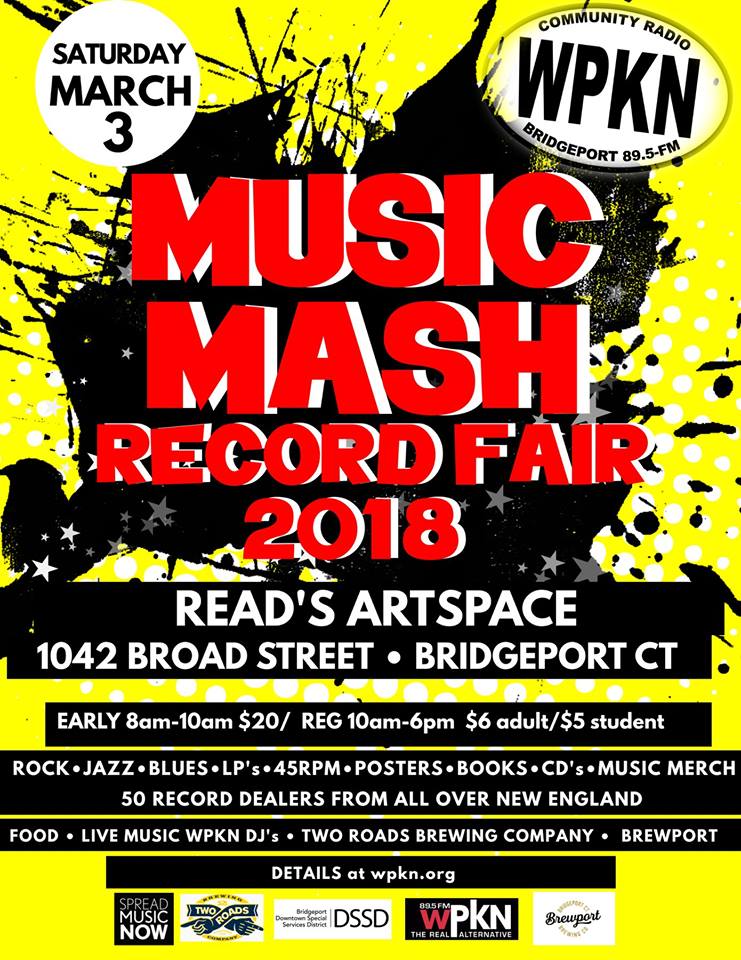 DESCRIPTION
Saturday, March 3rd– Read's Artspace –Downtown Bridgeport
The Biggest One-Day Event in New England – thousands of Vinyl LP's, 45's, CD's, Posters, and Memorabilia
On Saturday, March 3rd, independent, non-profit, community station WPKN 89.5-FM presents MUSIC MASH '18-Record Fair- it's fifth installment. The location is downtown Bridgeport at the Read's Artspace Building. Opened in 1925, Read's Artspace is a transformed urban landmark building that once housed Read's Department Store, hailed as the finest department store between New York and Boston. "Now it is home to several hundred artists and contains a very large and well-lighted gallery space that is roughly the same size as the debut show we held at the Fairfield Theatre Company in 2013, says Mark Mushin, director of press & publicity at WPKN. "It's a few minutes walk from the Metro North Bridgeport train station (easy access from NYC and New Haven) as well as The Port Jefferson Ferry. There's also plenty parking.
Steve di Costanzo, the founder of the event is also the GM at WPKN. "Our first event back in 2013 at what today is the Warehouse at Fairfield Theatre Company was a big hit, and for the fourth consecutive year we're back in Bridgeport. Each year is bigger with about 1000 people expected. It's become the biggest one-day record event in New England. John Bastone from Record Riots says "we've been helping this event since the beginning and all the vendor tables sold out right away."
Early Bird hours are from 8am to 10am with $20 admission for buyers looking to get an early jump. The main show opens at 10am and runs through 6pm. Admission is $6/$5 students and kids under 12 are free. This is a family friendly event. Music Mash '18 works closely with the Bridgeport DSSD.
Two Roads Brewing Company will be on-site and a consortium of downtown Bridgeport restaurants are involved to help support Music Mash '18 offering food discounts all day to Music Mash-goers.
MUSIC MASH '18 at Read's Artspace in Bridgeport will include some of the regions top dealers/vendors with music ranging from rock, jazz, blues, garage, psychedelia, country, soul, new wave & punk, reggae, ska to ephemera.
WPKN is again working with Record Riots on the vendor side- Record Riots own and operate multiple shows including the Brooklyn Record Riot and shows in Philadelphia, New Haven and Jersey City. Besides dealers, WPKN has roughly 1500 gifted to sell, including a private gift of near-mint collectable LP's.
Once again WPKN programmers will be DJ'ing LIVE sets, and several musical celebrities are scheduled to attend. Past events have featured some members of the global music community including Chris Frantz & Tina Weymouth from Talking Heads and Tom Tom Club- (Frantz also hosts the monthly show 'Chris Frantz-The Talking Head' on WPKN), Hilton Valentine from The Animals, Rusty Ford of Lothar & the Hand People, Charlie Karp a member of the Buddy Miles Express, White Chocolate and others.
Read's Artspace is located 1042 Broad Street in Bridgeport. Metered parking is available and there will be free outdoor parking at the lot across from Read's via Cannon Street.
WPKN thanks supporters Two Roads Brewing Company,SpreadMusicNow.org, the Bridgeport Downtown Special Services District and Brewport.
MORE INFORMATION
---
LIVE THEATER
---
Bijou Theatre and Vagabond Theatre Company Present
The Exonerated – (A Play by J Blank & E Jensen)
February 23, 2018
The Bijou Theatre
\
DESCRIPTION
For our February artist of the month we have selected Vagabond Theatre Company. 
We spoke with Co-Founders/Artistic Directors John R Smith JnR and Tanya Feduik-Smith about their powerful production of The Exonerated and the role of alternative theater in Bridgeport and our current social/political climate. 
About Vagabond Theatre Company (VTC)
The Vagabond Theatre Company of Greater Bridgeport is a not-profit theatre troupe dedicated to creating thought provoking, emotional, and entertaining productions which acknowledge, explore and dissect social issues. As well as identifying, developing, and supporting new artists on and offstage.
About The Exonerated at The Bijou Theatre
The Vagabond Theatre Company (VTC) is pleased to announce their upcoming production of The Exonerated, adapted by Jessica Blank and Eric Jensen, and directed by Richard Mancini.
The Exonerated is the interwoven true stories of six Americans, wrongfully convicted and sentenced to death row, only to be set free decades later when newly discovered evidence proved their innocence.
• Delbert Tibbs, a poet who serves as the play's center, convicted in the Deep South of the 1970's and later freed when evidence surfaced showing him out-of- town when the crime occurred.
• Kerry Max Cook who served twenty-two years before being exonerated by DNA evidence
• Sunny Jacobs, who spent seventeen years in prison although another man confessed and was ignored by the courts.
• Robert Hayes, who spent seven years on death row for murder, before evidence emerges that the victim was found clutching hair from her actual attacker
• Gary Gauger, condemned for the murder of his parents and later exonerated when the true killers confess
• David Keaton, bullied into confessing to a robbery/murder at age eighteen, he is scarred from a youth spent in prison and is struggling to regain his faith
Told in their own words, through first-person monologues and scenes set in courtrooms and prisons; adapted from interviews, letters, court transcripts, case files and the public record.
Don't miss this powerful examination of the American criminal justice system's gaping holes in need of serious reform, and the resilience of the human spirit of the brave souls who survived it.
The Exonerated runs Fridays-Sundays February 23-March 4 at The Bijou Theatre, located at 275 Fairfield Ave. in Bridgeport.
Stage Level Tickets are $15-20 and Mezzanine Level Seats are $25-30, and can be purchased through The Bijou website, www.BijouTheatreCT.com.
A portion of all ticket sales will be donated to The Exonerated Fund administered by The Culture Project, who distribute ALL collected funds to those exonerated of their wrongful convictions to rebuild their lives after release
---
Jesus Christ Superstar
March 16 – April 08
Downtown Cabaret Theatre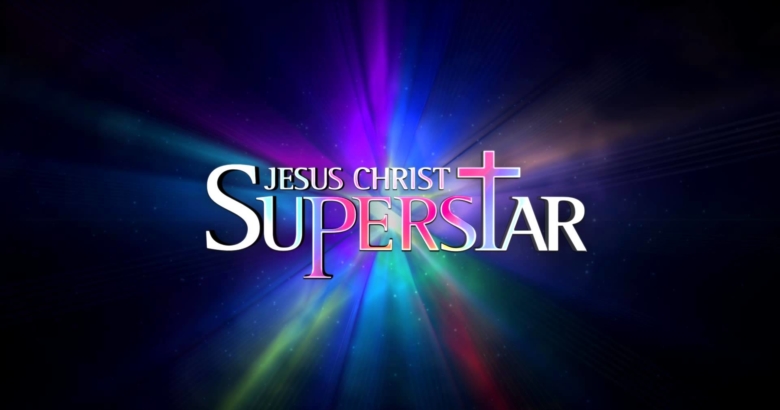 DESCRIPTION
Andrew Lloyd Webber's 1970 rock opera follows Christ's final days, dramatized with emotional intensity, thought-provoking edge and explosive theatricality. Jesus Christ's meteor-like rise provides a parallel to contemporary celebrity worship, and as his radical teachings are evermore embraced, Judas increasingly questions the enlightened motives of this new prophet, resulting in betrayal. Propelled by a stirring score, by turns driving and majestic, satirical and tender, this rock opera illuminates the transcendent power of the human spirit.
Director & Choreographer: Lance Gray
Musical Director: Eli Newsom
TICKETS: $28-$33
SEASON TICKETS AVAILABLE: Save up to $55!
---
CALLS FOR ART
---
Call for Vendors
The Bridgeport Flea
Saturday, March 17th, 12-5 p.m.
Blends Gallery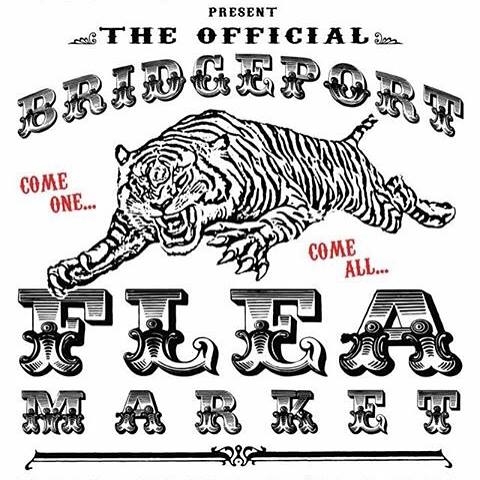 DESCRIPTION
YOU, ME & FLEA!!!! Located at Blends Gallery, 1163 Main st., Downtown Bridgeport!
Cool, Quirky, Colorful, Dope, Vintage, Refurb'd, Handmade, all here!!!!
Interested vendors email bpt.flea@gmail.com, spaces are $25.
---
\