This August Bridgeport's arts and culture scene stays hot with a public art installation, 9th annual SAMESEX exhibition, disco at the Downtown Cabaret Theatre, and storyteller series "Not Your Mama's PechaKucha". Plus, live music at the Klein and Downtown Thursdays, 48 Hour Film Project at the Bijou Theater, and more!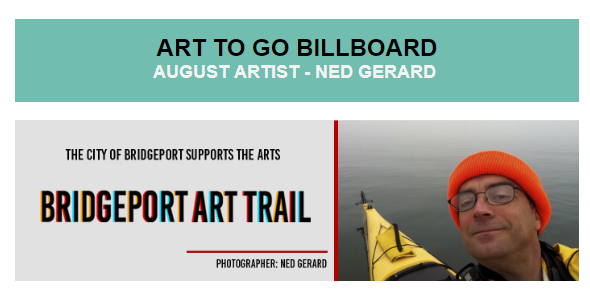 ---
CURRENT EVENTS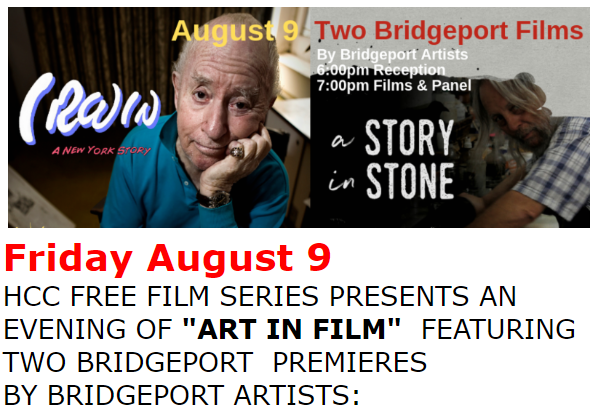 "IRWIN: A New York Story"
& "A Story In Stone"
An Evening Of Illustrators, Cartoonists & Fine Art Print Making
6:00pm Meet n' Greet Reception With The Films Creative Team And Guest Panelists For All Ticket Holders
7:00pm Panel And Q&A For Both Films Moderated By: David Gesualdi
Guest Panelists: Q&A Discussion With Artists And Filmmakers.
David Gesualdi: Moderator – Sculptor, Printmaker And Town of Bethel Resident
Dan Makara: Co-Director, Writer, Producer, Painter And Town of Redding Resident Milestone Graphics
Frank Borres: Co-Director, Producer
James Reed: Master Printmaker, Owner of Milestone Graphics , Bridgeport CT
Irene Bednarczyk: Printmaker & Studio Assistant Milestone Graphics
IRWIN: A New York Story Trailer
Feisty nonagenarian Irwin Hasen recounts his colorful life in the NYC Boxing industry and as a pioneer comic book illustrator for DC Comics on features such as Wonder Woman, Green Lantern, & Wildcat. He reached nationwide stardom in the 1950's with his newspaper strip DONDI , even appearing in the 1957 feature film. A lifelong New Yorker, Irwin's bubbly tales of wine, women & song, will have you dancing in your seats!
A Story In Stone Trailer
A Story In Stone presents a brief history of French Lithographer Fernand Mourlots' introduction of Stone Lithography to America, the process used by Picasso, Matisse, Chagall and Toulouse-Lautrec to reproduce some of master their work. American artist James Reed was one of the first to work with New York Mourlot printers first hand. Reed went on to establish Milestone Graphics in Bridgeport, Ct., where he's printed for local & nationally recognized artists.
---
VISUAL ART
---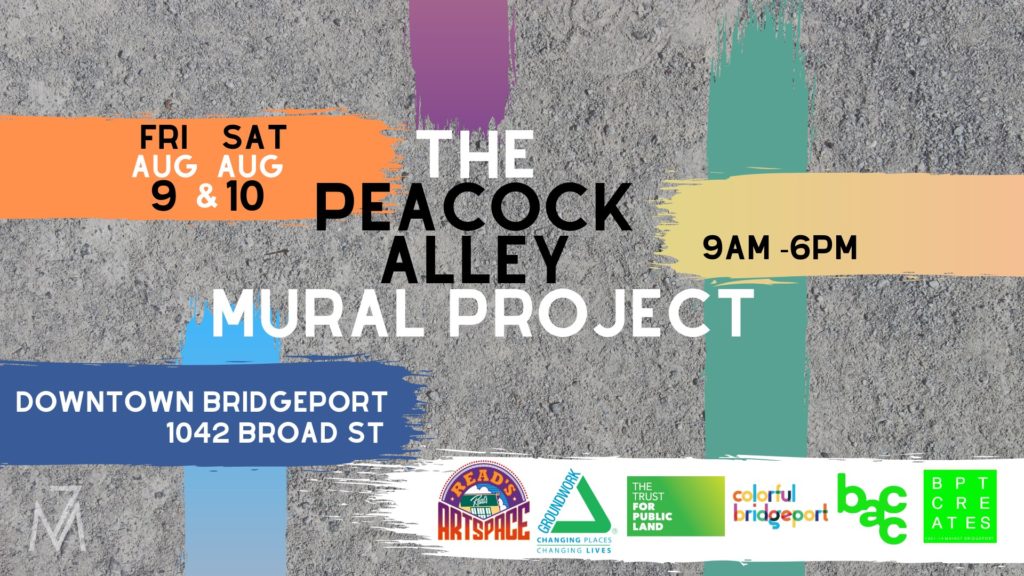 The Peacock Alley Mural Project Installation
Friday – Saturday
August 9th & 10th
9am – 6pm
Groundwork Bridgeport, Colorful Bridgeport, Bridgeport Arts & Cultural Council, BPT Creates and the The Trust for Public Land presents:
The Peacock Alley Mural Project Installation
In case you didn't know, the walkway alley behind the Historic Arcade Mall and the Reads Art Space is called "Peacock Alley". Join us in installing one of Bridgeport's largest sidewalk murals ever. We're supplying the paint, rollers, brushes, tape and music. And you bring the elbow grease and be ready to paint, we've got 5000 sq ft of sidewalk to get done!
If you're interested in volunteering please contact:
Lauren Coakley-Vincent – lauren.dssd@infobridgeport.com
Christina Smith – csmith@groundworkbridgeport.org
Razul Branch – bptartscouncil@gmail.com
---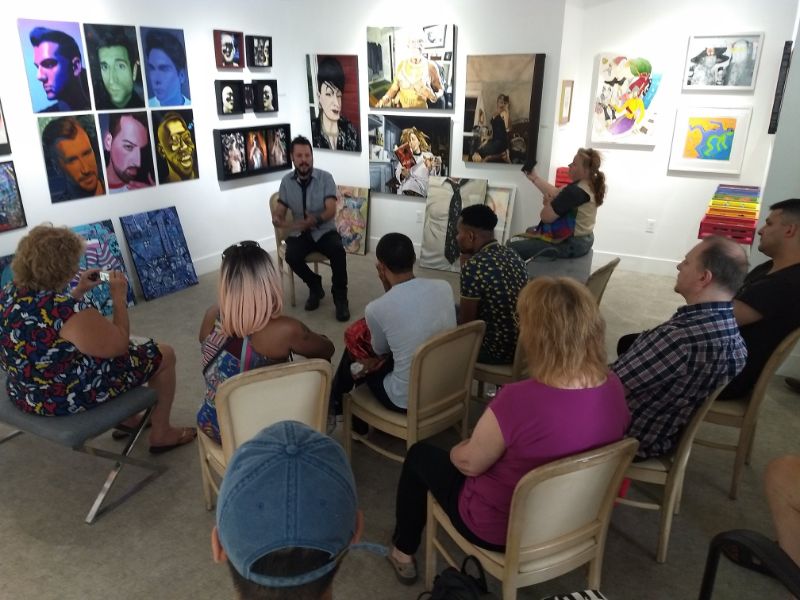 SameSex Exhibit explores LGBT themes, same-sex attraction, related feelings and issues of 2019. Artists need not be gay, lesbian, bisexual or transgender to participate.
Artists: Christopher Augerson, Mario Baez, Patrice Barrett, Marieta Capobianco, Benjamin Casiano, Darron Copeland, Kevin Cox, Erica Czerwinski, Coco Garner, Andrew Graham, Delayne Gratopp, Kate Henderson, Don Houston, Susan Stinson-Hurwitz, Maxwell Kale, Niki Key, Mia Lipstick, Luis Lopez, Barbara Loss, Samuel McPherson, Ricky Mestre, Nancy Moore, Dale Parson, Adrian Pulido, Jon Puozzoli, Barbara Ringer, Ellen Schindermann, Susan Tabachnick, Richard Taddei, Amanda Walker
Thank you to sponsors:
Triangle Community Center,
Tito's Vodka, Trevi Lounge, Circle Care Center,
John Brannelly and Dave Ivanko, Holiday Inn Bridgeport
---

Read the full article: "SAMESEX Stuns At City Lights"
---
COMMUNITY EVENTS
---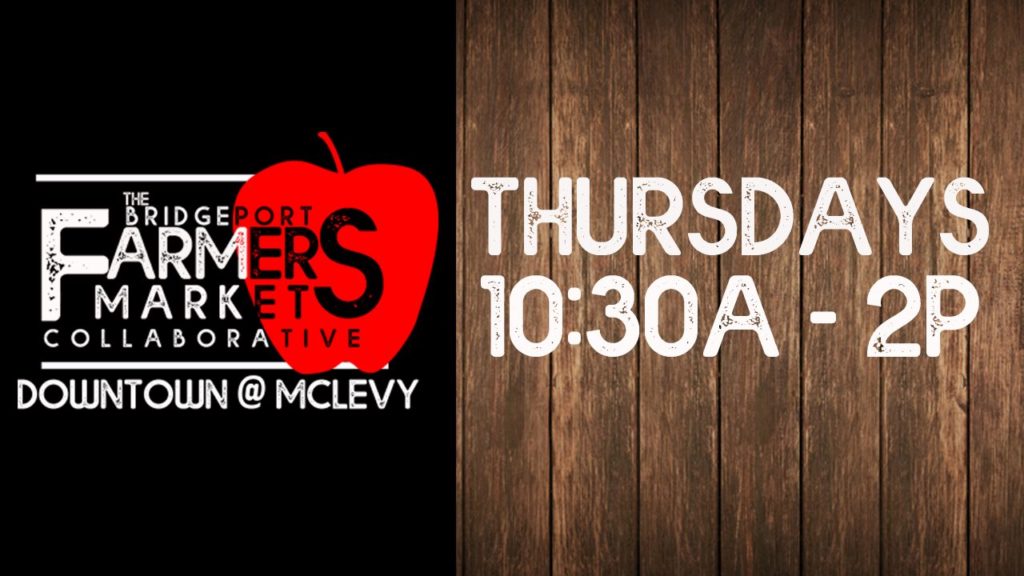 Downtown Market at McLevy
Thursdays, 10:30 AM – 2:00 PM
McLevy Green
The Bridgeport Downtown Farmers Market 2019 season is in full swing! On Thursdays from July 10th through October 10th, the DSSD will host the Downtown Farmers Market from 10:30 a.m. to 2:00 p.m in McLevy Green (102 Bank Street).
Come enjoy fresh fruits and veggies, food, crafts, live music, and more! Our vendors this year include: A Pinch of Salt Chef Raquel Rivera-Pablo Artist & Craftsman Supply Bridgeport Betzy's Latin Flavors, Elegantly Casual Cuisine, Fortuna's Catering Co. of Bridgeport, GardenMind Decor, 
 #hotchicksexceptionaleggs, Killam & Bassette Farmstead, LLC, Leisha's Bakeria LLC, Proof Pizza Truck, Rooster's Rise, Smith's Acres LLC, Southwest Community Health Center, Inc., Popcorn Bar Avangrid, CMC Energy Services Connecticut
---
LIVE MUSIC AND PERFORMING ARTS
---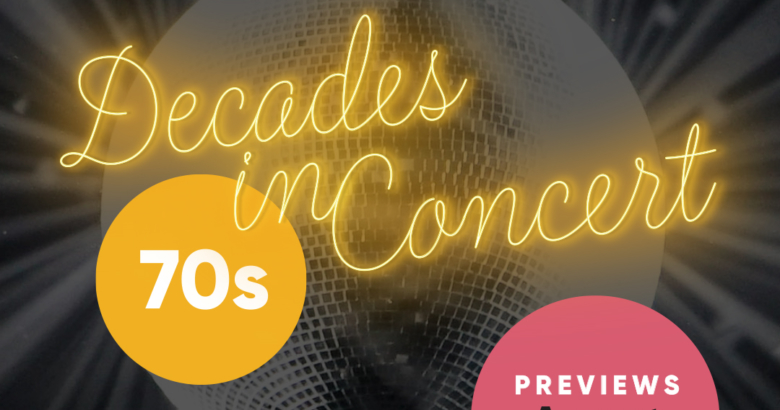 Decades in Concert: The Sounds of the Seventies – Preview
August 09 – August 11
Downtown Cabaret Theatre
The Downtown Cabaret is thrilled to be launching its very own original concert revue series: Decades in Concert. This inaugural production transports audiences back to the 1970s to revisit the sights and sounds of the AM Gold radio era. Using music from Elton John, Carole King, Stevie Wonder, Donna Summer, The Bee Gees and many many more, Decades in Concert tells the story of the history and culture of America's bicentennial years. 
---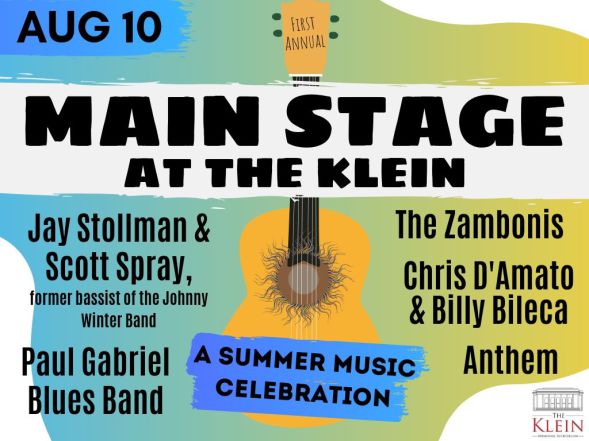 Main Stage at The Klein: A Summer Music Celebration
Saturday, August 10, 2019
Doors open at 12:30pm, Show: 1 – 8:00p
Kick back & listen to outstanding bands! Rock – Blues – Reggae
Featuring Jay Stollman & Scott Spray, former bassist of the Johnny Winter Band with special guest Matt Schofield, British Blues Hall of Fame Inductee; Paul Gabriel Blues Band; The Zambonis; Anthem; Chris D'Amato & Billy Bileca.
Great live music, food trucks & drinks!
---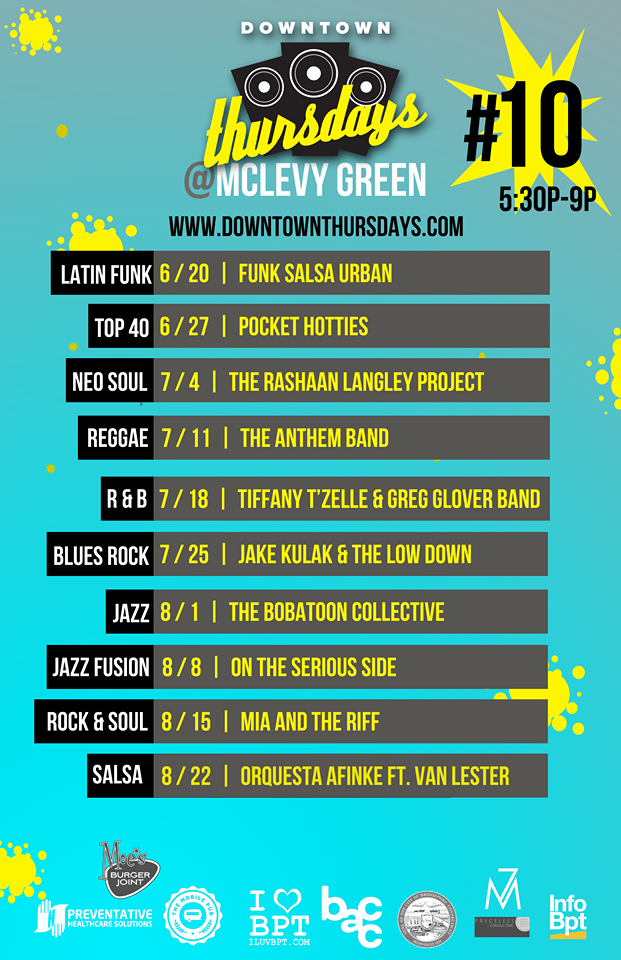 ---
THEATRE & FILM
---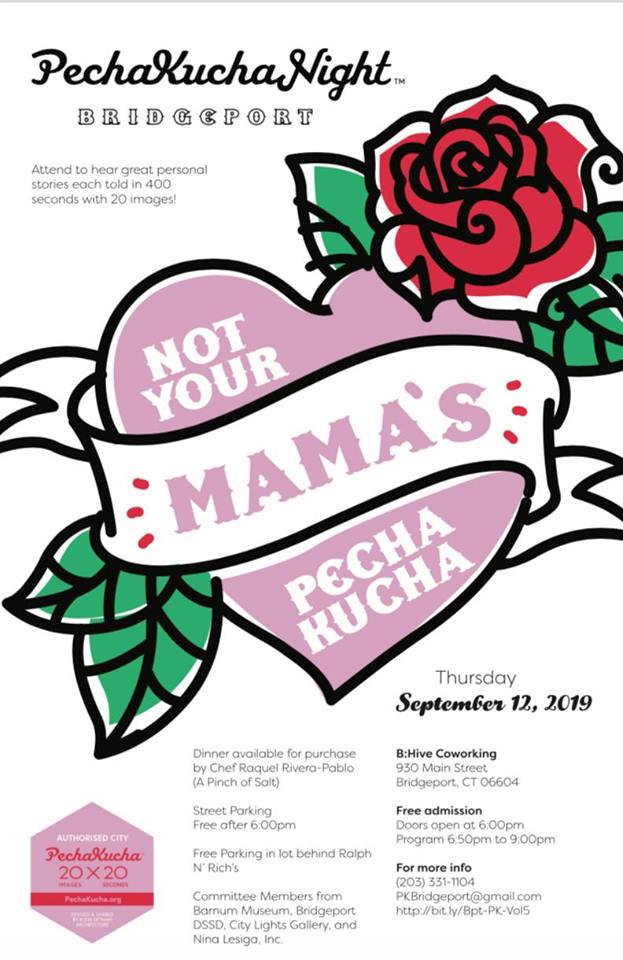 Bridgeport PechaKucha, Volume 5
Presenters Info Session
Saturday, August 10th from 2:00-3:30 PM
Barnum Museum
Bridgeport PechaKucha, Volume 5
Not your Mama's Pechakucha
Thursday, September 12, 2019 at 6 PM – 9 PM
B-HIVE Coworking space
Bridgeport PechaKucha, Volume 5, will be at the B-HIVE Coworking space on Thursday, Sept. 12th. Attend to hear great personal stories each told in 400 seconds with 20 images!!!! The theme will be NOT YOUR MAMA'S PECHAKUCHA! (Some content will be edgy and "adult!").
WE'RE LOOKING FOR MORE Artists, Veterans, Writers, Dancers, Musicians, History Buffs, Cooks, Librarians, Barbers, Unicyclists, Botanists, Body Builders, Foodies, Teachers, (pretty much anyone with a passion about something) to share personal stories at this Bridgeport PECHAKUCHA – VOL 5.
To help potential speakers with the process of understanding what a Pechakucha is and how to create the slides and presentation there will be one workshop at the Barnum Museum on Saturday, August 10th from 2:00-3:30.
---
48 Hour Film Project – Awards Night
Friday, August 23, 2019
Doors: 7 PM / Show: 8 PM
---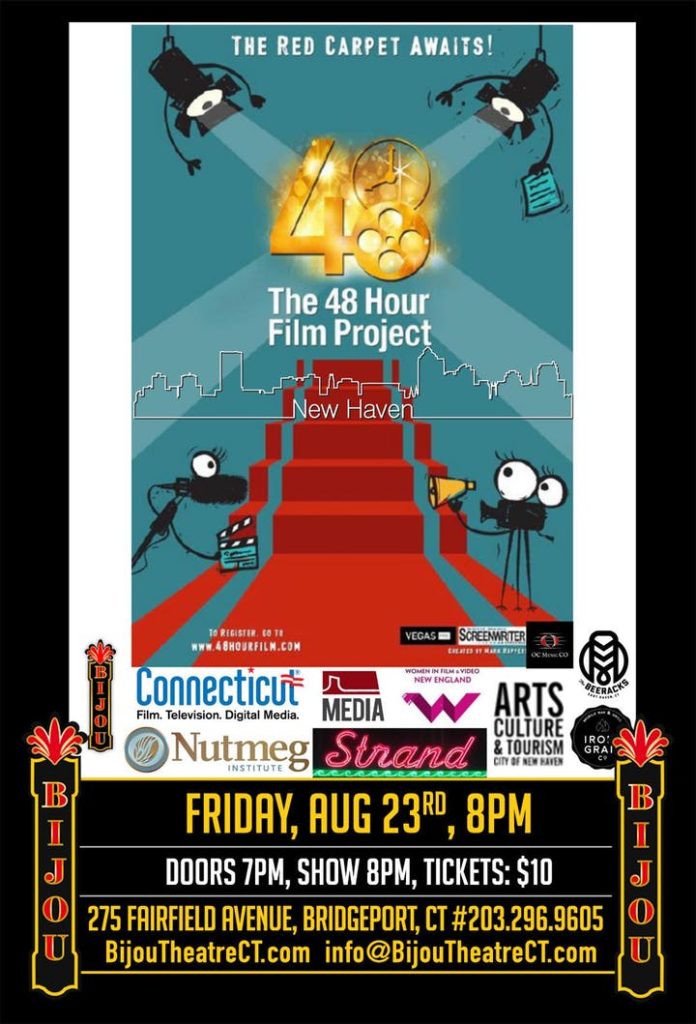 On July 26th, 30 plus teams of creative filmmakers set forth to make short films in just 48 hrs.
30 plus teams of creative filmmakers set forth to make short films on July 26th. The Judges have spoken and the Awards will be handed out after we screen some of the nominees!
30 plus teams of creative filmmakers set forth to make short films on July 26th. The Judges have spoken and the Awards will be handed out after we screen some of the nominees!
Put on your Red Carpet BEST and join us for our best of NHV48HFP 2019 Screening & Golden Awards Night!
---