APRIL EVENTS
---
VISUAL ART – NEW EXHIBITS
---
"North East Space Time" Art Exhibit
Opening Reception Thursday, April 5 at 5:30 PM – 7:30 PM
Schelfhaudt Gallery
University of Bridgeport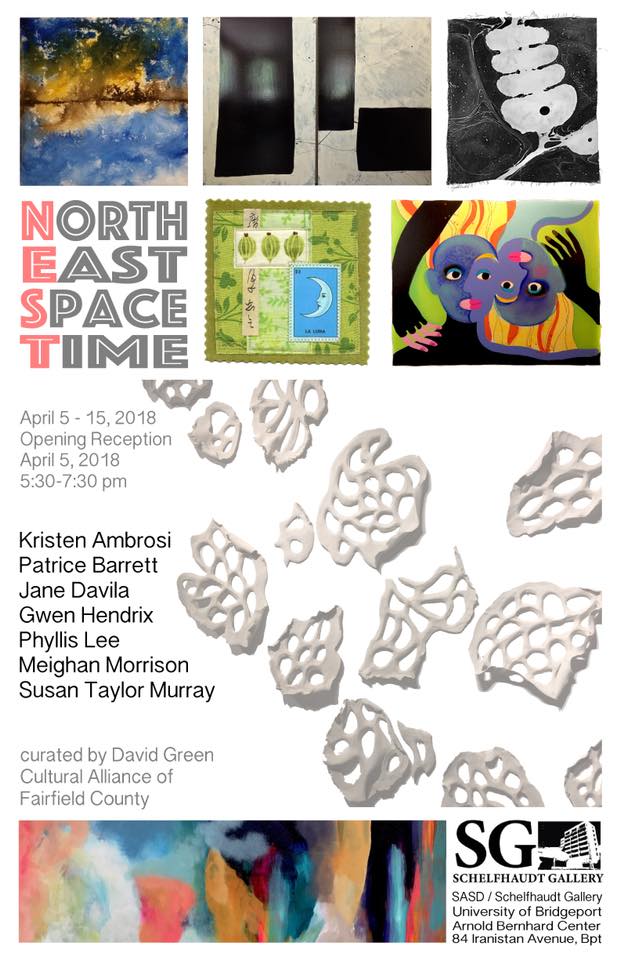 DESCRIPTION
Seven diverse artists from NEST Arts Factory exhibit a dynamic and colorful show of work. All are welcome for an Opening Reception at Schelfhaudt Gallery this Thursday evening, April 5, between 5:30-7:30pm. Just along scenic Seaside Park, Schelfhaudt Gallery is an extraordinary exhibition space on the campus of the University of Bridgeport.
Thursday, April 5 at 5:30 PM – 7:30 PM
UB's Arnold Bernhard Center for the Arts & Humanities
84 Iranistan Ave, Bridgeport, Connecticut 06604
---
Open House & Spring Garden Celebration
Saturday, April 21 at 10 AM – 6 PM
Colorblends House & Spring Garden
893 Clinton Ave, Bridgeport, Connecticut 06604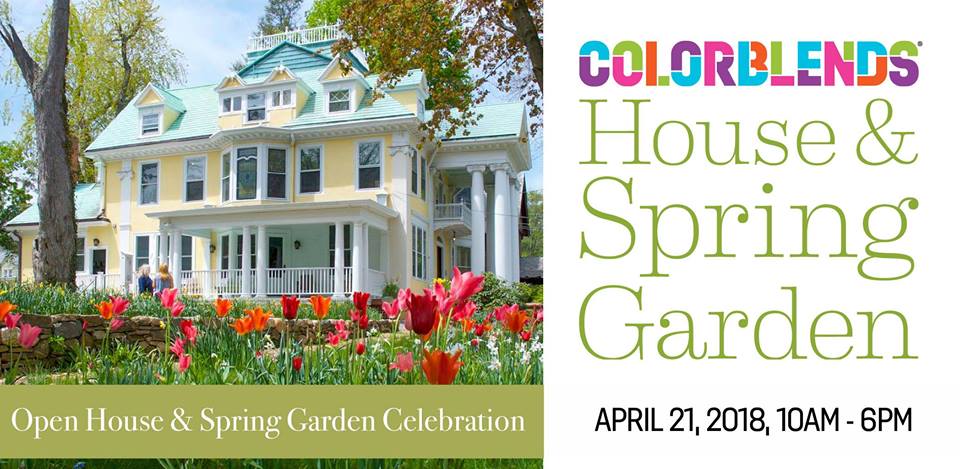 DESCRIPTION
You are invited to the Colorblends House & Spring Garden Open House on Saturday, April 21, from 10am to 6pm. Refreshments will be served. The daffodils are likely to be in their prime, and the tulips should be showing color. Colorblends staff will be available to answer bulb questions. The newly renovated Colonial Revival mansion will be filled with art of all kinds created by local artists: Aisha Nailah, Alan Neider. Amy Kaplan, Cynthia Mullins, Jahmane, Joan Wheeler, Kristen Ambrosia, Looketha, Michael J Clocks, Roberta Chambers, and Silas Finch.
Colorblends House & Spring Garden is located at 893 Clinton Avenue in Bridgeport, CT. Street parking is plentiful.
---
Housatonic Community College
First Annual Regional High School Art Show
Opening Reception: April 12 at 5:30pm
Exhibit on View: April 9th-April 26th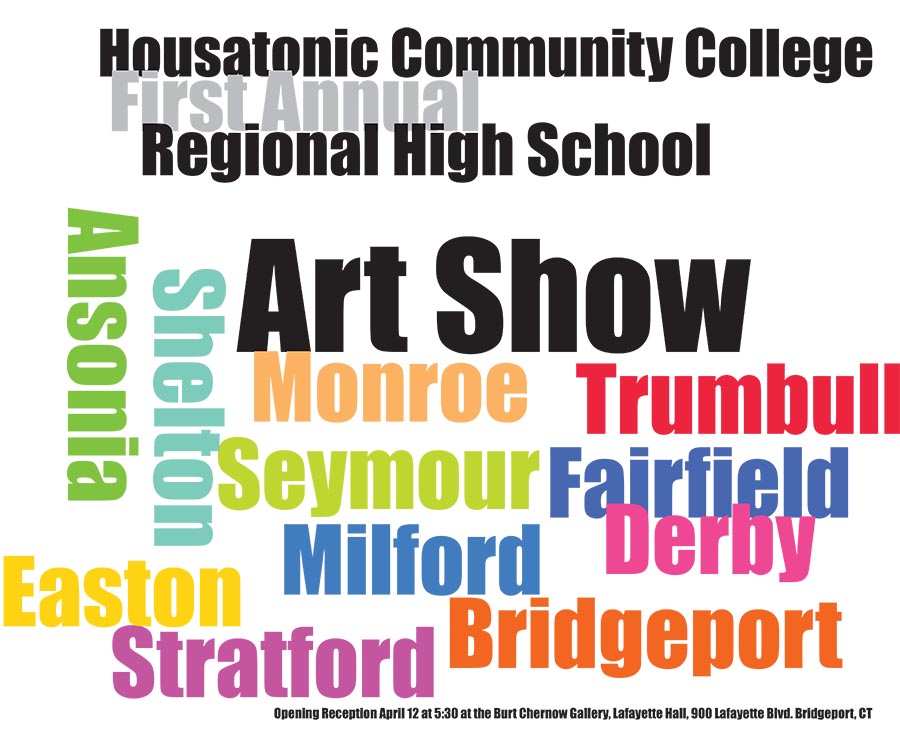 DESCRIPTION
Exhibit Begins April 9th. Don't miss the opening reception on April 12 at 5:30 PM.
Show ends April 26
---
Flower Power – Art Exhibit & Call for Art
Saturday, April 21 at 6 PM – 10 PM
Read's Ground Floor Gallery/ Read's Artspace
1042 Broad Street, Bridgeport, CT 06604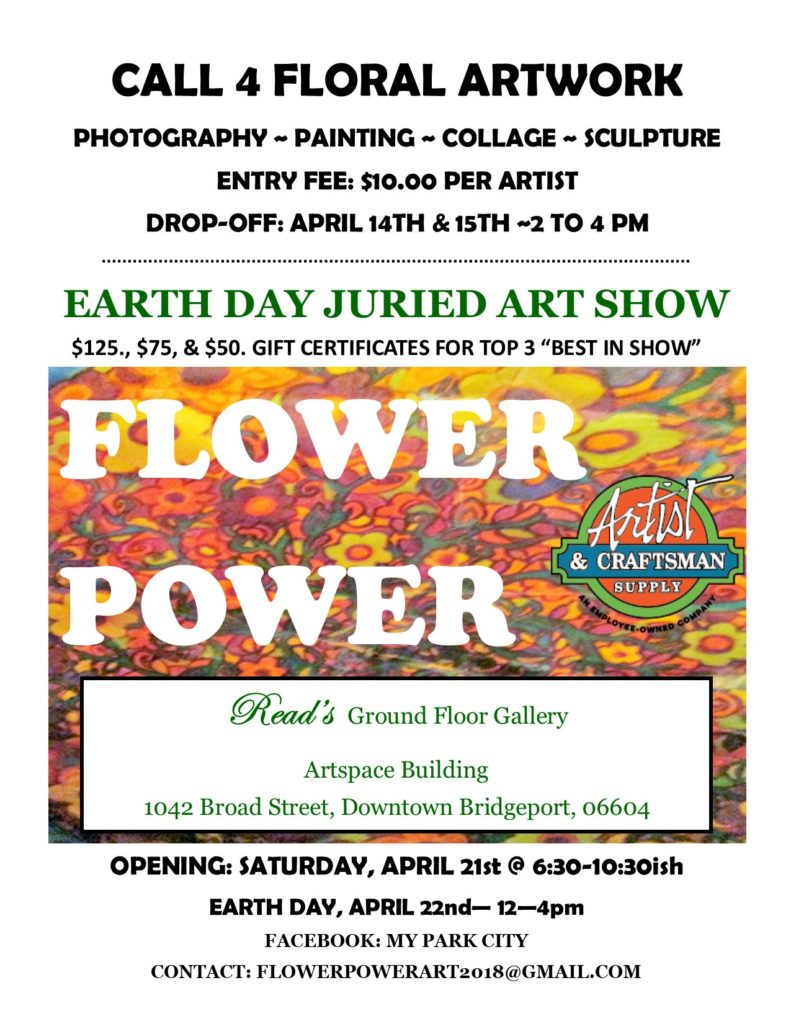 DESCRIPTION
Flower Power is a floral-themed art show to celebrate Earth Day at live/work artist community Read's Artspace.
Join for the opening reception featuring live music & refreshments. Winners of the juried exhibit will be announced.
---
VISUAL ART – ON VIEW
---
NEST Associate Member Exhibit
Opening Reception: Saturday, March 10 from 2-5 pm
On View: March 10 – April 7, 2018
Nest Arts Factory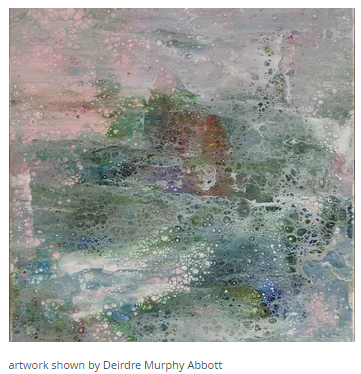 DESCRIPTION
​The NEST Associate Members are exhibiting fresh new work in a wide variety of media, including oil, acrylic, and watercolor painting, mixed media, fiber, and ceramics.
---
BRIDGES: Art Connecting Communities 
On View: March 22 – April 13, 2018
Maggie Daly Arts Cooperative
DESCRIPTION
The MDAC artists have joined together with the artists of SoCCA's All Access programs for the first time in this exhibition. "Bridges" is an art exhibition that not only focuses on the structure of bridges, but the connection within our own communities. This show will be on display at MDAC's gallery on weekdays from March 22nd to April 13th from 10am to 3pm.
---
10 Women, 10 Years Art Exhibit
Exhibit runs March 22-May 11, 2018
City Lights Gallery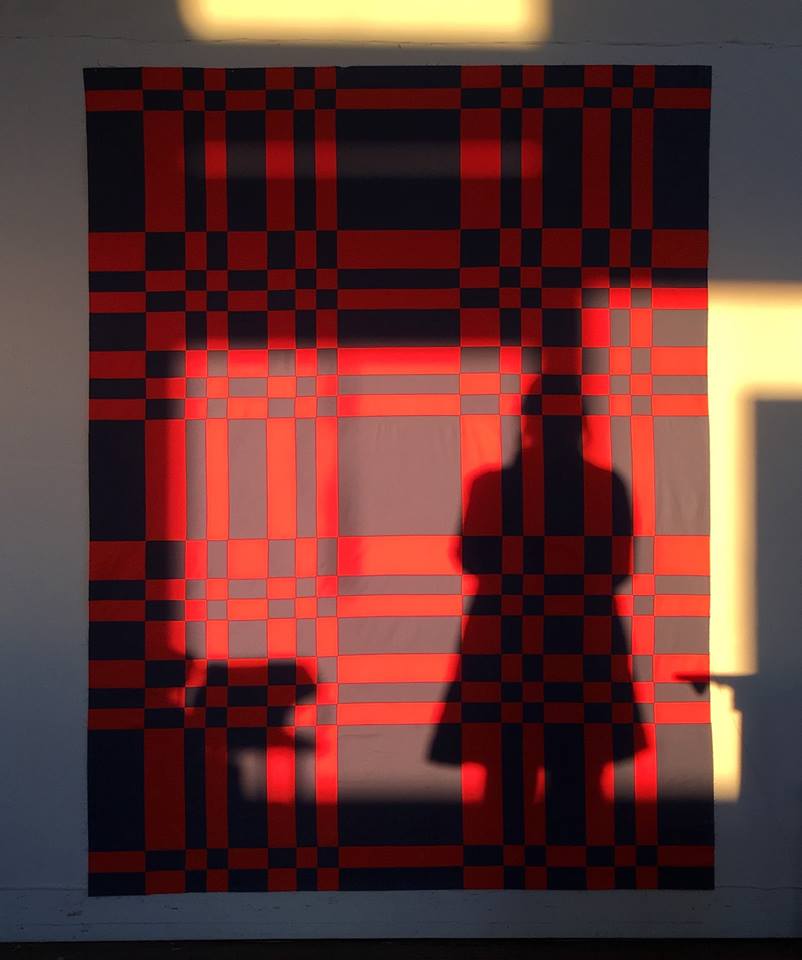 DESCRIPTION
2018 marks the 10th year of the Bridgeport Art Trail. City Lights recognizes 10 women artists and women run organizations, whose commitment, time and talent are integral assets that ensure the production of a successful annual city-wide arts celebration. This exhibit is the official kick-off the countdown towards the 10th annual Bridgeport Art Trail November scheduled 8-11, 2018.
Thank you to the exhibiting artists including: Alicia Cobb, Jane Davila, Robin Jopp, Crystal Heiden, Liz Helling, Marcella Kovacs, Shanna Melton, Susan Murray, Denyse Schmidt, Yolanda Vasquez-Petrocelli
Art above: Denyse Schmidt Quilts, the light in her studio in American Fabrics building casts a shadow of the artist upon one her exquisite quilts.
---
COMMUNITY EVENTS
---
Call for Participants: Pechakucha- A Storytelling Feast!
Workshop:  Sunday, April 8th at 3:00
Save the Date: Pechakucha show May 9th
The Barnum Museum
DESCRIPTION
A new social phenomenon is about to invade Bridgeport after taking 1000 cities around the world by storm.
The name of this event sounds exotic and hip because it is.  It's PechaKucha and it technically translates to "Chit-Chat", but that's somewhat misleading.   It's a group of people each presenting for six minutes and forty seconds with 20 compelling photos or visuals shown 20 seconds each to make it succinct, inspiring, fun and/or funky.  It is a tasty storytelling feast!
This is a call to all creative types to share authentic, possibly unexpected personal stories for the fun of it to spark new ideas and collaborations with snacks and beverage of your choice (the first event will be BYOB). Presenting a PechaKucha entitles you to have your slides and voice posted on an internationally viewed website and the opportunity to create exciting new connections between people in the real and digital audiences.
WE'RE LOOKING FOR Artists, Writers, Dancers, Musicians, History Buffs, Cooks, Librarians, Barbers, Unicyclists, Botanists, Body Builders, Foodies, Teachers, Tattoo Artists (pretty much anyone with a passion about something) to share personal stories in an inaugural Bridgeport PECHAKUCHA. The first Pechakucha will be at the Barnum Museum, hence the theme, a quote from P.T. himself, "The noblest art is that of making others happy!"
To help potential speakers with the process of understanding what a Pechakucha is and how to create the slides and presentation there will be two workshops at the Barnum Museum, one on Thursday, March 8th at 5:30 and another on Sunday, April 8th at 3:00.  You can attend in person or watch on Facebook Live on the Bridgeport Pechakucha Facebook page: http://bit.ly/FB-Pechakucha-Bridgeport . If you have any questions email PKBridgeport@gmail.com or call John Swing at the Barnum Museum (203) 331-1104 (X100).
---
Call for Performers: Make Music Bridgeport
Registration opens March 15, 2018
Save the Date: June 21st, 2018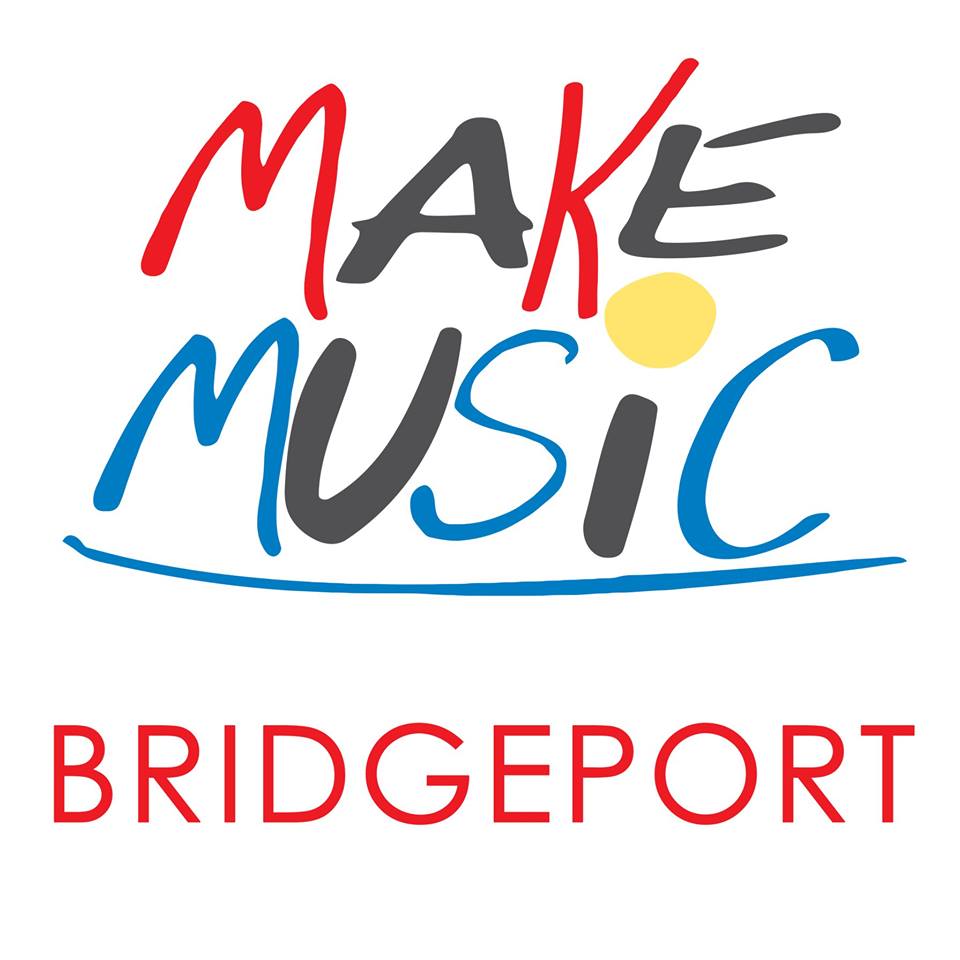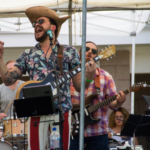 DESCRIPTION
The CT Office on Culture has invited the city of Bridgeport to join the international Make Music Day by participating in CT's first statewide Make Music Day celebration on June 21. An eclectic mix of free-opportunities to make and enjoy music are in formulation, including lunch-time music in public spaces like the Broad St steps, an open-mic evening at McLevy Green and live performances and interviews broadcasted from WPKN radio, 89.5 fm.
Community partners organizing the Make Music Bridgeport are City Lights/Bridgeport Art Trail, the Downtown Special Services District, WPKN radio 89.5 fm.
Bridgeport is the home of a growing community of musicians and recording studios producing Reggae, Rap, Blues, Baroque, Bluegrass and more. Homegrown music events include PorchFest, the Black Rock Famer's Market Hootenanny and Downtown Thursdays. Interested musicians please email clgallerybpt@gmail.com.
Mark your calendar for June 21. Check back to  http://www.makemusicday.org/bridgeport/ as we grow our list of programs and performers which presently consists jazz, bluegrass and Afro-Caribbean drumming.
The Make Music Day celebration started in France 35 years ago and is growing into a popular global event. Learn More Here: http://www.makemusicday.org/
---
Welcome Bridgeport Arts & Cultural Council!
Friday, April 27 at 5 PM – 10 PM
Blends Gallery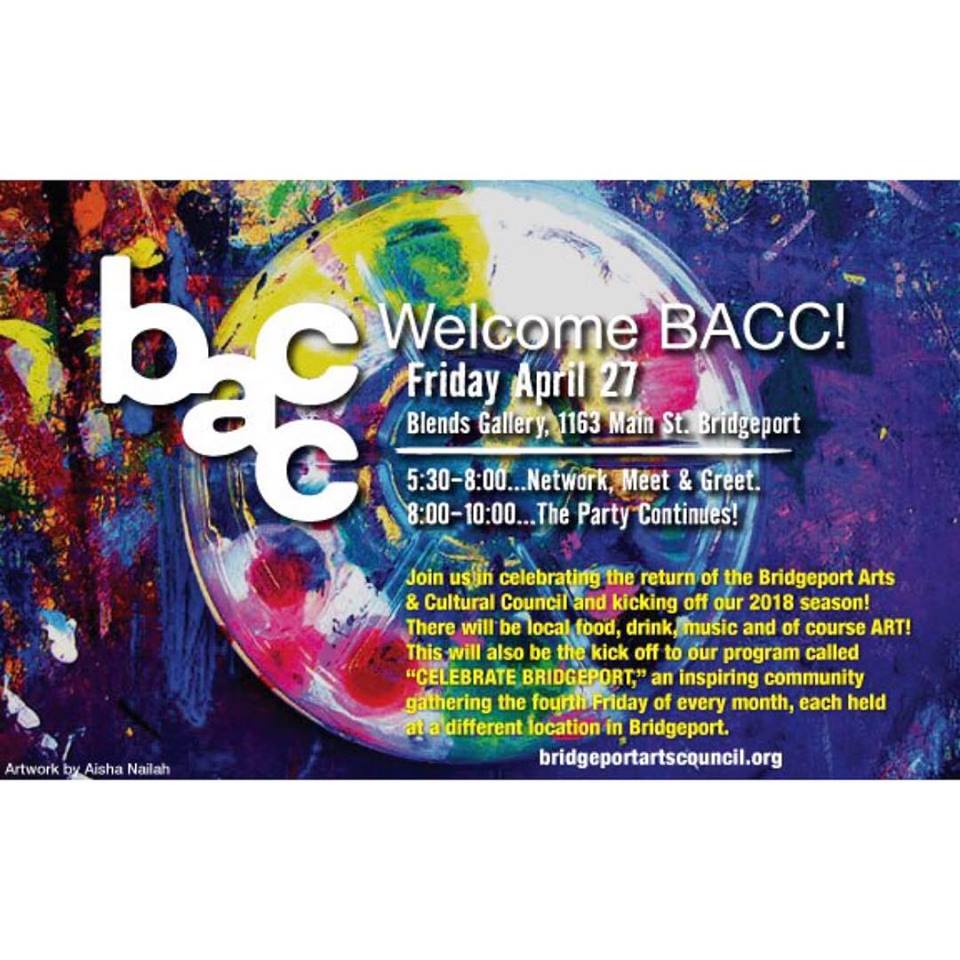 DESCRIPTION
Join us in celebrating the return of the Bridgeport Arts and Cultural Council and kicking off our 2018 season! There will be local food, drink, music and of course ART!
This will also be the kick off to our program called "Celebrate Bridgeport," an inspiring community gathering the fourth Friday of every month, each held at a different location in Bridgeport.
---
FILM
---
WPKN Music on Film Series Presents
Documentary – 24 Hour Party People
Thursday, April 19th
Doors: 6:00 pm / Show: 7:00 pm
DESCRIPTION
Spanning from the 1970's to early 1990's, this is the story of the Manchester music scene… Tony Wilson is an ambitious but frustrated local TV news reporter looking for a way to make his mark. After witnessing a life-changing concert by an unknown band called the Sex Pistols, he persuades his station to televise one of their performances, and soon Manchester's punk groups are clamoring for him to manage them. Riding the wave of a musical revolution, Wilson and his friends create the legendary Factory Records and the Hacienda Club, and bands like Joy Division, New Order, and the Happy Mondays emerge to change the industry forever.
---
PERFORMING ARTS & THEATRE
---
Sleeping Beauty
April 14 – May 20
Downtown Cabaret Theatre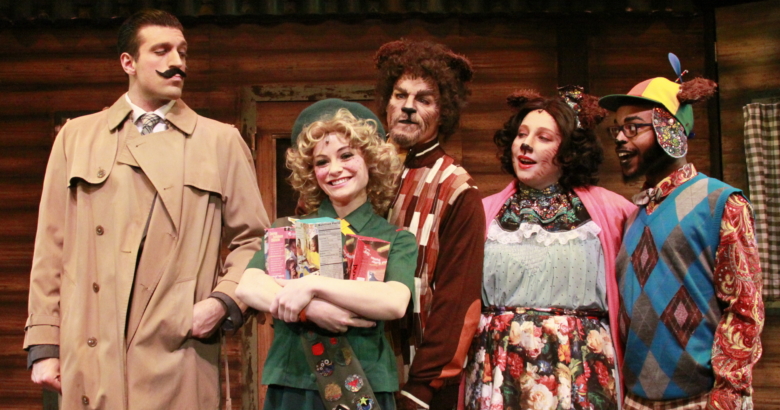 DESCRIPTION
It's not always easy being a princess, especially when a wicked witch places a spell on you. But all is not lost for Princess Adelaide as long as she has her three silly but good-natured fairy Godmothers by her side. But even the best intentions can't always protect the princess, and when the spell comes true, only a very special prince can free her.
Our Children's Theatre shows approximately run 75-80 minutes with a 10-minute intermission.
Director: Frank Root
Choreographer: Abby Root
---
Jesus Christ Superstar
March 16 – April 08
Downtown Cabaret Theatre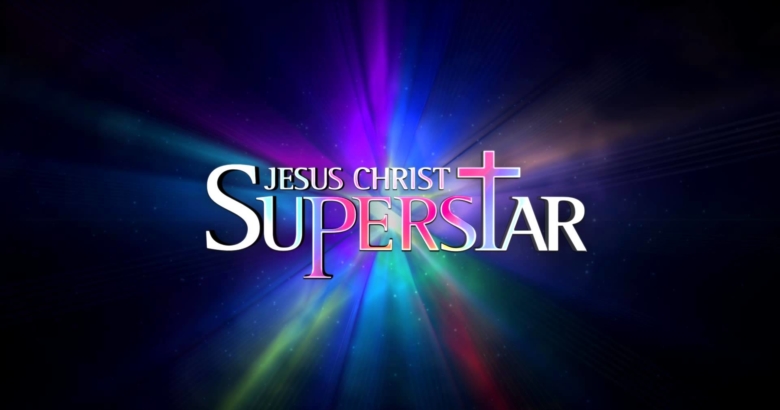 DESCRIPTION
Andrew Lloyd Webber's 1970 rock opera follows Christ's final days, dramatized with emotional intensity, thought-provoking edge and explosive theatricality. Jesus Christ's meteor-like rise provides a parallel to contemporary celebrity worship, and as his radical teachings are evermore embraced, Judas increasingly questions the enlightened motives of this new prophet, resulting in betrayal. Propelled by a stirring score, by turns driving and majestic, satirical and tender, this rock opera illuminates the transcendent power of the human spirit.
Director & Choreographer: Lance Gray
Musical Director: Eli Newsom
TICKETS: $28-$33
SEASON TICKETS AVAILABLE: Save up to $55!
---
Priscilla, Queen of the Desert
April 27 – May 20
Downtown Cabaret Theatre
DESCRIPTION
Based on the smash-hit movie, Priscilla, Queen of the Desert the Musical is the heartwarming, uplifting adventure of three friends, Tick, Bernadette and Adam, a glamorous Sydney-based performing trio who agree to take their show to the middle of the Australian outback. They hop aboard a battered old bus (nicknamed Priscilla) searching for love and friendship, and end up finding more than they ever could have ever dreamed of. With dazzling costumes and a hit parade of dance floor favorites including "It's Raining Men," "I Will Survive", "Hot Stuff," "Boogie Wonderland," "Girls Just Wanna Have Fun," and "I Love The Nightlife," this wildly fresh and funny musical is a journey to the heart of fabulous!
Director: Christy McIntosh-Newsom
Musical Director: Eli Newsom
Choreographer: Emily Frangipane
---
The Bijou Theatre Presents
The Blues and Beyond – A History of the Blues
Saturday, April 7, 2018
Doors: 7:00 pm / Show: 8:00 pm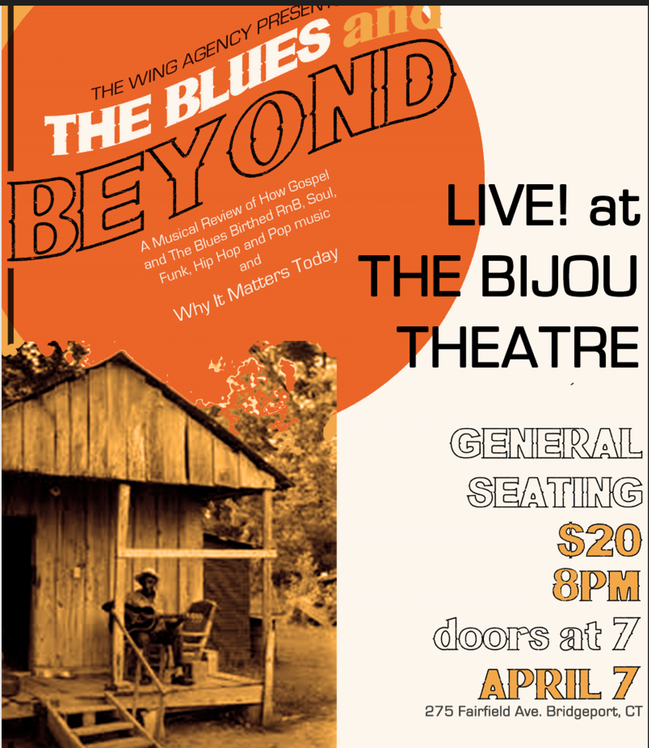 DESCRIPTION
Saige Bryan (Norwalk native) leads this guided tour through musical history. The Blues and Beyond' engages audiences of all ages with narration, live music and dance, while taking them through the history of the blues and how it has affected American music.
---
Allman Brothers Tribute – Brothers of the Road Band
(Including members of the Ashbury Jukes Horns)
Saturday, April 14th, 2018
Doors: 7:00 pm / Show: 8:00 pm
DESCRIPTION
Come share an evening of Allman Brothers music with the most authentic and longest performing ABB Tribute in the country! Including two members of the Asbury Jukes Horns for this show!
---
LECTURES & TALKS
---
Fiction vs Fact! The REAL story behind the REEL story!
Thursday, April 5th, 7:00 to 8:30 PM
The Barnum Museum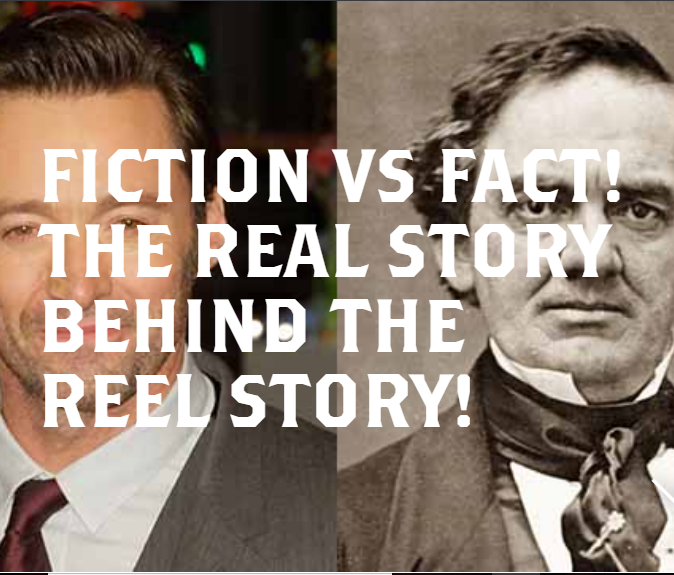 By popular demand, Barnum Museum Executive Director Kathleen Maher will host an encore performance of her lively talk – Fact vs. Fiction! The Real Story Behind the Reel Story!
Have you seen the 20th Century film The Greatest Showman yet? If you haven't, go and enjoy! If you have already seen it, we are sure you have a lot of questions about the accuracy of P.T. Barnum's life and times. Kathy has the answers and will share numerous bits and pieces of history that will set the record straight.
All in the spirit of fun, Kathy's talk will illuminate guests with an engaging journey through many key elements of the movie. From the depiction of Barnum's childhood to his final bow with the Greatest Show On Earth, the talk will expand the screenplay and reveal even more fantastic stories of struggles and triumphs!
Consider this a Spoiler Alert. As portrayed in the movie, Barnum had a hard childhood. Kathy is happy to say he (Barnum) "actually had a very pleasant childhood growing up in Bethel, CT and recounts many happy moments of his youth in his autobiography. And as many folks in Connecticut know, there is no 'beach' in Bethel! So there are all kinds of liberties taken with the screenplay. Many plots are entanglements of truths and fictions drawn from his life. The hour and forty-five minute movie covers about 50 years of his long and busy life, yet his daughters don't age."
The talk will take place in our gallery. Come see the miniature suit worn by Tom Thumb when he met Queen Victoria, P. T. Barnum's top hat, and a gold medal presented to him for his dedication to the Temperance movement. That's right…Barnum was one of the leading champions of liquor reform and legislation!
If you are curious about P.T. Barnum, excited about the movie, or just want to learn more about how the Barnum Museum was involved, come and enjoy a fun evening that will surely have you leaving with a new and refreshed perspective. You'll never look at Hollywood the same way!
** PLEASE NOTE: SPACE IS LIMITED; THERE IS NO RESERVED SEATING. Doors open at 6:30 pm.  Tickets are on sale now (free to members, $5 plus fees to non-members.)  Register and buy tickets at Eventbrite.
For questions, please call the museum at (203) 331-1104, x100.
---
SCORE WORKSHOPS FOR ARTISTS
Housatonic Community College
Beacon Hall Room 357
900 Lafayette Boulevard
Bridgeport, CT 06604
---
Copyright Basics for Artists, Photographers and Other Creative Types
Wednesday, April 4th from 6:30 to 8:30 p.m.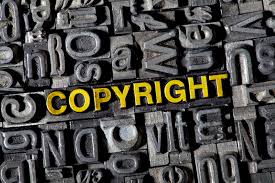 Without proper copyright protection, it is almost impossible for an artist, photographer or other creative type to build a unique and recognizable "brand" in the marketplace. Every creative professional needs to know the basics of U.S. and international copyright law.
• What is copyright, and why is it important?
• what must you do to claim a copyright?
• can I use someone else's copyrighted work without permission?
• am I protected when I post my work online?
• what should I do if I see someone has copied my work without permission?
…and much more
A free SCORE Small Business Workshop co-sponsored by Housatonic Community College and the Coastal Arts Guild of CT
---
Marketing Bootcamp for Artists & Creatives
Thursday, April 12th from 6:30 to 8:00 p.m.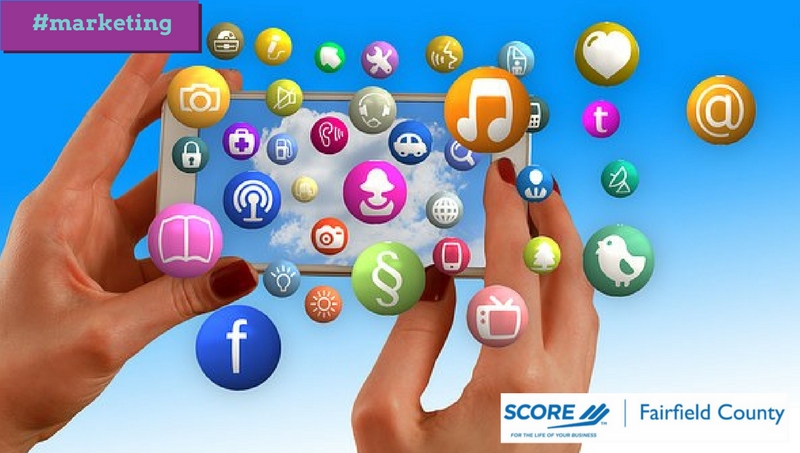 A lively, fast-paced workshop with tons of tips and hints to expand your community on social media, reach customers, and develop strategies for creative email marketing and e-commerce. Learn how to efficiently and effectively use Facebook, Twitter, Pinterest, and Instagram to connect with fellow creatives, partner with brands, and sell your work.
• to create an effective social media strategy
• when, where, and what to post online
• to balance time and energy online for maximum results
• to seek out opportunity
• to analyze and track your results
Presenter: Jane Davila
Jane Davila is a printmaker, fiber, and mixed-media artist who also has over 25 years of retail and e-commerce experience. She teaches art quilting, surface design, and creative marketing workshops extensively across the US as well as internationally, including in South Korea, Canada, and Australia. Jane has written several bestselling books on surface design and art quilting, and is the managing director of the NEST Arts Factory in Bridgeport CT.
A free SCORE Small Business Workshop co-sponsored by Housatonic Community College and the Coastal Arts Guild of CT
---
CALLS FOR ART
---
CALL FOR ART: FLOWER POWER
Artwork Drop-Off: April 14th & 15th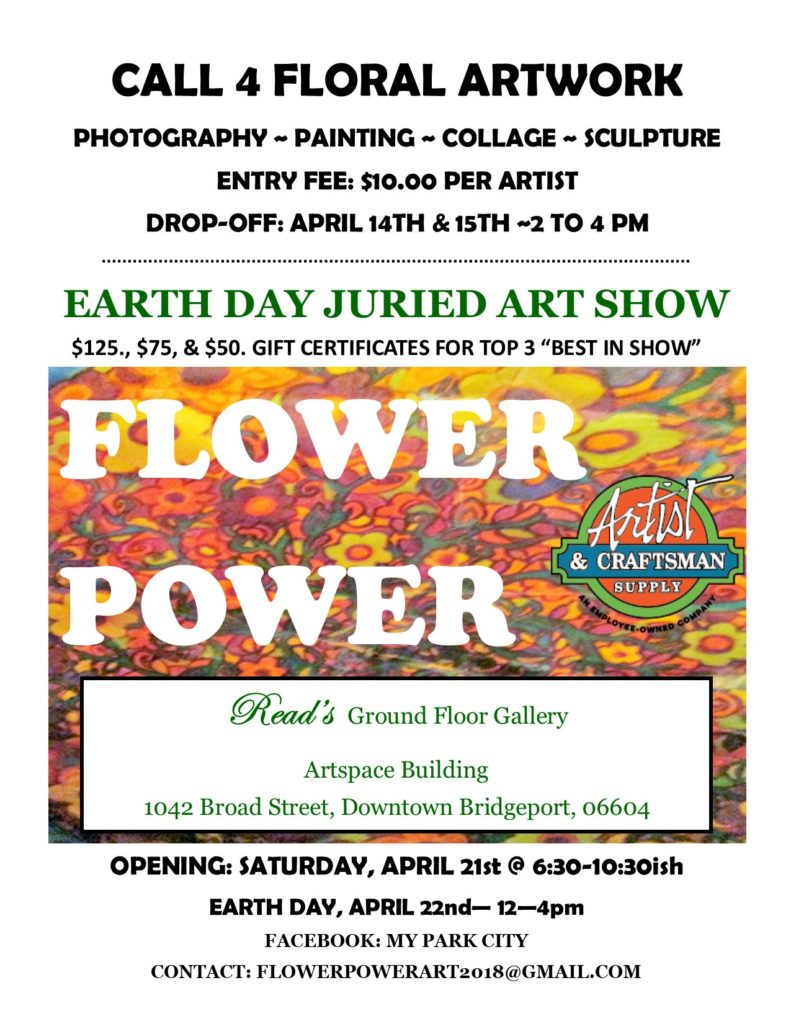 Flower Power is a floral-themed art show to celebrate Earth Day at live/work artist community Read's Artspace.
HOW TO ENTER THE EXHIBIT:
This is an open call for art.
Drop off work directly on APRIL 14TH & 15TH ~2 TO 4 PM
*Most works accepted for exhibit at the curator's discretion.
Space may be limited
ENTRY FEE: $10.00 PER ARTIST
OPENING RECEPTION:
SATURDAY, APRIL 21st @ 6:30-10:00ish
EARTH DAY, APRIL 22nd— 12—4pm
Live music & refreshments.
Winners of the juried exhibit announced.
Details to come!
CONTACT: FLOWERPOWERART2018@GMAIL.COM
SATURDAY, APRIL 21st @ 6:30-10:30ish
FACEBOOK: MY PARK CITY
---
\