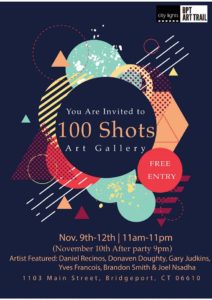 100 Shots, 1103 Main Street, Bridgeport, CT 06604
Tour the renovation in progress at the Harral Security Wheeler Building 2, 1103-1125 Main Street, located between Fairfield Avenue and Elm Street on a block where buildings are being renovated simultaneously. Schedule a tour of apartments and commercial spaces for lease and become a part of the rebirth of vibrant downtown Bridgeport with info at hswbridgeport.com.
---
Event: Design Night Out
Friday, November 10; 6 to 9 pm

1115 Main Street, Bridgeport, CT
Design Night Out is an event series that takes a creative theme and explores how great design is transforming that theme here in Connecticut. All with an open bar, food, music, networking friend-making, and fun! Check dnoct.com for more information.
Event: Bridgeport FLEA Market
Saturday November 11; 10 am to 4 pm

1103 Main Street, Bridgeport, CT
Official FLEA Market for the people to buy, sell, and trade goods, creating community, economics, and unity at 1123 Main Street. The Bridgeport FLEA is regularly scheduled for the 3rd Saturday of each month but we moved it in November for the Bridgeport Art Trail. Stop by on November 11 and then come back on December 16. Do your one-ofkind holiday shopping at the Bridgeport FLEA.
Event: #100 Shots Photography & Video Pop-up

 

Photograph above by Joel Nsadha

Saturday November 11; 11 am to 7 pm
Sunday November 12; 11 am to 6 pm

1103 Main Street, Bridgeport, CT
A collaborative group of local visual artists transform a raw storefront space in into a chic, minimal photography and video pop-up. #100 Shots present portrait, landscape, street, and abstract along with video screenings and installation by Yves Wilson, showcasing their perception of the world through art. The deep space configuration of the storefront location provides a gritty warehouse/working space atmosphere for screening videos and stoking the viewers imagination.
Donaven "Callow" Doughty is a photographer and co-founder of 100 From The Line, a photography and marketing company based in Bridgeport, CT. Callow's artistic philosophy revolves around giving 100% to his craft with zero shortcuts – keeping the reminder in his company's name. His dedication spans from travel photography to portraits, focusing on stories that never have the chance to be told. Visiting these location allows him to learn as an artist, which pushes Callow's work toward his effort to forget excuses and find creative solutions. (callowlens.com)
Gary "Pivot" Judkins is a self-taught photographer and co-founder of 100 From The Line based in Bridgeport, CT. His work displays the dichotomy of his home state, using a curated style to capture the glamour and the grit. Specializing in portrait, lifestyle, travel, and product photography, Gary incorporates clear storytelling with powerful images that can tailor to any appeal. (garypivot.com)
Brandon Smith is a photographer based in Connecticut with brands throughout North American. Specializing in lifestyle, portrait and landscape photography, Brandon works to create visual stories that capture energy, personality, and good vibes. (whiskeyandoxfords.com)
Joel Nsadha (Photograph above) is an award-winning photographer from Jinja, Uganda. Currently based in Bridgeport, CT, Joel's photography and film has received recognition from publications such as CNN Africa, the East African Magazine, Gestalten, and National Geographic. Joel's work has been exhibited internationally, with his portraits and landscapes seeking to capture the spirit of the people and places he visits. (joelnsadha.com)
Yves François Wilson is a multidisciplinary visual artist creating works on paper and found objects, focusing on lost or forgotten histories with a broad cultural knowledge and vocabulary. Yves' emphasis is on creating new representations of lineage through eclectic mediums, opening up a dialogue between the subject in the work and the audience. (yvesfwilson.com)
Daniel Recinos is an artist based in Bridgeport, Connecticut, working through film and photography to archive the urban world before it disappears. Daniel is the founder of the Recinos Company, a visual media and marketing company that boasts campaigns for Absolut, the New York Power Authority, Viacom, and multiple non-profit projects for the city of Bridgeport. Daniel's style balances a professional touch with the realities around him, focusing on people rather than just their projects. (therecinoscompany.com)
______________________________________________________________________________________________________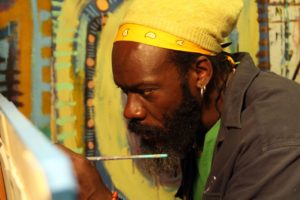 BLENDS CONTEMPORARY URBAN ART GALLERY, 1163 Main St.  INVITES YOU TO OUR OPENING RECEPTION ON FRIDAY NOVEMBER 10TH , 5pm – 10pm DURING THE 2017 BRIDGEPORT ART TRAIL.
THE OPENING EXHIBIT TITLED "PANELS" IS A SITE SPECIFIC INSTALLATION FEATURING TRI-STATE ARTISTS:
Aisha Nailah / DISTORT / Dooley-O / ES / Iyaba Mandingo (See top image) / JAHMANE / Jerry Gant / Kevvin Costa / Looketha / Michael J. Clocks and SKETCH.
Come meet the artists, enjoy eclectic soundscape provided by Pharaoh Byron Dinero and Witness a live body painting transformation by Alicia Cobb. Light Beverages and treats will be served.