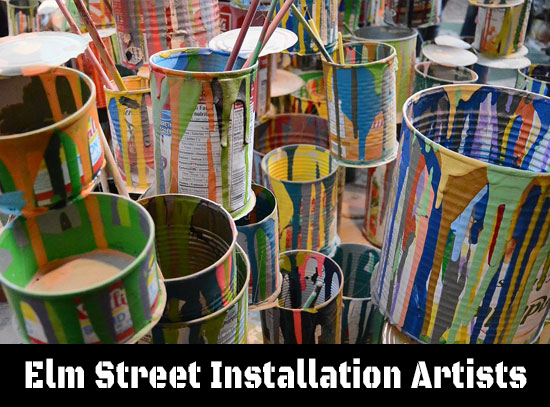 140 Elm Street
Bridgeport CT
Participating Installation Artists:
Mary Jo Lombardo
maryjolombardo.com / Instagram @studio5sunrise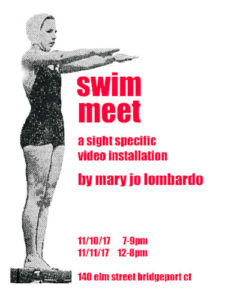 Event: Video Installation- for drained in-door swimming pool

Friday, November 10; 7 to 9 pm
Saturday, November 11; 12 to 8 pm

A new site specific video installation piece by mixed media artist Mary Jo Lombardo will premiere in a drained swimming pool on the property, incorporating the element of water, although the pool has been empty and unused for years. The video installation will be shown continuously during art trail viewing hours.
Lombardo, who has created works for non-traditional spaces in Bridgeport, New Haven and New York City, often uses water imagery in her installations. She is excited to work with the canvas of the abandoned pool for this new piece created for the 2017 Bridgeport Arts Trail. The installation, which involves layers of sound, imagery, and spoken word, also uses elements of the space to create a new environment in an unused space.
Elena Kalman
elena@kalmandesign.com / kalmanart.com
Event: Yin-Yang Joust, Art installation dedicated to the 100 year anniversary of the Russian October Revolution of 1917



Friday, November 10; 7 to 9 pm
Saturday, November 11; 2 to 7 pm

Our world is built on dualities of mutually exclusive myths. When ideas born in the highest regions of human psyche collide, destruction and suffering follow.
The interactive site specific installation Yin-Yang Joust erected by Elena Kalman, AIA, at the Bijou Box will illustrate the struggle of opposing forces and the chaos it wreaks. The installation made of fabric, plastic, metal mesh, painted wood, and other materials will fill the entire space measuring approximately 30' by 30' by 18' high.